New Signal Hill Restaurant Coming To Former Delius Site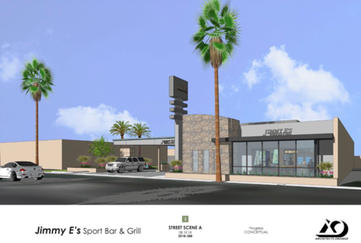 Big E Pizza owner Jimmy Eleopoulos is opening a second concept in January at the site of the now-defunct Delius Restaurant in Signal Hill, he told the Business Journal today. The new eatery at 2951 Cherry Ave., dubbed "Jimmy E's Sports Bar & Grill," will be a sports lounge with a family-friendly environment, Eleopoulos said. The menu will include steaks, seafood and gourmet burgers, as well as pastas, sandwiches, salads and calamari. Eleopoulos said he is involved with the new Port Town Brewing Co. in San Pedro and will feature the brewery's craft beers on tap. After 11 years in Signal Hill, Delius closed its doors in June. For more information, see the August 28 edition of the Business Journal.
City Council Moves Ahead With Restaurant
Patio Smoking Ban, Homeless Funding Options
Last night, the Long Beach City Council requested that the city attorney draft an ordinance banning smoking on outdoor patios of public and private eateries. Establishments where smoking is the primary purpose, such as hookah or cigar lounges, would be exempt. The council also voted to begin examining funding sources such as a parcel tax or bond for homeless services and improved housing opportunities as a potential initiative to be placed on the 2020 ballot. For more information see the August 28 edition of the Business Journal.
Suja Lowenthal Selected As City Manager Of Hermosa Beach
Former Long Beach Councilmember/Vice Mayor Suja Lowenthal has been selected as the future city manager of Hermosa Beach, an appointment the Hermosa Beach City Council is slated to vote on next Tuesday. Lowenthal, a Long Beach resident, currently serves as the senior advisor to Santa Monica's city manager. She previously oversaw transit planning and community engagement for the City of Santa Monica from 2012 to 2017. Lowenthal was a member of the Long Beach City Council from 2006 to 2016. In her 20-plus years of public service, she has also held positions with the California Coastal Commission, the Long Beach Unified School District Board of Education, the City of Los Angeles and multiple water districts.
Shoreline Businesses Unhappy With Beach Streets Planning
Business owners representing restaurants and retail stores along Shoreline Drive in Downtown Long Beach are once again voicing concerns about a city event that they say will negatively impact their sales. They raised the issue this past May when the Amgen bike tour closed much of Shoreline Drive on one of the busiest dining days of the year: Mother's Day. The city is now closing off the area this Saturday for a Beach Streets Twilight bicycling event, with a "hard closure" of streets from 3:30-10:30 p.m. The actual event begins at 5 p.m. The owner of Gladstone's at Rainbow Harbor, John Sangmeister, sent an e-mail earlier today to City Auditor Laura Doud, "requesting an audit of The Beach Streets events." Several Beach Streets events have been held throughout the city, with each costing about $250,000. "The businesses south of Shoreline Drive met with Beach Street/Bikefest organizers and overwhelming[ly] asked not to have any further closures of Shoreline – particularly on busy days/evenings such as weekends, holidays or special days like Mother's Day," Sangmeister said in the e-mail. "What is most frustrating," he continued, "is the affected stakeholders had no voice in the schedule, planning or implementation of this event. If a Long Beach resident hoped to stage a block party that included street closures, he would be required to gain consent from a majority of his neighbors directly affected. The City and Beach Street organizers offered no such courtesies." The Business Journal reached out to several business owners who agreed the event will keep customers away, especially people who are coming to the area from other cities. "They see all the blocked off streets and go elsewhere," said one owner who wished to remain anonymous. Another asked why the city doesn't have a committee that includes restaurateurs, retailers, hoteliers, the Aquarium staff, boat rental firms and others impacted by the closure to discuss the event before it is finalized. "They don't talk to us before the event is scheduled," said another business owner.