Long Beach is fast becoming a hot spot for craft breweries. The city's business services bureau reports that there are at least 14 breweries currently operating within city limits, and more than half of them have opened since 2015. The date is no coincidence. That was the year the city council updated its zoning code to broaden the types of districts where breweries could locate. The update also simplified the permitting and licensing process, regulated hours of operation, and set standards for facility sizes and volume of production, according to Eric Romero, project manager for the Long Beach Economic Development Department.
City staff are working with brewery entrepreneurs to open their new businesses, whether that means helping Ambitious Ales in Bixby Knolls secure a $10,000 Kiva loan to construct a new patio or supporting the Clark Avenue's Steady Brew Beer Company through the planning process.
"The city helped out in basically assisting us with everything, as opposed to putting up hurdles," Steady Brew co-owner Aaron Henderson told the Business Journal. Up to a year ago, Henderson's brewery was strictly in the distribution business, sending kegs and cans to various locations in the city. Today, Steady Brew has a brick and mortar location at 2936 Clark Ave. "Now we're at a point where we can actually say we're born in Long Beach, we brew in Long Beach, and we do our own canning in addition," he said.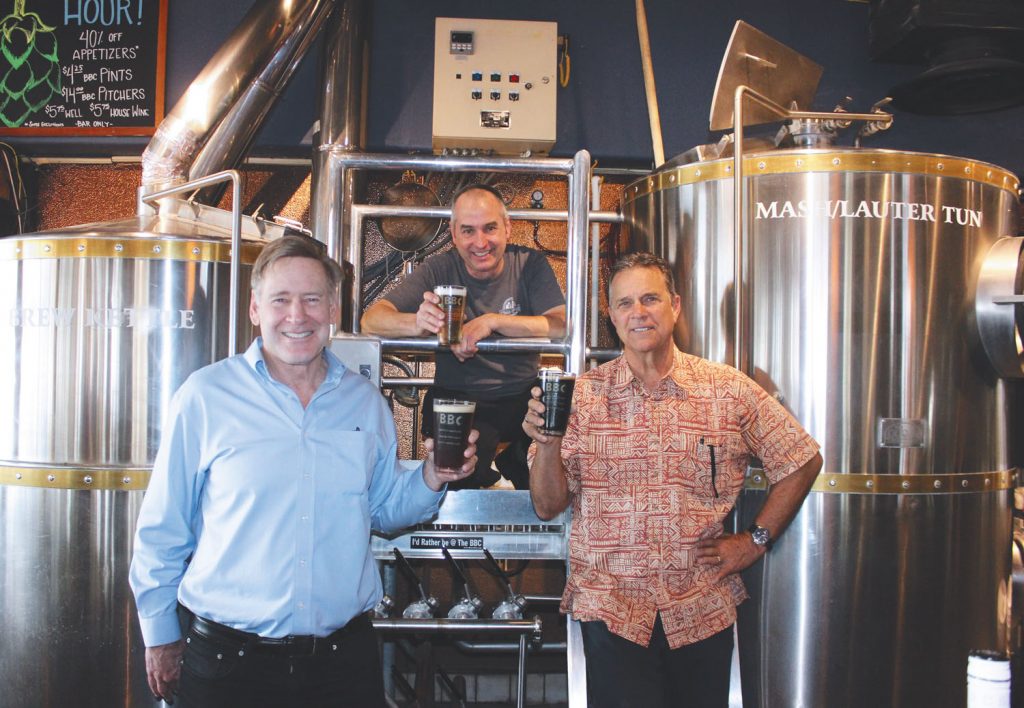 Belmont Brewing Company is not only the oldest brewery in Long Beach but also the oldest brewpub in Los Angeles County, according to co-owner David Lott. Brewpubs are distinct from breweries in that they have a restaurant associated with the property, Lott explained. Belmont Brewing has been serving craft beer and food by the Belmont Veterans Memorial Pier since the summer of 1990.
When Lott and his partner, David Hansen, opened their brewpub, they were uncertain how long the "craft beer craze" would last in Southern California. Was it a passing fad or the beginning of a genuine movement? "Much to our surprise, it did not slow down. In fact, it's seemed to have gained momentum," Lott said.
The rise in popularity of breweries and craft beer is changing the perception of American beer internationally, Lott noted. "People used to scoff at the yellow fizzy beer that Americans drank," he said. "And in a generation or less, American beers have now been some of the most respected, most innovative, most copied beers in the world."
Both Hansen and Lott welcomed the growing brewery scene in Long Beach. The consumer's desire for craft beer, as opposed to traditional store brands, is increasing, Hansen said. "I think it's going to take a larger and larger segment of the beer market," he commented. "And there's lots of room."
Dan Regan, chief operating officer at Liberation Brewing Company in Bixby Knolls, said that new breweries support the overall industry in the area. "We make different beer," he explained, and lovers of craft beer are excited to visit several breweries in one night. The Long Beach community of brewers is also very close knit, he added. "We rely on each other so much, whether it's advice during the construction phase or sharing recipes or trying each other's beers." Brewers even coordinate schedules to make sure they're not releasing the same type of beer on the same day, he said.
Dutch's Brewhouse, located a few blocks north of Liberation on Atlantic Avenue, gives a unique spin to the craft brewing craze: patrons can brew their own custom beers on site. Assisted by Dutch's founder Jason Van Fleet or brewer Adam Escobar, these amateur brewmeisters can use existing recipes or get creative with spices or even fruit from their own backyard. The process usually takes up to three hours, Escobar said, and then the patrons return in a few weeks to bottle their beers and, if desired, design their own labels.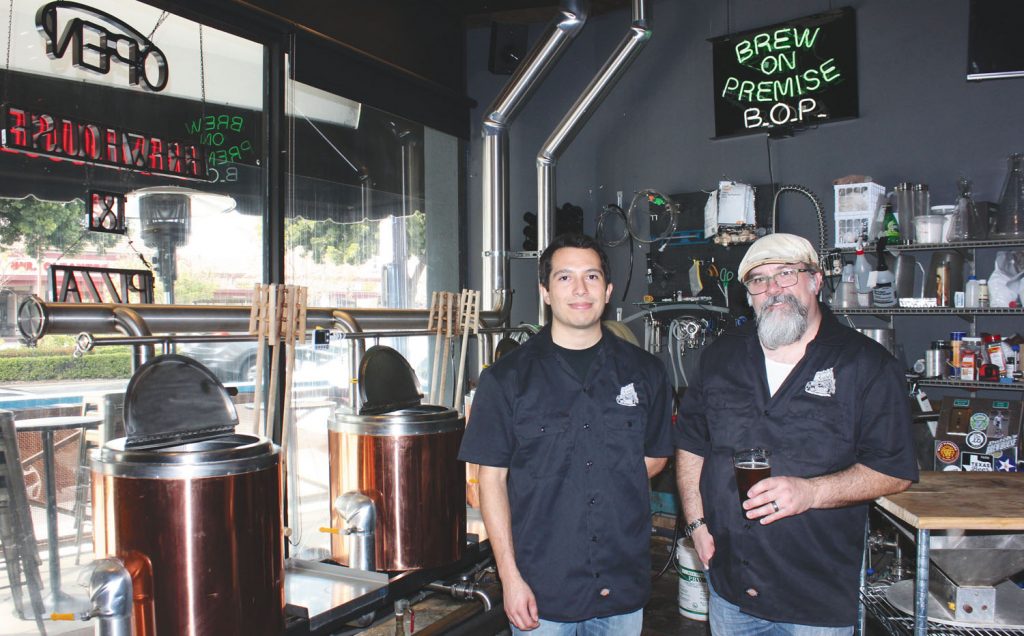 [ad number="4"]
Van Fleet later said that his preference has gone through various phases. "When I came out here [to California] and met my wife, she introduced me to Sierra Nevada pale ale. I thought, 'Aw, that's gross, it's the most bitter thing I've had in my life.' And of course, about a six-pack later everything I craved was that bitterness." Pictured Van Fleet, left, and Brewer Adam Escobar. (Photograph by the Business Journal's Brandon Richardson)Van Fleet said the idea to give customers a chance to brew their own beer sprang from a desire to "build an environment that was a down-home, comfortable place that people enjoy and want to hang out in." It turns brewing into a social activity that friends can share with each other, with their beers and with pizza made in Dutch's kitchen. "We make some of the best pizzas in town," Van Fleet asserted.
At 518 West Willow St., the founders of Long Beach Beer Lab have merged a bakery with a brewery. Husband and wife team Levi and Harmony Fried have renovated a 4,500-square-foot warehouse into a commercial fermentation lab. Dr. Levi Fried, formerly a medical researcher in Israel, oversees the beer. Harmony Fried, a French pastry chef, manages the kitchen and the artisanal sourdough bread. It is a consciously local operation; the Lab mills its own specialty grains and malts, and has partnered with Long Beach Farms to supply seasonal produce.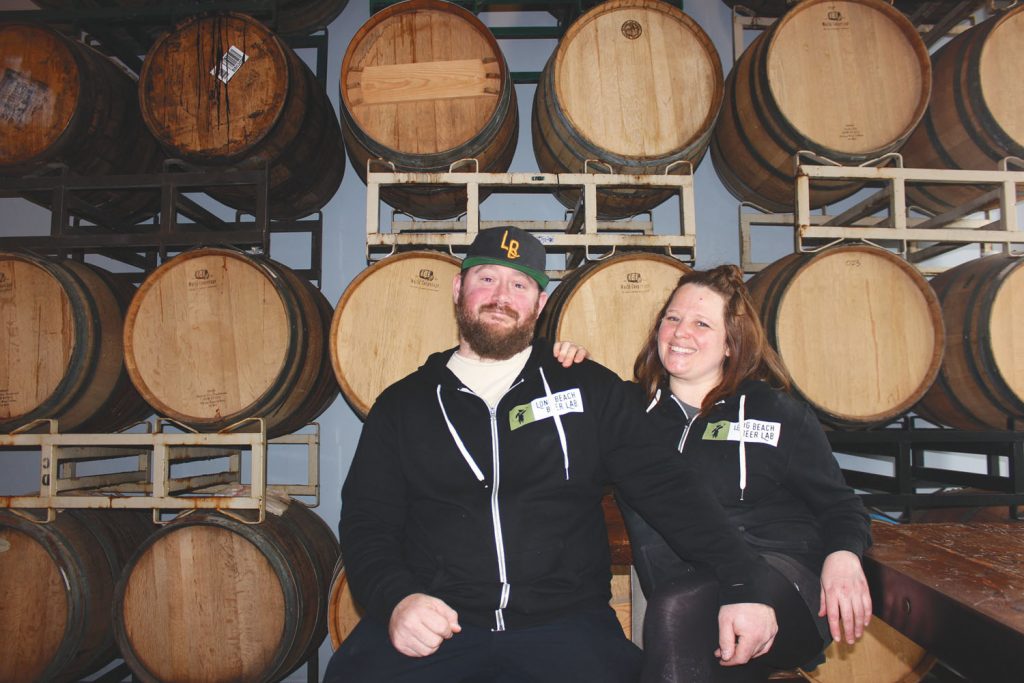 Harmony Fried told the Business Journal that it's a little harder to market the bread than the brews, since bread doesn't typically receive as much hype as a new brewery. But the word is spreading. "We get a lot of, 'I came for the beer but stayed for the bread,'" she said.
Fried said the Lab features 24 taps, 13 of which are from beers they brew themselves. "We try to have a little of something for everyone," she said.
Like other brewery owners that spoke to the Business Journal, Fried commented that the city's variety of craft beer options is good for business. "I think we're actually busier the more breweries open up," she said. "People who love craft beer, they're not really satisfied with just going to one brewery and spending all day there. They want to collect them all."
Check out our newest episode of Long Beach Business podcast, where we visited three local breweries to find out what all the buzz is about and what the future has in store for local craft beer connoisseurs.