Over the last two years, The Vault Warehouse in Central Long Beach has been transformed through art. South African artist Ricky Lee Gordon and Philadelphia-based artist Noségo have adorned the 1920s-era building's exterior with massive murals. Local Hollywood artist Rufino Luis also has recently left his mark on the building, which will soon become a haven for other artists to live and create.
"Artists are such a unique group of people. They create from nothing and in that creation, they bring in an entire community with them," Liz Carnes, owner of The Vault, said. "Anywhere that you have artists, you'll have a great community."
Carnes and her life partner Roark Merrill are in the process of converting the 34,000-square-foot, four-story former storage building into 19 industrial-style artist lofts at 1000 New York St. Each unit is uniquely shaped and sized, ranging from 750 to 1,700 square feet, according to Carnes.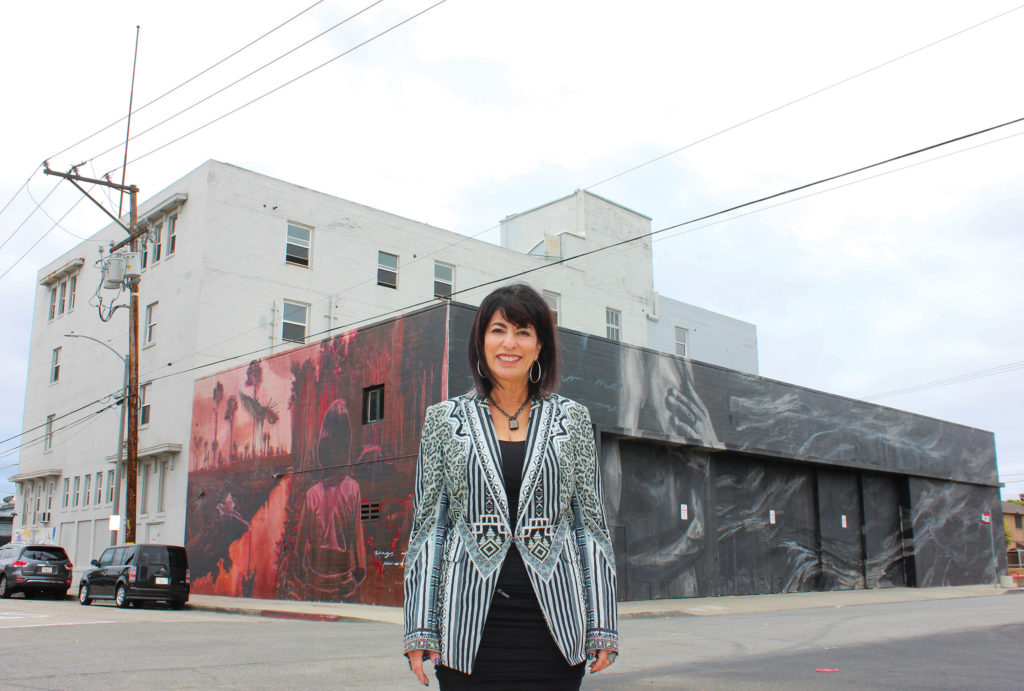 Only city-certified artists will be eligible to apply for a loft. Asking rents start around $1,800, Carnes said. She added that her hope is to save artists money by consolidating rental costs, as opposed to paying for an art studio and an apartment separately. Additionally, Carnes explained that 67% of the rent is tax deductible because each loft consists of 33% living space and 67% working space.
"This building is finally becoming what it's wanted to be for a long time. It's perfect for the use that we've chosen," Carnes said. "I think it's going to make an enormous difference in this neighborhood in a real positive way. It's important that we better the communities that we live in. We're in it together."
Only light construction is required to complete the lofts; electrical and plumbing already run through the entire building, with just minor upgrades needed. Carnes said she expects final permitting to be approved by the city in the next several weeks, which will allow work to proceed. She added that she is anticipating a grand opening in December or January, approximately six months after permit approval.
Once approved, several walls will be added and others removed, fixtures will be installed, an exterior staircase will be added for emergencies, the interior staircase will be enclosed for safety and a sprinkler system will be installed. The walls and ceilings throughout the building will remain as they are – mostly concrete and exposed brick.
The roof of the building cannot be used as a common area for the future residents because it is not accessible to people with disabilities, which is required under the Americans with Disabilities Act, Carnes explained. However, she said she hopes to eventually make the roof accessible to all. The building's manual lift, which is large enough and powerful enough for a car, reaches all four floors and will remain operational in its original form.
Carnes moved from New York to attend California State University, Long Beach, (CSULB) in 1978 – she paid $160 a month to rent a studio apartment blocks from the ocean. Though she did not graduate from CSULB, she said she fell in love with Long Beach and that her fondest college memories are from her time here. Prior to purchasing The Vault for just under $1.3 million in 2012, Carnes built a portfolio of small rental properties, including two fourplexes in Long Beach.
"The community here is rich in its diversity. It's a youthful community, very hip," Carnes said. "It's a real community made up of real people, and in each neighborhood you just never know what you're going to get. It does remind me of New York – different neighborhoods, different people, different vibes, different cultures, all living together, working together."