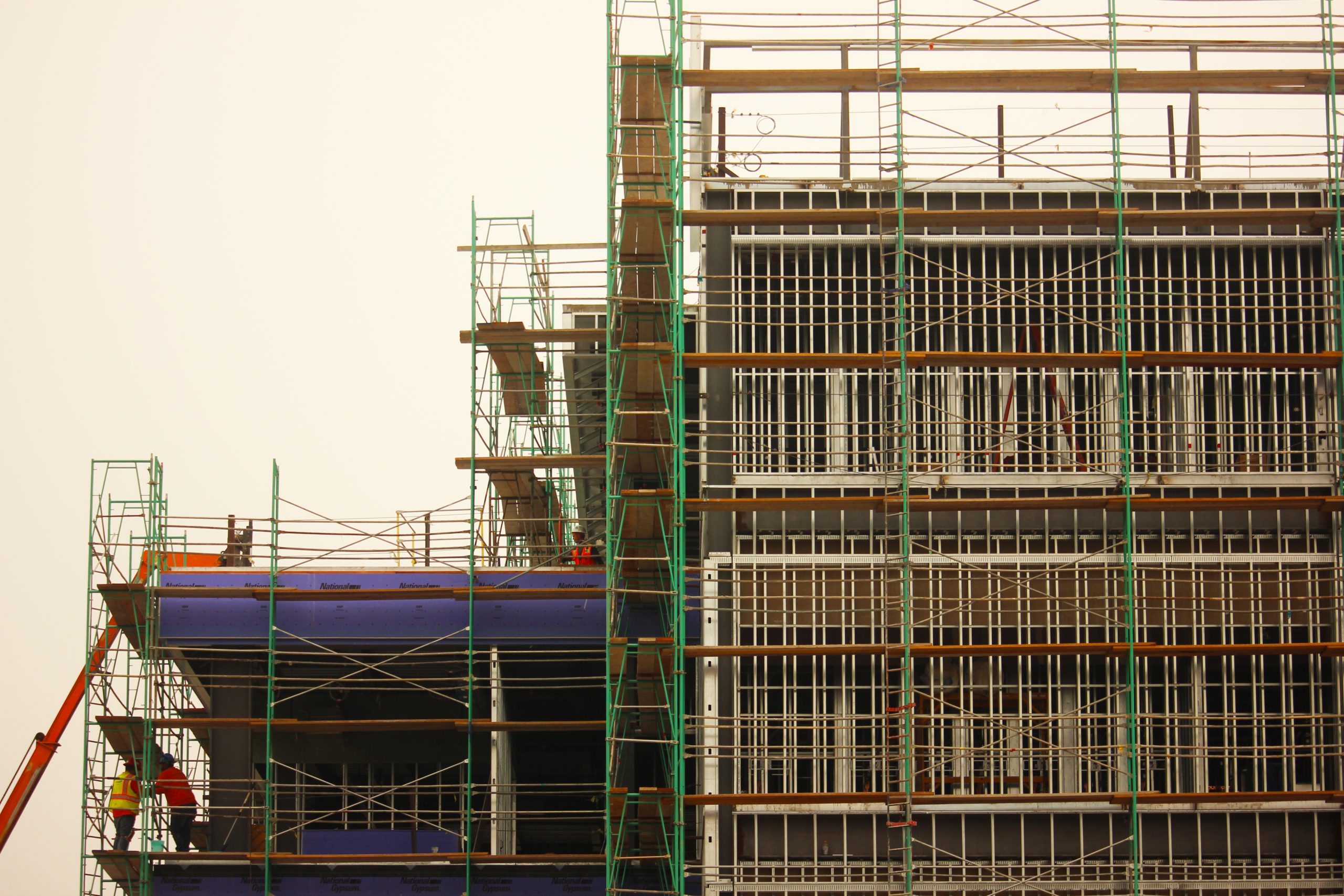 The COVID-19 pandemic has had a significant impact on development projects throughout Long Beach—stalling out some in the planning phase, delaying ongoing construction and, in some cases, forcing developers to bow out. But despite the challenges, there are more than 60 projects at various phases citywide.
"The city is pleased to see continued robust investment and development," said Christopher Koontz, deputy director of Long Beach Development Services. "While COVID-19 has impacted every aspect of development … our partners have been working hard to keep projects moving so they can deliver jobs, housing, goods and services Long Beach residents need."
Residential development is the most active in the city, with over 7,000 units at various stages—newly completed, under construction, approved, under review or proposed. Project types include apartments, condominiums, townhomes and detached single-family homes ranging from affordable to luxury. More than 920 affordable units are included in the total development figure.
Affordable units are subsidized through local, state and federal funding, allowing developers to construct projects at a lower cost and guarantee rents below market value. Many affordable developments cater to specific groups such as seniors, veterans and those experiencing or at risk of experiencing homelessness.
Despite the hospitality industry taking a major hit due to the pandemic, plans for multiple hotel projects are still on the books. Between six projects, more than 1,200 hotel rooms are under construction or proposed.
While office space construction is nowhere near booming, it isn't nonexistent in Long Beach. Laserfiche is in the midst of constructing its new headquarters on Atlantic Avenue—a four-story office building totaling nearly 103,000 square feet. The project and Laserfiche's recommitment to Long Beach, has repeatedly been touted by Mayor Robert Garcia as a testament to the bullishness of businesses in the city and abroad.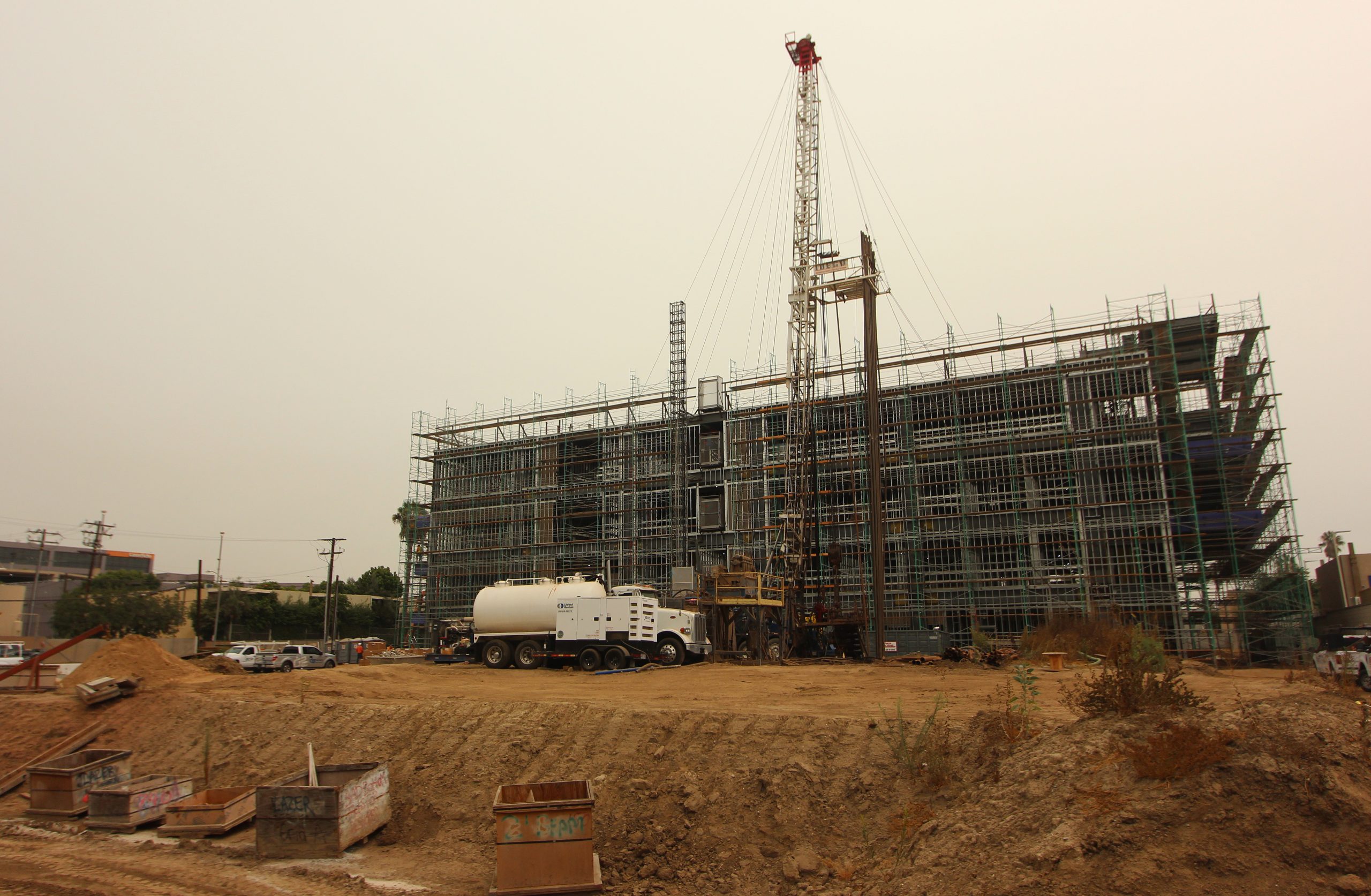 Medical office development in Long Beach was stagnant for years; however, multiple projects are currently under construction in the form of more than 220 beds and nearly 100,000 square feet of medical space.
Many of the residential projects are considered mixed-use, which means they include retail and restaurant space, typically on the ground floor. Some hotel projects also include dining and bar areas that are open to the public. In all, more than 2.17 million square feet of commercial space is in the Long Beach development pipeline.
Commercial space includes retail and restaurant, office and industrial.
"While we expected and are seeing some slowdown in new permits being issued, we know that approved projects as well as those projects now in the planning and entitlement stages will be crucial to the overall economic recovery," Koontz said. "These projects are putting Long Beach residents back to work and building a better Long Beach for all."
The following is a comprehensive list of development projects throughout the city compiled by Long Beach Development Services and Business Journal staff.
Completed
2nd + PCH
Address: 6400 E. Pacific Coast Hwy.

Developer: CenterCal Properties

Height: Two stories

Commercial Space: 175,000 square feet of retail, 70,000 square feet of restaurant space

Parking stalls: 1,150 stalls

Amenities: 11-acre dining, shopping destination

Start/Completion: 2018/2019
AMLI Park Broadway
Address: 245 W. Broadway

Developer: AMLI Residential

Height: Seven stories

Units: 222

Commercial space: 6,007 square feet

Parking stalls: 320

Amenities: A pool and deck areas, a podium-level clubhouse, fitness center and multi-purpose rooms.

Start/Completion: 2016/2019
The Beacon
Address: 1201-1235 Long Beach Blvd.

Developer: Century Housing

Height: Beacon Place, seven stories; Beacon Pointe, five stories

Units: 160 affordable housing units

Commercial space: 6,184 square feet

Parking stalls: 200 car, 72 bicycle

Amenities: The two buildings will be connected at their third levels by a 23,735-square-foot courtyard featuring a 1,311-square-foot community room. Other residential amenities include a 1,100-square-foot library, two media rooms (one per building), supportive services space and a 1,400-square-foot fitness center.

Start/Completion: 2017/2019
The Linden
Address: 434 E. Fourth St. 

Developer: SARES-REGIS Group

Height: Five stories

Units: 49

Commercial space: 2,500 square feet

Parking stalls: 82

Amenities: Fitness center, outdoor kitchen, multiple outdoor community spaces and a bicycle kitchen.

Start/Completion: 2017/2019
The Pacific
Address: 230 W. Third St. 

Developer: SARES-REGIS Group

Height: Seven stories

Units: 163

Parking stalls: 244 car, 50 bicycle

Amenities: Rooftop deck and club-room with a kitchen, fitness center, outdoor kitchen, community living rooms, and a bike workshop and storage room.

Start/Completion: 2017/2019
Pacific Edge
Address: 2300 Redondo Ave.

Developer: Pacific Edge Industrial

Height: One story

Commercial space: Three light industrial buildings

Parking stalls: 638

Amenities: Buildings will total 424,050 square feet with office space.

Start/Completion: 2018/2019
Pacific Pointe Northwest
Address: 3881 McGowen St.

Developer: SARES REGIS Group

Height: Two Stories

Commercial space: Four buildings totaling 390,000 square feet, ranging from 75,000 square feet to 135,000 square feet

Parking stalls: 665

Amenities: Two-story executive office space, 3 percent skylights, secure concrete truck courts, dock-high and grade-level loading, LED lighting on sensors and 30- and 32-foot clear heights. Start/Completion: 2018/2019
Under Construction/Approved
5Nº at The Streets
Address: 495 The Promenade North

Developer: Shooshani

Height: Four stories

Units: 20

Commercial space: 4,604 square feet

Parking stalls: 30

Start/Completion: 2018/TBA

Status: Under construction
The Alamitos
Address: 101 Alamitos Ave.

Developer: SARES-REGIS Group

Height: Seven stories

Units: 136

Commercial space: 2,560 square feet

Parking stalls: 174 

Amenities: Fitness center, rooftop deck and club room, and a bike kitchen and storage room

Start/Completion: 2017/2020

Status: Under Construction
Aster
Address: 125 Long Beach Blvd.

Developer: Raintree-Evergreen, LLC

Height: Eight stories

Units: 218

Commercial space: 7,292 square feet

Parking stalls: 312 car, 44 bicycle

Amenities: An 11,600-square-foot courtyard with a swimming pool, spa, barbecue area, and lounge seating, and a 749-square-foot rooftop lounge.

Start/Completion: TBA

Status: Approved
Bloom at Magnolia
Address: 460 W. Pacific Coast Highway

Developer: LINC Housing

Height: Four stories

Units: 40 affordable housing units

Commercial space: 49,543 square feet 

Parking stalls: 20 spaces

Amenities: A community room.

Start/Completion: 2020/TBA

Status: Approved
The Breakers Building
Address: 210 E. Ocean Blvd.

Developer: Pacific 6

Height: 14 stories

Units: 175 hotel rooms

Commercial space: 13,300 square feet

Parking stalls: TBA

Amenities: Ground-floor dining and wine bar, penthouse dining, rooftop bar, spa and fitness spaces, and meeting rooms.

Start/Completion: 2019/TBA

Status: Under construction
Broadway Block
Address: 200-250 Long Beach Blvd. 

Developer: ONNI Development Group

Height: One seven-story mid-rise and one two story

Units: 432

Commercial space: 32,807 square feet

Parking stalls: 582 car, 104 bicycle stalls

Start/Completion: 2019/TBA

Status: Approved
Cherese Mari Laulhere Children's Village
Address: 2801 Atlantic Ave.

Developer: MemorialCare

Height: Four stories

Units: 67 exam rooms

Amenities: 80,000 square feet of medical office space

Start/Completion: 2019/2021

Status: Under construction
Civic Center Mid-Block
Address: 321 W. Ocean Blvd. 

Developer: TBA

Height: Two eight-story buildings 

Units: 580, with 58 affordable units

Commercial space: 40,000 square feet

Parking stalls: 887

Start/Completion: TBA

Status: Approved
The Hotel
Address: 107 Long Beach Blvd.

Developer: Yogesh Patel

Height: Five stories

Units: 34 hotel rooms

Parking stalls: 1,440

Start/Completion: December 2018/TBA

Status: Under construction
Inkwell
Address: 127-135 E. Broadway

Developer: Raintree-Evergreen, LLC

Height: Eight stories

Units: 189

Commercial space: 10,000 square feet

Parking stalls: 268 car, 40 bicycle

Amenities: A fitness room, club room, roof decks and a swimming pool.

Start/Completion: TBA

Status: Approved
Laserfiche
Address: 3435-3459 Long Beach Blvd., 3464 Locust Ave.

Developer: Urbana

Height: Four-story office and three-story parking garage

Commercial space: 102,848 square feet of office space

Parking stalls: 428 car, and 42 bicycle

Start/Completion: 2019/TBA
Locust Long Beach Apartments
Address: 1112-1130 Locust Ave.

Developer: South Park Group

Height: Seven stories

Units: 97

Parking stalls: 122 car, 20 bicycle

Amenities: A bicycle kitchen, a fitness center, recreational space and a 2,588 square-foot courtyard.

Start/Completion: TBA

Status: Approved
Long Beach at 14th
Address: 1400 Long Beach Blvd.

Developer: Long Beach Square Partners, LLC

Height: three stories

Units: 65 affordable units

Commercial space: 2,000 square feet

Parking stalls: 90

Start/Completion: TBA

Status: Approved
Long Beach Garden Condominiums
Address: 1570-1598 Long Beach Blvd.

Height: Four stories

Units: 36

Commercial space: 10,000 square feet

Parking stalls: 87

Amenities: Gym, private balconies and a community garden.

Start/Completion: 2016/TBA
Magnolia and Broadway
Address: 500 W. Broadway

Developer: Ensemble Real Estate

Height: Seven stories

Units: 141

Commercial space: 4,110 square feet

Parking stalls: 191 car, 21 EV, 94 bicycle

Amenities: Ground-floor retail space and a bike kitchen.

Start/Completion: 2020/TBA

Status: Under construction
Mixed-Use Project
Address: 1101-1105 Long Beach Blvd.

Developer: Rockefeller Kempel

Height: Eight stories

Units: 119

Commercial space: 6,000 square feet

Parking stalls: 153 car, 45 bicycle

Amenities: A pool deck.

Start/Completion: TBA

Status: Under construction
Mixed-Use Project
Address: 201-245 W. Pacific Coast Highway

Developer:  Kay Mendoza

Height: Six stories

Units: 138

Commercial space: 26,647 square feet

Parking stalls: TBA

Start/Completion: TBA

Status: Approved
Mixed-Use Project
Address: 507 N. Pacific Ave.

Developer: Anastasi Development Company

Height: Seven stories

Units: 157 condominiums

Commercial space: 9,000 square feet

Parking stalls: 209

Amenities: Two recreation decks and a rooftop deck.

Start/Completion: TBA

Status: Approved
New Industrial
Address: 2400 E. Artesia Blvd.

Developer: Bridge Development

Height: Two stories

Commercial space: 415,592-square-foot industrial building

Parking stalls: 433

Start/Completion: TBA
Ocean Center
Address: 110 W. Ocean Blvd.

Developer: Pacific6

Height: 14 stories

Units: 80

Commercial Space:  6,720 square feet

Parking stalls: 83

Amenities: Rooftop terraces and common spaces.

Start/Completion: 2018/TBA

Status: Under construction
Ocean View Tower
Address: 200 W. Ocean Blvd.

Developer: MEIAO Investment

Height: 12 stories

Units: 106

Parking stalls: 150  

Amenities: A pool and Spa, community room, fire pit and a fitness room.

Start/Completion: 2017/TBA

Status: Under construction
Pacific-Pine
Address: 635 Pine Ave./636 Pacific Ave. 

Developer: Holland Partner Group

Height: Two eight-story buildings 

Units: 271 with 11 affordable units

Commercial space: 1,305 square feet

Parking stalls: 341 car, 56 bicycle

Amenities: Ground-floor retail and an amenity room.

Start/Completion: 2018/2021

Status: Under construction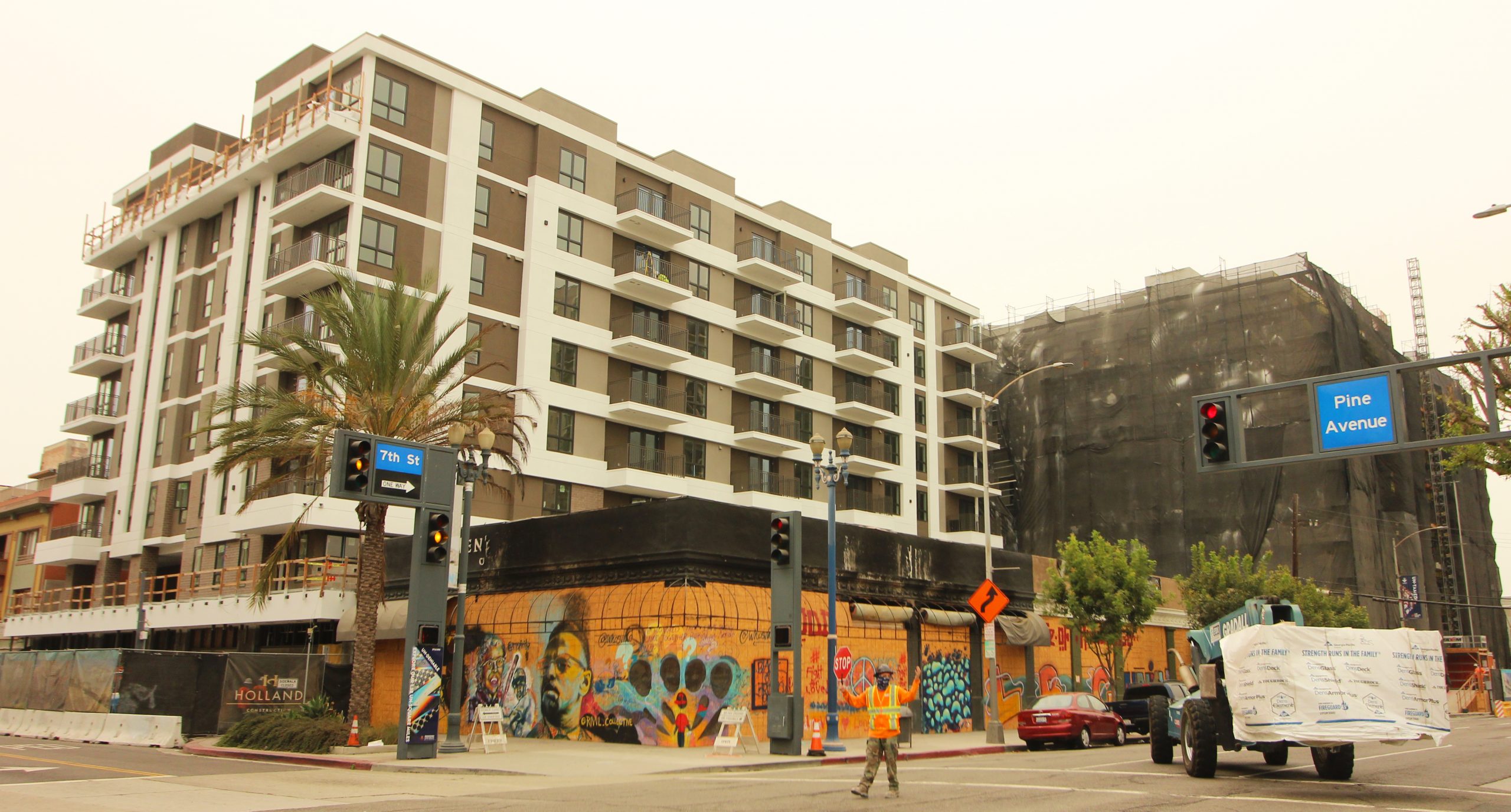 Restaurant Project
Address: 2528-2590 N. Lakewood Blvd.

Developer: Lakewood Willow, LLC.

Height: One story

Commercial space: 11,562 square feet

Parking stalls: 93

Amenities: Three restaurants in two new buildings, outdoor dining, and new site landscaping.

Start/Completion: 2019/TBA
Residences at Linden
Address: 135 Linden Ave. 

Developer: Residences at Linden, LLC

Height: Seven stories

Units: 82

Commercial space: 4,091 square feet  

Parking stalls: 135 car, 20 bicycle

Amenities: A gym, a club room, a courtyard, an enclosed terrace and an outdoor roof terrace.

Start/Completion: TBA

Status: Approved 
Residential Project
Address: 320 Alamitos Ave.

Developer: Urbana Development, LLC 

Height: Seven stories

Units: 77

Parking stalls: 105 

Amenities: A rooftop deck and a community room.   

Start/Completion: TBA

Status: Approved 
Residential Project
Address: 825 E. Seventh St.

Developer: Firth Howard

Height: Five stories

Units: 19

Parking stalls: TBA

Start/Completion: TBA

Status: Approved
Residential Project
Address: 101 Pacific Coast Highway

Developer: MKP Plaza, LLC

Building Height: TBA

Units: 26

Commercial space: 5,000 square feet 

Parking stalls: TBA

Start/Completion: TBA

Status: Approved
Residential Project
Address: 1500 E. Anaheim St.

Developer: Bridge Housing Group

Height: Five stories

Units: 88 affordable units

Commercial space: A children's medical clinic, and office and retail space.

Parking stalls: TBA

Start/Completion: TBA

Status: Approved
Residential Project
Address: 2221 W. Williams St. – Century Villages at Cabrillo

Developer: Century Affordable Development, Inc. 

Height: Four stories

Units: 90 affordable units

Parking stalls: 40

Start/Completion: TBA

Status: Approved
Residential Project
Address: 250 E. Broadway

Developer: Raintree-Evergreen, LLC

Height: Eight stories

Units: 218

Commercial space: 7,292 square feet 

Parking stalls: 312

Start/Completion: TBA

Status: Approved
Senior Housing Project
Address: 941 E. Pacific Coast Highway

Developer: Mercy Housing

Height: Four stories

Units: 68 affordable units

Parking stalls: 38

Amenities: Classroom spaces, a kitchen and a courtyard.

Start/Completion: TBA

Status: Approved
Shoreline Gateway
Address: 777 E. Ocean Blvd.

Developer: Anderson Pacific, LLC

Height: 35 stories

Units: 315

Commercial space: 6,700 square feet

Parking stalls: 458

Amenities: A 4,081 square foot rooftop deck and a 793-square-foot community room.   

Start/Completion: 2018/TBA

Status: Under construction
Sonata Modern Flats
Address: 207 Seaside Way

Developer: Ensemble Real Estate

Height: Five stories

Units: 113

Commercial space: 2,000 square feet

Parking stalls: 176 

Amenities: A media room, a roof deck, and a club and fitness room.

Start/Completion: 2017/2020

Status: Under construction
Staybridge Suites
Address: 2460 N. Lakewood Blvd.

Developer: YHB Hospitality

Height: Six stories

Units: 125 hotel rooms

Parking stalls: 385

Amenities: About 16,500 square feet of meeting and event space and a fitness center.

Start/Completion: 2018/2020

Status: Under construction
Supportive Housing Project
Address: 3590 E. Pacific Coast Highway

Developer: Excelerate Housing Group

Height: Four stories

Units: 77 affordable units

Parking stalls: 18

Amenities: On-site supportive services to be provided by Mental Health America of Los Angeles and 12,253 square feet of open space.

Start/Completion: TBA

Status: Approved
Third + Pacific
Address: 131 W. Third St.

Developer: Ensemble Real Estate

Height: A 23-story high rise and an eight-story mid-rise

Units: 345

Commercial space: 16,000 square feet

Parking stalls: 483

Amenities: A fitness center and 5,841 square-feet of club rooms.

Start/Completion: TBA

Status: Approved
Townhomes
Address: Pacific, Pine and 14th Street

Developer: Habitat for Humanity, Greater Los Angeles

Height: Two stories

Units: 10

Parking stalls: TBA

Start/Completion: 2020/TBA
The Uptown
Address: 6141-6191 Atlantic Ave.

Developer: Westland Group

Height: One story

Commercial space: 30,422 square feet

Parking stall: 115

Amenities: Restaurant and retail uses incorporating private patios and public spaces

Start/Completion: TBA
Uptown Commons
Address: 6600-6630 Atlantic Ave. and 609-695 Artesia Blvd.

Developer: Frontier Real Estate Investment

Height: One story

Commercial Space: 12,578 square-feet

Parking stalls: 84

Amenities: A bank, multiple restaurants and one drive-thru

Start/Completion: 2019/2020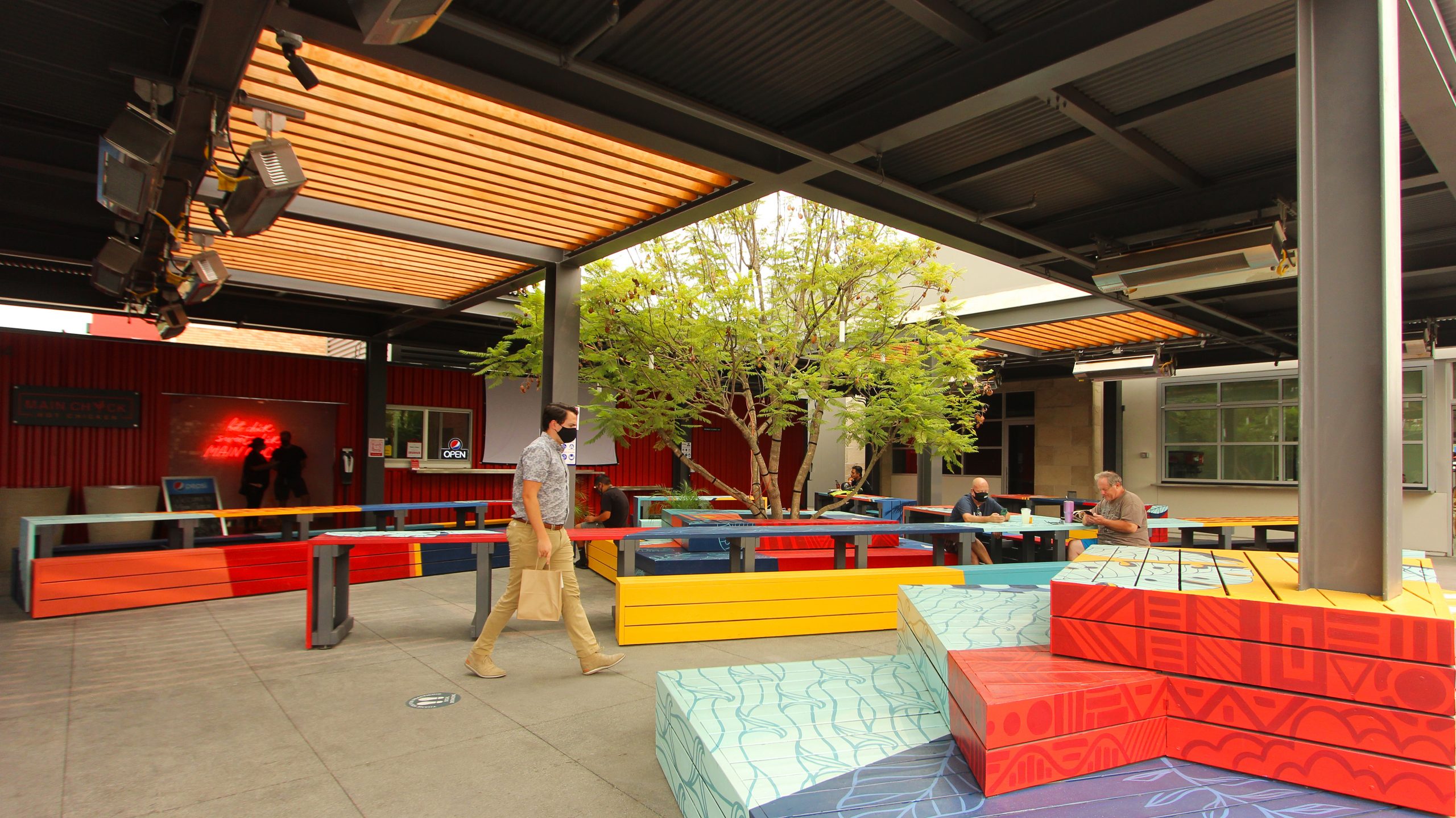 Veterans Affairs Projects – VA Long Beach Healthcare System
Community Living Center

Address: 5901 E. Seventh St.

Developer: U.S. Department of Veterans Affairs

Height: Three stories

Units: 120 beds

Amenities: 181,000 square feet of living and community space.

Parking stalls: New structure planned as part of a future construction phase.

Start/Completion: 2019/2021

Mental Health Inpatient Building

Height: Two stories

Units: 45 beds

Amenities: 82,000 square feet of health care space.

Start/Completion: 2019/2020

Mental Health Outpatient Building

Height: Two stories

Amenities: 80,000 square feet of health care space.

Start/Completion: 2019/2020
West Gateway
Address: 600 W. Broadway

Developer: Trammel Crow

Height: Six buildings between six and 40 stories

Units: 756 Units

Commercial space: 3,200 square feet

Parking stalls: 1,440

Start/Completion: TBA

Status: Approved
Proposed/Under Review
Adaptive Reuse Hotel Project
Address: 110 Pine Ave.

Developer: Pine Street Long Beach, LLC

Height: 13 stories

Units: 210 hotel rooms

Commercial space: 6,000 square feet

Parking stalls: TBA

Amenities: A rooftop food and beverage space, and 7,659 square-feet of recreation space

Start/Completion: TBA

Status: Proposed
Affordable Senior Housing
Address: 2515-2545 Atlantic Ave.

Developer: DIDM Development 

Height: Five stories 

Units: 154

Parking stalls: 98

Start/Completion: TBA

Status: Propose
American Life Hotel
Address: 100 E. Ocean Blvd

Developer: American Life, Inc. 

Height: 30 stories

Units: 429 hotel rooms

Commercial space: 50,359

Parking stalls: 151

Amenities: 23,512 square feet of restaurant space and 26,847 square feet of meeting and ballroom space.

Start/Completion: TBA

Status: Under Review
Assisted Living Facility
Address: 810 Pine Ave.

Developer: Global Premier Development

Height: 10 stories

Units: 78 affordable units

Parking stalls: 70

Amenities: A rooftop garden and a terrace.

Start/Completion: TBA

Status: Under review
The Beat
Address: Atlantic Avenue from 56th to 60th streets

Developer: LAB Holding, LLC

Height: One story

Commercial Space: TBA

Parking stalls: TBA

Amenities: An interconnected, village-style mixed-use project.

Start/Completion: TBA

Status: Proposed
First Street Hotel
Address: 123 W. First St. 

Developer: Pacific Property Partners

Height: 38 stories

Units: 280 hotel rooms

Parking stalls: 252

Amenities: A lounge, fitness room, terrace and restaurant space.

Start/Completion: TBA

Status: Proposed
Lightwell
Address: 401 E. Ocean Blvd. 

Developer: Ford Do

Height: 10 stories

Units: 257

Commercial space: Ground-floor retail

Parking stalls: N/A

Start/Completion: TBA

Status: Under Review
Mixed-Use Project
Address: 1401 Long Beach Blvd. 

Developer: City Fabrick

Building Height: TBA

Units: 160

Commercial space: Ground-floor retail

Parking: TBA

Start/Completion: TBA

Status: Under Review
New Industrial
Address: 929 W. Anaheim St.

Developer: Alere Property Group

Height: TBA

Commercial space: 63,419 square feet

Parking stalls: 131

Start/Completion: TBA

Status: Under Review
New Townhomes
Address: 4800 Long Beach Blvd.

Developer: City Ventures

Height: Three stories

Units: 16

Parking stalls: 36

Start/Completion: TBA

Status: Proposed
New Townhomes
Address: 5100 Long Beach Blvd. 

Developer: City Ventures

Height: Three stories

Units: 33

Parking stalls: 75

Start/Completion: TBA

Status: Proposed
Ocean Village
Address: 1-11 Golden Shore

Developer: Greenlaw Partners

Height: Two eight-story buildings and one seven story

Units: 738

Commercial space: 10,000 square feet

Parking stalls: 1,063

Amenities: An entertainment terrace, fireside terrace, garden room, game lawn, and a resort pool and spa.

Start/Completion: TBA/TBA

Status: Under review
Queen Mary Island
Address: 1126 Queens Highway

Developer: Urban Commons

Height: TBA

Units: TBA

Commercial space: 36,349 square feet

Parking stalls: 5,772-6,472

Amenities: A 2,400-foot-long boardwalk with retail shops, cafes, and entertainment space

Start/Completion: TBA

Status: Under review
Residential Project
Address: 636 Locust Ave.

Developer: Starpoint Properties 

Height: 7 Stories

Units: 108

Commercial space: 1,045 square feet 

Parking stalls: 136

Start/Completion: TBA

Status: Under Review
River Park
Address: 712 Baker St.

Developer: Integral Partners Funding, LLC

Height: TBA

Units: 226 apartments, 152 attached townhomes, 74 detached single-family homes

Parking stall: 511

Start/Completion: TBA

Status: Under Review
Silversands
Address: 2010 E. Ocean Blvd.

Developer: Silversands Properties USA

Height: Four stories

Units: 40 hotel rooms and 56 condominium units

Parking stalls: 168

Amenities: A series of patios, roof decks and roof gardens.

Start/Completion: TBA

Status: Proposed