In 2006, Miami-based home construction and real estate firm Lennar purchased a surface parking lot in Downtown Long Beach and gained approvals to construct a 22-story residential tower with for-sale units. Those plans were abandoned when the Great Recession hit, and subsidiary Lennar Multifamily Communities (LMC) stepped in to develop the project that has taken shape between Ocean Boulevard and Seaside Way today – Oceanaire.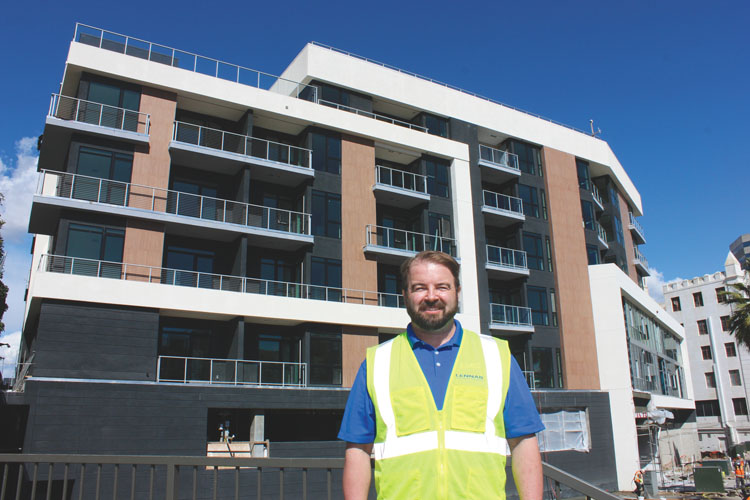 "What we've seen in Downtown Long Beach since 2006 is just such a cool transformation," Ethen Thacher, director of development for LMC, told the Business Journal. "It's a product that our entire company is excited to start leasing up," he said of Oceanaire, which is scheduled to be completed in June.
Located at 150 W. Ocean Blvd. between Pine and Pacific avenues, the seven-story, 216-unit building designed by architecture firm Togawa Smith Martin and built by Zwick Construction consists of studio, one-, two- and three-bedroom units. Thacher noted that featuring units with three bedrooms was a request by city officials in order to accommodate families wanting to live in the downtown core – an option not present in most other multi-family developments in the area.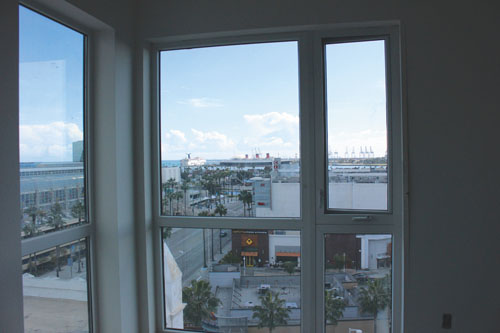 Another unique feature of Oceanaire is the inclusion of private and co-working office space on the ground floor that can be reserved by tenants free of charge. The work space also includes a kitchen area stocked with coffee and snacks.
A top-of-the-line gym is planned on the third floor, including indoor and outdoor workout areas. The outdoor space is situated next to the community pool and hot tub, which overlook the Long Beach Convention & Entertainment Center and The Pike Outlets. The development also features indoor and outdoor club rooms, three rooftop decks – one facing the ocean and two facing Ocean Boulevard. The club rooms include TVs, games and seating, while the decks feature barbecues, ping-pong tables, space for yoga and string lights to enhance the nighttime experience, Thacher said.
The centerpiece of Oceanaire is its Bali-inspired courtyard. Designed by Costa Mesa-based landscape architect Urban Arena, the space is dominated by a massive water feature. Two wood decks with seating are being constructed in the middle of the water to create a relaxing gathering experience, Thacher said. Several of the ground floor units on either side of the courtyard will have cabanas with decks that stretch over the water.
Outside of the building, LMC is developing two city-owned parks – its portion of Victory Park, a series of parks that run along Ocean Boulevard fronting numerous residential and office buildings, and Pike Park on Seaside Way.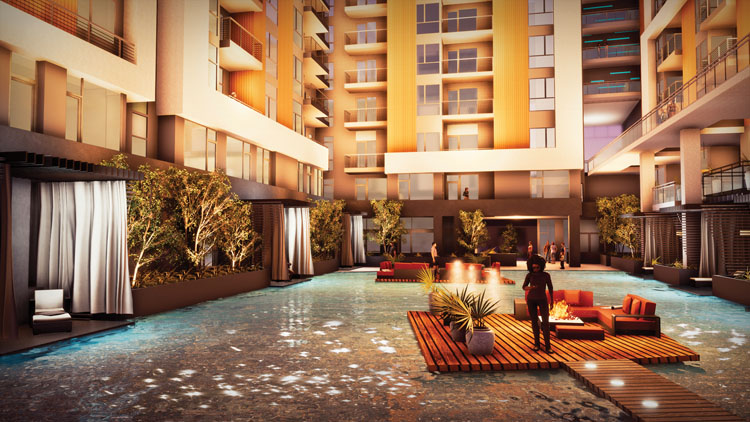 "Our segment of Victory Park is going to be a little different than what you see along Ocean Boulevard right now. It will be a lot more of an active type of park versus passive," Thacher said. "We'll have seating, we'll have a turf area to throw a Frisbee around or play football on. We'll have public art out there . . . and we'll also have a performance stage for live music."
On the other side of the building, the 800-square-foot Pike Park – named for its proximity to The Pike Outlets across the street – will activate Seaside Way. About half of the space is dedicated for a dog park, while the other half is to be a fitness park. The public space designs feature a slide from the mid-level landing of adjacent pedestrian stairs that transports sliders down to workout equipment meant for circuit training, Thacher explained.
While rental rate information has not been announced for Oceanaire, Thacher noted the units will be listed at top market values. Pre-leasing has not begun, but Thacher expects efforts to begin sometime in April.