For nearly a decade, development has been ongoing at Douglas Park, a 261-acre commercial park consisting of light industrial buildings, offices, hotels and retail. The bulk of development was completed by Sares-Regis Group, which sold off some small parcels to other developers. Signal Hill-based 2H Construction completed a 36,000-square-foot building at 3849 McGowen St. in late 2017 and, on December 1, will complete construction on its second Douglas Park project at 3815 Bayer Ave.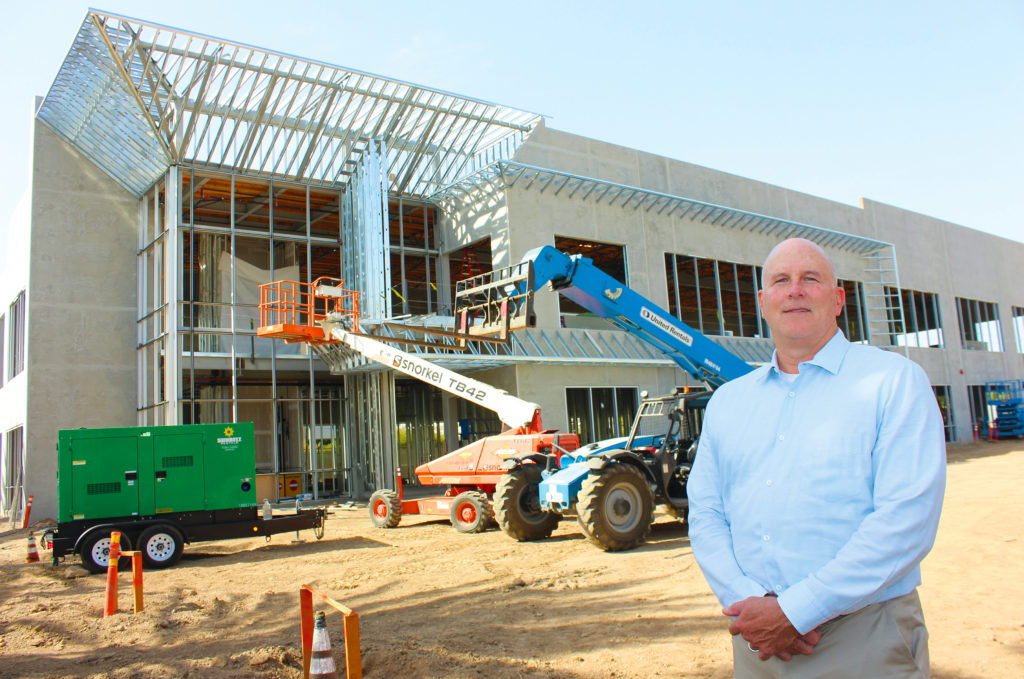 "[Douglas Park] was a great development to re-energize the city," 2H President and CEO Sean Hitchcock said, noting that inner-city areas don't often have large parcels of developable land become available. "It gave [developers] the opportunity to . . . create a brand new vibe – places to work and distribution centers and food places."
2H broke ground on the $5 million, 22,000-square-foot office and warehouse space in January of this year. Unusually heavy rains delayed the project about three months, Hitchcock noted. The building was pre-leased for 10 years in early 2018 by Turelk, a Long Beach-based tenant improvement contractor with 138 employees spread among three offices, including in Los Angeles and Newport Beach. Lee & Associates Principal Jeff Coburn brokered the lease. 2H is scheduled to complete the shell and core of the building by December 1, at which point Turelk will complete its own interior build out.
"This is the last development in this park, and I wish there was more because I would keep doing it. This complex is amazing," Hitchcock said. "[We purchased the parcel] three years ago. We didn't hold off – right from purchasing the property, we started planning and developing. It just takes that long to get through the entitlement process."
The new building will serve as Turelk's corporate headquarters, replacing its current Long Beach office at 3700 Santa Fe Ave. just off the 405 Freeway. Turelk plans to move its 65 Long Beach employees into the new building by the end of the year, Vice President Marcos Ramirez told the Business Journal. The company's Santa Fe Avenue office consists of approximately 13,000 square feet of office and 3,000 square feet of warehouse space. Turelk is dedicating approximately 8,000 square feet of its new building to serve as warehouse space.
According to Hitchcock, 2H completes around 300 projects per year ranging from small tenant improvements to ground-up building construction, such as its Douglas Park projects. The company focuses its work mostly on office and light industrial spaces, which occasionally includes retail components.
The company's work is split nearly 50-50 between the public and private sectors. Public clients include numerous California State University and University of California schools, as well as K-12 districts, including the Long Beach Unified School District. Projects range from maintenance to new building construction, such as an upcoming $40 million project at Mayfair High School in Lakewood.
Aside from purchasing and developing its own projects, 2H does maintenance work for private companies and property owners, such as CBRE and Continental Development Corporation. 2H also does work for hospitals, including MemorialCare Long Beach Medical Center. Though the company has worked as far as San Diego, Ventura and Riverside counties, Hitchcock said he is always looking for more opportunities in the Long Beach-Signal Hill area.
"It's so diversified – socioeconomically, the people, the actual land itself. It's a great mix that not all other cities have," Hitchcock said. "I'm a longtime local community person with kids that grew up here and went to elementary and high school and college here, and I went to college here. Most of the people in my office live here. [We're] bound to the community."