On paper, One World Trade Center looked . . . challenging. Nearly half the building was unoccupied, the configuration was outdated, and the list of what needed fixing included nearly everything.
This did not deter Sean Rawson and John Drachman. A pair of younger entrepreneurs, drawn to the evolving energy of Long Beach and particularly the downtown area of the city, they saw opportunity. "Everything was effectively wrong with that building. Our job wasn't just to fix it, but to modernize it," Drachman said.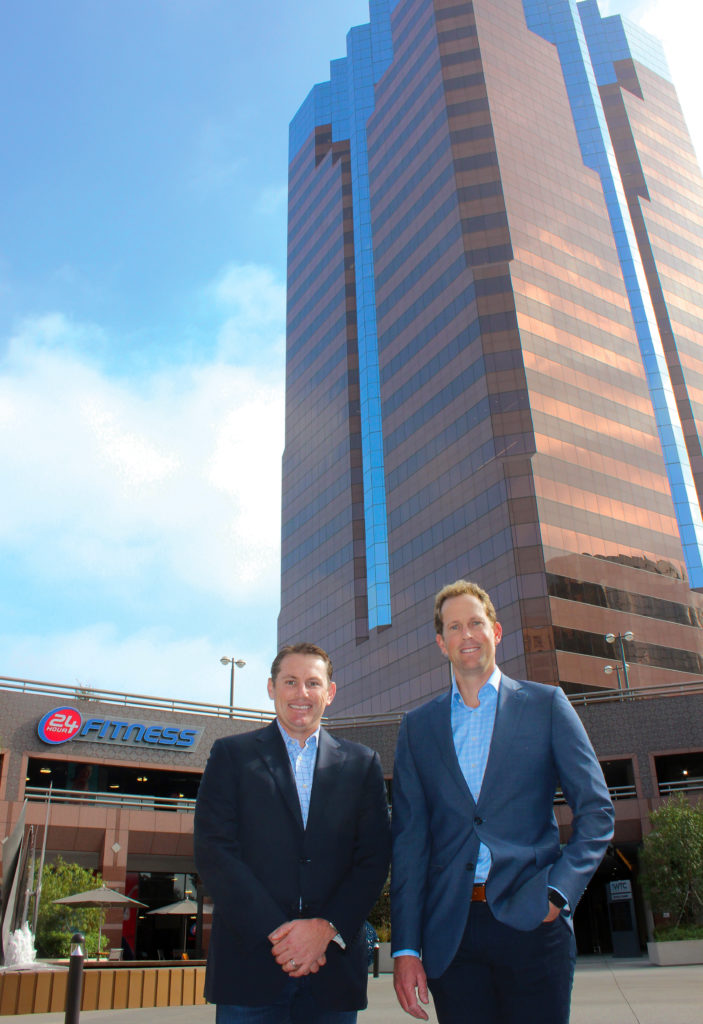 Their firm, Waterford Property Company, stumped up $105.8 million and staked their claim on revitalizing one of the city's most iconic buildings. Today, after millions of dollars in renovations, the building has an occupancy rate of more than 80%.
Waterford's experience with One World Trade Center demonstrates the company's philosophy for investing and renovating properties, both commercial and residential, in Long Beach. With the city's environment and atmosphere appealing to Drachman and Rawson on a personal level, they believed that the city was well-positioned to serve the emerging young professional market and the companies that employ them, as well as providing that demographic with a desirable place to live.
And they have backed that belief over the past four years with nearly $200 million in real estate acquisitions, buttressed by $57 million in construction spending on those projects. Other than the Goodman Group, which purchased the former Boeing C-17 manufacturing plant property, and Sares-Regis Group, which developed Douglas Park and has multiple apartment buildings in the works, no other developer has been more active in acquiring and renovating real estate in Long Beach.
"We have been doing heavy renovations on all of our projects. For the city to continue to grow, part of what [is needed is] quality real estate. People want to live in quality spaces and work in quality projects," Drachman says.
Rawson and Drachman have known each other for years, and back in 2014 shared an office space in Irvine. Drachman's background is in commercial, Rawson's in residential. When they started talking about working together, Long Beach kept coming up. Rawson has lived in Belmont Heights for years, liked what he saw happening, and saw how the city fit into a bigger picture.
"You have a large city with a coastal proximity that is unique, [and] that sits between two extremely large economic centers. When you look at it from a regional point of view . . . we really liked what we saw," Rawson says.
Societal shifts driving changes in the marketplace were making the commercial and residential segments in Long Beach more and more attractive, Drachman says. "There's very positive job growth in the city. The demographics are improving because you have a Millennial generation that is gravitating toward urban coastal areas," he says. "There's a generation of people who want to be in a more urban coastal area. They don't want a long commute, they care about the quality of life. And Long Beach had a large supply of office space. It still does. The one area that has not come back as strongly is the office vacancy rate."
Indeed, while industrial, retail and residential all started a strong recovery about five to eight years back, the commercial sector lagged. Why? Drachman's theory is simple: Commercial properties have not been revamped and modernized to meet the needs of current businesses and their employees. For example, the revamped One World Trade Center has a daycare facility and audio-visual (AV) conference rooms that are available for tenant use. These are de rigueur for modern business operations, and providing common space for AV conferencing, for example, is a selling point to tenants.
"You have to continue to invest in your properties," he says. "When you don't, you are not offering the space that tenants want. You're not creating a space where tenants want to be."
Alongside the acquisition and development of commercial property, Waterford has taken the same approach to residential properties. Almost concurrent with the acquisition of One World Trade Center came the purchase of a 60-unit Alamitos Beach multi-family property. To date, the company now owns 19 apartment buildings with 386 units, which represent nearly $90 million in acquisition cost, with a focus on market rate workforce housing.
Why? The people who are coming to work in the modernized commercial sector need someplace to live. Offering the same level of modern features that appeal to them in the workplace has helped attract them to living spaces in the city. "We have two separate and distinct business lines, but there is a synergy," Rawson says.
Rawson and Drachman see a long-term future in Long Beach. Entrepreneurs in their 30s and 40s, they are generational contemporaries with Mayor Robert Garcia, whom they cite as someone whose vision of the city aligns with theirs. And it's not just Long Beach. That societal shift, of younger professionals moving to urban cores with access to the coast, is one that they see continuing for the foreseeable future. And they want to be part of it.
Long Beach has its challenges. Ingress into and egress from the downtown area via the 710 Freeway can be improved, and homelessness and affordable housing issues need to be addressed across Southern California, they say.
And Long Beach still represents unrealized potential for those who are willing to bring it into the next decade and beyond, they agree.
"I believe that in the marketplace right now, if you build it, create the right environment for the tenants, they will come," Drachman says.