Though often described as Long Beach's sleepy bedroom community, Bixby Knolls is wide-awake. According to local business owners, the area has benefited greatly from the passionate efforts of the Bixby Knolls Business Improvement Association (BKBIA), which actively promotes and connects its professional, service and retail members.
"It's a great community," Dennis Cook, president and CEO of C.S.I. Patrol Service Inc., told the Business Journal. "It still has that small town feel, which is what I really like. Everybody knows each other, everybody supports each other."
Bookended by Atlantic Avenue and Long Beach Boulevard, and running from the 405 Freeway at the south end to 46th Street to the north, the Bixby Knolls Property and Business Improvement District is one of 10 such districts in the City of Long Beach. Businesses in the district pay an additional fee to provide the area with cleaner streets and sidewalks, landscape beautification, enhanced security, capital improvement opportunities and special events and marketing.
Over the last decade, First Fridays, a monthly special event grew into a monthly block party that took place on Atlantic Avenue. With live music, art, dancing and fun for the whole family, the first Friday of each month gives locals a chance to mingle and shop.
Briana Williams, general manager at Reptiles or Nah, a local pet store, said First Fridays have been a great opportunity to show off their scaly creatures. "We bring our snakes out and we bring our lizards out," she said. "People freak out when they see a 14-foot snake around someone's neck and they're just like, 'Oh my gosh!'"
Aided by the BKBIA, and led by its Executive Director Blair Cohn, the commercial corridor of Bixby Knolls is experiencing a resurgence in interest from locals and visitors alike. Veteran businesses that have been there for years are reporting higher revenues and younger clientele, while new businesses are excited to become part of the scene.
Dining And Drinking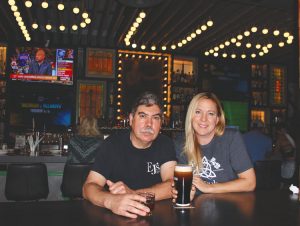 Corrie Matthews, the general manager at EJ's Pub, has worked out of the company's Bixby Knolls location for the last four years. The pub itself has been in the area for nearly two decades. "In 2001, there was not a lot out here," Matthews said. "We were lucky enough to be one of the first pubs to come into the area at the time. That was a rough year, though."
The eatery's prospects brightened considerably when First Fridays became a monthly event, she said, crediting the BKBIA for striving to maintain that level of excitement and renewal throughout the years. Lately, the big draw for the area has been the selection of breweries and craft beers, she noted. Excitement for the "Brewery Knolls" movement has translated to more foot traffic and higher sales for EJ's, Matthews said. "We all feed on each other. We're all able to draw from the same customer base."
Though EJ's does not brew its own beer, the pub keeps a selection of craft beers on tap and has dedicated itself to offering a varied menu. "People are exploring flavors a little bit more than they used to, so it's fun for the kitchen to try new stuff," Matthews said.
Stateside Crafts, an American independent craft beer shop and tasting room located just a minute's walk south, will celebrate its four-year anniversary next month. In addition to its wide selection of beer, the shop offers handmade small batch foods, such as pickles and jerky from Proper's Pickles and Long Beach Jerky Company, both local to the city.
Patrick Homa, the store manager, said the burgeoning beer scene is helping to revitalize the neighborhood. "If you look at Torrance and you look at Long Beach and Orange County and you see how much beer is evolving . . . there's definitely a groundswell."
By providing a free "beer trolley" that drives folks from one brewery or bar to the next, the BKBIA has supported that scene in a safe and fun way, Homa added. "They use the trolley to cart people in between locations – SteelCraft and Willmore and Rasselbock – and then there's a dropoff right in front of my store [where] you're able to hit my place and Dutch's Brewhouse next door," Homa said. "Once they come in and see how great these places are . . . they really enjoy it."
SteelCraft is an outdoor urban eatery built from repurposed shipping containers. "We collaborate with BKBIA on many events," Kimberly Gros, founder of SteelCraft, told the Business Journal. "The neighborhood is all about supporting small businesses and you can really feel that in the community."
The taproom general manager for Smog City Brewing Company, Jason Briseno, echoed Gros's statement. "What's fun about 'Brewery Knolls' is that you have this really amazing central business district and local business owners that really care about their environment, their customers, their neighborhood, the culture," he said.
Smog City Brewing Company, which operates a taproom within SteelCraft, is currently gearing up to release "winter warmer" beers. "So, a lot of darker, roastier, bourbon-barrel aged beers that we're going to be releasing coming up this month and December," Briseno said.
At 4020 Atlantic Ave., Rasselbock Kitchen & Beer Garden has finished its Oktoberfest and is now in the midst of its "schnitzel month," owner Bjoern Risse said.
"We are showcasing eight special schnitzel variations during the month of November . . . from different regions of Germany," Risse said. In addition to traditional schnitzels are some of Rasselbock's own creations, including a schnitzel with eggs and capers on top and one with pineapples and cheese, among others.
"We're having a beer and food pairing coming up at the end of November called 'Winter's Coming,'" Risse said. "We'll be focusing on winter style beers and we'll be pairing those with food items for tasting."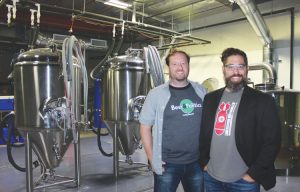 The new kid on the block, Liberation Brewing Company first opened its doors six months ago. Its three founders, Dan Regan, Michael Clements and brewer Eric McLaughlin, all grew up around the Long Beach area and were excited to set up shop in Bixby Knolls. "It was like coming home," Regan said.
The former chief of staff for the seventh council district, Michael Clements said Bixby Knolls was the top neighborhood he considered for the brewery's location. "The BKBIA was a big draw," Clements said.
"We were looking at properties. We went to meetings with other business associations and community groups," Regan said. "But Blair [Cohn] specifically and his group . . . they weren't just going to support you, they're there to kick you in the pants and be like, 'Hey, you're doing this thing, it's going to be great.'"
Liberation is a five-barrel brewery, which is one-third of the size of most breweries, Regan said. "That affords us the ability to stay agile and have fun with it."
Regan added that he was surprised by how many of their patrons have turned out to be locals rather than visiting fans of craft brews. "People who are just walking the dog are coming in for a beer," Regan said. "And they'll be there the next day because they've got to walk the dog every day."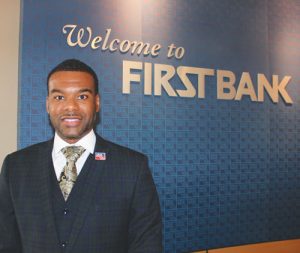 Professional Services
Professional service providers located in the business improvement district might not receive the direct exposure of a First Fridays or Small Business Saturday, but these events and the businesses they attract were overwhelmingly cited as reasons that office tenants have settled in the area.
"A good majority of our new customers are Gen X [and] Millennial individuals, families and business owners," Kris Allen, vice president and senior branch manager at First Bank in Bixby Knolls, told the Business Journal.
Allen, who has managed the bank for two and a half years and is a boardmember of the BKBIA, said that more than 90% of his clients are local residents or business owners. "They seem to identify with First Bank being a small, community, family-owned bank that can relate to small business growth and [is] willing to go that extra mile to help with their success."
Renew Landscapes, a landscaping and organic maintenance service, opened in Bixby Knolls in 2016 and has experienced year-over-year growth. "We are excited to work within all of the unique neighborhoods of Long Beach and be a part of a growing and evolving business district here in Bixby Knolls," Design Director Shelby Batalla said.
Batalla said that her company "takes a holistic approach to landscape" that complements "both architectural style and environmentally conscious solutions."
Software firm Laserfiche relocated its firm from Torrance to Bixby Knolls in 2001. Its major clients include the City of Long Beach, Farmers & Merchants Bank, Long Beach City College and many more local organizations, as well as multiple national brands. "We are especially excited about some of the city's digital transformation initiatives and the important role that Laserfiche software plays in them," Chris Wacker, the company's chief executive officer, said.
Laserfiche is planning to develop land adjacent to its headquarters and expects to break ground in 2019. "We have been working closely with Urbana Development to ensure the area is prepared from an environmental standpoint, which includes eliminating old oil tank towers that have been a neighborhood eyesore, and properly abandoning oil wells that have [lain] dormant for decades," Wacker said. Urbana Development is a local commercial real estate development firm. The company is also working with Long Beach design firm Studio One Eleven and general contractor Millie and Severson "to make sure the structure is a beautiful, harmonious addition to the area," he added.
Wacker said that being located in Bixby Knolls has been beneficial for the company's employees, who enjoy the dining and entertainment options nearby.
Russ Beauchamp, vice president of risk assessment and security firm Amergent Techs, also credited the BKBIA for creating a better work environment. "It's a different feeling than it was in the mid-2000s when there wasn't a lot of stuff here," he said.
Amergent Techs, a disabled veteran-owned business, established its headquarters in Bixby Knolls in 2006. Working both domestically and abroad, the firm writes security plans for companies in the shipping industry. "Being just up the road from the ports of L.A. and Long Beach, and then having Long Beach Airport so close . . . it is a convenient location," Beauchamp said.
Location has been a prime factor in the success of goFetch, a dog daycare and training service, but not the only one, according to co-owner Aaron Hovis. "We've got a mural on the side of the building, and we're a high-trafficked area at the corner of Wardlow and Atlantic, but I also think a lot of our business is [driven by] word of mouth," he said.
GoFetch has been in Bixby Knolls for six years now, and co-owner Katherine Galanty said the neighborhood is largely to thank for that. "In the beginning, the BIA was super helpful with us, with our getting the licenses and cleaning up the front and really getting us in touch with the correct people . . . to kind of get ourselves up off the ground," she said.
"They were very welcoming to us when we got here," Hovis agreed.
Their "one stop dog shop" has seen a lot of new clients in the past year, co-owner Carley Hovis said. "We have more phone calls that are, 'Hey, I'm moving to Long Beach' . . . usually from the L.A. area."
All three owners agreed that it's nice to see new families moving into the area, though a few locals who have moved on to other cities or counties still bring their dogs to goFetch. "They don't trust anyone else with their dogs," Aaron Hovis laughed.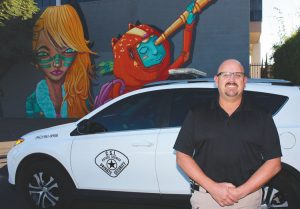 C.S.I. Patrol Service's Cook said that being part of the community and offering help to local businesses has been an honor. "I love what we do," he said. "This is my life."
C.S.I. contracts with the BKBIA to patrol the neighborhood five days a week, day and night. Four of Cook's five Bixby Knolls patrolmen are locals, and the fifth lives downtown. And if a business needs help beyond C.S.I.'s contracted hours, Cook and his team make it a point to be on hand. "If I have a business owner here or somebody here in our community that says, 'Hey, I need help,' I'm not going to say no. That's not me," he said, adding that he always makes sure that he has someone available in the neighborhood ready to help out.
Retailers
Sandra Cason, the owner of Furniture Consignment & More, just celebrated seven years at her 4129 Long Beach Blvd. location. She estimated that about 60% of her customers are Long Beach residents. "I love it here," she said. "When I first opened I prayed to meet a lot of nice people, and when it comes to that, my cup overfloweth."
Cason primarily sells used furniture in her 3,000-square-foot location, with an eye for pieces that are in "like new" condition. "This year is one of my strongest years," she said. "I'm going to attribute that to the quality of furniture I've been getting in."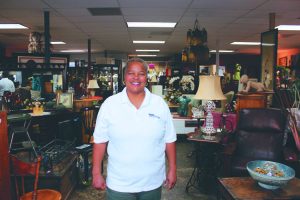 The Better Half Boutique, a gift store located on Atlantic, also reported a strong year for sales. "Each year we've hired a new employee," Katie Barish, the store manager, said.
Barish said that she likes to call Better Half "a good time boutique," specializing in home décor, onsite engravings, and wedding and baby gifts. She credited the BKBIA and Blair Cohn for encouraging businesses to communicate and support each other. "We feel like they do everything they can to help your business succeed here," she said. "They really have your back and put so much money and effort into extra programs in the area."
Karen Quimby Lobo, owner and president of Twig & Willow, said that she's noticed a lot of new faces and young families moving into the area. "Which is what we kind of predicted," she said, referencing the decision to open the Bixby Knolls location in 2015. "We saw how the market was changing and how the neighborhood was turning over."
Quimby Lobo classified the style of her clothing shop as "California casual" or "slightly bohemian." She estimated that the bulk of her clothes, gifts and accessories are designed by Long Beach residents, with the next highest percentage coming from the greater Los Angeles area. "We do carry lots of local designers," she said, "not only in jewelry but in things like ceramics and art."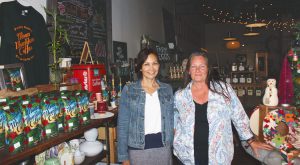 Lobo has been in business in Long Beach for nine years. Her first Twig & Willow shop is located on 4th Street, while the Atlantic store just celebrated its third anniversary. "I read a report every day coming from that [Bixby Knolls] store, and I'll see that there are lots and lots of new people," she said. "We're seeing new faces every single day up there."
Down at 3803 Atlantic Ave., a former Greyhound bus station has been transformed into an indoor farmer's market. The Bixby Trading Post accommodates several retailers that sell natural foods, small batch goods and other provisions. The space also hosts craft and cooking classes. "This space is amazing," Christy Pardini, a co-retailer, told the Business Journal. "It's got high ceilings, it's got those big metal fire doors everywhere. We love it."
Inside the Trading Post, Pardini sells ceramics and bath and body items from her company, River's End. Included among her fellow co-retailers are Sister LB, a clothing shop, and Moon Mountain Coffee, whose owners live in Long Beach and run a coffee plantation in Costa Rica. "They go multiple times a year to harvest," Pardini said. "They bring it back here, roast it here, package it here and sell it."
Heading forward, Pardini said she hopes to open up the Trading Post's kitchen to provide meals.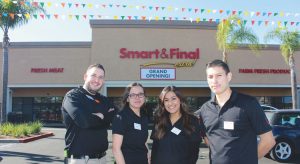 At the northernmost tip of the business improvement district is the Bixby Knolls Shopping Center, which just saw the grand opening of a new Smart & Final Extra! The neighborhood warehouse grocery store is the company's 200th location.
"We have deep roots in the community of Long Beach, where we opened our very first Smart & Final location, so it's fitting that we celebrate our 200th Extra! store here," Store Manager Jason Oliva said in a press release. "We look forward to welcoming our friends and neighbors and showing them that they'll find much more than a traditional grocery store."
With booming businesses and an ever-growing selection of good food and craft drinks, Bixby Knolls is breaking free of its "sleepy" reputation.
"It's funny," Clements said. "Long Beach is big as a whole, but [Bixby Knolls] is definitely its own defined community."
"What we have been really grateful for is the loyalty and the support from the people that are patronizing us and the other local retailers," Quimby Lobo said. "We're really grateful because those people are passionate about their support for us."