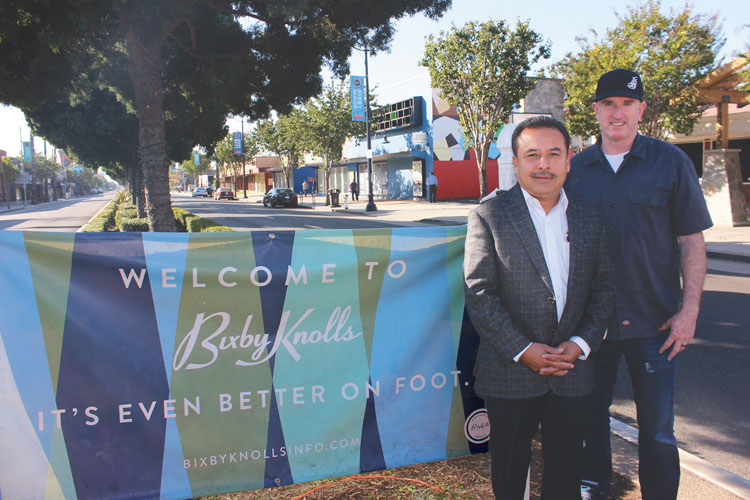 The Bixby Knolls Business Improvement Association's (BKBIA) leaders are positive about the momentum of the business improvement district they oversee, but are faced with a major challenge that has begun to crest over the long-term horizon to near-term reality: the sunsetting of the majority of the BKBIA's funding, $200,000 annually from the city's former redevelopment agency, in 2021.
The BKBIA's operating revenue is also largely generated by $190,000 in assessment fees paid by property and business owners in the district. Run by a staff of two with the assistance of numerous contractors who provide key services, the BKBIA continues to focus on its core services and programming, according to Blair Cohn, executive director. Established in 1993, the Bixby Knolls Property and Business Improvement District was created to provide the business corridors on Long Beach Boulevard and Atlantic Avenue in the Bixby Knolls neighborhood of Long Beach with additional services, including marketing, security, and physical improvements.
"I always say that the district is strong and steady," Cohn told the Business Journal in the association's small office in the Expo Arts Center, an events venue and community center owned by the BKBIA. "The last two years have been a period of crossroads and some changes. We have some new developments [underway]. We have some business owners retiring who have been here for years. Now we're coming out of that and getting into [determining] the next direction for us."
Servando Orozco, president of the BKBIA's board, operates a growing business in the district, and said he has seen many positive changes over the years. "I personally believe the district has improved a lot," he said. "How people perceive Bixby Knolls is different that it was 15 years ago. I can feel that. I can see that."
Cohn said that Bixby Knolls continues to attract new businesses, both at its retail street locations and in office buildings. When a vacancy opens up, "We try to be in those conversations to connect landlords, brokers and potential businesses," he noted. Knocking on wood, Cohn said that business retention has been going "pretty well."
"If we can continue our energy of the clean and safe programs and the promotion of the district . . . it trickles down to other parts of the business community – folks who are looking to expand or to move here," Cohn said. "We're off the 405 [Freeway] right up a major corridor, and easy to get to. If I had a magic wand, of course we'd fill up everything. But the best we can do with our tiny staff here is to do our song and dance to make it as great as possible."
The BKBIA operates a series of programs meant to engage residents and bring them to the business corridors, including its Literary Society (a book club) the Strollers (a walking group), the new Knights of the Round Turntable (a music group), and several others. A quarterly breakfast meeting for BKBIA members is well attended, with 90 to 100 businesses represented at each meeting, according to Cohn. Guest speakers such as City Manager Pat West and Long Beach Economic Development Director John Keisler speak at each of these meetings about topics of interest to business owners.
The BKBIA hosts regular events to spotlight businesses in the district. This summer, the association temporarily halted its involvement in First Fridays, a long-running event held in the district in which businesses offer specials, entertainment and even food samples. "The BIA took a backseat for a few months and we gave it back to the business owners," Cohn said. He explained that the concept had originally debuted to get people into local businesses, but had transitioned into more of a street fair in recent years. "We took a look at it and said, 'Are we off the mission now?'" After letting local business owners take the reins for the event during the summer to get it back to these roots, the BKBIA is back leading the event, he noted.
This summer, the BKBIA introduced Summer Saturdays, "where we ran a beer trolley for June July and August just to connect the neighbors on a Saturday afternoon," Cohn said. This recurring event highlighted the BKBIA's new marketing push for the business district, the concept of "Brewery Knolls." Also spotlighting the beer offerings of Bixby Knolls was the BKBIA's new Walktober Fest, an Oktoberfest-themed brewery tour in the month of October.
"We're going to really start promoting the Brewery Knolls concept, which is all the breweries that are here," Cohn said. These include Liberation Brewing, Smog City Brewing, Dutch's Brewhouse and the soon-to-open Ambitious Ales, plus beer-centric eateries and businesses such as Rasselbock German Kitchen & Beer Garden, Knolls Restaurant, Stateside Crafts and Corked. Asked why so many beer and brewing businesses have opened up shop in Bixby Knolls is recent years, Cohn said, "There were affordable, good spaces available, and it all just seemed to kind of play that way."
In 2021, the BKBIA's largest source of funding will run dry: an annual payment of $200,000 in former redevelopment agency dollars. The BKBIA receives these funds through a contract it won with the City of Long Beach before the state legislature dissolved redevelopment agencies throughout the state in 2011. According to Cohn, RDA funds contribute to facade improvements for businesses, the association's security contract with local business CSI Security, streetscaping and other key services.
To prepare for the loss of this funding, the BKBIA is pursuing a number of strategies. "One, we had already raised assessments, but that was because the assessments hadn't been raised in 20 years," Cohn said. "We have just filed to have a 501(c)(3), so there will be a nonprofit arm of the BIA . . . [for] fundraising, grants, donations." Cohn is also beginning to rent out the Expo Center for events more frequently to bring in additional revenue.
The BKBIA's services were recently hired by the Long Beach Public Works Department to assist with corridor improvements in other areas of the city, and Cohn envisions future project management opportunities as a potential revenue stream.
Staff at the City of Long Beach have suggested that the BKBIA install parking meters to generate additional revenue. However, Cohn noted that parking isn't impacted in Bixby Knolls. "I am not saying no to the idea, but it has to be smart and it has to be right. If we're going to do a revenue split [or] if we have to pay the city back for the cost, then what is the true net [gain] of this? How much will that really help us?" he asked.
"Our challenge is to find an answer to continued funding," Cohn said. "But if there is no way through the city to fund this, the dominos will fall. And I don't think there is anybody in city hall, or this office, or the council office, or this neighborhood, who would want to see things grind to a halt and go back to basically an answering machine and a part-time person who says, 'Yeah we can do a member mixer.' This is now a connected, active community that wants to see the corridors thrive."