Reptile Factory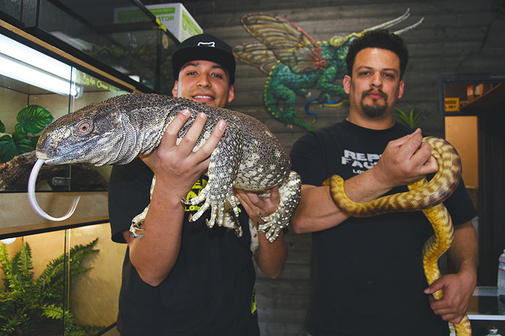 Since 2014, Geovanni, 26, and Daniel Solis, 29, have been providing North Long Beach residents with everything they need to keep and raise reptiles, including the animals themselves.
Located at 1095 E. Artesia Blvd., Reptile Factory sells a variety of reptiles, including snakes, lizards and turtles. The shop also sells some amphibians, namely frogs, along with all the supplies needed to care for the animals – from tanks to live food, such as mice and crickets.
Growing up in Los Angeles, Geovanni said the brothers always had animals at home, encouraged by their mother. Dogs, snakes, rabbits and armadillos – the Solis brothers had it all at one time or another. As they got older, they continued collecting animals and turned to selling them on the Internet when they exceeded their space.
Eventually, they built a following online with people keeping up with the animals they had for sale. "So it really made sense to open a store where people could come in and check out the animals, and that's when we decided to open the shop," Geovanni said. "We're very open to educating people. If they ever have questions or want to come in and check out the animals and interact with them, we're always very open to that."
(Pictured: Geovanni, left, with a Black-throated monitor, and Daniel, with a woma python.)
Keo Neighborhood Market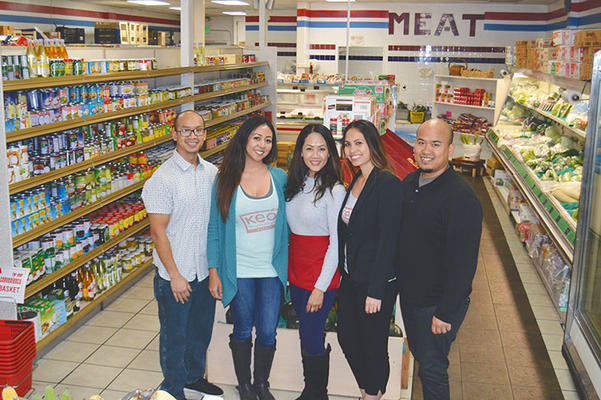 When brothers Ben and Patrick Keo, immigrants from Cambodia, purchased a North Long Beach market in May, it was the realization of a family dream.
"It has always been my dad's dream to have a market and sell produce and goods because that is what he was raised to do back in Cambodia," Ben Keo said, explaining that his family worked in agriculture in Cambodia. "When the opportunity came to us, me and my brother got together and said, hey, this might be a good opportunity for us not only to form a family business but to achieve dad's dream."
Ben continues to work as a territory sales manager for a manufacturing company, while Patrick works as a helicopter technician. Their sister, Melanie, runs the store as manager. Ben's wife, Molica, and Patrick's wife, Annie, pitch in as well.
Located at 1224 E. South St., Keo Neighborhood Market is focused on Southeast Asian foods. "We are targeted towards the Asian community, but we do have a little bit of everything," Keo said.
He added, "We have organic produce that we buy from local Cambodian people – regular folks who have gardens and have surplus of vegetables. . . . So not only are we getting organic [foods] but we are also helping the community."
(Pictured from left: Patrick, Molica, Melanie, Annie and Ben Keo.)
LB Swamp BBQ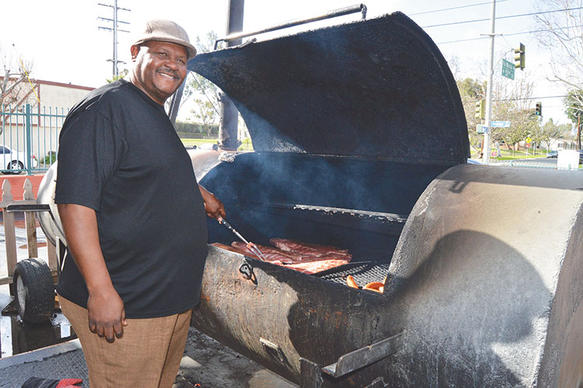 About a year after retiring from the refuse division of the City of Long Beach Public Works Department, Jason Hunter opened LB Swamp BBQ, a take-out barbecue joint at 5204 Orange Ave. where he serves up his own recipes.
As the youngest of seven children growing up in New Orleans, Hunter was always by his mother's side when she was cooking. "My mother started me cooking when I was five years old," he said. "I always helped prepare the food for the rest of the family."
Hunter selected LB Swamp BBQ's North Long Beach location because of its proximity to the Carmelitos Housing Project. He already works with this community through his nonprofit organization, We Care Long Beach, which aims to divert children from entering gangs through extracurricular programs.
You can't miss LB Swamp BBQ – there is a 10,000-pound grill out front. "It's like an attraction because it's so huge," Hunter said. The eatery serves ribs, brisket (popular with the police department, he noted), turkey necks and other barbecue, as well as sides like candied yams, black-eyed peas, collard greens and more.
Hunter will soon open a second, smaller LB Swamp BBQ location at 3636 Santa Fe Ave. in West Long Beach, and he hopes to eventually make his business into a chain.
Aguas Way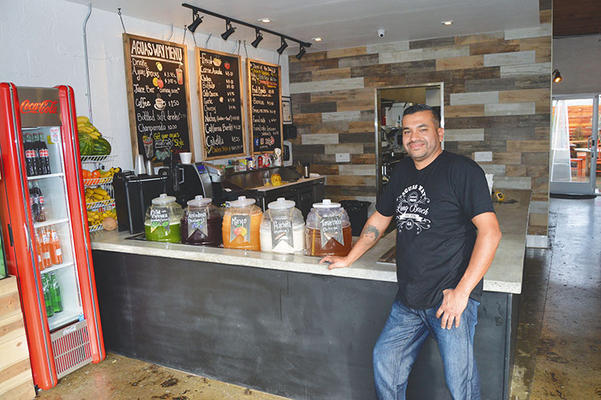 Long Beach-native Leoh Sandoval was tired of his neighborhood on the north side not having eateries with a nice atmosphere where locals could eat, hang out and become more of a community. He acknowledged that the area already had good food spots but that many of the buildings are old and in need of renovations, which causes many to order takeout.
This, along with wanting to keep his family closer together, led Sandoval to open Aguas Way, a cafe specializing in aguas frescas, a popular Mexican fruit drink, located at 5248 Long Beach Blvd.
His cafe also serves food items, including its best-selling carne asada fries. The aguas frescas are made by Sandoval's mother, who he said has made them as long as he can remember, and his brother-in-law handles the cooking, which he has always had a passion for but has never done for a living.
Being his first business, Sandoval said the hardest part is anticipating the needs for each week but that reception has been positive.
"Everybody loves it, and everyone is excited that we brought something nice to the neighborhood," Sandoval said. "We have regulars already that come two or three times a week. It's just been a great response from the neighborhood."
Cherry Blossom Hair Studio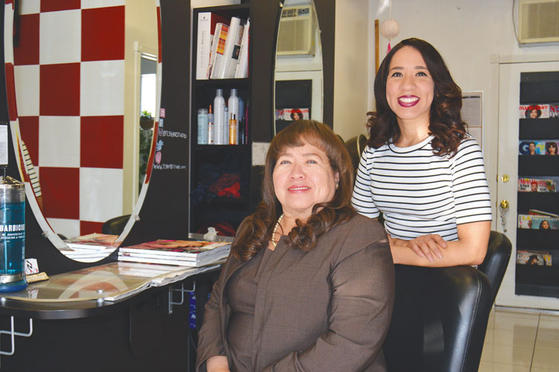 The Cherry Blossom Hair Studio has been located at 1069 E. Market St. for 10 years. Owner Janet Salmeron, a Norwalk resident, began studying cosmetology while still in high school when her mother signed her up through a regional occupational program to keep her busy. Salmeron said it made sense because she always liked playing with hair.
Since she was dropping her off anyway, Salmeron's mother, Rosa, also began taking classes, and eventually they both graduated. Janet explained that her father always wanted to be an entrepreneur, so when the opportunity arose to purchase the Market Street property, he jumped on it and offered it to his family to open a salon.
"He invested in us, . . . so we just built it from scratch. And we've been here since," Salmeron said.
The studio does women's, men's and children's hair, including cuts, color corrections, highlights, perms and deep conditionings. Salmeron said she loves Long Beach – she participates in the marathon and Yoga on the Bluff – and spends most of her time here. She explained that she hopes to add more services, including manicures, waxing and facials, to the location and perhaps some wellness aspects such as yoga as well. "But for now, we do hair – everything with hair," she said.
(Pictured from left: Rosa and Janet Salmeron.)
Gage Pharmacy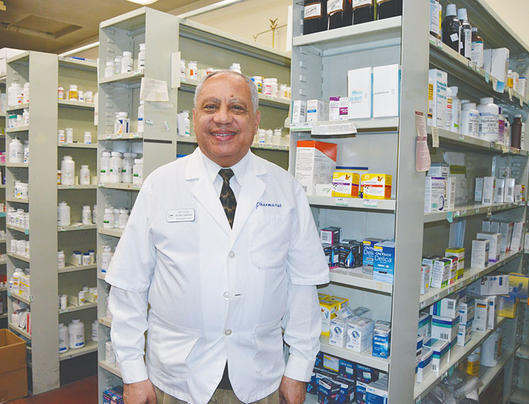 Gage Pharmacy, an independent drug store in North Long Beach, has been in the same location at 5735 Atlantic Ave. since it opened in 1926. Current owner Attef Girgis, Pharm.D., is the third pharmacist to operate the store.
Girgis was previously a pharmacy manager in Compton for about 22 years. Every day on his way to work, he drove by Gage Pharmacy. "I felt like it was a really nice location," he said. He eventually put in a call to the pharmacy's owner expressing interest in buying it. "When he was ready to sell, he contacted me, and I got a deal," Girgis said.
Owning the pharmacy has given Girgis the opportunity to spend more time with patients. "I have a long experience with chain pharmacies, and I feel independent pharmacies have more benefits for health care professionals," he said.  "You build up good relationships." Being able to spend more time with patients is helpful in building trust, he noted.
In addition to its pharmacy and store, Gage also has mail and utility payment services and, in the future, will offer L.A. Metro fare.
Girgis hopes to keep Gage Pharmacy in the family. "My daughter is in pharmacy school, so I am hoping that she takes over," he said.