Robert Earl's BBQ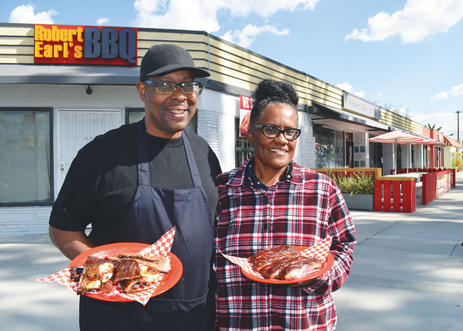 About four years ago, after successfully building his brand at local farmers markets, Robert Earl and his wife Latonia decided to open Robert Earl's BBQ at 703 E. Artesia Blvd. "There was really nothing in Long Beach as far as authentic Texas-style barbecue," Earl said. "Long Beach is a beautiful city. I've built a lot of relationships with the residents, who we call family." Growing up, Earl said he learned different techniques by watching his grandfather, Chef Woody, barbecue. In the 30 years since he has been barbecuing himself, Earl has put his own spin on family recipes and techniques. He explained that his joint is meant as a getaway for families to eat good food away from video games and TV, and to just enjoy each other's company. Earl said all his food is good but that he prides himself on the brisket, which he smokes for 18 to 20 hours. The ribs, mac and cheese and banana pudding are also customer favorites, he added. "I love challenges. If I can get people to come [to North Long Beach] to get my food, that speaks volumes," Earl said. "You're not talking about Downtown Long Beach, you're talking about In-The-Hood Long Beach. And in the hood is where it's good." For more information, call 562/726-1116 or visit www.robertearlsbbq.com.
All Star Tire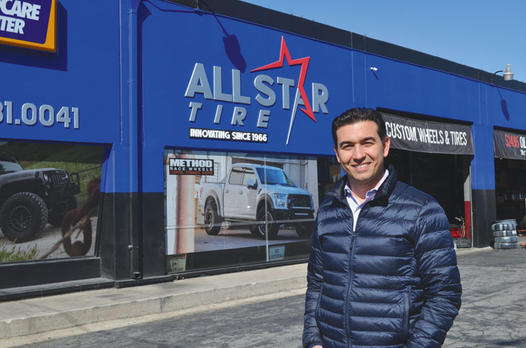 In May 1966, Ruben Karapetian opened All Star Tire to serve the Long Beach community. In 1983, he relocated the business to 2721 E. Artesia Blvd. where it continues to operate today. "It's your typical entrepreneurial, small business success story," Andrei Karapetian, Ruben's son and current owner of the shop, said. "[My dad] started with recaps and small tires, and then growth demanded a larger facility. The current facility that we are operating is 70,000 square feet." Since opening, the shop has expanded to offer suspension, mechanical, fabrication, upholstery, paint and stereo services, in addition to wheels and tires. When Andrei took over the business around five years ago, he said he made a more aggressive push to gain business from local auto dealerships and increase online sales to keep up with the ever-changing retail landscape. Today, the shop employs 18 people to serve clients regionally and online. "The most interesting aspect is . . . trust and relationships still are key factors in making sure that customers know that when they get on the road they will be safe," Karapetian said. "Ninety percent of our customers are from Long Beach, so we're taking a little more proactive approach within the community." For more information, call 562/531-3894 or visit www.allstarmotorsports.com.
B & B Carpets And Flooring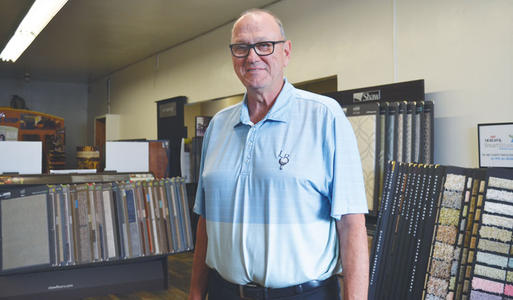 Bob Bernard first got into the flooring business in the late 1970s when he was looking for a summer job. He had friends in the industry and began assisting installers. In 1990, Bernard opened B & B Carpets and Flooring in Wilmington. The business moved to Los Alamitos before Bernard bought Boulevard Carpets in 2004 and relocated top his current location at 1117 E. Artesia Blvd. in North Long Beach. "The location is really good. It's centralized to the areas that I cover," Bernard said. "It's very freeway friendly and I get all over L.A. and Orange County. It's convenient." Bernard's shop encompasses around 3,500 square feet between the retail and warehouse space. He offers carpets, vinyl, laminate plank, vinyl plank and engineered hardwood. The only flooring products and services B & B does not offer are ceramic and porcelain tile, stonework, wood flooring and floor refinishing. Outside of the retail business, B & B offers installation, mostly for commercial clients such as property management companies that need new floors installed when tenants move out or when buildings are being renovated. Bernard has 16 employees but still takes pleasure in his work. "I enjoy getting out of the office, selling, talking to new people and building relationships with clients," Bernard said. "I do a lot of the selling myself. It's a pretty basic business. Nothing fancy. No frills." For more information, call 562/276-2400 or visit www.bauhscarpets.com.