The recent bankruptcy of the world's seventh largest ocean carrier line, Hanjin Shipping, provided a global visual cue signaling what trade professionals and experts have known for some time now – the shipping industry is hurting. Around the world, Hanjin vessels float in harbors and at sea with nowhere to go. Hanjin containers are stacked up on port docks, with rail lines refusing to move them without payment.
"To give you an example of the extent of the problem, in a period of less than two years, there have been two major consolidations, one major acquisition and more recently the seventh largest shipping line in the world filed for bankruptcy," Noel Hacegaba, chief commercial officer for the Port of Long Beach, said. "That illustrates the magnitude of the problem facing the shipping line industry," he explained.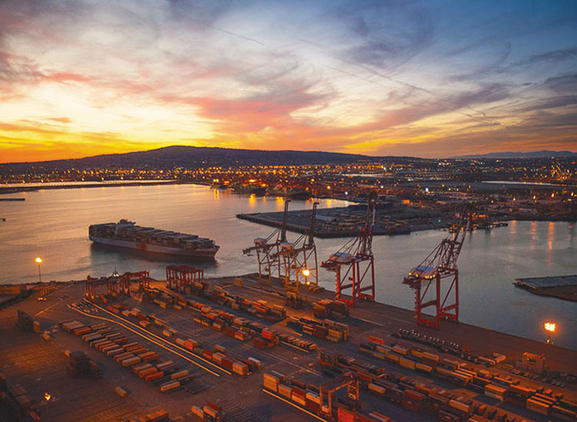 Port of Long Beach Photograph
"A lot of this is the result of shipping lines investing in bigger and bigger ships. In effect, what they have done is they have flooded the market with additional capacity, and demand has not kept up with capacity," Hacegaba continued. "That's the reason why freight rates are at historic lows. And when freight rates are at historic lows, shipping lines are not making money."
Visits to local ports by mega-ships like the CMA CGM Benjamin Franklin – which is one of the world's largest ships at a capacity of 18,000 twenty-foot equivalent units of containers (TEU) – make headlines for the sheer size of the ships and what they mean for port operations and infrastructure. But these ships are also at the root of the shipping industry's current overcapacity problem.
"In terms of overall economic impact, one consulting group projected that the industry was looking at losing, collectively, between $6 billion and $10 billion this year," John McLaurin, president of the Pacific Merchant Shipping Association (PMSA), said. The PMSA is a nonprofit organization representing owners and operators of marine terminals and trade vessels.
Globally, freight rates – the fee charged to ship a container from one point to another – are at historically low levels. In recent months, they have been as low as $700 to move a container from the Far East to the Port of Long Beach, according to McLaurin. "Those rates really need to be up around $2,000 to be compensatory," McLaurin said. "Your transpacific freight rates – the cost to move an export container across the Pacific – is less than what you're paying to move the container by truck across the Southern California area. That has got to change."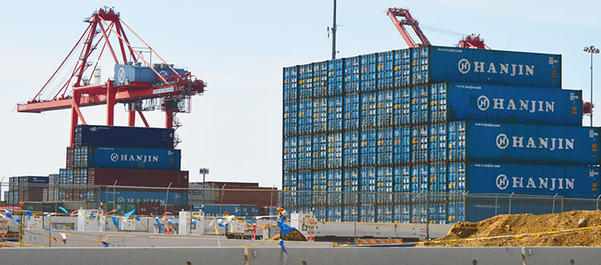 Hanjin Shipping, the seventh largest ocean carrier line in the world, recently filed for bankruptcy. Containers offloaded from Hanjin ships are sitting idle at the Port of Long Beach (POLB) as rail lines decline to move them without payment. According to POLB Chief Commercial Officer Noel Hacegaba, some of the containers are also sitting atop chassis – the equipment trucks use to transport containers – causing a shortage of chassis in the port complex. (Photograph provided by the Port of Long Beach)
Jock O'Connell, international trade adviser for Beacon Economics, explained that a few years ago, shipping lines began ordering mega-ships in anticipation of strong growth in maritime trade. "That proved to be a false assumption," he said. "In general, what we're seeing now is that international trade is growing but much slower than had been anticipated."
The World Trade Organization recently revised its forecast for global trade growth, downgrading it by about one-third. "Their new forecast for global trade growth is 1.7% year over year. That's down from the previous forecast of 2.8%," Hacegaba said. "To put this in perspective, this is the first time in 15 years that international commerce is expected to lag behind the growth of the world economy."
Why is the forecast for global trade not meeting shipping lines' previous expectations? O'Connell pointed to the slowing of the Chinese economy's growth rate as the main culprit. "What happened was largely because China stumbled," he said. "And it was the slowing of its growth rate that had a ripple effect that diminished a lot of the trade that China was engendering globally."
Hacegaba, McLaurin and O'Connell agreed that the shipping industry is likely to continue contending with overcapacity for the foreseeable future. "There is nothing out there on the horizon that suggests things are going to turn around abruptly and robustly anytime soon," O'Connell said.
Another factor has been that manufacturers, including the automotive industry, are investing in plants in North America to directly serve that market, thereby cutting out the need for shipping, O'Connell noted. "Pick your favorite industry, and there are probably ample incentives for locating the source of production closer to the end market," he said.
While cutting down on transportation costs is one motive for sourcing manufacturing closer to consumer markets, another factor has to do with shifting consumer trends. "There's more custom design going into products that reflect the tastes and inclination of the local markets," O'Connell said. "There's sort of less in the way of mass manufacturing. It's not like the old days where Henry Ford said, 'You can get a new Ford in any color you want, but it's got to be black,'" he explained.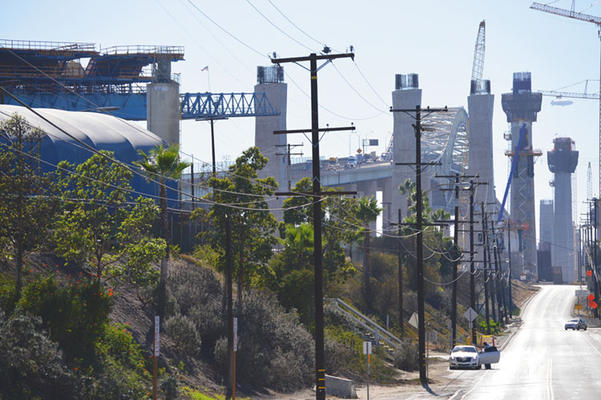 Work is well underway on a new structure to replace the Gerald Desmond Bridge, which connects Ocean Boulevard to Terminal Island. The new bridge will be tall enough to allow mega ships to pass beneath it. Already, its columns surpass the height of the Gerald Desmond Bridge. Trade experts say the use of mega ships is part of the reason for the shipping industry's current economic woes because they have created more capacity than necessary to meet current demand. (Photograph by the Business Journal's Larry Duncan)
O'Connell continued, "The manufacturers are more inclined to want to address the proclivities of the local marketplace better in order to remain competitive. So that usually entails moving your entire supply chain closer to the end market so it can respond more directly and more quickly to changes."
To cut back on costs as they navigate tough economic variables, shipping lines are restructuring their alliances. There were previously four major alliances, but these are reshuffling to form just three alliances with more partners in each, according to Hacegaba. "What you're seeing is shipping lines seeking to position themselves into networks that put them in a better position to deploy their vessels and more adequately meet demand," he said. "Each alliance will carry more container volume than they did in the prior alliance structure."
Whether more shipping lines may go the way of Hanjin is the "question of the day," McLaurin said. "Their bankruptcy was an example that we are not in a profitable business," he said. "In a Darwinian way, their bankruptcy was inevitable given the current marketplace."
So long as freight rates remain at historic lows, shipping lines will continue experiencing financial pressure, Hacegaba said. "If you look at the quarterly reports from the major shipping lines, you'll notice a trend," he noted. "And that trend is that, in general, shipping lines are not making any profits. They're either just in the black or they're in the red."