Over the past year, the City of Long Beach has rolled out a number of technology initiatives to provide more accessible information about city processes and to assist businesses in planning their own ventures. As the Long Beach Technology and Innovation Department (TID) develops plans for the city's future Internet infrastructure needs, it is also factoring in opportunities to improve access for residents and businesses.
Bryan Sastokas, chief information officer and head of the TID, told the Business Journal that the city is putting together a "10-year fiber master plan" for upgrading its Internet infrastructure. "We're producing a master fiber plan, and by doing so, we want to make sure that we're capable of providing core city services to all our agencies, which then provide the services to our community," he said.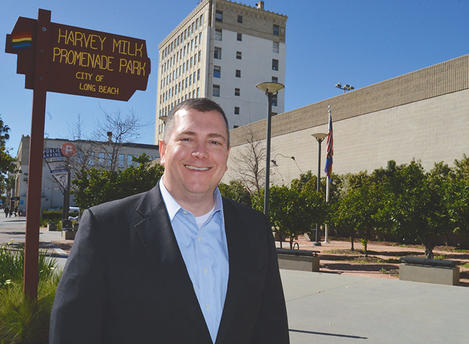 Bryan Sastokas, Long Beach chief information officer and head of the city's technology and innovation department, visits Harvey Milk Park, the site of a future hybrid park/outdoor office concept. Through a collaboration with the Long Beach Innovation Team and Augmented Reality Long Beach (ARLB), anyone with a smartphone can now download the ARLB app and open it at Harvey Milk Park for a virtual reality experience in which video, audio and images related to political figure Harvey Milk pop up on screen. (Photograph by the Business Journal's Larry Duncan)
"The primary infrastructure here is broadband," Sastokas said, adding that fiber is faster. "And our goal is to modernize our infrastructure. That's our first step of what we're looking at."
The city recently completed an inventory of its entire existing Internet infrastructure and is now ready to work on a strategy for installing more, according to Sastokas. He hopes to partner with a private Internet firm to connect future infrastructure for nearby use by the public.
Potentially, the city could connect businesses with Internet access to provide public Wi-Fi, or even make Internet connections available for security camera use. "It could spawn economic development," he said.
"The city is also looking at partnering and working with other carriers to provide small cell tower services," Sastokas noted.
Last year, the city rolled out a number of applications and web portals to help residents and businesses. BizPort, an online portal to aid entrepreneurs opening businesses in Long Beach, was a collaboration of the Bloomberg Philanthropies-funded Long Beach Innovation Team (i-team) and the nonprofit Code for America.
Sastokas likened BizPort to a digital ombudsman. It enables entrepreneurs to create business plans, identify sources of funding, select business sites, apply for business licenses and much more. Essentially, it gathers all the necessary steps of starting a business in Long Beach into one place.
DataLB, a geospatial and open data hub, also launched last year. The online portal allows users to search data about the city and view it on maps and a variety of charts. For example, an application through DataLB allows users to see the locations and types of infrastructure projects funded by a sales tax increase passed last year via Measure A.
Under the new leadership of Tracy Colunga, the i-team is pursuing an initiative to provide investment in technology related to public safety, according to Sastokas. "Earlier this year, I had the privilege to head to the White House. And we talked about data-driven justice . . . where instead of just incarcerating folks when an officer comes upon a situation, [the officer can question] do these individuals really need to be arrested or are they needing more assistance from health and human services?" he said. "How do we give the officer the appropriate tool to make that assessment?"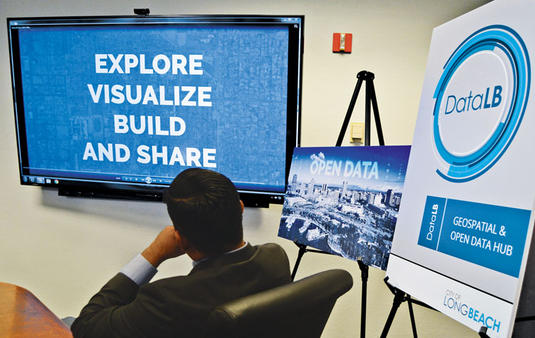 Mayor Robert Garcia watches the unveiling of DataLB, an online geospatial and data hub where users can search information about the city and view it on maps and in various chart formats. (Photograph by the Business Journal's Larry Duncan)
Such a tool might allow an officer to immediately pull up information about open beds at homeless shelters in the city if he or she comes across a homeless person, for example, Sastokas explained. "We're one of few cities that has our own health and human services department that are typically handled at the county level, so lets take that data and let's use that," he said.
Moving forward, TID is also looking at innovative ways to tackle cybersecurity. "A lot of cities are targeting cybersecurity. We're one of them," Sastokas said. "We're hiring a risk officer that's saying, hey, can we leverage certain pools like artificial intelligence and data mining and basically behavioral patterning so we can track things electronically so that we don't wait for a breach to happen. We're really trying to look at new, cutting-edge tech to try to keep our citizens' information safe, the community safe. That's always a challenge."
Sastokas, who was formerly chief information officer for the City of Oakland, said Long Beach's approach to technology is unique. "What we're doing here is we're not saying we want to necessarily emulate or be the next Silicon Beach . . . even though we use some of those terms. We are really going out there and saying, what is the fabric of our community?" he said.
"You know, we have a great, wonderful logistics community. We have an aviation community. We have the port and transportation [sector]. You can still be really innovative and high tech and not have that Silicon-type approach. I think that really resonates in our community," Sastokas continued. "There is a big push for localism, buying things and developing things and doing things local. . . . I have worked for a few cities, and I have never seen that passion and pride around that, and that is really exciting for a government employee."