After 15 years of running her own product development company for handbags and leather goods, Long Beach resident Cyndy Fowler grew restless. Upon discovering the abundance of independent businesses in the city promoting a healthy lifestyle, she decided to apply her background to forming her own nonprofit.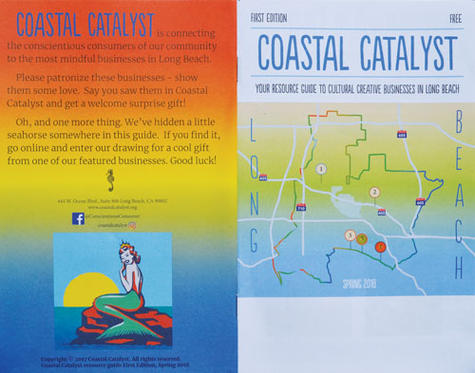 Along with her friend, Maria Mejia, who has a background in commercial printing, she put together a free resource guide highlighting culturally creative, independent businesses in Long Beach. The booklet, entitled "Coastal Catalyst," features businesses in nine categories: art, music and creativity; farm to table dining; sustainability and resilience; health and body work; movement and meditation; professional services; personal growth and intuitive sciences; and spiritual practice. The guide debuted in April.
Fowler found many of the businesses through the Long Beach chapter of The Holistic Chamber of Commerce, an international trade organization that supports businesses promoting a healthy lifestyle. "It's also about connecting businesses to each other," she said. "We're giving them a platform to add authenticity. We value collaboration over competition and we want to show these businesses how powerful they are when they join together."
The guide also features a glossary of terms familiar to this community. Some of them include "farm to table," which refers to a food service establishment that sources food from a specific farm; and reiki, a form of alternative healing that focuses on the transfer of energy. Other practices identified are "holistic healing," which analyses a patient's physical, nutritional and emotional environment to treat a condition and "intuitive science," the study of engaging intuition to guide decision-making.
Fowler established an online platform and publicizes her effort through the social media platforms Instagram and Facebook. She has reached out to the Aquarium of the Pacific and Long Beach Airport about making the guide available to visitors. "Our businesses aren't necessarily high-traffic areas, so it's a matter of finding key destinations around Long Beach to put the book." Fowler has also started attending community meetings and several farmers markets.
"I want to meet with Mayor Garcia so he can possibly show this to mayors of other cities," she said. Another future goal is to gain more monetary support, since Fowler funded the $25,000 effort out of her own pocket. "It's a labor of love, and I don't regret a moment, but. . . .we're a resource guide, and we ourselves need resources," she remarked.