New Commercial Space Coming To Bixby Knolls
The southwest corner of Atlantic Avenue and East Roosevelt Road was home to Nino's Italian Restaurant for 58 years before it closed in August 2016. Today, the location would be completely unrecognizable to anyone familiar with the restaurant, as construction is well underway to transform the corner with a new commercial building.
Ramin Tabibzadeh purchased the former Nino's site from the Cristiano family about a year ago for more than $2 million. He said he is investing "significantly" to enhance and beautify the property and Bixby Knolls.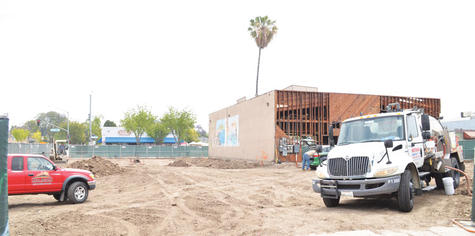 Construction is underway at the former Nino's Italian Restaurant site, with completion expected in about five months. The new space will be home to Medcompounders Pharmacy Inc., a pharmacy currently located on Long Beach Boulevard, and two or three other tenants. The property owner said he is hoping to fill the remaining space with a mix of medical office, food and beverage. (Photograph by the Business Journal's Pat Flynn, rendering courtesy of property owner Ramin Tabibzadeh)
"We are actually using and salvaging the main building, which is an absolutely beautiful arched building. It has a beautiful roof and a redwood structure that was built in the 1950s. We're planning on maintaining that," Tabibzadeh said. "We're going to be adding another 4,500 square feet on the corner. The project will be a single building of approximately 9,500 square feet."
While operating at Nino's, a storage space was constructed behind the restaurant by the Cristiano family. That structure has been demolished, the main building has been gutted and stripped of its facade, and the asphalt of the former parking lot has torn up leaving the skeleton of a building on a dirt lot.
Depending on interested lessees, the completed building will be home to three or four businesses. The corner is already planned to be occupied by Medcompounders Pharmacy Inc., a pharmacy currently located on Long Beach Boulevard. Tabibzadeh said the space directly next to the pharmacy would be a good location for a small medical office.
As for the former Nino's space, Tabibzadeh said he is hoping for a restaurant, coffee shop, bagel shop or brewery – anything that will draw people into the community. The full 5,000 square feet can leased to one or two of these types of tenants depending on need and want. Parking for customers is located behind the building.
Construction of the building is expected to be completed in about five months, with an anticipated opening for the pharmacy about two months later. As for the remaining space, Tabibzadeh said buildout times will depend on the tenant type.
"We're very hopeful that we can build a center that will draw a lot of good businesses and help prosper Bixby Knolls," he said. "I think it's a phenomenal area that is being developed and has a ton of opportunity. We feel that we will be able to add to that growth."
Pine Avenue Business Owner Opens Nation's First Fitness Parklet
Three years ago, Groundwork Fitness owner Giovanna "Gio" Ferraro watched the massive parklet in front of Hamburger Mary's get built and become an instant success for the restaurant. With parklets typically utilized for dining and drinking establishments, Ferraro thought to herself, "Why can't a gym do this?" Fast forward to May 25 and Ferraro celebrated the opening of her fitness parklet with the help of Mayor Robert Garcia and 1st District Councilmember Lena Gonzalez.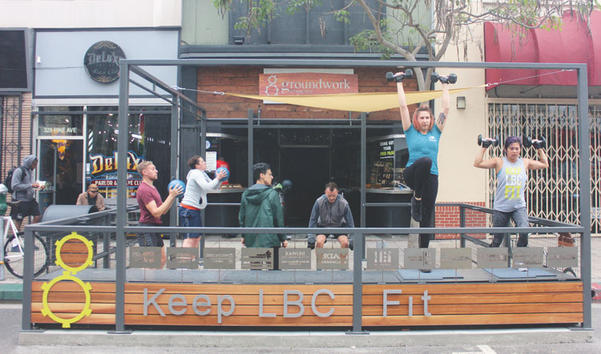 Groundwork Fitness Owner Giovanna "Gio" Ferraro opened the United States' first fitness parklet on May 25. She said the space would be used for community events and as collaborative space, in addition to its standard fitness classes and personal training sessions. (Photograph by the Business Journal's Brandon Richardson)
"If you think back to Venice Beach and Muscle Beach, we are just tweaking it to the point where it is more community driven. It's not so muscle head," Ferraro said. "I really want to make sure that integrity is intact – it's not just about Groundwork Fitness and us using it for our benefit, but also for giving back to the community."
Aside from fitness classes and personal training sessions, Ferraro said the space will be used for events and as collaborative space for the community. A free fitness class for seniors at the parklet is in the works. Ferraro explained that she has done fitness classes with seniors before and noticed that many stay indoors too often. She said the class will be an opportunity for them to get outside, socialize and exercise.
The fitness parklet is the first of its kind in the United States, according to Ferraro. She said that cities, including Long Beach, sometimes have stationary exercise machines at parks but that there is no energy or atmosphere involved. She said being owned and operated by a small business owner and having the added human element make the space truly activated. Trainers will run classes at the parklet with workouts that include functional training, circuit training, weight training, spin bikes, pull-up bars, dip bars, medicine balls and more.
"It's going to become something way bigger than I initially thought," Ferraro said. "Now that we are actually using the space, my mind is going crazy with ideas of other stuff that we can do out there. So it's awesome. I'm excited."
The city was a huge help in making her vision a reality, Ferraro said, particularly Councilmember Gonzalez. It took several city council meetings and approvals before the project could move forward. An ordinance change by the city attorney was also needed because all verbiage related to parklets identified dining uses and nothing else.
"I couldn't get a Vegas sign to pop more in front of my business than an actual parklet where people can visually see what we do," Ferraro said. "And the energy that is in here that is so amazing, to be able to spill that out into the street and let people witness it and feel it, I can't ask for anything more than that."
Ramen Hub In Bixby Knolls
Ramen Hub opened its doors on May 28 on the northeast corner of Atlantic Avenue and East Roosevelt Road in Bixby Knolls. The location was originally Park Pantry long ago which then became Cafe Bixby, which then became The Breakfast Club, which then became West Bistro. The owners of West Bistro closed down the restaurant to revamp and rebrand. Previously traditional American food, including a selection of burgers, the restaurant is now serving up ramen and chicken bowls, with plans to introduce sushi and poki menu items soon, according to Blair Cohn, executive director of the Bixby Knolls Business Improvement Association.
Drink Wine While You Paint At New Downtown Business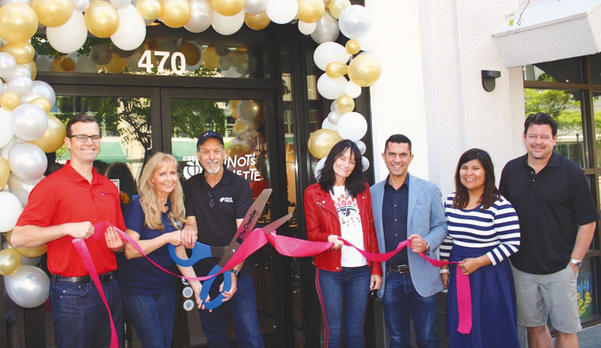 Pinot's Palette, a paint-and-sip establishment with more than 150 locations in the U.S. and Canada, celebrated the grand opening of its first Long Beach franchise on May 26 at 470 Pine Ave. at The Streets in downtown. Pictured from left: Jeremy Harris, senior vice president at the Long Beach Area Chamber of Commerce; Pinot's Palette Co-Owners Monica Ochoa and Mark Pollard; Catherine Morris, vice president at William Morris Commercial (WMC); Tony Shooshani, managing member of Shooshani Developers and owner of The Streets; Abigail Mejia, senior field deputy for Mayor Robert Garcia; and Toliver Morris, president at WMC. (Photograph courtesy of Pinot's Palette)
Pinot's Palette celebrated the grand opening of its newest franchise on May 26 in Long Beach. Located at 470 Pine Ave. at The Streets in downtown, the business brings residents a paint-and-sip experience, where they can drink wine and socialize while enjoying a no-experience-required art class. "Pine Avenue is the perfect location for Long Beach's only Pinot's Palette," Co-Owners Monica Ochoa and Mark Pollard said. "We look forward to enhancing the downtown area with a sprinkling of artistry, alcohol and amusement for locals and visitors alike." The space offers options such as a two-hour events for $35 and three-hour events for $45. Special events include Date Night and Pet Project, where guests paint custom portraits of their pets. For more information, call 562/276-2648 or visit www.pinotspalette.com.
New Senior VP Of Investments At Marcus & Millichap
After 12 years as senior vice president with RE/MAX Commercial, Brice Head is rejoining Marcus & Millichap as the senior vice president of investments at the firm's El Segundo office, which also serves Long Beach. Head was director of Marcus & Millichap's National Multi Housing Group from 2002 to 2006 in Los Angeles. "The move puts me in a great position to serve my client base from the heart of the South Bay investment property market," Head said. "I'm excited to reunite my clients with the benefits of working with the Marcus & Millichap platform and range of services."
Construction Employment Continues To Increase Nationwide
Construction employment has increased by 286,000 jobs over the past year, with 25,000 jobs added in May alone, and construction spending reached $1.31 trillion according to The Associated General Contractors of America (AGC). These figures were determined through an AGC analysis of new government data. Association officials credited the Trump administration and Congress's tax reform, reduced regulations and increased infrastructure spending as the reason for spending increases.
"Construction workers and their employers are clearly benefiting from steps Congress and the administration are taking to boost economic demand," Stephen Sandherr, the association's chief executive officer, said. "Construction pay, employment and demand have all increased as business conditions have improved."
As of May, construction employment totaled 7,210,000, a 4.1% growth over the last 12 months. Year-over-year growth rate for nonfarm payroll employment was only 1.6% over the same time period. The association noted that construction employment is at its highest since 2008.
Hourly earnings for the industry increased 3.2% over the last year for a $29.65 average in May. This average is 10.1% higher than the average for all nonfarm private sector jobs, which grew 2.7% over the past year to $26.92.
The construction unemployment rate decreased to 4.4% last month, one of the lowest levels on record and the lowest rate since July 2000. Residential construction employment grew by 10,000 jobs in May, while nonresidential grew by 15,400.
Construction employment increased in 256 out of 358 metro areas between April 2017 and April 2018, according to AGC. Employment declined in only 63 of these areas, while 39 remained unchanged.
"Industry demand is still showing strength, as construction employment reached a new high in 54 metro areas," Ken Simonson, the association's chief economist, said. "However, despite these signs, further growth in the industry may increasingly be stymied by a lack of qualified workers."
Stepp Commercial Sells Long Beach Multifamily Property For $2.75 Million
Stepp Commercial Principal Robert Stepp and Vice President Todd Hawke represented the seller, Long Beach Trading Company, in the $2.75 million sale of an apartment property at 3719 E. 1st St. "We secured a buyer who offered $100,000 over the asking price for this well-situated property on a corner lot with a tremendous value-add upside," Stepp said. "The prime location is within walking distance of Belmont Shore's 2nd Street shopping area, and a short walk to the beach and Belmont Pier." Built in 1954, the two-story, eight-unit apartment consists of two-bedroom, two-bathroom units in the Belmont Heights neighborhood. The property features a brick facade, hardwood floors, high ceilings and an interior courtyard. The transaction closed at a price of $343,750 per unit.