Long Beach city officials are collaborating with cities across the nation to create a strategy for repurposing The Boeing Company's former C-17 Globemaster III manufacturing site into a development that would attract jobs and leverage assets of the airport area, according to representatives of the effort.
The City of Long Beach is one of four cities chosen to participate in the Daniel Rose Fellowship program, in which city leaders convene during a one-year period for professional development, leadership training and assistance with land-use challenges.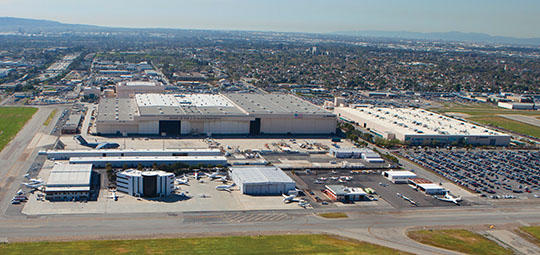 The City of Long Beach is collaborating with cities across the nation to come up with a strategy for repurposing Boeing's former C-17 manufacturing site, which officially shutdown last year after once employing thousands of people in the city and the region. The study area being considered includes 130 acres of property immediately adjacent to the Long Beach Airport, including the two large buildings above and parking areas at right and north of the buildings. In the forefront, adjacent to the taxiway, is the AirFlite fixed base operation and several small general aviation businesses that are not part of the study area. (Business Journal photograph)
Mayor Robert Garcia, along with Deputy City Manager Arturo Sanchez, Deputy Director of Public Works and City Engineer Sean Crumby and Planning Bureau Manager Linda Tatum, who serve as team members of the effort, met with a panel of city leaders and experts who visited Long Beach on February 12. Senior Planner Carrie Tai is also providing assistance in the effort.
The fellowship panel includes city officials from three other cities chosen to participate in the program along with a wide range of experts. The three other cities in the cohort are: Denver, Colorado, which is looking to redevelop the Colfax corridor; Rochester, New York, which is considering a downtown revitalization; and Birmingham, Alabama, which is seeking investment to redevelop its civil rights historic district.
The fellowship program, which concludes in November, is made available through The Rose Center for Public Leadership, which is jointly operated by the National League of Cities and the Urban Land Institute.
During the panel's visit to Long Beach, city leaders and experts toured the city's study area, which includes a total of 130 acres of property.
Boeing officially shut down its C-17 assembly plant last year after the aerospace giant was unable to secure enough domestic and foreign orders to keep the manufacturing operation going.
The study area includes Boeing's main assembly hangars, adjacent buildings and surrounding residential and commercial property.
Rose Center representatives noted in a presentation that potential environmental contamination on the former Boeing manufacturing site is expected to be known this spring, and the earliest property may become available for development is in 2019.
Despite the long timeline, Rose Center representatives, experts and panelists stressed the need for Long Beach city officials to start making plans now to repurpose the site.
Jess Zimbabwe, founding executive director of The Rose Center for Public Leadership, told the Business Journal that the main challenge for Long Beach is attracting a development that would fill the hole left by Boeing, which at peak production employed thousands of people.
She noted that industrial warehousing and retail might be potential uses but likely won't provide the same high-paying jobs that Boeing once provided.
Zimbabwe said other cities have dealt with such an employment loss.
Pittsburgh, Pennsylvania, for instance, has transformed from a city once known for steel production to now having a more diversified economy, including tech firms such as Google, she said, adding that Long Beach is in an even better position to make such a transformation.
"In many ways, Long Beach is well poised because the market is very good in Southern California and Long Beach is proximate to a lot of exciting things that are happening in the region," Zimbabwe said. "That's great, but it also means the city needs to get out in front of this and be proactive in terms of planning what they want this site to become."
Development possibilities discussed during the study visit include: creating a "research park" in collaboration with local universities; bringing in a large tech firm; expanding what has already occurred at nearby Douglas Park with light manufacturing, industrial and office uses; or attracting big-box retail.
Zimbabwe said development at the site would most likely be strictly commercial since residential use would be prohibited because of noise impacts from the airport and possible land contamination.
The land comes with some restrictions, including Federal Aviation Administration requirements associated with buildings near a flight path and city zoning restrictions as it relates to the local neighborhood. However, there might be future opportunity for expanding land uses, she said.
Zimbabwe added that the program provides Long Beach city officials with a chance to receive a "disinterested opinion" from private sector experts, who don't have a vested interest in any development in the city.
In a statement to the Business Journal, Boeing officials said the company is evaluating options for a "long-term property strategy," including evaluating assets and the site's historical value, and will be "making decisions in the best interest of Boeing and the surrounding community." Boeing officials said no decisions have been made yet regarding the property disposition.
The fellowship panel recommended that the next steps for the mayor and city officials should be to establish relationships with CEOs of major landowners and anchor institutions in Long Beach and the region; assign a "development czar" with executive authority to coordinate the development effort; and form an internal steering committee comprised of key department heads.
The panel also recommended that city officials over the next six months focus on defining the market and create a clear list of potential users for the airport area under different scenarios.
The mayor and his team will be meeting with experts and city leaders for a Rose Fellowship retreat in Philadelphia on April 19.