The theme of this year's International Women's Day on March 8 is "Pledge For Parity," in light of the Worldwide Economic Forum's prediction that it will take more than 117 years for women worldwide to achieve parity with men in all aspects of life. And we're moving backwards – in 2014, the forum had estimated global gender parity would be achieved in 2095, 38 years earlier than the current estimate.
The Worldwide Economic Forum ranks the United States 28th on its global index for gender parity, factoring in economic participation and opportunity, educational attainment, health and survival and political empowerment. While the U.S. ranks 6th in economic participation and opportunity, it trails far behind many countries in other areas, ranking 40th for educational attainment, 64th for health and survival, and 72nd for political empowerment. Iceland is ranked first for overall gender parity.
The United States trails behind several African countries in gender parity, including Rwanda (ranked 8th), Namibia, South Africa and Mozambique, as well as many European countries such as France, Germany and Norway, plus water-bound nations like New Zealand, Barbados and others.
For women professionals and business owners, gender parity remains an issue worldwide, as well as within the United States. In the U.S., 21 percent of senior-level jobs are held by women, according to an annual international business report by Grant Thornton, an international accounting firm. The 2015 report is based on a survey of more than 10,000 business leaders from 35 economies.
Russia ranks first for its share of women in senior leadership, with 40 percent of women holding top-level positions, according to the report. The U.S. doesn't even rank in the top 10 countries – which, in addition to Russia, include Georgia, Poland, Latvia, Estonia, Lithuania, France, Armenia, Sweden and South Africa.
In fact, the U.S. barely scrapes past being listed among the bottom 10, ranking neck in neck with Nigeria. Japan comes in last, with women holding only 8 percent of top positions, and 66 percent of Japanese businesses having no women on their senior leadership teams.
A 2015 report about women in the workplace by business advising firm McKinsey & Company and Lean In, a nonprofit dedicated to helping women achieve their ambitions, found that the number of U.S. women in senior-level positions has increased since 2012, but not by much.
The number of women comprising all C-Suite, or top ranking, positions increased by 1 percent to 17 percent overall from 2012 to 2015, according to the McKinsey/Lean In report. The number of women comprising senior vice president positions increased from 20 to 23 percent, vice presidents increased from 23 to 27 percent, senior managers/directors from 28 to 32 percent, managers from 33 to 37 percent, and women in entry-level positions grew from 42 to 45 percent.
The Grant Thornton and McKinsey/Lean In reports both found that women are less likely to advance than their male peers. The latter study pointed out that this partially has to do with the ambition of women. Across all position levels, from entry-level to senior management, women are less likely than men to express a desire to be a top executive. The top reason for a disinterest in obtaining a top job, cited by both women who have children and women who don't, was that they don't want to deal with the stress or pressure of the role.
However, minority women are more likely to express interest in being promoted than both female and male white employees, the report found. "On average, they are 43 percent more interested in becoming a top executive than white women and 16 percent more interested than white men," according to the report.
The barrier to advancement isn't just a matter of personal ambition. The McKinsey/Lean In report stated that women are nearly four times as likely as men to think their gender is a barrier to their advancement within a company. Women also still do the majority of chores and childcare within their homes, which may be a contributing factor to the issue.
Women Business Owners
When it comes to women business owners and entrepreneurs, progress seems to be pacing somewhat faster. The National Women's Business Council (NWBC) recently released a report analyzing the preliminary results of the 2012 Survey of Business Owners by the U.S. Census Bureau, and cited encouraging figures.
From 2007 to 2012, the number of women-owned firms in the U.S. grew to make up 36.2 percent of all non-farm businesses – an increase of 29.6 percent. In that time, their total receipts increased by 35.1 percent to $1.6 trillion. These businesses employ nearly nine million people.
Amanda Brown, the executive director of the NWBC, pointed out that over the 10-year period from 2002 to 2012, the growth rate of women-owned businesses is even more impressive. "The numbers are crazy in terms of the surge that's happening," she said. "The number of women-owned firms has increased by 52 percent. Employment by these firms has grown by 18 percent, and then the revenues that are being generated by women-owned firms . . . increased by 51 percent in this 10-year period."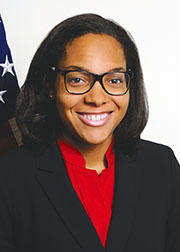 Amanda Brown is the executive director for the National Women's Business Council (NWBC), a federal advisory council dedicated to researching issues impacting women business owners and entrepreneurs, and presenting policy recommendations to address those issues. (Photograph provided by the NWBC)
Looking back even further, the growth comparison is more stark. "When you think about the council history, we were formed back in 1988," Brown said. "The reason congress created us was because at the time there were a bunch of state laws that required a woman to have a male relative co-sign a bank loan if she was trying to get a bank loan. In 1988," she emphasized. "Not even 30 years later, we have now hit this amazing milestone of 10 million women-owned businesses."
Now is what Brown is calling "the tipping point" for women in business. "The momentum is there. . . . The appetite for entrepreneurship is there." But women in business still face major barriers, particularly when it comes to access to capital.
"We talk about parity a lot. In no way have we achieved that," Brown said. "We have a long way to go until women are actually receiving the same sort of investment." She continued, "I hate to say it, but it really does all come down to the money."
The NWBC receives federal funds every year to research issues impacting women business owners and entrepreneurs, and to translate that data to "actionable policy recommendations" which are then passed along to the Small Business Administration, congress and the White House, according to Brown. The three main areas of focus for the NWBC are increasing women's access to capital, national and international markets, and federal contracts.
The federal government has a goal to allocate 5 percent of its contracts to women-owned small businesses, but it has yet to achieve that goal, Brown noted.
Although women's access to capital isn't on par with men's, it is improving. More women are receiving SBA loans, according to the NWBC's recent report. And innovations like crowdfunding platforms are enabling more women to gain startup dollars and investments. For example, the NWBC's report points out that 42 percent of Indiegogo's crowdfunding campaigns are run by women.
When asked about the lower odds women have of advancing to higher levels within companies, Brown responded that "Progress is always slow." She speculated that, in part, slow progress is due to generational issues.
Brown, a millennial, noted that it seems women in the generation prior to her were more competitive because fewer positions were available for women when they were coming into the corporate world. "There was like that one slot for a woman. And now, I think what you're starting to see amongst even the younger generation, or millennials, you don't really see that same sort of competition," she said.
Brown's own story, while not framed in the corporate world, is one that illustrates how women can progress through the ranks and succeed.
She started her career in college in 2005 as an intern for then-Senator Barack Obama. "When I graduated in 2007, I was actually planning to go to law school. And I moved to Chicago to go to law school and actually ended up going to a fundraiser for him," she recalled. "This was like four months after he announced that he was running for president. And he convinced me that I should go work for him on the campaign and defer law school."
After the election, Brown became assistant to the director to the White House Office of Political Affairs, and then moved on to the U.S. Department of Energy as an advisor for strategic planning. Finding the field of energy not suited to her, she moved on to become the national political director for the nonprofit organization Rock the Vote. In 2014, she became executive director of the NWBC.
"There were honestly very few things that could ever lure me back into the government, because it is such a bureaucracy and I am the ultimate millennial who wants to see things happen tomorrow," Brown reflected. "This is a space where there is just so much work that needs to be done. And I am such a champion for women entrepreneurs." Brown said she has a personal connection to her work, having watched her mother try time and time again to break the glass ceiling in corporate America as she grew up.
"We have made so much progress, but it's one of those things where I think people get really excited about progress and then it's like okay, we should stop doing all the work that we've been doing," Brown said. "Now more than ever we have to double down. We have gotten the train moving. We can't stop it or let it slow down. At this point it's just got to keep going and we've got to keep it on track."
"It's a really exciting time for women in our country," Brown concluded. "There is so much possibility for them."