Development surrounding the Queen Mary could include new outdoor entertainment venues with supporting retail, a boutique hotel, a mega-yacht marina and, perhaps, a residential component, according to recent demand analyses.
Whether such development is economically feasible, however, is still largely dependent on resolving various land-use, access and parking restrictions that have kept much of the property vacant for decades, city officials said.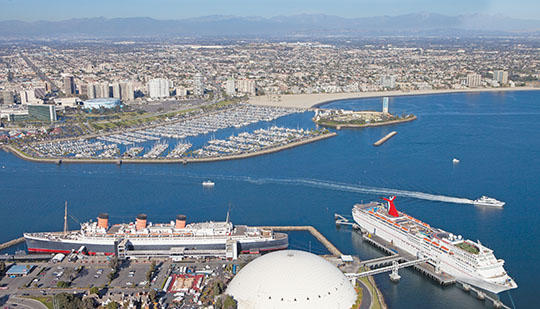 As part of the development plan for the Queen Mary area, Carnival Cruise Lines will be able to use the entire dome, which formerly housed the Spruce Goose. (2014 Business Journal photograph)
Potential land uses were discussed on last month at a meeting of the 12-member Queen Mary Land Development Task Force, appointed by Mayor Robert Garcia to be the voice of local stakeholders in identifying preferred development alternatives for more than 43 acres of property.
"I'm hopeful that we will be successful," said Michael Conway, the city's director of economic and property development, in a presentation to the task force. "I'm excited to see the possibility of development on this land after so many years, but it's been challenging."
Last year, Los Angeles-based Urban Commons took over as the new master leaseholder of the Queen Mary, replacing Garrison Investment Group, which had invested $13.3 million in improvements to the ship since acquiring the leasehold in 2009 after former lessees went bankrupt and defaulted on loans.
Conway said the site's "less than desirable" location, which has limited access points, tidelands land use restrictions and parking limitations, has created barriers for attracting development and has caused an inability to subdivide leases.
Potential land uses were first brought forward in a demand analysis conducted in 2013 by Los Angeles-based Economic & Planning Systems, Inc. (EPS) at the request of Garrison. The analysis identified two possible development scenarios.
Scenario One would include a 14-berth mega-yacht marina, a 150-room boutique hotel, an improved events area and 15,000 square feet of ancillary retail. The development, however, would also eliminate 429 parking spaces from the Queen Mary's parking lot that currently has 1,600 available spaces, according to the study.
Scenario Two would include the three land uses (entertainment, marina and hotel) along with 370 multifamily residential units. The total development would take away 1,230 parking spaces from the Queen Mary.
Although the state prohibits residential uses in tidelands areas, Conway said the city might be able to work out a land swap, exchanging public land elsewhere in the city for tidelands property, similar to what was done to allow retail uses at the Pike. He also said entertainment venues in tidelands are required to have a regional draw.
Urban Commons hired Redondo Beach-based consulting firm Hurst Harrigan Associates, Inc., in June 2015 to conduct its own demand analysis. The lessee also hired Los Angeles-based Gensler Architects to guide the future development and continues to employ Evolution Hospitality to operate the ship's hotel and John Thomas to serve as historical consultant.
Conway told the Business Journal in an e-mail that Hurst Harrigan worked off of the initial EPS study and presented city staff with a number of undisclosed proposed tenants interested in a "unique entertainment and boutique hotel development" at the Queen Mary property.
"Hurst Harrigan assumed that the entertainment use identified in the EPS analysis was highly likely and conducted regional market analysis to determine likely tenants for such a development," he said.
Conway added that Hurst Harrigan didn't examine the possibilities of a mega-yacht marina or residential development.
Whether or not development impediments can be resolved will ultimately become a factor in calculating residual land value (projected net operating income minus project cost and required rate of return) that will essentially underwrite the project and determine economic feasibility, he said.
The EPS study estimates that the total development cost for Scenario One would be $60 million, putting the residual land value at $7.9 million. Scenario Two would have a development cost of $183 million, with the residential units increasing the property's residual value to $12.6 million.
Conway noted, however, that elimination of parking spaces caused by the new development stands to reduce the Queen Mary's residual property value, further complicating development.
In addition, he said needed public infrastructure, such as streets and grading, has yet to be fully considered, adding that the city may have to assist somehow.
"We think at some point the city is going to have to participate in this," Conway said. "We don't know how, but it's going to be challenging."
Conway noted that Carnival Cruise Lines, which operates under an existing sublease with Garrison and a direct lease with the Port of Long Beach, plans to replace its "Miracle" cruise ship with its new "Splendor" vessel in early 2017, which increases the number of total cabins from 7,800 to 8,800.
As a result, the city plans to turn over full access of the Spruce Goose dome to Carnival to provide a more positive guest experience for embarking and disembarking passengers. City staff said the cruise line plans to invest up to $5 million in structural and safety upgrades to the historic dome, built in 1982 to house the Howard Hughes flying boat.
Currently, part of the dome is used by the Queen Mary for the ship's annual special events, such as CHILL in winter. City staff said the ship's lessee plans to invest in a new special events venue near the site to accommodate Carnival's request.
In return, Carnival has agreed to provide about $2.5 million a year in passenger fees as a new revenue stream to pay for historic preservation of the Queen Mary, Conway said, noting that a previous method of charging "percentage rent" to the lessee for funding historic preservation is "unreliable."
The city council last November granted authority for the city to enter a restated master lease with Urban Commons for operating the Queen Mary for a new 66-year term. Base rent of $25,000 a month or $300,000 a year will increase every 10 years with the Consumer Price Index (CPI).
Under the new Queen Mary lease, the percentage of gross revenue Urban Commons is required to dedicate toward ship maintenance will gradually increase from 1 percent to 3 percent over five years, as the lessee plans to invest $20 million into the ship during that time, Conway said.
At its next meeting on March 2 at 5:30 p.m. at the Museum of Latin American Art, the Queen Mary Land Development Task Force will discuss circulation, transportation, parking impacts, connectivity to downtown and a "people mover" concept. The task force plans to take a tour of the Queen Mary property at its meeting on April 6.