Across all sectors, commercial real estate continued to perform with high demand, decreasing vacancy and increasing prices, according to industry experts.
Office
Becky Blair, president of Coldwell Banker Commercial BLAIR WESTMAC, explained that the continued development of Downtown Long Beach and other pockets of the city is drawing new tenants into the local office market.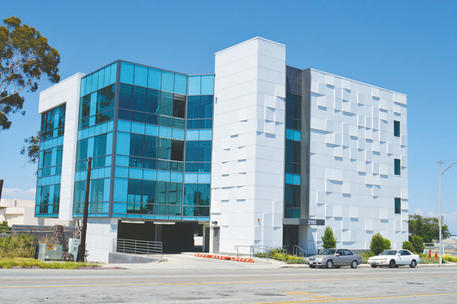 Edge Systems LLC., currently headquartered at 2277 Redondo Ave. in Signal Hill, recently signed a lease for 15,040 square feet of office space at 2165 Spring St. in Long Beach. The space will serve as the hydrafacial technology company's new headquarters. (Photograph by the Business Journal's Larry Duncan)
"Based on our leasing activity, the market has definitely shown improvement in the second quarter. We are seeing larger tenants that want to move to Long Beach," Blair said. "They want to be where there's quality housing. And there is certainly a lot of construction going on in Long Beach, which I think is motivating business owners to be here."
In the last three months, Blair said her team has sold about six single-purpose office buildings, including a more than $1.5 million deal at 3501 E. 7th St. and a more than $1 million deal at 853 Atlantic Ave. She said prices have continued to rise, as low interest rates continue to attract investors.
While the market remains strong, Blair said companies are utilizing their office space differently, with less space per employee and a boom in open, creative office space. She said companies are looking for more variety and flexibility in office space.
"I think we should expect to see more of the same through year end, and I don't know if we can predict what will happen in 2018," Blair said. "At some point, the pressure on sales is just going to top out and prices are just not going to be affordable, so tenants will come back to the marketplace and lease instead of purchase."
Robert Garey, senior director at Cushman & Wakefield, described the office real estate market as steady. He said the second quarter saw positive absorption in both the downtown and suburban Long Beach markets. Continued job growth is a major contributing factor, as it is the fuel for the demand of office space, Garey explained.
At the end of the second quarter, Long Beach had an overall office space vacancy of 14.3%, a full percentage point less than the South Bay vacancy, according to a Cushman & Wakefield (C&W) report. Downtown Long Beach had a vacancy of 15.7%, while the suburban market sat at 9.8%.  Year to date, leasing activity in Long Beach reached 310,842 square feet as of the end of the second quarter, the report states.

Construction continues on Urbana Development's four-building office condominium project, The Terminal at Douglas Park. Phase one, which consists of two buildings, is already 90% under contract, and phase two already has contracts under negotiation despite the fact that construction has not yet begun. At far right is a new hotel project nearing completion. (Photograph by the Business Journal's Larry Duncan)
(Note: a report by the Downtown Long Beach Alliance indicated the vacancy rate downtown to be at 12.9%; the C&W report usually focuses on office properties 50,000 square feet or larger, while the Alliance includes smaller properties in its study.)
"[Office space being converted to residential] had a positive impact on office space absorption because many of the tenants who were displaced by those buildings being converted migrated into other buildings," Garey said. "So that fills holes, which increases the occupancy rate, which makes buildings operate at a much healthier level."
The most notable office conversion, according to Garey, is the Security Pacific National Bank located at 110 Pine Ave., which recently sold for $27 million. The sale included an adjacent parking structure and will likely result in the building being converted to 118 residential units.
Continued absorption and steady demand has resulted in upward pressure on asking lease rates, which were $2.57 for Class A office space at the end of the second quarter, according to the Cushman & Wakefield report.
Industrial
The industrial real estate market continues to experience high demand and low vacancy, which continues to drive up lease and sales rates, according to Brandon Carrillo, principal at Lee & Associates Commercial Real Estate Services.
"We're seeing strong activity like we saw last quarter, which is pretty much what we predicted correctly last quarter, which was that the momentum from first quarter was going to carry over," Carrillo said. "The big challenge right now is the lack of supply."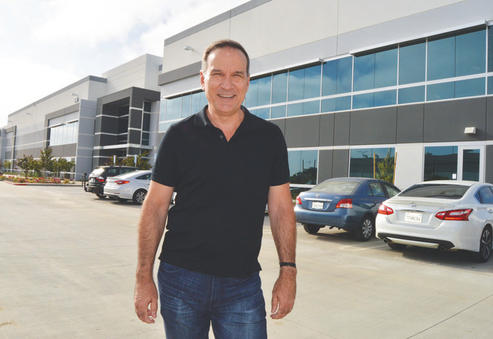 David Wood, CEO of Human Touch, a massage chair designer and manufacturer, and Relax the Back, a producer of back pain relief products, and his 70-person staff recently moved into the new Human Touch corporate headquarters at 4600 E. Conant St. One of three buildings at Sares-Regis Group's Pacific Pointe East project at Douglas Park, the Human Touch headquarters is 110,000 square feet of office and industrial space. Human Touch was previously headquartered at 3030 Walnut Ave., but was looking to relocate to a new, customized building with upgraded systems and amenities. Pacific Pointe East met its needs. (Photograph by the Business Journal's Larry Duncan)
Carrillo said the market is currently experiencing "optimism amid uncertainty" at the macro level, namely the Trump administration. He explained that business owners are wary of the fact that the president has not yet followed through on his promises, such as tax and health care reform, which is having a trickle-down effect on local real estate markets.
However, despite the uncertainty, Carrillo said there was a lot of activity in the second quarter, with $130.88 million in sales transactions, compared to $76 million in the first quarter. In response to the extremely low vacancy rate in the market (currently 0.7%), Carrillo said about 1.8 million square feet of industrial space is under construction in Long Beach, with another 3 million in the pipeline, including in Signal Hill and Lakewood.
"A lot of the Class A space that's been getting gobbled up has been a lot more of your large businesses, your publicly traded-type companies," Carrillo said. "What's going to be interesting heading into third quarter is we feel that small and medium-sized businesses have taken a pause, and third quarter will be a good indicator if we're going to start seeing these companies take on more space."
According to a Lee & Associates second quarter report, average rent for industrial space is 88 cents, up from 78 cents at the same time last year. Additionally, average sales price per square foot is $162.45.
Lance Ryan, senior vice president of marketing and leasing for Watson Land Company, agrees that the second quarter was similar to the first, with historically strong demand and historically low vacancy rates causing upward pressure on rental rates.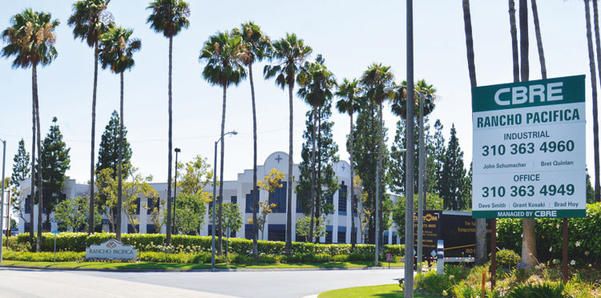 On July 19, Los Angeles-based Rexford Industrial Realty Inc. announced the purchase of Rancho Pacifica Industrial Park in nearby Rancho Dominguz for $210.5 million. The six-building, 56-acre site includes 1.77 million square feet that is 99% leased to 23 tenants. (Photograph by the Business Journal's Larry Duncan)
"If you take a look at the historical inbound freight at the ports of Los Angeles and Long Beach, you can see that we're also approaching those record import levels again," Ryan said. "So we've got an economy that's approaching a full-steam situation, and at the same time, we've never seen this lack of supply before. So we're talking vacancy rates that are really 1% around the South Bay region, which is also a record low."
Not helping the vacancy rate in the South Bay area as a whole is the lack of developable land, Ryan noted. He said that developments like Douglas Park are doing very well, leasing space before buildings are even complete, which is indicative of just how tight the market is and how much new industrial space is wanted and needed.
Retail
For retail real estate, the second quarter saw no major changes from the first, according to Peter Pappageorge, an associate at INCO Commercial. However, Pappageorge noted that he expects rental rates can only go down, as retailers are beginning to feel the pressure of "crazy high" asking rental rates.
"I fear that landlords will continue to be bullish with their asking rates and rental concessions, and we will see vacancy rates rise as businesses will struggle to pay rent," Pappageorge said.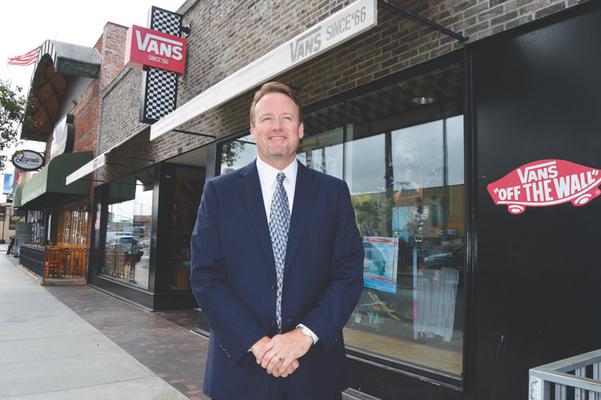 Joe Linkogle, vice president of investment at Marcus & Millichap, was involved in the recent sale of the Vans shoes building at 5232 E. 2nd St. The building sold for $3.35 million, just over $1,000 per usable square foot. Vans has two years remaining on its lease at a rate of $2.70 per square foot, while recent leases in the area have been signed for between $4 and $5 per square foot. (Photograph by the Business Journal's Larry Duncan)
Recently, Pappageorge and INCO CEO Doug Shea closed the sale of a former Hof's Hut location in Bixby Knolls. He said the new owner is exploring options to create two or three retail units out of the former single-unit restaurant space.
Joe Linkogle, first vice president of investment at Marcus & Millichap, also said the market didn't see much change from the first to the second quarter of the year.
"I think things are going to remain relatively stable. I certainly don't think that we will see any price increases. Price increases have topped out," Linkogle said. "I don't see any real reason for values to drop. I think we're in kind of a plateau right now."
According to CoStar Group, the retail vacancy rate in Downtown Long Beach is 4% overall, seeing a 1.7% decrease over the last 12 months, and the average annual asking rent is $28.48 per square foot. Linkogle explained that retail real estate continues strong due to low interest rates, making commercial real estate a good investment for someone wanting to diversify. He said commercial real estate gives a much better return to investors than the stock market or bonds.

Burnham-Ward Properties LLC's Long Beach Exchange, located on the southwest corner of Lakewood Boulevard and Carson Street, takes shape as construction crews continue work on the 266,000-square-foot development. According to Scott Burnham, founder and CEO of Burnham USA, the project is scheduled for completion by the first or second quarter of 2018. Leases include Whole Foods 365, Nordsrom Rack, In-N-Out Burger, T.J. Maxx, to name a few. (Photograph by the Business Journal's Larry Duncan)
However, one continued concern among retailers is the "Amazon effect," according to Linkogle. He said auto parts dealers are the most recent retail segment to feel the effects of online shopping, with major companies such as Advanced Auto, Napa and O'Reilly seeing stock prices plummet after under-performing earnings reports. Linkogle did note that fast food establishments continue to do well.
"Real estate has proven to be cyclical throughout history – it goes up and down – and we've been in an extended up period at this point," Linkogle said. "We'll for sure see some sort of a decrease sometime in the future. I think probably in a couple years, maybe a year and