The number of sales transactions of single-family homes in Long Beach is decreasing, but it is not for lack of demand. The short supply of homes for sale remains too low to meet buyer demand, a dynamic that continues to drive up price points, according to local real estate professionals. The situation in Long Beach is reflective of a statewide housing supply crisis – one they believe will not be solved without regulatory reforms on building.
"I see no big relief. What we need is more product," Geoff McIntosh, president of CAR and owner of Long Beach-based Main Street Realtors, told the Business Journal.
"In the State of California, based on our current rate of growth, we need about 180,000 new residential units a year. That's a combination of single-family [homes], apartments and condominiums," McIntosh explained. "We are building 80,000 units. So again, this year we have a deficit of about 100,000 units."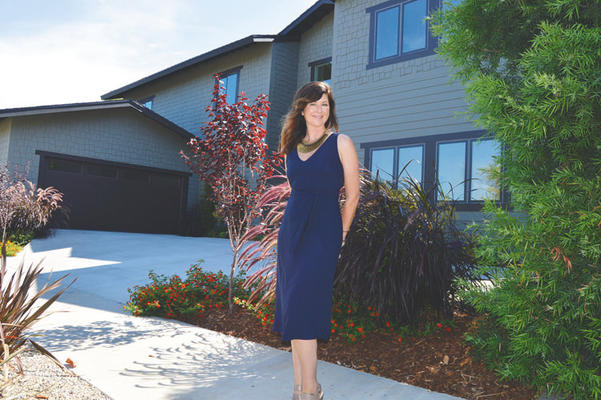 Kelsea Mazzocco, realtor with Sonnocco Real Estate, said a client of her firm recently closed on this flipped property at the corner of Los Altos and Pacific Coast Highway. The list price of the 4,300-square-foot home was $1,390,000 at the time of the sale. (Photograph by the Business Journal's Larry Duncan)
In Long Beach, the current number of single-family detached homes for sale would sell out within 2.1 months given current demand, according to McIntosh. Condominiums would sell within 2.3 months.
Phil Jones, owner and CEO of Coldwell Banker Coastal Alliance, said that there were 7.5% fewer new listings on the market in June of 2017 compared to the same month in 2016. Pending sales decreased by 40%, he said.
With demand outpacing supply, home prices are increasing. The cost of single-family homes rose by 5.8% this June compared to the same month in 2016, according to Jones. "To me, that is a really sustainable price increase. And it is so surprising given the fact that there is such a strong buyer demand and so little supply," he noted.
Kelsea Mazzocco, realtor with Bixby Knolls-based Sonnocco Real Estate, observed that low interest rates continue to spur buyer demand despite increasing home prices. "I don't know how much longer it is going to keep going up, but if we still have low interest rates and there is low inventory, then we [will] have a lot of people that want to buy houses," she said.
Homes in the Los Altos neighborhood, which at one time sold in the mid-price range of about $500,000 to $600,000, are now selling for as much as $830,000, Mazzocco said. "I mean, that's pretty crazy. That's like the shore and the heights," she noted.
The supply of homes is constricted by would-be sellers who continue to hang on to their properties, Jones pointed out. "I think primarily it's not that sellers are waiting for their value to go up," he said. Instead, he thinks their hesitancy is tax related.
"If they have substantial equity over $500,000, they are then looking at the capital gains tax and anything in excess of that, of course," Jones said. "That is part of it, but I think a larger part of it is the transferability of property taxes," he added, citing Proposition 13.
Prop 13 is a ballot initiative passed by California voters in 1978 that prohibits homeowners from transferring the base year value of their property taxes if they move between counties. If they move within counties, they must be at least 55 years of age. It also limits residential property taxes.
"Because of Prop 13, were they to move, especially if they are buying up, they are going to be facing a larger tax bill," Jones said.
CAR has filed paperwork for a 2018 ballot initiative that would remove certain Prop 13 requirements, including that in order for a homeowner to transfer his or her tax base to a new property, the home would have to be valued at no more than 5% more than the original home. The initiative, if passed, would also allow homeowners moving to another county to transfer their tax base and would remove the 55-year age requirement.
These provisions would incentivize homeowners to sell their properties, thereby helping the supply problem, Jones argued.
"We know the public would vote for it. And so do the legislators," Jones said. "They know it would be overwhelmingly supported by voters to be able to transfer their property tax base. It's a no-brainer."
Christopher Thornberg, founder of Los Angeles-based Beacon Economics, also thinks that Proposition 13 is part of the housing supply problem – but for different reasons. "We have a tax system here in California that, because of Prop 13, basically prevents cities from benefiting from having more housing in their community," he said.
The proposition limits the rate of residential property tax increases over time – a policy that Thornberg explained makes cities more incentivized to build commercial real estate than residential.
Thornberg proposed two ways to incentivize cities to create more housing. "One is to get rid of Prop 13 and make residential property worth having for cities," he said. "The second way of doing it is to stop allocating local incentives on the basis of where retail is and where office is and, instead, start allocating these revenues on the basis of where the population lives."
Jones would also like to see the California Environmental Quality Act reformed and building impact fees reduced throughout the state to encourage homebuilders. "We are near a shortfall of one million housing units," he said. "And it is being felt everywhere: rising rents, declining homeownership. It's really a crisis."
Low Inventory Constrains Multi-Family Property Sales In Long Beach
The volume of sales transactions for multi-family properties in Long Beach has dipped this year compared to 2016, according to local apartment specialists. A number of factors are at play in the slowdown, but real estate professionals pointed to a low inventory of available properties as the key culprit, given continuing strong demand.
In Long Beach, there were 85 sales of multi-family properties from January through the end of July 2016, according to George Bustamante, vice president of Coldwell Banker Commercial BLAIR WESTMAC. During the same period this year, there were 65 sales, he said.
"But what's interesting is still the price per unit and the price per square foot are both up and the cap rate is down, meaning people are still bidding up the pricing," Bustamante observed.
Steve Warshauer, also a vice president of BLAIR WESTMAC, added, "Part of it could be attributed to just pure lack of inventory."
When multi-family properties are listed for sale, they typically already have a buyer attached to them, according to the pair. "When we see the listings, they are already gone," Warshauer said. Most of the multi-family deals they broker are off-market, he noted.
Steve Bogoyevac, first vice president of investments for Marcus & Millichap, also pointed out that low inventory is hampering the number of transactions. And, he observed, sellers are not motivated to sell.
"I kind of see like, if you're an owner right now, why are you selling?" Bogoyevac queried. "The rents are good. Occupancy levels are good. If you borrowed at any time in the last few years, you've probably got a pretty darn good loan," he said. "And I don't see that changing. If rates continue to go up, it's just going to make people want to not sell even further."
Interest rates for loans have gone up slightly due to the Federal Reserve raising its federal funds rate by a quarter of a percent in June, which might also be playing into decreased sales activity, according to Bogoyevac. "We saw this back in March as well. And it was kind of short-lived," he noted.
The overall vacancy rate of Long Beach apartments is about 3.5%, according to Bustamante. "We have a shortage of high-end, middle-range and low-income housing. There are shortages across the board," he said. As a result of high demand for units, rents are continuing to increase by about 5% to 6% on average, he explained.
"But if you are doing a rehab and you . . . spent $25,000 or $30,000 in the unit, then you are seeing a pricing change of about 20% to 30%," Bustamante said.
While rental rates are on the rise, Bustamante and Warshauer feel they are affordable in comparison to other regional coastal cities. "Long Beach is so low-cost housing compared to along the coast going either north or south," Warshauer said. "So comparatively speaking, we're still at market [rate levels]."
All interviewed by the Business Journal noted that their clients are concerned by discussions about rent control. "There is just so much talk about it," Bogoyevac said. "In all my years of doing this in Long Beach for 15 years now, I never felt like it had any wheels or legs to it. And now it kind of feels like it does."
Warshauer noted that the current housing shortage necessitates building more residential. "And if you want to encourage housing, the last thing you want to do is institute rent control, because you know that will just send people somewhere else," he said.
"There is an undersupply of housing all across the board like Steve said, from low income to high income," Bustamante said. "How do you address the low-income stuff? I think you have just got to allow more building and let them build as fast as they can build it."