Full-time office jobs often warrant extended periods of sitting at a desk – a sedentary behavior that can lead to chronic back, neck, wrist and eye ailments, local medical experts told the Business Journal. However, these conditions can be countered by developing healthy physical practices both inside and outside the office.
Dr. Amandeep Bhalla, an orthopedic spine surgeon with Memorial Orthopedic Surgical Group and Dignity Health St. Mary Medical Center, recommended incorporating physical activities to interrupt the sedentary patterns of deskwork.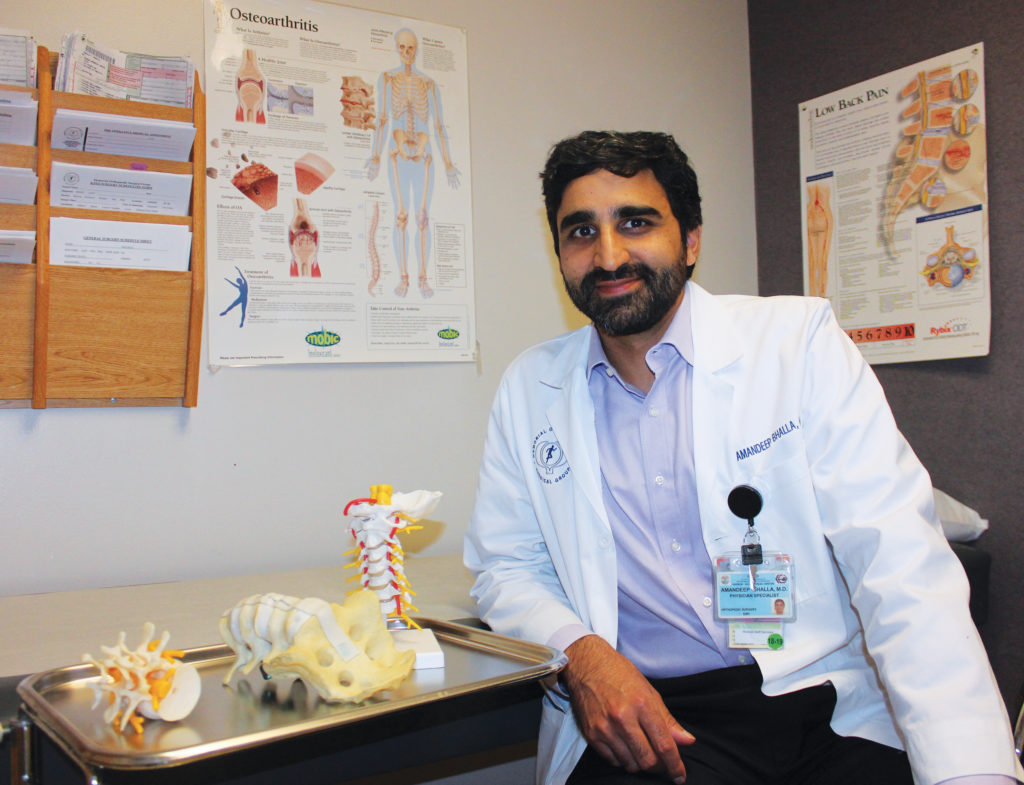 "Try to get 30 minutes of exercise in a day," Bhalla said. "Yoga, which is something that I incorporate into my weekly activities, allows you to stretch and also gives you resistance to keep your core strong – which makes it far easier to maintain a healthier posture at work. When your core muscles get weaker, you tend to slouch forward, and that actually increases the intervertebral disc pressure." Bhalla said the role of intervertebral discs is to alleviate impact to the spine.
Bhalla added that, in addition to potential back pain, a consistent seated routine can lead to: the craning of the neck, which adds stress to the upper-body muscles; carpal tunnel syndrome, a pinched nerve in the hand caused by repeated motion with the wrist; and eye strain, induced by exposure to light emitted by computer screens or cellphones.
The American Academy of Orthopedic Surgeons recently estimated that 25 million people lose an average of seven days of work annually due to back pain. Consequently, research from the Occupational Safety and Health Administration shows that work-related musculoskeletal disorders cost employers an average of $15 billion to $18 billion each year in direct costs.
Dr. Ramy Elias, an orthopedic surgeon at Lakewood Regional Medical Center, said part of the problem has to do with obesity. When individuals carry significant body weight and sit frequently, the paraspinal muscles – which support and run along the spine – become deconditioned, he explained. Moreover, idle behavior can stiffen the joints. "What I've seen in my practice is that the better condition the patient is in, the less strain they are going to put on their back," Elias said.
A seated position also puts pressure on the lumbar region of the spine, located in the lower back, Elias said. He advised employees to stretch as often as possible. "Most people can spare a few minutes every hour or every other hour to stretch a little bit," he said. "Stretch their neck, their shoulders, their back – even if it means standing in front of their desk and doing a few stretches for a few minutes." Elias also recommended laying down to relax the body.
Taking breaks from the computer screen is just as important, Bhalla said. He recommended that employees take time to close their eyes, increase the font size of text to see better or to go to an environment away from artificial light. "There are also apps out there that show how much screen time you've had," he added. "A lot of technology is geared toward bringing attention to the problem so people can correct it."
Dr. Richard Harrison is CEO and president of New Life USA, a Long Beach-based health organization that provides health supplements and consultations. He said the configuration of an employee's workspace can play a role in how much time they spend sitting.
When items or tools are readily accessible at one's desk, it decreases the likelihood of an individual standing up and moving around, Harrison said. "If you're in a work area where you have everything close to you, move things further away," he said. "If your printer is on your desk, move it over so you have to get up and go get a copy. Get a glass of water or a stapler or whatever you can to be able to get up from your desk and move around a little bit."
Elias said certain employers may provide ergonomic tools, such as standing desks, to prevent workplace discomfort. He advised that workers set up their space to place their computer monitor at eye level, while also utilizing armrests and maintaining an erect spine. "Employers don't want to see loss of productivity and increases in work injuries," he said. "You have to remind yourself that this isn't really good for your health long-term."
Merideth Faith, the wellness coordinator at MemorialCare Long Beach Medical Center and Miller Children's and Women's Hospital, said hospital employees are encouraged to take stretch breaks and participate in available wellness programs to avoid physical and mental fatigue.
Every work day, Faith and fellow wellness coordinator, Katrina Castle, schedule trips to the various departments around Long Beach Medical Center and Miller Children's and Women's Hospital and play music through a speaker to encourage five-minute stretch breaks. "We probably average about five stretch breaks a day," Faith said. "For example, in June, we did 67 stretches throughout the hospitals."
Hospital employees have access to resources through MemorialCare's partnership with Virgin Pulse, an employee-wellness organization. Virgin Pulse offers an online tool to track an employee's health habits, such as taking stretch breaks, listening to relaxing music or drinking a cup of tea. When an employee accomplishes a certain number of habits, they earn points, which in turn earns them up to $100 every quarter. "It's been a great addition to our program here, because it helps employees tap into every aspect of their well-being," Faith said.
Bhalla said the medical community has been concerned with the sedentary nature of office work for some time, and he encouraged individuals to monitor their health and listen to their body to avoid injury. "It's a condition that the medical community does pay a lot of attention to," Bhalla said. "If you have questions or concerns, [especially] with chronic discomfort, get the input of a medical professional and/or somebody who is well-versed in these kinds of things."