From beautifying public spaces to providing social services to supporting local artists and galleries – and even pitching our city to a global behemoth – local volunteers have taken on projects to enrich Downtown Long Beach and help outsiders recognize Long Beach's assets.
Arlene Mercer is the executive director of Urban Community Outreach, a nonprofit organization based in Downtown Long Beach that connects the homeless population with resources. She also started her own organization, Food Finders, in 1989, which distributes donated food from grocery stores, to missions, shelters and other agencies.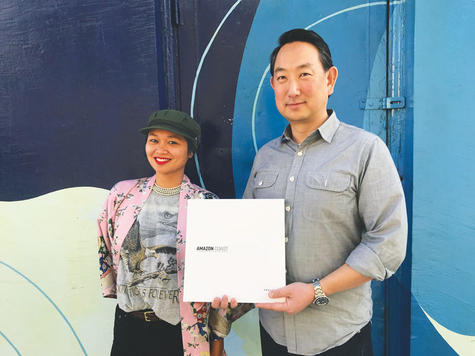 Dani Concepcion and Joe Minh are with interTrend Communications, a creative firm in Downtown Long Beach. Concepcion and Minh have taken part in projects that invest in the Long Beach area. (Photograph by the Business Journal's Anne Artley)
"We have too many homeless," she said. "It's particularly painful for me to see so many homeless families and children in the street."
The First Congregational Church of Long Beach started Urban Community Outreach in 2006, after congregants expressed dismay at the number of homeless people outside on Sunday since many public agencies are closed that day, Mercer said.
"Sundays are now intake days where we have a nutritionist come in," Mercer said. "We provide two hot, nutritious meals. This is to draw people in. When you have good food, they'll come to you and this is what you want."
Among the services the nonprofit provides, Urban Community Outreach offers help with résumés and job searches. They also have computer labs open and a system for backing up documents, since personal papers are often stolen or lost to bad weather.
The organization aims to instill a philosophy of self-reliance. "A lot of people don't know the proper way to help people out of homelessness," Mercer said. She encourages those who want to help to work through an agency rather than giving homeless individuals food or money.
Last year, Urban Community Outreach provided more than 20,000 hot meals and drew in about 1,371 volunteers, according to Mercer. The community advocate said she has seen an improvement in homelessness in the past 10 years since the nonprofit became incorporated.
"I don't live in Downtown Long Beach, but I consider it mine since I'm serving the people there so much," she said.
Michael Mosselli and Marty Meier, owners of Brushstrokes and Beverages, also identified an unmet need in Downtown Long Beach. Last June, when the organizers of the Long Beach Art Walk decided to stop hosting the monthly event because street closures were no longer allowed, Mosselli and Meier revived it, but with a few changes.
The walk runs from 4th Street to 1st Street. Before, the businesses had closed for the event, and now they can choose to participate by showcasing work from local artists. A pink balloon outside signifies a gallery and a blue one indicates retail. "Now it runs through about 23 different businesses," Mosselli said.
"The businesses really love the design of it since they're getting traffic now," Mosselli said. He reported that seven artists showcase their works in his shop. The event takes place on the second Saturday of every month.
POW! WOW! Long Beach is another project in Downtown Long Beach that centers on art. The city welcomed the global initiative two years ago. The project encompasses installation of murals around the neighborhood and partnerships with restaurants and bars to create food and beverages to serve at POW! WOW! events.
Dani Concepcion, the regional director of the Long Beach chapter of POW! WOW!, took over the project in its third year in the city.
"The reason I had interest in it is because it represents culture. It draws out emotions," she said. "Art is culture, music is culture, people are culture. It just made sense to be part of something so big and so local at the same time."
Last year, Long Beach Creamery created an ice cream flavor with a splatter pattern from a POW! WOW! mural to serve at a POW! WOW! event at the Museum of Latin American Art, Concepcion said.
"What better way to amplify these brands that are in Long Beach than by integrating them into our project, [whose aim] is simply to beautify the community?" Conception expressed.
In addition to her involvement with POW! WOW! Long Beach, Conception works at interTrend Communications, a downtown advertising firm. interTrend's Group Account Director Joe Minh also took part in a side project: a pitch to bring a second Amazon headquarters to Long Beach and Huntington Beach.
The team, which worked on the proposal pro bono, submitted a video pitch featuring actor Kevin Pollack and presented the proposal as a coffee table book as a nod to the company's roots as an online book retailer, according to Minh.
"We put the book together as a creative way to package the art of the response," Minh said. "We decided the book was an interesting way of seeing your art come to life."
Minh said the interTrend team became involved in the project when The Long Beach Area Convention & Visitors Bureau approached the agency.
"We have quite a few folks [at interTrend] who live in the city," Minh said. "It was a great way to get connected into Long Beach and be part of it in a different way."
Minh described the proposal as "our little baby that went out the door." He said it posed a unique challenge to create a brand identity and tell the story of two metropolitan areas.