For more than two decades, Alan Lowenthal has represented the interests of the people of Long Beach at various levels of government, beginning with his six-year tenure on the Long Beach City Council from 1992 to 1998. Lowenthal then served three terms in the state assembly and two terms as a state senator. Last year, he was elected to his third term as congressman of California's 47th District, which also includes the cities of Lakewood, Signal Hill, Avalon, Westminster, Stanton, Garden Grove, Cypress, Los Alamitos, Rossmoor, Buena Park, Stanton and Midway City.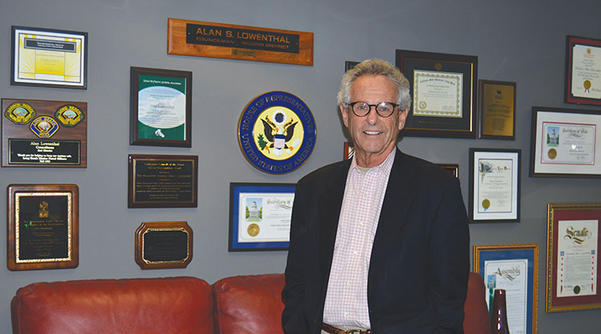 Congressman Alan Lowenthal is pictured at his Downtown Long Beach office during the recent holidays. His main priority for the 115th Congress is passing legislation that would create long-term and sustainable funding for much-needed infrastructure improvements nationwide. Earlier this month he was named to the House Committee on Transportation and Infrastructure. (Photograph by the Business Journal's Larry Duncan)
The Business Journal met with Lowenthal in mid December at his Downtown Long Beach field office to discuss the functionality of Congress, the road ahead under a new presidential administration and his priorities as a legislator.
"People ask me, 'Why do you want to go to such a dysfunctional place?'" Lowenthal said, referencing public opinion about Congress. "And I keep reminding people that I am a psychologist. I have sought out dysfunction my entire life." Despite public perception, Congress is not, in Lowenthal's view, fundamentally dysfunctional.
"You know, we're so divided as a nation in terms of what the role of government is that government just reflects that," Lowenthal said. "It's not dysfunctional. Then you'd have to say the nation is dysfunctional."
To Lowenthal, what the public might perceive as dysfunction is really a matter of partisanship. "The Congress is hyper-partisan rather than dysfunctional," he said. "If you're part of the partisan team that's in power, you get your goodies. If you're not, you're out," he continued. "I think what needs to be done is to become less partisan [and] less ideological on every issue and try to figure out where we can work together on issues."
When asked if that goal is realistic, Lowenthal responded, "I'm very frightened that it's not going to happen." He explained, "What we're seeing now is that President-elect [Donald] Trump has chosen a very partisan list of cabinet appointees. I think that is not a good sign for greater bipartisan cooperation."
At the time of Lowenthal's interview, the cabinet appointments that had been announced included all Republicans and four women out of 17 men. "There are no Democrats [and] very few women. No urban people," Lowenthal said of the cabinet picks. "[They are] people who are either very wealthy CEO/business types or military, or people who have had no government experience. . . . I don't think that's a really good sign at this moment. I may be wrong, and I hope I am."
Particularly disappointing for Lowenthal was the appointment of Scott Pruitt to head the U.S. Environmental Protection Agency – a government entity Pruitt has sued on multiple occasions since becoming Oklahoma's attorney general in 2011.
A Democrat and an environmentalist, Lowenthal has throughout his career focused on cleaning up and protecting the environment for the benefit of the communities he has served. He served as 2nd District Councilmember in the 1990s and was one of many parties to put pressure on the San Pedro Bay Ports to clean up their operations, which they did through the 2006 Clean Air Action Plan, among other initiatives.
Lowenthal's environmental efforts have caused some to identify him as anti-business, he acknowledged. "When I first started [on the city council], I was told it's either-or: you are either for business and economic development or you're going to be a tree hugger and protect the environment," he said. That philosophy doesn't jive with Lowenthal. "You can be both business friendly and protect the health of your community," he said.
"Our California Air Resources Board and our state legislature have set very high standards in terms of reducing the carbon emissions in the state. We are very big proponents in California of the clean power plant," Lowenthal said. The governors of all three West Coast states have signed an agreement to prevent further offshore drilling, he noted. Pruitt and others among Trump's cabinet picks would like to see such efforts dismantled, he said.
"We're going to see lines drawn between the way California wants to have things done and the way the new administration wants to have things done," Lowenthal said. "Whether it's immigration issues, whether it's health care issues, environmental issues – you name the critical issues before the nation – California is on a collision course with the president."
Lowenthal strongly supported Hillary Clinton in the election. "She lost. But I believe in the institution of the presidency. Mr. Trump is my president. He won the election," the congressman said. "I will respect him and try to work with him. I will also keep my values and be part of the loyal opposition. That's why we have a two-party system in this country."
After a brief pause, Lowenthal added, "Do I think that this election was one of the strangest elections I have ever seen? Absolutely."
And, he noted, "I am personally offended by his attack on individual groups and by his flippant attitude. I find that very non-presidential."
There are some ongoing matters with bipartisan backing that Lowenthal is looking forward to seeing fleshed out, including efforts by senators John McCain and Lindsey Graham to gain a better understanding of Russian cyber hacks related to the election. Transportation infrastructure improvements may also represent an opportunity for both sides to work together.
Priorities For The Next Term
Of utmost importance to Lowenthal's district – and to Long Beach in particular – is the matter of aging freight infrastructure. This national issue is at the top of Lowenthal's list of priorities both as co-chair of the Congressional Ports Caucus and as a member of the House Transportation and Infrastructure Committee.
Lowenthal's bill, HR 1308, known as Economy in Motion, would create a long-term source of funding for freight infrastructure improvements by establishing a 1% weigh bill, or user fee, for those moving goods throughout the country. The funding would go toward a Multimodal Freight Funding Formula Program and a National Freight Infrastructure Competitive Grant Program, which would be established by the legislation if passed. The bill died in committee in 2015, but Lowenthal will likely reintroduce it to the House this year.
The gasoline tax that currently pays for highway improvements is not a sustainable source of funding, according to Lowenthal. Gas tax monies decline every year because manufacturers are making vehicles increasingly more efficient so that they burn less gasoline per mile.
"Republicans are not opposed to user fees. They support user fees," Lowenthal said.
"Democrats, who have been supporting the gas tax, realize that's not a sustainable funding stream. So we need one that's sustainable and that can build a coalition of both Republicans and Democrats. And that's this one, I believe."
Lowenthal continued, "I have even spoken with Mr. [Paul] Ryan, the Republican leader of the House. And he doesn't know whether this will be the mechanism they will choose, but he thinks it should be on the table."
The congressman is also working to ensure that a percentage of funds collected through a harbor maintenance tax, which taxes users of the nation's ports, will again be directed toward port infrastructure. During the Great Recession, those funds were redirected for general use, he explained. "My goal is to make sure that money comes back."
A former educator, Lowenthal has also made education a priority. As a state legislator, he wrote the legislation that allowed for the creation of the Long Beach College Promise. He currently sits on a congressional caucus tasked with ensuring the funding of a federal program, STARBASE, to educate fifth-graders in science, technology, engineering and mathematics (STEM) through programs on military bases.
STARBASE takes fifth-graders from underprivileged areas and gives them the opportunity to participate in advanced projects like building robots and rockets, as well as teaching them the scientific method and introducing them to STEM careers. Locally, the program is based at the Joint Forces Training Base in Los Alamitos, which houses the National Guard, Army Reserve and an interagency emergency operations center.
The base itself is a critical asset to Southern California and one Lowenthal has "worked very hard" to ensure gets all the resources it needs. "It is critically important that if there is ever an emergency in Southern California – an earthquake, a riot – that there be some centralized place where we can move military resources and bring in aircraft. . . . We need a center if that ever happens again, and that's the Joint Forces Training Base."
Local Views: Unions, Sanctuary Cities, Mayor Garcia And More
Lowenthal recently made local headlines when he sent a letter to U.S. Treasury Secretary Jacob Lew requesting that he look into the potential sale of the Westin Long Beach to "companies tied to China or other foreign states" due to its proximity to the Los Angeles/Long Beach seaports office of U.S. Customs and Border Protection.
The letter asked for a review of any potential national security risk in part due to its proximity to the Port of Long Beach. Lowenthal cited the recent cancelation of the sale of the Hotel del Coronado in San Diego to a Chinese firm due to national security risks associated with the hotel's location near a naval base.
In his interview with the Business Journal, Lowenthal said the same firm was behind the potential acquisition of the Westin Long Beach. "All I have done is asked them to investigate because I am concerned about the sale of national assets to Chinese corporations that have already been denied others because of the national security issue," he said.
Lowenthal heard about the sale through Unite Here, a pro-labor organization that is currently attempting to unionize the Westin. When asked if he supports these efforts, Lowenthal said, "I support Unite Here's efforts to unionize all hotels. I support labor unions. Workers are most protected when they are a member of a labor union."
However, Lowenthal said he did not get involved in the Westin's sale due to the union's activities. "I did it because of what had happened in San Diego," he said.
Asked about the methods Unite Here is employing in its protests – using bullhorns and clanging pots in early morning hours, which has been disturbing area residents – Lowenthal said he was not familiar with the details of the situation. "I'm not saying I wouldn't take a position, but it's not something I have really spent a lot of time dealing with or that people have come to me about," he said.
Asked if he supports the notion of sanctuary cities – cities that declare illegal immigrants safe from deportation within their boundaries – Lowenthal said he does. "I have been very concerned about deportation issues," he said. "I support the idea of having a sanctuary city. I would support sanctuary and Long Beach being a sanctuary."
Lowenthal said he has "no idea" if the city council or others in Long Beach are trying to advance that policy locally. "I'm not here to promulgate. You ask me how I stand on it, and I've told you," he said. "That's up to the councilmembers to decide. And I probably wouldn't even be getting into it if you didn't ask the question at this moment. But I think California has to make a stand. What we need is national immigration reform."
While Lowenthal supports sanctuary cities, he believes a comprehensive immigration policy will be the true solution to the country's immigration issues. "Cities are organizing to protect their residents because we don't have a comprehensive federal policy," he said. "That's the problem."
Overall, Lowenthal believes Long Beach is "doing very well" under the leadership of Mayor Robert Garcia. "Mayor Garcia has been a leader in understanding the digital divide and trying to move Long Beach to the next generation. I think that's wonderful and he's done a good job," Lowenthal said.
Long Beach's positive trajectory is not solely due to Garcia, Lowenthal noted, adding that former mayors Bob Foster and Beverly O'Neill each deserve credit as well.
"Long Beach really reflects the new generation in leadership," Lowenthal said. "We have a lot more Millennials in government and leadership, and I think that's what the nation needs."
As he starts his third congressional term, Lowenthal said he doesn't know if he'll run again a few years down the road. "This is a very interesting and exciting time, and I am honored to represent my district in the 115th Congress," Lowenthal said. "But I don't know what's going to happen. . . . I have not thought about what I am going to do in two years. I have a difficult enough time figuring out what we're going to be doing in the next two to three months in Congress."