When confronted with workforce housing issues in Long Beach seven years ago, Blake Christian reflected on his travels to Japan and experiencing sleeping pods, which offer overnight accommodations just large enough for a single bed. He then considered Millennials and their affinity for gathering in common spaces such as Starbucks to socialize (a trend that could probably be traced back to a time before Millennials were drinking coffee . . . "Friends" premiered in 1994). He concluded that producing rooms much smaller than the average hotel would allow for more affordable rents, while still providing amenities and common space.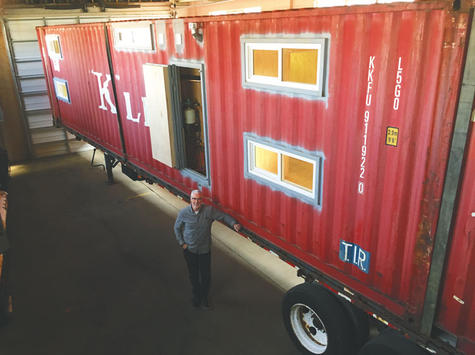 Park City Base Camp Founder Blake Christian stands with a 45-foot shipping container that has been retrofitted with a door and windows in preparation of its conversion into a 320-square-foot housing unit for up to four people.*
Christian's idea never materialized in the Long Beach market but it did evolve when he began spending much of his time in Park City, Utah. "Every paper I opened up, one of the front page stories was workforce housing issues. They just hadn't really tackled the problem for a few decades," he said. "My office in Long Beach overlooks the port and I realized they only need the housing for a short period of time – the ski season – so the portability of a container house would be awesome."
Park City has a shortage of between 3,000 and 5,000 beds for seasonal workers, according to Christian. The idea was simple: retrofit a 45-foot shipping container into a 320-square-foot home that could accommodate up to four people. With the containers on wheels and easily transported, units could be rented by resorts for a short time and then moved to follow the need for seasonal workforce housing year-round – Yosemite, Jackson Hole, the Grand Canyon, anywhere.
Two years ago, Christian partnered with Bijan Noori and founded Park City Base Camp, the engine that would turn his vision into a reality. In March, the first prototype was unveiled in Park City and toured by ski resort representatives, city officials and the chamber of commerce. The prototype is the high-end design for these container units, with Noori even describing it as the "Mercedes-Benz model."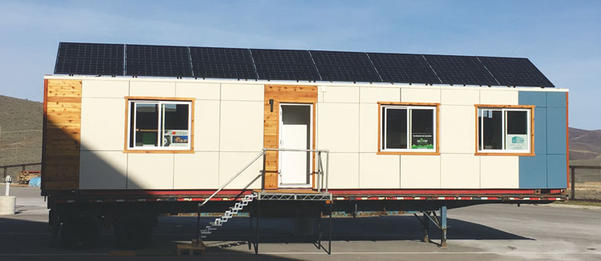 The exterior of the completed shipping container housing unit, which includes double-sided solar panels from Germany.*
The completed container has six and a half inches of insulation and solar panels that charge 12 250-amp batteries, which is enough to store a full day's worth of energy. Other features include a freshwater tank, a gray water tank, radiant heat flooring, a full kitchen, a full-sized shower, a combined washer and dryer, a compost toilet, bunk beds and a living room area that can double as a bedroom.
"We're in discussions with at least five very interested parties, including the two ski resorts. So we would like to at a minimum look for orders of five to 10 at a time," Christian said. "There are certainly a lot of economies of scale in building with some quantity. We can probably build these in a month and a half, maybe even a month once we get going."
In addition to seasonal workforce housing, Noori said the units can be utilized in other areas that need temporary workforce housing, particularly when it comes to construction. He said Catalina Island is a perfect example of a location that could benefit from the portable units. When construction is underway on the island, he said employers have to pay workers for two hours of ferry travel time or to put them up in one of the island's hotels, which can be expensive and also reduce hotel revenue. By utilizing their units, Noori said workforce housing costs would be greatly reduced and hotels would be opened up to accommodate more tourists rather than construction workers.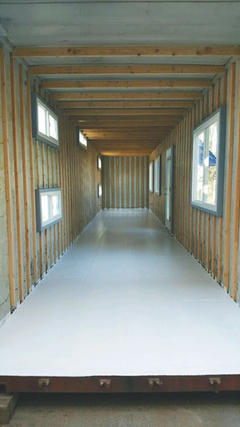 The inside of a retrofitted shipping container prior to being converted to a housing unit.*
There are about a dozen different designs for these container units, including those with Murphy beds, double-wide VIP units and even a tripod where two outer containers would have six rooms, with the center container serving as a communal bathroom. Christian explained that the tripod layout would be ideal for the partners' secondary focus for the units – homelessness and emergencies.
"A lot of the discussions have morphed into helping the homeless and providing emergency shelters. It's a pretty low-cost solution and it's mobile," Christian said. "We could get [the homeless] off the streets and have them all in one spot to get medical care, as well as have food services and restrooms."
"We've reached out to a few supervisors in Orange and L.A. counties," Noori added. "I know there is funding out there but I don't know if they are serious about doing anything."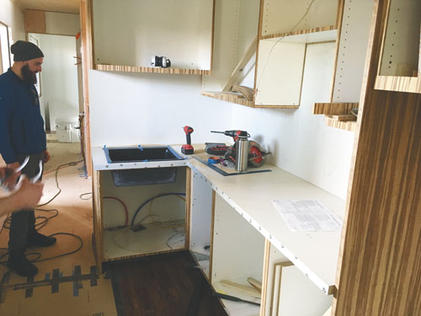 Construction work being done on the kitchen area of a housing unit inside a shipping container.*
In an effort to further assist the homeless population, Christian said he is working on a workforce development program in which his team would train homeless people in trades such as carpentry. With this training, he said these people could then assist in building their own shelters out of shipping containers. This program would give homeless people a permanent job constructing units and a free or affordable home to live in while they get back on their feet.
The pair said they have considered a future where they expand their container units to permanent homes but that current zoning regulations make that impossible in most parts of the U.S. However, if that future ever arrives, Christian said the sales price for a single container unit would likely range anywhere from $75,000 to $125,000 depending on the options. He noted that a large portion of the cost would be determined by whether or not solar panels were included. The units are also stackable, making them ideal for areas such as Southern California where land is expensive, Christian said.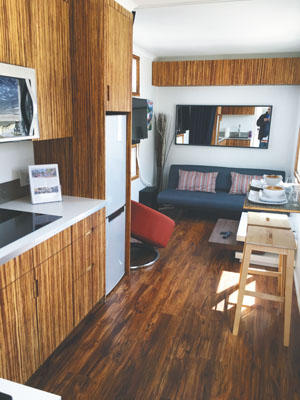 The completed kitchen and living room area of a 320-square-foot shipping container home.*
There are more creative and unique uses already being considered for the units, according to Noori. He explained that a high-end chef requested that the team design a container for a popup restaurant so he could be mobile but remain a step above a standard food truck. Noori said he is most excited about designing units for a dog ranch outside of Park City, which would include a kennel in addition to its standard living accommodations. He said the units would be for the ranch hands, as well as Wounded Warriors who go there to get matched with rescue dogs.
"Workforce housing is really our primary focus. A close second is homeless and then these kind of special uses," Christian said. "Some of the more fun parts of it would be special events – these are perfect to bring in for camera crews, sponsor suites, VIP suites and then, when we're done, they are out of here or used for another purpose such as [for the] homeless."
*(Photographs provided by Blake Christian)