On the go? Listen to our interview with Councilmember Mary Zendejas below.
When Councilmember Mary Zendejas began her campaign for the 1st District council office in fall of 2019, she was surprised to hear that many voters considered her the 'establishment candidate.' After making a name for herself through years of advocacy for the rights of immigrants, people living with disabilities and low-income families in need of housing, the title just didn't sit right. "I felt kind of insulted by that," she told the Business Journal.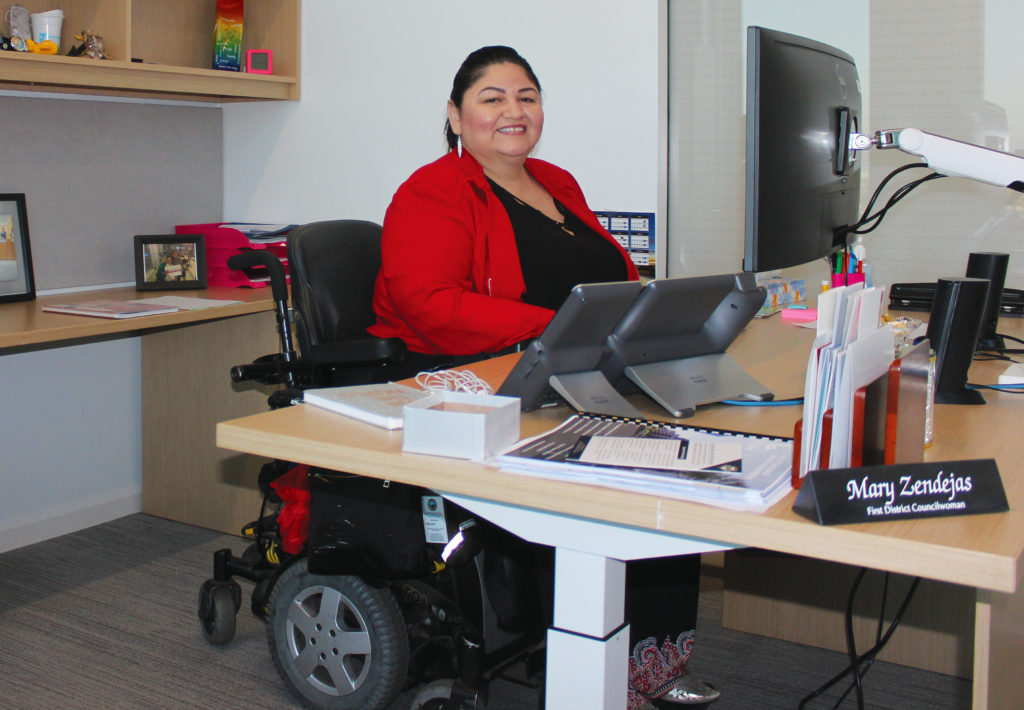 Today, she has built a strong network within Long Beach's political scene, but Zendejas' early life didn't exactly scream 'establishment.' After suffering a polio infection as a child, Zendejas, her parents and older siblings immigrated to the U.S. from Mexico in search of better health care. Here in Southern California, she grew up with eight siblings, often translating for her parents and readying herself to be financially independent at a young age.
"I think that's what shaped me to always be the independent person that I am," Zendejas explained. But her parents also equipped her with confidence and compassion, attributes that she said have guided her activism and political ambitions. "They were also very compassionate, very giving and very generous, even though they did not have much to give," Zendejas noted. "I think that has also shaped me and my political views."
When former councilmember and current State Senator Lena Gonzalez left for Sacramento, Zendejas' friends and fellow activists encouraged her to run for the 1st District council office. At first, she was hesitant, Zendejas recounted. While others viewed her community activism as the perfect preparation for a position representing the district, she wasn't so sure. "I just saw that as me being Mary," she explained. "I wasn't being part of these organizations with the agenda of running for office."
But speaking in front of the council about an issue she deeply cared about changed her mind. One of the most contentious debates of last year's city council meetings, the effort to implement a tenant relocation ordinance, which was originally spearheaded by her predecessor Lena Gonzalez, led to a change of heart for Zendejas. "That's when I realized: wait a minute, I could be so much more powerful on the other side of the dais then I am on this side," she thought.
Months of public events, many evenings of talking to residents in her campaign office on Pine Avenue and an aggressive mail campaign later, Zendejas emerged as the top fundraiser in her race and eventually won the seat with 31.3% of votes in the November 5 special election. She's proud of what she achieved within the accelerated time frame of a special election. "I was not able to reach all of my voters via their front door because of inaccessibility," she noted. "So I had to be creative and make sure that if I wasn't able to meet them at their front door, that they could come to me, that they would see me, that they would learn about me."
As the new representative of Long Beach's 1st District, which includes Downtown, Willmore City and the industrial West Side, housing has remained the topline issue for Zendejas. "There's just so many things we need to do when it comes to housing," she explained. "And I get frustrated, because every time we come close to doing something, it doesn't go through."
One of the first setbacks Zendejas has had to stomach in her new position was the dismissal of a proposed bond measure that would have increased property taxes to fund affordable housing projects. "I was saddened that we did not even get a chance to look at the possibility of bringing in such a huge bond that would help so much," she bemoaned, in reference to the 4-5 council vote that prevented such a bond from being placed on the November 2020 election ballot.
But all is not lost on the housing front, she noted. Going forward, Zendejas said she will continue to advocate for the creation of additional funding sources dedicated to the development of affordable housing and homeownership. One instrument she's particularly interested in is mortgage assistance, which could help turn renters into homeowners and prevent those already living in their own homes from losing them. "We really need to explore all options," Zendejas insisted.
Housing affordability also has an impact on a neighborhood's ability to recruit and retain businesses, another issue Zendejas is hoping to tackle during her next two years in office. "In the lower part of the district, the downtown [area], we're doing okay. But even a block up, that's where we need business improvement and more love towards our small businesses," she explained. "If we have affordable housing, people will have more money on hand to spend on the businesses."
More affordable housing, Zendejas argued, would also help reduce the depressing effect homelessness has had on business development in her district. "Homelessness affects our quality of life, for everyone, not just for the people experiencing homelessness," she noted. Homeless residents living in front of businesses can scare away customers and create a nuisance for business owners, Zendejas explained. In addition to advocating for the development of more affordable housing, she is hoping to convert some motel vacancies into temporary shelters.
To attract more businesses to her district, Zendejas said she's looking into the Opportunity Zone program, which offers tax deferrals to investors who fund projects in low-income communities. California is one of three states that does not offer state tax deferrals under the program, according to real estate investment firm Realize, but investors in California opportunity zones still benefit from federal tax deferrals.
Zendejas is optimistic about the future of her district. "I think that eventually we'll be able to get more businesses and more people to come," she noted. "What's important is to have an open line of communication with the businesses on the West Side and the 1st District council office, so that we can find solutions."