Long Beach catering and wedding venue executives agree that, when it comes to dining trends this season, informal settings, healthy options and creative concoctions are in, while sit-down dinners and surf 'n turf menu options are out.
"People prefer the type of interaction where they walk around and there's a more reception type setting rather than banquet tables," Yamid Duarte, the Aquarium of the Pacific's catering sales and marketing manager, noted. She added that her venue, which hosts weddings, lends itself well to that type of setting as it allows guests to wander around different exhibits while grazing on food.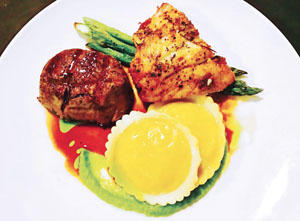 Combining different cultural cuisines is a trend for weddings this season (Photograph courtesy of Premier)
"People are moving away from a plated meal," Duarte continued. "It's more about food stations and creating a customized menu. People just want to have their guests interact while getting their picture taken."
Another trend executives all touched on is the popularity of vegan, vegetarian and health-conscious options. "While a buffet is still popular, we're now seeing fresher food options," Jeanette Schelin, the senior director of Earl Burns Miller Japanese Garden, said. "An interest in fresh, local and regional food is a trend that's been going on for years now, and one that's been getting stronger and stronger."
Ronald Nelson, the Long Beach Museum of Art's executive director, expressed agreement. The museum is used as a wedding venue with catering provided by Claire's at the Museum Restaurant. "We're noticing vegetarian options are important to the bride. In the past, it's been surf and turf or chicken. People are asking if the chicken is free-range. There are more questions of how and what they're eating. Also, how the food is raised and gathered for the purpose of their meals."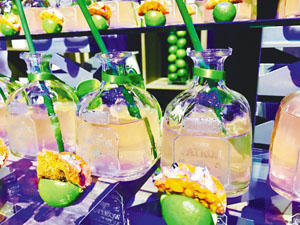 Decorative cocktails are trending this year (Photograph provided by Premier)
Premier, the catering service for the Aquarium of the Pacific and the Long Beach Convention & Entertainment Center, sources food from local growers and emphasizes sustainability. According to Duarte, the chefs at the Aquarium are working on a farm-to-table menu. "We've noticed in California people are more aware of what they're eating," she said. "For example, they're eating a lot of organic food. They're also more aware that [wedding] guests might have an allergy or be gluten-free."
Ivan Smic, Premier's assistant general manager, had a similar assessment. "Needs are more diverse nowadays," he commented. "When it came to appetizers, people would go for protein options in the past. Now we're seeing a trend of picking items that satisfy every type of dietary need. Gluten free, vegetarian and vegan have definitely been a trend. . . . Surf 'n turf is definitely old school."
According to Queen Mary Director of Catering Sabine DuBois, who provided comment by e-mail, prime rib is another example of a wedding dish that has gone out of style. Nelson, too, said the museum receives fewer requests for heavier fare such as large beef dishes and hamburgers. Fried food is also losing popularity, he noted. "People are more concerned about what they're putting into their bodies," he said.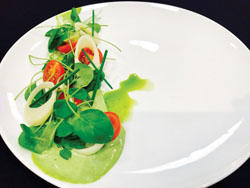 Premier, the catering service for the Aquarium of the Pacific and the Long Beach Convention & Entertainment Center, sources food from local growers. Chefs are putting together a farm-to-table menu to accommodate a growing trend of healthy food at weddings. (Photograph courtesy of Premier)
At Grand Food & Beverage, Director Dan D'Sa finds more couples are blending cultures and pairing conventional wedding food with something more unique. "A lot of people are starting their celebration with a more diverse menu. Then they might go on to the traditional surf 'n turf," he explained. "We're seeing a lot more people expanding their horizons and taking risks. Indian food in the past 10 years has really taken off. I think people are just kind of bored [with the more customary offerings.]"
Other industry representatives spoke to an increasing trend of ethnic food. "Long Beach has such a diverse population and has access to so many different kinds of food, like Cambodian, Indian and Peruvian," Schelin said. "We're really such a diverse community that it gets people thinking about what's out there." She added that, "a lot of couples come to the [Earl Burns Miller Japanese] garden because it's a place all ethnicities feel comfortable."
Ethnic dishes D'Sa has found popular at weddings are chicken tikka masala skewers, egg rolls, ramen noodles and ahi poke. Poke, a raw fish salad, is a Hawaiian delicacy. "People are trying to be as true to a cultural dish as they can," he said. "We've brought in cultural chefs and had trainings in our kitchen. We've sent our staff out to take cooking classes. We take the time to respect the culture [a couple] is coming from. We dive in to give it as much respect as we can."
Couples are also more frequently choosing to express their personalities through the menu. "A couple will work with our catering and sales manager and bar department to create a signature drink," Duarte said. "Sometimes the bride would like a vodka drink and the groom wants to do a whiskey drink, so we might do a signature drink for her and him."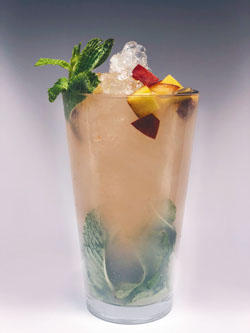 More hotels and wedding venues are placing an emphasis on decorative cocktails. Caterers are adding touches like small flowers or branches of rosemary. (Photograph courtesy of the Long Beach Museum of Art)
Nelson, too, said the Long Beach Museum of Art is putting more of an emphasis on cocktails due to popular tastes. "People really love the way something looks," he commented. "We put small flowers or little branches of rosemary in our cocktails. They love that blend and those subtle flavors. A cocktail can be $12 to $14, so you want to make sure it's pretty good. A lot of food gets put up on social media."
At the Japanese Garden, Schelin reported a rise in non-traditional cake and dessert stations. "We once had a bride that did wedding pies," she said. Schelin credited the increased creativity to the popularity of food shows on TV. "I think people at a younger age are getting into food," she commented. "It has been a real topic of interest among celebrities and what we see on the Food Channel. [The shows] encourage people to think about food in different ways and experiment with it."
Schelin said the Earl Burns Miller Japanese Garden has five caterers to sit down with couples to create a memorable experience based on their interests and budget. "Brides are personalizing things, not feeling like they must do food the traditional way."
DuBois expressed a similar sentiment. "Brides are straying away from the traditional food look preparation [to] more culinary artistic items [and] nicer presentation," she said.