As the popularity of craft brews has taken off nationally, Downtown Long Beach has developed its own blossoming craft beer, wine and cider scene that continues to grow.
Alex Naticchioni and co-owner Mike Menges opened The Wine Bar, which offers craft beers and libations from smaller wineries, in 2009. At the time, Naticchioni recalled that downtown was not looked upon as a safe place by many. Since then, however, efforts by the city and community groups have energized the area, he said. That energy has helped foster the burgeoning popularity of craft beer and wine joints like The Wine Bar, which is located on Ocean Boulevard at the ground floor of the Camden Apartments.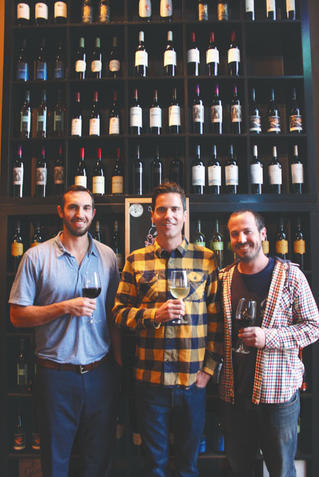 The Wine Bar, located on Ocean Boulevard beneath the Camden Apartments, offers a variety of boutique wines and craft beers. Pictured, from left, are Co-Owners Mike Menges, Zack Walters and Alex Naticchioni. (Photograph by the Business Journal's Brandon Richardson)
The Wine Bar has always specialized in boutique wines by wineries with a more hands-on approach, according to Naticchioni. Its selection of craft brews grew over time. "We kind of changed our program and got away from all of the domestic stuff and only focused on the craft stuff," he said. "And it has taken off. . . . I think people are seeking craft beer more than they are anything else right now."
Naticchioni attributed the growing craft beer scene in downtown to Beachwood BBQ and Congregation Ale House, two restaurants located on The Promenade that were some of the first to offer craft brews in the area. Gabriel Gordon, owner of Beachwood BBQ, expanded by opening the Beachwood Blendery around the corner on Long Beach Boulevard in 2015. The tap room began with limited hours, offering special sour beers brewed in house, and is now open five days a week.
"We didn't really release any beer until towards the end of 2016. And even then, we only started in March of this year producing core beer that we will be making regularly," Gordon said. "We have our base Lambic style beer which is called 'Chaos is a Friend of Mine,' and then we do fruited and dry-hopped iterations of it. . . . So at any given time there are like four core beers out."
Gordon said that he has had a good experience running businesses in Long Beach. "The city and the people who live in the city have totally embraced us and supported us. It's a fun place to do business and we're super glad to be part of the community," he said. "We are stoked to see more restaurants and breweries, and maybe a distillery or two, opening. It just makes for a really vibrant kind of hospitality zone in our area."
Gordon reflected, "I think the whole craft movement of food and beverage is a growing movement in every community, and Long Beach being a big city has the potential to do it well, and better, due to the density of population." Plus, he added, the community here tends to be very supportive of Long Beach enterprises.
Downtown Long Beach is also home to Great Society Cider & Mead, one of very few cider bars in the state, and even in the country, that offers 12 ciders and eight meads on tap, according to owners Otto and Brenda Radtke. The two opened the bar and restaurant in 2016.
"It's really niche. The closest you can get to a business like ours is San Francisco," Otto Radtke said. "We are kind of on the forefront of this." In addition to cider and mead, Great Society also offers some apple and other fruit-based wines, as well as hard kombucha.
Though the cider bar originally experienced a great deal of interest, business has slowed down a bit, Radtke said he expects it to pick back up as more people learn about Great Society, and as the overall craft beverage scene continues to grow.
Gino Espinosa bought Public Beer Wine Shop last year, after the business had been open at 121 W. 4th St. for three years. Since then, he has brought in Chef Eduardo Ruiz as a co-owner and has begun offering a menu in addition to craft beer and wine. "Our collaborative dinners with breweries that include a high-end five-course dinner and beer pairing, in addition to our special menu weekends have been big hits in the community," he said via e-mail. "And of course, making new beer available to the [Long Beach community] that normally is not, has also been essential in our growth and being recognized as a destination craft beer bar and bottle shop."
Espinosa personally does all the buying for the shop, and dedicates "a significant amount of time and effort into establishing new accounts with up-and-coming breweries, or acquiring popular and sought-after beer from breweries that may not distribute." Making trips to breweries in the Bay Area, Ventura County and San Diego to bring back brews are not uncommon for Espinosa.
"There is no questioning the progressive growth of the craft beer/wine/spirits scene in DTLB," Espinosa said. "Since taking over Public last April, it has been great to see the new businesses come into downtown with a focus on libations."