The Long Beach Clean Team, a division of the Long Beach Environmental Services Bureau, spends its days removing litter, debris and illegally dumped items from streets and alleys citywide. Sometimes, the team is responding to calls for service, while other times they are scouring the city on a depressing scavenger hunt in hopes of clearing away blight.
In October, the Clean Team expanded its efforts to include a weekly "deep clean" of high-traffic business corridors, often near the Blue Line and selected for their excessive calls for service. Aside from the removal of litter, debris and illegally dumped items, the deep cleans include other city departments in an effort to rid corridors of all blight at once, including weeds and graffiti, code enforcement violations, and sometimes tree trimming.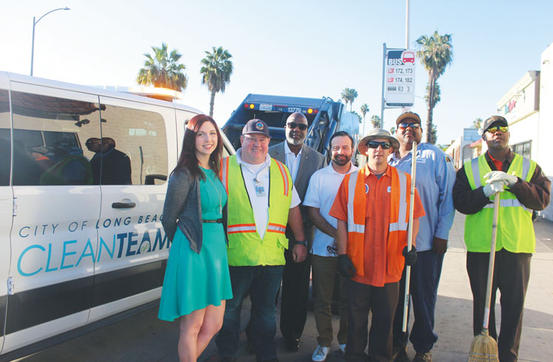 In October of last year, the Long Beach Environmental Services Bureau's (ESB) Clean Team expanded its services to include "deep cleans." The program includes partnering with other city departments to clear all blight from major, high-traffic business corridors every Wednesday. Pictured from left: Leigh Behrens, recycling specialist II with the ESB; Richard Roe, acting Clean Team supervisor; Ken Roberts, Clean Long Beach superintendent; Diko Melkonian, ESB Manager; Michael Garmorg, refuse operator; Craig McCullouch, refuse operator III; and Cleo Lee, refuse operator. (Photograph by the Business Journal's Brandon Richardson)
"The city has provided those services in the past, but the Clean Team really turned it into a more coordinated effort," Diko Melkonian, manager of the environmental services bureau, said. "We were able to capitalize on the synergies of the different crews working together rather than just piecemealing the work."
Every Wednesday, these crews focus on major corridors and adjacent alleys, according to Ken Roberts, Clean Long Beach superintendent with the bureau. He explained that the Clean Team has a quarterly schedule for deep cleans, which rotates through various corridors. However, he noted that, if the teams have a slow week, a second deep clean may be added.
For each deep clean, the Clean Team has two teams, each with its own van, trash truck and equipment. The teams will begin on opposite ends and sides of a corridor and work their way down, cleaning the gutters, sidewalks, planters and adjacent alleyways as they go. All the while, other teams examine the same stretch looking for weeds, graffiti and code violations.
"The thing that makes it unique is [that] in the past, when we didn't coordinate efforts quite like this, we could have a crew going to pick up all the dumped items, but the graffiti is still there, the weeds are still there – so it never looks exactly right," Melkonian said. "But when we get everyone in there and everything goes away, it makes the perception, the aesthetics, much different. It's a much better result."
Currently, the Clean Team has 23 full-time staff. Its 2017 budget was $1.3 million, which covered personnel, vehicles (two vans, three trash trucks and two flatbed trucks), disposal costs, equipment and supplies. In addition to its staff, the Clean Team allows for residents to serve community service hours. Roberts said the team can take up to 20 people serving community service per day but that on average they have six or seven.
Last year, according to Melkonian, environmental services responded to nearly 21,000 calls for service for illegally dumped items and more than 21,000 calls for service for scheduled collections of bulky items. The department collected over 15,000 mattresses and box springs alone, 40% of which were illegally dumped.
Long Beach residents that have city trash service for their homes previously were allowed two free special collections for up to eight items per year. In an effort to reduce illegally dumped items, the bureau increased the services to four pickups per year. Melkonian explained that these pickups are far more efficient and cost effective than responding to reports of illegally dumped items. Pickups may be scheduled by calling 562/570-2876 or visiting www.longbeach-recycles.org.
"I think the team is doing a great job, not only with getting out and just doing it but in their efforts in educating along the way," Roberts said. "The team seems to be very motivated in what they do."
To further educate the public, Melkonian said the bureau is developing outreach materials in multiple languages, as well as working with business improvement districts and neighborhood associations to get more businesses and residents involved in the efforts to keep the city clean. In 2017, the city had 163 neighborhood cleanups and 195 homeless encampment cleanups, many of which the Clean Team participated in.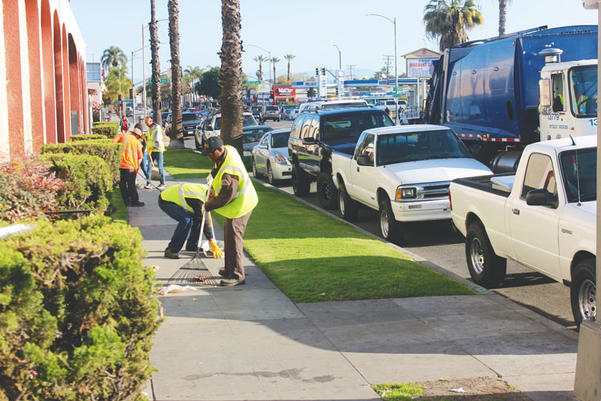 A Long Beach Clean Team crew and several residents serving community service pick up litter and debris along Pacific Avenue near Pacific Coast Highway as part of the team's deep clean initiative to beautify major business corridors. (Photograph by the Business Journal's Brandon Richardson)
Other programs initiated by environmental services to assist the Clean Team's efforts include the Can Your Butts and Litter Free Zone campaigns. The Can Your Butts campaign was rolled out one year ago when the bureau gave cigarette butt receptacles to selected businesses along the Broadway corridor. According to Leigh Behrens, recycling specialist with environmental services, the campaign has now reached five corridors with 72 businesses participating.
The Litter Free Zone campaign is a partnership between the city and business to keep storefronts clean and free of trash and debris. In return, the city provides free trash cans, brooms and other tools to participating businesses. The campaign increased 17% last year, bringing the total of participating businesses to 526.
"Another effort as part of the Clean Team is we are reviewing all the public litter container locations and replacing ones that are old and not very good anymore, and also looking to where we can add some," Melkonian said. "If we make it more convenient for people not to litter, then we hope they won't."
The department is also looking into testing locking trash bins, examining policies such as those related to abandoned shopping carts and attempting to work with owners of vacant properties, which Melkonian said often become areas of excessive litter and dumping. He said the best thing for residents and businesses to do is simply get involved, particularly those in dense, multi-family neighborhoods, which experience the most blight.
"It's for the beautification of our city. We want to make sure our city stays clean," Melkonian said. "We're trying to be proactive. The idea of the Clean Team goes beyond just being out in the field and picking things up. It's developing a plan to change people's perception of their waste."