"A World Without Plastic Pollution" is the theme for this year's Earth Day, and Long Beach businesses and educators are ahead of the curve. Local entrepreneurs are cutting back on their use of plastic products and encouraging consumers to do the same, while a local nonprofit continues to be a pioneer in the fight against oceanic plastic pollution.
Long Beach-based research organization Algalita has worked toward ending plastic pollution since its inception in 1990. Through its partnerships with educators, Algalita aims to impart its mission to the next generation.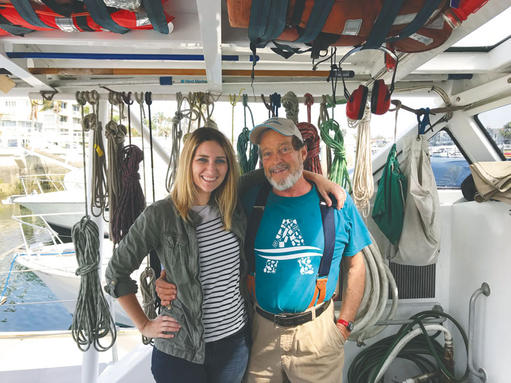 Katie Allen is the executive director of Algalita, a Long Beach-based organization researching plastic pollution. Capt. Charles Moore is the founder. According to Moore, Long Beach's shoreline probably has the highest concentration of consumer plastic pollution in the United States. Algalita has advocated for change since its inception in 1990. (Photograph by the Business Journal's Anne Artley)
According to Algalita's founder, Capt. Charles Moore, Long Beach's shoreline probably has the highest concentration of consumer plastic pollution in the United States. He cited his 2010 study of the Los Angeles and San Gabriel Rivers, which roughly border Long Beach on the west and east. His research found that about 2.3 billion pieces of plastic had flowed from Southern California's inland urban centers into the city's coastal waters within three days of sampling.
To raise awareness, Algalita has partnered with the city as well as the waste management department to introduce education programs in the Long Beach Unified School District. Algalita staff visits schools to educate local students on plastic pollution and instructs teachers how to teach about the issue.
"We'd already been doing a lot of that work, but now we're being provided support by the city," Algalita Executive Director Katie Allen said. "We've engaged many Long Beach high school students in our research. We've taken them out on our vessel to help with [pollution] monitoring efforts."
This initiative, called the Ship-2-Shore Field Research Program, takes students to collect samples in the East San Pedro Bay. To analyze the findings, Algalita enlists the participation of students from California State University, Long Beach. Allen said that last semester, a group developed cleanup programs with local businesses Kayaks on the Water and Long Beach Waterbikes. Participants are able to rent them for free on certain days if they collect trash in the water while they are out.
"The students developed a trawl that can go on the back of a kayak so it can collect those surface samples for us," Allen said.
Algalita is collaborating with the Long Beach Environmental Services Bureau to engage businesses and consumers in other initiatives. Allen said a possible project includes encouraging consumers to bring their own containers to restaurants.
Kerstin Kansteiner, the owner of Portfolio Coffeehouse, Berlin Bistro, Portfolio Fit and The Art Theatre, has switched plastic straws for compostable ones in all of her eateries.
"I saw a 30-minute documentary at the Art Theatre called 'Straws' about the plastic pollution in oceans on a Saturday morning," Kansteiner said. "On Monday morning, I called all of my resources for vendors and asked them to switch all of our straws over to compostable straws. It was that impactful."
Kansteiner also said she stopped the practice of "auto-strawing," where a waiter automatically provides a customer with a straw in a drink. Although compostable straws are three to four times more expensive than plastic straws, Kansteiner said the total cost is around the same after she started distributing them only on request.
Dina Amadril, the owner of Long Beach Creamery, is another local entrepreneur who has eliminated plastic straws from her business. In addition to paper straws, she also uses bowls made out of gluten-free wheat straw pulp, and spoons and tasting sticks made of wood.
"The paper straws go with the look and feel of an ice cream shop," Amadril said. "But sometimes people have to get another straw. The straws are so biodegradable, they'll biodegrade right into your drink."
Amadril said she has always made an effort to create an environmentally conscious business, and that she is "constantly evaluating" her current practices. She is considering using new corn-based utensils, but is concerned they will affect the taste of the ice cream.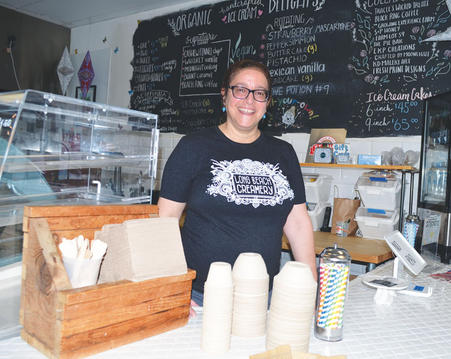 Dina Amadril, the owner of Long Beach Creamery, has made an effort to reduce plastic pollution. Some of her initiatives include replacing plastic straws with paper ones, using bowls made out of gluten-free wheat straw pulp and spoons and tasting sticks made from wood. (Photograph by the Business Journal's Pat Flynn)
To raise awareness about recycling, Amadril collects pictures from customers who employ creative uses for her ice cream pint containers. Some of these include using them as a planter or as a container for hairbrushes and makeup. She then posts them to the Long Beach Creamery Instagram page.
Julie Darrell, owner of pop-up shop Bring Your Own Long Beach, also uses her Instagram account to demonstrate simple product switches that benefit the environment. Darrell makes her own reusable bags, beeswax wraps and cloth napkins to sell at the Long Beach Farmers Market on the first Sunday of every month. She also sells sustainable products from mostly California-based brands.
Selling reusable straws made out of stainless steel or bamboo is one way Darrell tries to cut down on plastic pollution. She also sells "food truck kits" for to-go meals that includes chopsticks, a spoon and a fork, and is small enough to fit in a purse or backpack.
"Another thing we don't think about is dental floss. It always comes in [a] plastic [dispenser]," Darrell said. "I source a brand out of Maine because it's the only company I've seen that comes in a glass container. It's called silk floss and it's compostable. . . . and you can just buy refills for the floss instead of buying a new container every time."
Darrell's long-term goal is to own a brick-and-mortar location with a grocery store aspect for customers to purchase package-free grains, beans, nuts, herbs and spices. "It's just a matter of getting the financial side worked out," she said.