Increased access to health care, driven by the Affordable Care Act (ACA), has created growing demand for services throughout the health care industry, including at local hospitals like Dignity Health St. Mary Medical Center. To accommodate increasing patient volumes, the hospital is remodeling and expanding its facilities, investing in technologies and diversifying the ways in which it provides care.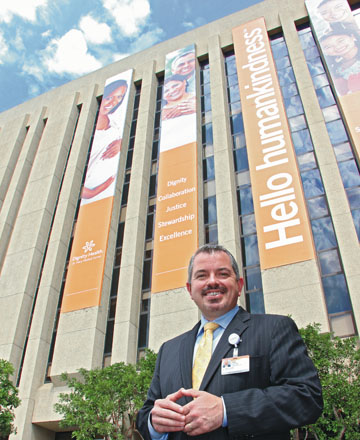 "The Affordable Care Act has impacted all hospitals because it has given more people access to health insurance, which allows them to have more access to hospitals in general," Joel Yuhas, president and CEO of St. Mary Medical Center said in an interview at his hospital office. Yuhas, a Long Beach resident, has served as president and CEO since December 2014. He previously served as the hospital's chief operating officer from 2004 to 2007.
"This hospital has seen an increase year over year in emergency department visits, in patient admissions, in surgical procedures and radiology procedures," Yuhas said. "In general, hospitals have gotten busier because of the ACA."
(Joel Yuhas, president & CEO of St. Mary Medical Center, said a hospital-wide renovation includes plans to update the building's exterior. The hospital's inpatient tower will eventually require a $12 million seismic retrofitting project. Photograph by the Business Journal's Evan Patrick Kelly)
This trend is increasingly noticeable in hospital emergency departments throughout Southern California, including in Long Beach and at St. Mary, according to Yuhas. "We have seen an 11 percent increase in emergency department visit volume over the last year, and we anticipate that in our long range financial plans we will see continued growth," Yuhas said.
Emergency departments have become busier due to an increase in the number of insured patients seeking care and a deficit in the number of primary care physicians to accommodate them, Yuhas explained. "Today, there is a deficit of primary care physicians in our market. . . . Because the demand is so much higher today than it was before, the lack of accessibility to primary care physicians keeps the emergency department as a basic portal for receiving primary care."
Dignity Health, the nationwide health system that operates St. Mary Medical Center, has funded an expansion of the hospital's emergency department from 23 beds to 43 beds to accommodate increased activity. This expansion nearly doubles the emergency department's existing footprint, but a study recently conducted by the hospital said that it's still not enough to meet growing demand for emergent care. "Our demand study right now shows that we need somewhere around 55 beds," Yuhas said. "And that's just not doable in the footprint that we have to work with."
Outside of adding more beds, Yuhas is investigating other ways to alleviate emergency room impaction. "We're looking at some innovative ways to move patients through the emergency department more quickly," Yuhas said. For example, the hospital has developed a fast track area for patients with lower acuity conditions, which moves those patients through the emergency department more quickly.
A new, eight-bed observation unit is included in expansion plans for the emergency department. The unit would provide space for patients who come in through the emergency department and ultimately need to be admitted to the hospital. Giving them a temporary, designated bed space will help improve fluidity in the admission process, Yuhas said.
"As we start decongesting the emergency department, you can imagine you have to start thinking about what the impact is on the inpatient design of the hospital," Yuhas pointed out. "So our chief nurse, Jodi Hein, is working to reopen one of our inpatient floors," he said, referring to the currently closed 5th floor of the hospital's inpatient tower. Reopening the patient unit on that floor will add 47 inpatient beds to the hospital. "That will likely create another 50 to 60 jobs just associated with that patient unit," he noted.
Later this year, the hospital plans to add a new adult intensive care unit and a pediatric intermediate care unit to the hospital, Yuhas said. "We have been seeing higher acuity volume in our pediatric program, and we're working with another medical group right now that's introducing more higher acuity pediatric care in the hospital," he explained.
After Labor Day weekend, a $9.6 million interior renovation project for the entire hospital will begin. The plan involves "all patient access points," including common areas, bathrooms, the cafeteria and all patient rooms, Yuhas said. "Everything where a patient or a family member might go is getting a spruce," he said. The project will take about 15 months, he estimated.
The hospital is also undertaking a $2.5 million exterior renovation, which will relocate the main entrance to 10th Street near Linden Avenue. Yuhas said he is working with the City of Long Beach on this project to ensure it fits in with the city's goals to revitalize Downtown Long Beach. "As downtown continues to revitalize, I think St. Mary has a critical role in that revitalization plan," he said.
The hospital's tower that houses inpatient rooms will eventually have to be retrofitted to be more seismically sound. St. Mary is currently investigating ways to fund the $12 million retrofit project. "That's actually manageable compared to some of the seismic requirement retrofitting that has to happen across hospitals throughout our service area," Yuhas said.
Outside the hospital footprint, an adjacent building that formerly served as an outpatient center until it closed last year will be reopened as an ambulatory surgery center. "Many hospitals are aligned with sending patients who need outpatient surgery to what are called designated ambulatory surgery centers. It takes a specific license for that," Yuhas said. St. Mary is working with a joint venture partner organization to obtain a license and open the facility, which should happen some time next year.
Dignity Health St. Mary Medical Center also continues to invest in the latest technology and equipment. A new electrophysiology lab, where heart arrhythmias are diagnosed and treated, is set to open in October. In December, the hospital is opening a second catheterization lab, which has equipment and tools to examine arteries and diagnose heart abnormalities.
A new wide-bore magnetic resonance imaging machine, used to diagnose internal health issues, is being installed in December. The machine is wider than most MRIs, which typically have small openings and often cause patients to feel claustrophobic, Yuhas said. "Each of these projects were funded through Dignity Health," he added. The hospital's radiation oncology center will also be outfitted with new equipment sometime this fiscal year, which runs from July to June.
In addition to overseeing these facility upgrades and technology investments, Yuhas is leading the hospital through a new venture meant to expand access to primary care in the Long Beach community. "We are actually developing a medical foundation-like model under our community clinic license to create a vehicle for us to employ primary care physicians and a network of specialty physicians," Yuhas said. Through this plan, the hospital would "expand our footprint into surrounding communities throughout Long Beach and across the greater Long Beach area," he explained.
"We are actively recruiting for primary care and specialty [physicians] into our community clinic license now," Yuhas said, adding that the community should expect to see "some tremendous growth" occur during the next three years. "This medical foundation-like model allows us to offer graduating residents from our training program employment opportunities back here in our market once they finish their training," he added.
"It is a great pipeline for reinvigorating our medical staff and meeting the deficit of primary care physician access in this community," Yuhas said of the physician hiring initiative. "I am looking forward to the impact this has positively on the community here." The initiative should begin taking shape "this side of Christmas," he said.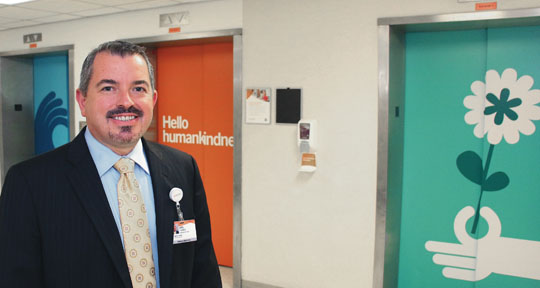 (Joel Yuhas, president & CEO of Dignity Health St. Mary Medical Center. Photograph by the Business Journal's Evan Patrick Kelly)
St. Mary Medical Center is also expanding its lesbian, gay, bisexual, transgender and questioning (LGBTQ) health care program by partnering with The Center, a local LGBTQ nonprofit. "We have just started a health needs assessment in collaboration with The Center to try and identify where the gaps are [in LGBTQ health care] and where we could better collaborate together to provide culturally sensitive health care," Yuhas said.
As the health care industry continues to evolve due to changes in consumer demand spurred by the Affordable Care Act, Yuhas and the leadership team at St. Mary Medical Center are continuing to evaluate new ways to expand access to care in the local community. Over time, more and more services will be provided in community-based locations closer to people's homes, "because consumers are demanding it and health reform is leading that [change]," Yuhas said.