Thirty years ago, Long Beach was "a very tough sell" to event planners, as Iris Himert, a long-time Long Beach Convention & Visitors Bureau (CVB) salesperson and current executive vice president, tells it. But with the way things are coming together in downtown, both within the convention center and around it, things have changed so much that she called the culmination of a decades-long transition "a dream come true" in her role selling the city.
"What's happening is we're now able to take on groups we could've never entertained 10 years ago," Steve Goodling, president and CEO of the CVB told the Business Journal in an interview with his staff and Long Beach Convention & Entertainment Center General Manager Charlie Beirne.
Case in point: the Longines Masters Series, known as the "Grand Slam" of equestrian indoor show jumping, just named Long Beach as its new home for the American leg of the series. The other two events in the series are in Paris and Hong Kong.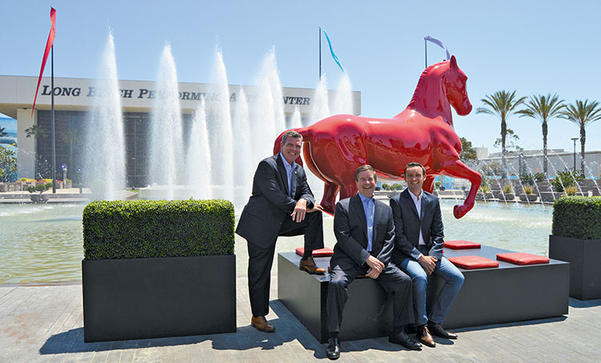 The mascot for the Longines Masters Series, the Grand Slam of indoor show jumping, graces the Terrace Theater Plaza following the announcement that the American leg of the championship is coming to the Long Beach Convention & Entertainment Center in late September. Long Beach joins Paris and Hong Kong as event hosts. Pictured from left are: Charlie Beirne, convention center manager; Steve Goodling, president and CEO of the Long Beach Area Convention & Visitors Bureau; and Matthieu Gheysen, events director for the Longines Masters Series' creator, EEM, and vice president of EEM Asia. (Photograph by the Business Journal's Larry Duncan)
"Make no doubt about it – Longines had to discuss coming to Long Beach," Goodling said. Longines, a high-end French luxury watchmaker, is the series sponsor and had to mull over whether holding its prestigious event in a port city was the image it was going for, Goodling explained.
After the event organizers decided to move the masters series from its previous home in Los Angeles due to planned renovations to the city's convention center, event organizers and sponsors visited Long Beach unannounced – the CVB had nothing to do with booking their trip, Goodling noted. Once they saw what the convention center had to offer with its $40 million in renovations and multiple turnkey event spaces, and got to spend some time downtown, they made their decision: that Long Beach was, as Goodling put it, "the perfect location."
Once a potential convention or meeting planner visits the convention center, it's an easy sell, according to Himert. "When we get people in here for site inspections, ninety percent of the time we turn them definite," she said.
Goodling, Beirne and Himert agreed: the extensive convention center renovations to create ready-to-use spaces decked out with stage lighting, curtains, modern furniture and amenities are behind increasing business. Not only do these upgrades allow for an "extremely cool and sophisticated" vibe for events, but they also offer event planners a built-in cost savings, as they don't have to rent their own equipment and furnishings. "I would say the average convention planner is saving anywhere from $30,000 to $500,000," Goodling said.
Beirne, whose venue management firm SMG oversees 270 convention centers, said these upgrades have transformed the Long Beach Convention & Entertainment Center into a venue "unlike any other convention center I know of in the country."
About three years ago, the creation of the Pacific Room at the Long Beach Arena transformed the space into a $10 million facility equipped with a steel truss system for lighting and curtains, which enables event planners to adjust ceiling height and the size of the space for events as small as a luncheon and as large as a concert venue.
This year, there are 47 conventions booked for the Pacific Room, generating an estimated 176,373 overnight stays in local hotels and about $4.8 million in transient occupancy tax. More than 190,000 attendees of these events are expected to have a citywide estimated economic impact of $146,180,875 through local spending.
The center has a handful of other turnkey event spaces – including the recently outfitted Terrace Theater Plaza, which now features built-in stage lighting; the arena lobby, which is now known as the Pacific Gallery & Patio; and Bogart's, a contemporary restaurant setting located just off the gallery.
The latest addition to the convention center's repertoire of ready-to-go spaces is The Cove – a reimagining of the portion of Seaside Way under the Terrace Theater Plaza, which serves as the entrance to the center's frequently-used Seaside Ballroom. The new design includes chandeliers outside the ballroom entrance, lighting designed to resemble barnacles and marine-themed décor implemented throughout. The concept is a "street party venue," according to Goodling, and should be complete in August.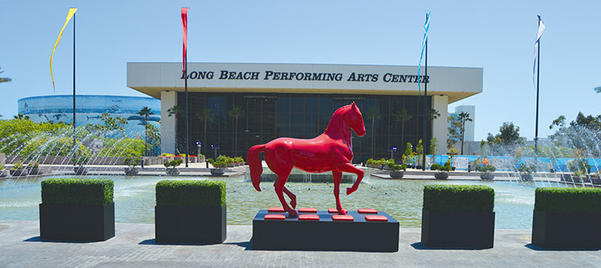 This vibrant red horse is a symbol of the Longines Masters Series of Los Angeles, which for the first time is being held at the Long Beach Convention & Entertainment Center at the end of September. The event organizer has contracted with the center for a three-year run, but told the Business Journal that time frame might be extended. (Photograph by the Business Journal's Larry Duncan)
These convention center upgrades are helping the city attract high-profile events like the Longines Masters Series, from Goodling's perspective. "Longines would have never exposed their clientele to what was there before Bogart's or to the arena lobby before we invested money in it," he noted. "It's helping us to continue to remain competitive to the point where the building is now running at maximum occupancy."
Also giving the city more of a competitive edge for attracting events is the downtown area itself, according to Goodling. "The downtown [area] is evolving into a wonderful downtown with over 125 restaurants in an eight-block radius," he said.
The area surrounding the convention center is in the middle of a facelift thanks to private development. The once-sleepy shopping center at Pine Avenue and Shoreline Drive is now the Pike Outlets, a more open and contemporary center. On Ocean Boulevard, multiple apartment buildings – both conversions of existing office buildings and new structures – are planned in the near vicinity of the center.
At the corner of Ocean Boulevard and Pine Avenue, a new hotel is in the works – one that will be an asset to the convention center thanks to its close proximity, Goodling noted.
Plus, the city just began the undertaking of constructing a pedestrian bridge that will extend from the Pine Avenue promenade of the convention center to its performing arts center. "We've had clients for years ask us for better connectivity around the convention center," Goodling said. "The bridge is going to help us achieve that goal in a significant way, because it's not just a pedestrian bridge – it's a functioning piece of art," he explained, alluding to the bridge's design resembling a cascading wave.
"The city is being prepared to take on more high-profile special events and . . . high net worth conventions," Goodling said. "Everything [in the city] is continuing to mature in a sophisticated way."
But attracting events to Long Beach isn't just about what the city has to offer in amenities and facilities – it's also about the people. Goodling and Beirne said they and their teams aim to help their clients in any way they can. "These folks feel that we're here to help them and want to help them grow their business and be successful," Goodling said.
Just a few weekends ago, the Long Beach Lesbian & Gay Pride Festival and the Jehovah's Witnesses' annual convention were happening at the same time in downtown, and Beirne personally jumped in to help keep things moving. "I was directing traffic a few weeks ago because we had a commitment to our clients," he said. "The Jehovah's Witnesses are a great client of ours, and we made that commitment that we would make it work for them."
Matthieu Gheysen, events director for the Longines Masters Series' creator, EEM, and vice president of EEM Asia, told the Business Journal that both the CVB and convention center staff have been very helpful in planning the series.
"For us, what has been important in the relationship from the very beginning is that they were always trying to find the solutions that we need for the event alongside us," Gheysen said. "They are very helpful in different ways, whether it's promotion, communications, getting into contact with the local companies or for example the fire and police department from Long Beach."
Gheysen reflected, "That's something that, interestingly enough, we don't experience in all cities. It's an extremely positive way for us to work."
In all, there are currently 216 conventions and meetings on the books for this year, according to the CVB. These events are expected to generate an estimated economic impact of $299,032,450, more than 197,600 room night stays at local hotels, and $5,379,412 in transient occupancy tax.
"The National Association of Counties is going to be a huge convention here in July that we got thanks to [Los Angeles County] Supervisor Don Knabe," Himert said. "They're going to sell out the entire city," she noted, referring to hotel rooms. Additional large conventions this year include the 2016 Herbalife North America Extravaganza and an annual meeting of the American Geriatric Society, among others.
There are 82 additional conventions and meetings tentatively planned for 2016 and beyond which stand to generate an estimated economic impact of nearly $279 million.
CVB's Annual Sales Mission To Washington, D.C., Is A Team Effort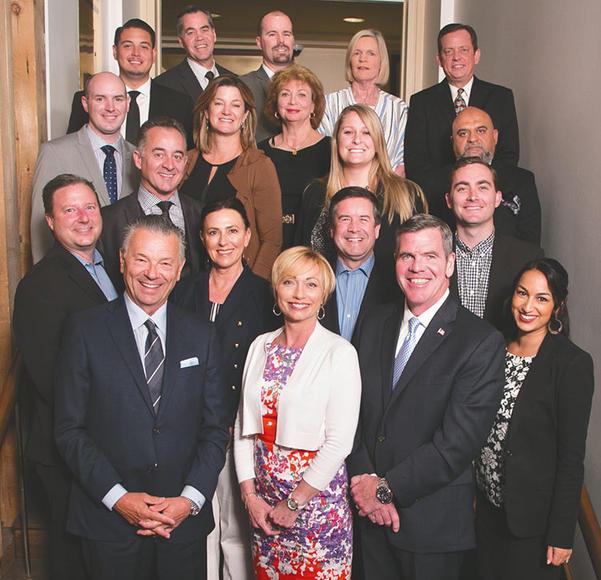 The Long Beach Area Convention & Visitors Bureau's (CVB) annual sales mission to Washington, D.C., featuring nearly two dozen local hotel and attraction executives, has repeatedly proven to result in "high value convention and meeting planners coming to Long Beach," according to CVB President/CEO Steve Goodling. The week-long marketing effort was held earlier this month and included sales calls and special events, Goodling told the Business Journal, "reaching out to more than 300 professional meeting planners to show why Long Beach is the perfect destination for their meetings." Among those attending the sales mission were, top row from left:  Hector Martinez, sales manager, Long Beach Marriott; Art Scanlon, national sales director, CVB; Jason Parker, assistant general manager, Premier Catering; Caribe Hourigan, national sales director, CVB; and Chris Zappia, national sales cirector, CVB. Middle row from left: James Robinson, assistant director of sales, Westin Hotel; Silvano Merlo, general manager, Courtyard By Marriott; Pam Ryan, general manager, Renaissance Long Beach; Elaine Gamer, director of sales, Hilton Long Beach; Lindsey Hartman, sales manager, Hyatt Regency Long Beach; and Imran Ahmed, general manager, Long Beach Marriott. Bottom row from left: Mark Becker, area vice president and general manager, Hyatt Regency Long Beach and Hyatt Centric The Pike Long Beach; Ken Pilgrim, general manager, The Westin Long Beach; Bianca Ware, city wide sales executive, Marriott Hotels; Barb Swaiman, account manager, Queen Mary Hotel; Goodling; Charlie Beirne, general manager, Long Beach Convention & Entertainment Center; Brendan March, associate director of sales, Hilton Long Beach; and Alexis Amato, group sales manager, Hotel Maya – A Doubletree By Hilton Hotel. (Photograph provided by the CVB)