With her two eldest sons suffering from eczema, Meredith Wilson decided to concoct a treatment that was natural – no chemicals or steroids for her boys. The end result was ultimately the formation of LB Love Organics, Wilson's handcrafted line of skincare products.
What started as a way to help her children slowly morphed into a business as acquaintances began asking if Wilson's products were for sale. This was her first true introduction into the artisan and maker culture in Long Beach.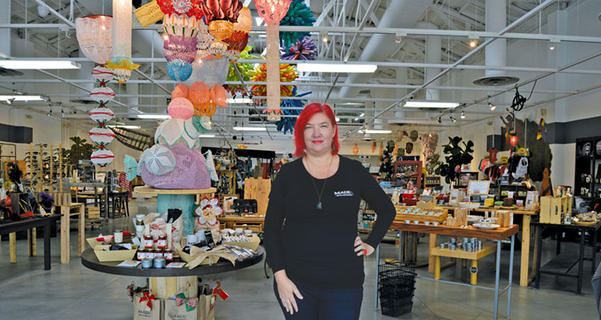 Heather Kern, manager of MADE by Millworks on Pine Avenue, said the hipster community is moving away from technology and toward working with their hands and purchasing handcrafted goods. (Photograph by the Business Journal's Larry Duncan)
"Two years ago, I got connected with MADE, and it was really an awakening for me as to what the maker community is like in Long Beach," Wilson said. "I didn't really have any experience with it. I was just kind of in the throes of raising little kids. We're a foster family. So my circle of life experience was a little smaller."
MADE by Millworks, a consignment store that features more than 120 local brands in the heart of downtown, has been a hub for the locally crafted goods movement since it opened in 2014. Heather Kern, manager of MADE, explained that the resurgence in handcrafted goods is a nationwide phenomenon.
"I think the return to artisanship and craftsmanship has been brewing for a while," Kern said. "The hipster scene has been moving away from technology. It's sort of just the way human nature is – all of a sudden we explode, and we have no more artisanship left. And it's all big-box stores. But then, of course, there's a rejection to it."
Kern said she thinks MADE was a pioneer in championing locally crafted brands and pushing the support of local artists and makers. She said other boutiques in the downtown area might have been selling handmade wares, but they were not highlighting the fact that some were locally crafted.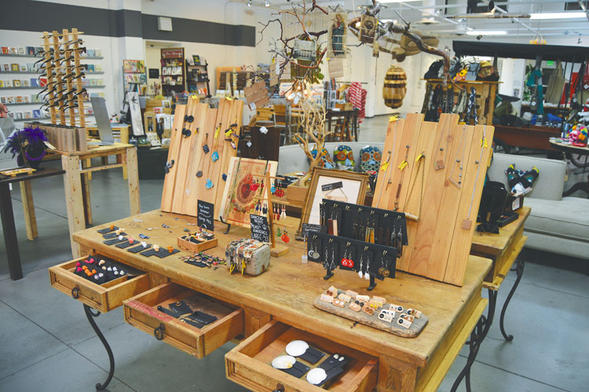 MADE by Millworks, a consignment store in the heart of downtown located at 240 Pine Ave., features more than 120 locally crafted brands. (Photograph by the Business Journal's Larry Duncan)
According to Kern, many who found themselves involved in the maker community did so out of necessity during the recession. She said many people were forced to look for alternative means to make ends meet. Now that momentum has built, Kern said the idea of local has become a bigger deal as the city continues to grow, and residents are proud of the culture, which is the reason people are drawn to the downtown area.
"There are some people that make just because they are compelled, just like any other artist who creates. So they're just thrilled to have a place to put it," Kern said. "I just think if there's a way to emphasize how important it is to support local art, I'd say that it's a way to retain our culture. And we like to say here that it's your civic duty to shop local."
Mike Rischa, founder of Long Beach-based Nothing and Company handmade eyewear, said that MADE was one of the first stores to give him the chance to showcase his entire line of sunglasses. Now, Rischa said his glasses sell in 10 stores in the United States, as well as 15 to 20 stores in Japan.
The brand launched at the beginning of 2015, and each style has a name derived from Long Beach – from streets to city founders.
"I think it's pretty cool. And it's sparked a fun, interesting side of Long Beach in terms of creativity and seeing what people can do and what art they like to have," Rischa said when talking about makers in the city. "They've been given a voice. They've been given a chance to express. You go around Long Beach now with all the murals that are painted, there's just been a door that's been opened. It just goes back to the melting pot of what Long Beach is."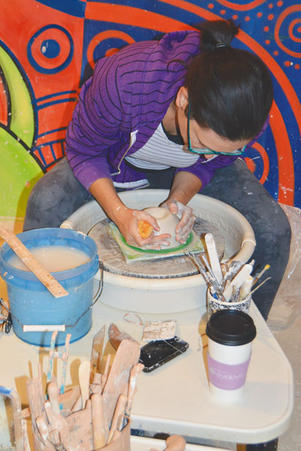 The Clay Pottery Studio is located in downtown's East Village. (Photograph by the Business Journal's Larry Duncan)
Aside from local pride in maker culture, Rischa said tourism in the downtown area is helping to fuel the growth of the movement. He explained that visitors to the city come to downtown boutiques in search of unique gifts for family and friends, something more than "just buying a shot glass that says 'Long Beach'" or the equivalent of an I Love NY T-shirt. Rischa said the uniqueness of handmade or locally crafted products gives each piece significance and meaning, which is more interesting to visitors.
The maker culture in Long Beach is still in its infancy, according to Rischa, and is still trying to find a balance in how far it can push the culture. In comparison to areas like San Francisco, Rischa said Long Beach is just now coming out of the shadows and is still finding its identity, but it is on the right track.
"You can go on Etsy and get tons of handmade stuff – and people still do. But I think there's a lot of pride in Long Beach. People who live in Long Beach really love Long Beach," Adriane Errera, another vendor who can be found in MADE, said. "One of my products that I make is a little key fob with a heart that says 'Long Beach.' And I see a lot of local people with that. They like it here, and they just want to see it thrive."
Made by Adriane uses repurposed leather to create one-of-a-kind purses and accessories. Though her wares are sold in several stores around the city, including 4th & Elm and further up 4th Street on Retro Row, Errera acknowledges that it can still be difficult to make sales in stores that do not focus on local brands because "you can't compete with the $10 item from China" when that is a shopper's budget.
Despite the challenges, Meredith Wilson said she thinks Long Beach is becoming more of an urban hub with its own vibe, and downtown is the focal point of the growing culture. She explained that, among the artisans and makers, there is more of a sense of community than competition for sales – a fact that she appreciates.
"It's a really tight-knit community, and people are very supportive. It's exciting to be a part of it. It really is," Wilson said. "To put something that I make out into the world, it's pretty wonderful. And I feel really proud to be a part of that culture here in our city."