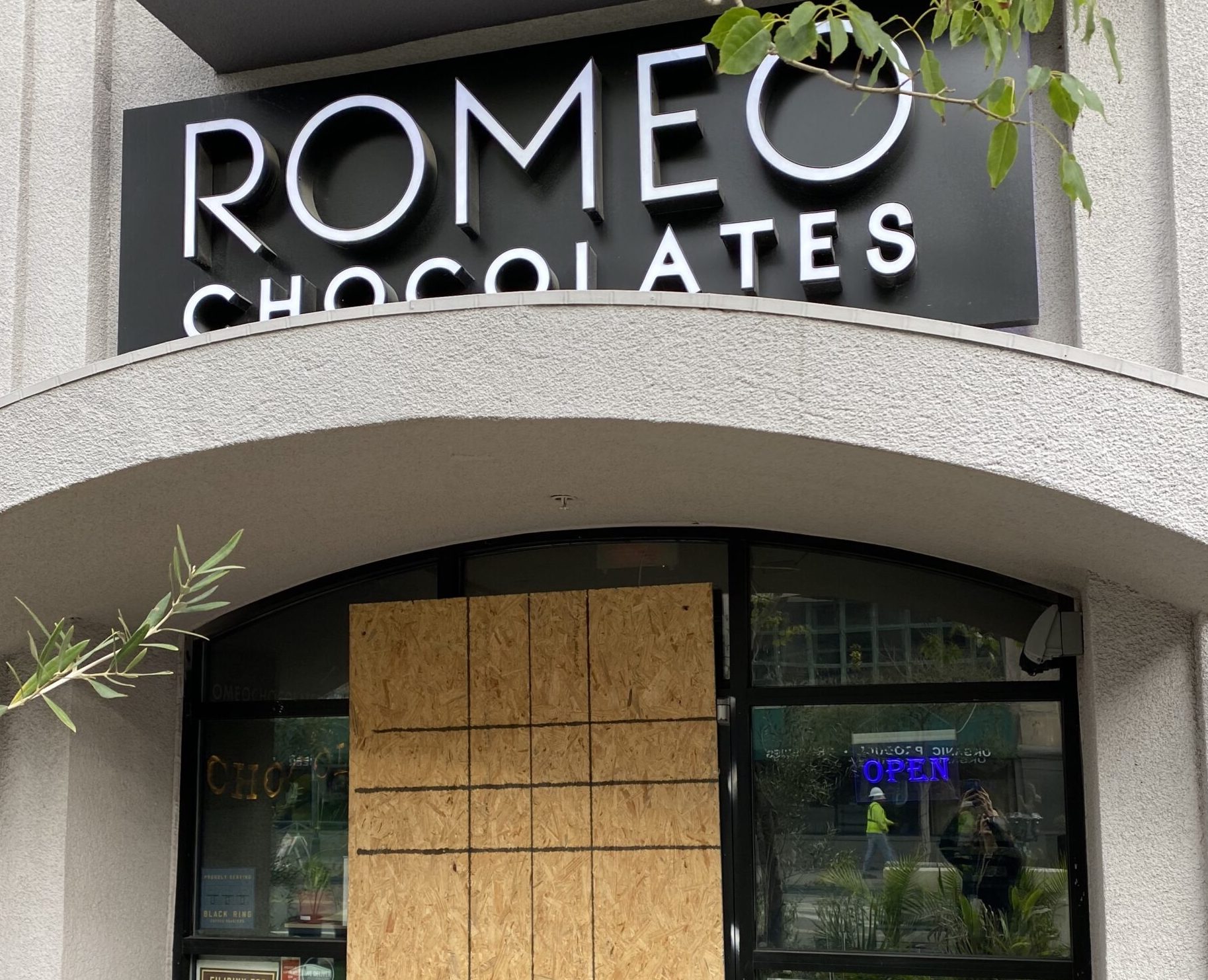 There's been a recent uptick in vandalism impacting Downtown Long Beach businesses, and the Downtown Long Beach Alliance on Thursday announced new initiatives to make the neighborhood safer and help impacted business owners recover.
The biggest step the DLBA has taken is launching a $30,000 Storefront Recovery Grant Program in which small businesses owners can be reimbursed up to $1,500 to help with costs associated with vandalism damage, including insurance deductibles, boarding costs and storefront repairs. The grant program will draw on repurposed program funds from delayed projects until grant funding from the Long Beach Recovery Act can be secured.
Among the 14 incidents recorded by the DLBA over the past two weeks are a break-in at Romeo's Chocolates on Jan. 31, which was also burglarized in the incident. Other incidents include a break-in at Salon Row on Fourth Street and a burglary at Outfitters on Pine Avenue, according to DLBA spokesman Michael Berman.
The Long Beach Police Department, for its part, is aware of the recent trend.
"At this time, we do not believe the incidents are related," the department said in a statement. "However, detectives are actively investigating each incident, following up on all leads, and working closely with our patrol divisions to share information to identify and apprehend those responsible for each incident."
The spike in crime comes as small business owners still deal with the effects of the COVID-19 pandemic, including an inflation surge that reached 7.5% in January.
"Many businesses are already operating on razor-thin margins as they manage through the ongoing challenges brought on by COVID-19," DLBA Economic Development and Policy Manager Austin Metoyer said in a statement.
This is not the first time the DLBA has stepped up to help businesses. The organization raised $40,000 for businesses in the wake of the theft and vandalism that broke out after the May 31, 2020, protest of George Floyd's murder in Long Beach.
"As we learned from a similar recovery grant program in 2020, this type of financial assistance really makes a difference," Metoyer said.
Additional measures the DLBA has taken to address the spike in vandalism include a collaboration with LBPD to "inform businesses and residents on how to avoid being targets of crime and how to improve chances of apprehending a suspect once a crime is committed," according to a DLBA statement.
"We're grateful for the additional deployment of officers and business outreach being performed by LBPD," DLBA COO Broc Coward said in a statement. "We believe DLBA's initiatives complement those efforts and make our Downtown safer for businesses and residents to enjoy."
Several steps are also being taken to improve overall surveillance of the city, including the deployment of extra safety ambassadors, particularly during evening hours. These safety ambassadors—who can be identified by looking for their bold red shirts—are spread throughout the Downtown area to provide directions, safety escorts, vehicle jumpstarts and other services to help maintain safety and comfort in the Downtown area.
"Safety ambassadors serve as extra eyes and ears for the Long Beach Police Department to assist in crime prevention," Berman said.
The DLBA is also coordinating with public and private security and property firms for an added layer of awareness and protection. Ambassadors will be patrolling on two additional routes Thursday through Sunday from noon to 8 p.m., according to Berman. One will be in the core of Downtown and another will be in East Village.
Other steps being taken to assist business owners include sharing an an enhanced Quality of Life Decision Guide with businesses, residents and property owners to give them up-to-date information on who to call for various concerns and promoting the availability of DLBA safety escorts, who can be contacted seven days a week at (562) 244-1365.
As for the Storefront Recovery Grant Program, businesses are eligible if they:
Occupy a ground-floor space in the Downtown Parking & Business Improvement Area boundaries (between 10th Street and Shoreline Aquatic Park, and between West Shoreline Drive and Alamitos Street);
Hold an active city business license;
Are privately held, sole proprietorship or independently owned;
Have less than 35 full-time employees;
Were damaged on or after Jan. 1, 2022; and
Can provide proof of police report filed, proof of insurance claim filed (if applicable) and proof of purchase or contract worked for repairs.
Business owners can apply for the grant through the DLBA website here, and those interested in donating to the program can send an email to austinm@dlba.org.