As the number of women-owned businesses continues to grow across the United States, women business owners are increasingly optimistic about their businesses' performance.

Optimism grew among women business owners by 16 percent in the past year, compared to a 12 percent increase in the year prior, according to a recent joint report by the National Association of Women Business Owners (NAWBO) and Web.com.
A 2015 American Express OPEN report on the state of women-owned businesses in the U.S. shows that there is plenty to be positive about. According to the report, during the Great Recession "the only bright spot . . . with respect to privately-held company job growth has been among women-owned firms," which have added 340,000 jobs since 2007. Meanwhile, "Among men-owned and equally-owned firms, employment has declined over the past eight years."
In fact, two women business owners interviewed by the Business Journal for this section started their businesses during the recession, while another expanded her services during that time.
The vast majority – 92 percent – of women reached in NAWBO's survey reported their top reason for going into business was "the ability to express passion for your vocation." This motivator is reflected in the women business owners of Long Beach, four of whom are featured in this edition of the Business Journal's quarterly Women In Business section.
Each of these women – from a financial service provider, to an optometrist, to a restaurant owner and a photographer – expressed that a strong desire to pursue their passions was a major motivator in starting their own businesses. They continue to draw upon their inspirations as they grow their businesses and seek to make an impact in their communities.
Tracy Ames
The Red Leprechaun
4000 E. Anaheim St., Long Beach • 562/343-5560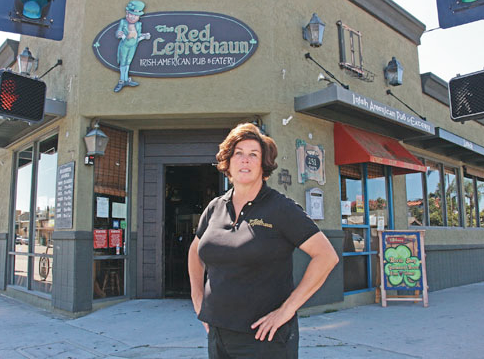 Following a career in the hospitality industry, Long Beach resident Tracy Ames drew upon her longtime passion for cooking and a background working in Ireland to open The Red Leprechaun, a restaurant with an Irish pub concept.
When Ames was laid off from a 19-year career in the hospitality industry in 2009, during the Great Recession, she decided to pursue her longtime dream. "I always dreamed of owning a restaurant," she said.
"Initially I got into a restaurant that was established down the street on Anaheim, and they got locked out of their lease with my money," Ames said of her first restaurant investment. After that, she decided to start up her own business.
"My personal passion was my own cooking," Ames said. Having worked in Ireland years ago, Ames said the concept of an Irish pub was a niche she believed she could fill well – "with the exception that Irish pubs had terrible reputations for food," she said with a laugh.
A Rose Park resident, in 2010 Ames began attending meetings of the nearby East Anaheim Street Business Alliance (EASBA) as part of her research process for determining where to open a restaurant. The Alliance oversees the business improvement district which stretches along the busy corridor. Eventually, opportunity came in the form of a vacated old Blockbuster location at the corner of East Anaheim Street and Termino Avenue.
The location required constructing all the elements of the restaurant from scratch, including the kitchen, bathrooms and the dining area. "The biggest challenge was really the construction . . . with not a lot of money," Ames recalled.
She decided to stay away from a bar-like atmosphere, instead creating a family-friendly vibe. "As a matter of fact, in all of our permits for the city, the word bar doesn't exist," she noted. Since opening in July 2012, the restaurant has stayed true to this vision. The menu, which she put together with a consulting chef, includes gastro pub fare that has helped draw in the foodie crowd, Ames said.
The business recently accomplished three goals, including adding a back patio, obtaining a catering license and becoming one of few establishments in the city to sell to-go craft beers. Ames said her biggest challenge is helping to create more foot traffic for East Anaheim Street, which she hopes will help other businesses in the area as well.
Originally a dinner venue only, The Red Leprechaun now serves weekend breakfast and weekday lunch. As she continues to grow her business, Ames' next goal is growing the lunch crowd, hopefully with some traffic from workers at local businesses. n
Miranda Mirsec
Blossom Blue Photography
200 Nieto Ave., Suite 206, Long Beach • 562/706-0032
www.blossombluephotography.com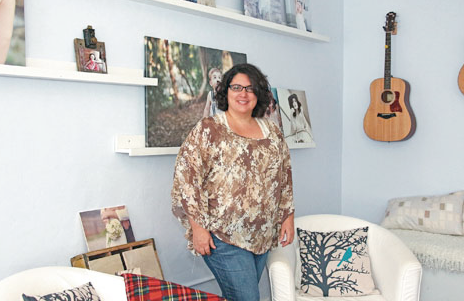 After a 12-year career in the nonprofit sector where she helped share the stories of others, Miranda Mirsec was inspired to start her own business telling others' stories through photography.
"The nonprofit I used to work for used photography to document client programming," Mirsec recalled. "I started to play with the cameras in terms of capturing events, people, personal interest stories and things like that. I was really enjoying that," she said, explaining that her photographs were used in materials to help the organization earn grants.
"Friends and family started to see my work in some of the publications we would put out for work," Mirsec said. "And they were like, 'Oh I didn't realize you took pictures and I would love for you to do mine.'" When Mirsec lost her job in 2008, she immediately went into business for herself as a photographer, and already had a base of clients.
"What inspires me is the telling of stories," Mirsec said. "Our families and our lives are the most cherished things we have, yet our memories will fade, and documentation and details don't always translate from one generation to the other. Photographs historically have been a way for us to remember events, emotions and things about our past."
Mirsec is in part inspired to document the lives of others because she has a special appreciation for how short life can be, she said. During her time as a student at California State University, Long Beach, she sustained a spinal injury that left her paralyzed for six months, unsure if she would ever regain her mobility. She eventually recovered.
"I can't tell you how many times I have gotten calls from people whose parents have passed away, and they say, 'That picture you took of me and my dad at our wedding is the only picture I have,'" Mirsec reflected. "Unfortunately I have even photographed newborns that have passed away, and that's the only thing that's left."
This perspective influenced Mirsec's approach to photography and art. Blossom Blue Photography focuses on creating artwork meant to document and preserve family history, and be passed down as heirlooms for future generations.
Last year, Mirsec moved the business from a home and studio in Belmont Shore to an upstairs location off 2nd Street where she benefits from the area's high volume of foot traffic.
Moving forward, one of Mirsec's greatest challenges is reaching out to new clientele. "The marketing never ends – just constantly communicating who we are and what we do," she said.
Nicoleta Simionescu
AllWays Financial Services
1424 E. Broadway, Long Beach • 562/437-5585 x3 or 800/986-9977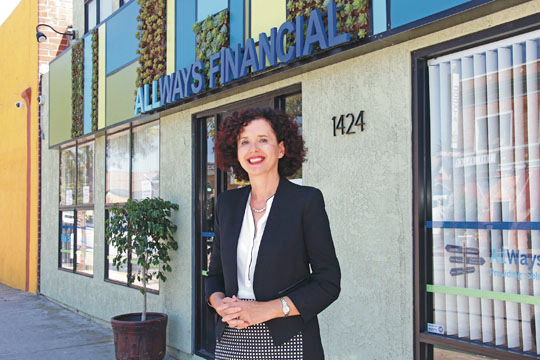 Nicoleta Simionescu, a native of Romania who earned a degree in finance and accounting in her home country, decided to go into business for herself after five years of working as a bank manager in Long Beach.
"I was a bank manager for a local savings and loans. It was during the reshuffling of the savings and loan industry," she said, referring to the early 1990s. "I could see firsthand how many people we were rejecting because they didn't qualify for loans," she continued, recalling that, at the time, interest rates for standard bank loans were in the double digits.
"After five years I decided to open AllWays Financial Services as a mortgage brokerage to serve people who were underserved because they couldn't qualify for standard bank loans," she said. "I saw an opportunity to do what I was doing for the bank, for myself."
In 1993, Simionescu and a business partner opened AllWays Financial's first location on Pacific Coast Highway in the Long Beach Traffic Circle, and hired a full marketing team. Eventually, she took over the business on her own.
Transitioning into running her own financial business proved challenging at first. In order for Simionescu to get her clients the kinds of loans they weren't able to receive from banks, she had to persistently advocate on behalf of their interests to mortgage underwriters, who consistently tried to oversell loans, she said. The experience was a "constant crusade," she reflected.
Simionescu tackled this challenge and was able to grow her business through client referrals. She moved AllWays Financial to its current location on Broadway in 2000 and became a member of the On Broadway Business Association, of which she is currently the treasurer.
With changing times, Simionescu diversified her business. "During the recession, we added the insurance component of our business in order to offer [our clients] homeowners insurance," she said. AllWays Financial now also offers real estate services, including buyer's agents for people looking for a new home.
The Great Recession resulted in plenty of changes for the financial services industry, and those have proven to be a challenge for Simionescu as she moves forward with her business. "There have been so many rules and regulations introduced by Dodd Frank and the Consumer Financial Protection Bureau," she said, adding that these regulations are overly burdensome. "It is very frustrating and challenging because when you think they are done changing the rules, they come up with a new one. So overregulating has been our biggest challenge."
Moving forward, Simionescu plans to expand upon the services AllWays Financial Services currently provides. She also intends to remain involved in various community groups, including the On Broadway Business Association.
Dr. Christina Turner
Eye Land Optometry
1150 E. Artesia Blvd., Long Beach • 562/728-8087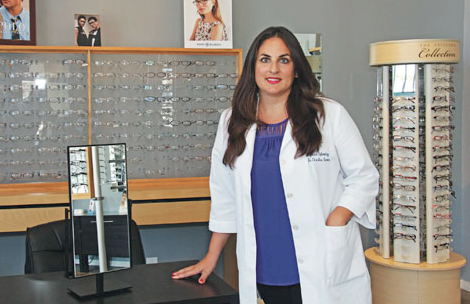 Dr. Christina Turner's ambition to become an optometrist began when she was a little girl, when an optometrist helped to save her mother's life. "She had a serious life-threatening illness, and the optometrist was able to pick up on it from the exam," Turner recalled. From then on, Turner knew she wanted to pursue a career in optometry.
"I always was optometry career-minded, even working for an optometrist throughout college in Santa Barbara," Turner said, referring to her years as an undergraduate student in chemistry. From there, she pursued a masters degree from California State University, Long Beach. "I went for a health care administration emphasis because I knew I'd want to get into a private practice of my own some day," she explained.
After receiving her masters degree, Turner earned a doctorate in optometry from Fullerton's Southern California College of Optometry in 2011. "Since then, I mainly worked at nursing homes throughout the L.A. and Orange County area," she said, noting that she still does this a couple times a week. "I go to different nursing homes and examine the patients' eyes."
Her end goal remained opening her own practice. "I was just waiting for the right opportunity. It's hard right after school with all the loans and catching up," she said. "I like being independent and being able to make my own choices regarding patient eye care and their needs," she said, explaining why she was determined to strike out on her own.
Turner purchased Eye Land Optometry in North Long Beach, an already established office, from a former classmate in January of this year. The transition to becoming a business owner was fairly fluid for Turner, who said her masters program and experience working at other optometry practices prepared her well.
One of the challenges Turner faces in operating her own optometry office is dealing with insurance companies, "because we have to accept their rates and sometimes promote their products, and it provides [fewer] options for the patients," she explained.
Being located in North Long Beach enables Turner to give back to the community and help a population in need of eye care, she said. "A lot of patients have diabetes, the number one preventable cause of blindness. I want to get more involved with their primary care doctors and work together to monitor their eye health."
In the future, she hopes to work with more students. "Eighty percent of what children learn is by their visual system, and bad vision can interfere with their ability to learn, so it is really important to check their eyes on a regular basis too."