With its role in the minimum wage debate complete, the Long Beach Economic Development Commission (EDC) is ready to get back to work on streamlining the city's building and development permitting processes and preparing Long Beach for the economy of the future, according to commission chair, Frank Colonna.
In an interview with the Business Journal at his Belmont Shore real estate office, Colonna said the city has to ensure that it puts its fundamental strengths together in a way that attracts not only the businesses of the future, but also the people who are the drivers in that economic sector.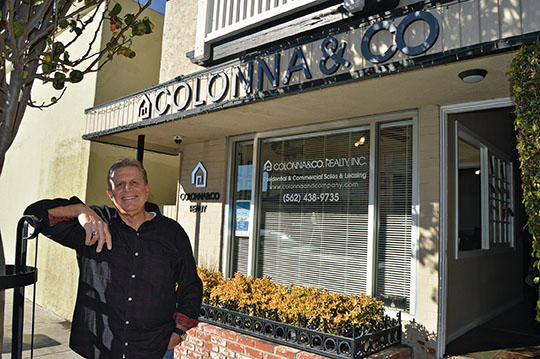 Frank Colonna, who chairs the 11-member Long Beach Economic Development Commission, is pictured outside his Colonna & Co. Realty office in Belmont Shore. Colonna served eight years as 3rd District city councilmember, and prior to that served eight years as president of the Belmont Shore Business Association. (Photograph by the Business Journal's Larry Duncan)
As a long time business owner, past president of the Belmont Shore Business Association, an eight-year member of the Long Beach City Council and a member of several governmental agencies, Colonna has a unique perspective on the city's overall business climate. And from his perspective, the continuing revitalization of the downtown residential and commercial core is one of the driving forces for attracting that high-tech sector of the future economy.
"Now you're really looking at a lot of the spillover from what Silicon Valley had as its right, its patent," Colonna says. "The patent has expired, and it's spreading everywhere, especially here in Long Beach because we have the Port of Long Beach and the Port of Los Angeles.
"You have a good educated population that [the spillover] has brought to Long Beach, [and that creates] the ability to have higher-end technological 'factories' that are finding their homes here. So you're looking at more of a buttoned-down economy," he says. "You still have the small businesses and the service industries, but now [it's] more of the three-piece suit with a valise and a laptop going to conduct business."
That "buttoned-down" economy means adding to Long Beach's traditionally diverse economy a greater intellectual component. Activities like research and development, technological innovation, design and management – all of these can play a role in Long Beach's economic future, if the city can create an environment attractive to that sector and its decision makers. Colonna says the city is uniquely poised to capitalize on the transformation of the local economy away from a manufacturing base and toward a technologically oriented business environment.
"It goes along with the technological revolution. With the closing of Boeing and the assembly lines that were there, we're not manufacturing aircraft anymore. We have the opportunity to attract more technological operations that generate new business," he says.
"[We have] a really outstanding university which is an incubation opportunity for new businesses. We've got transportation arteries that get us to and from areas that are important. We've got an airport. We've got our bases covered in terms of the ability for people to be mobile, to conduct business in other states. And we've got an effective network of roadways. We have the basics."
What is also required, Colonna points out, is a recognition that companies factor into their location decisions the livability of the region for their executives, and their employees and families. And Long Beach's physical and cultural climate are assets that can be leveraged into economic gains, he says.
"Your back is to the water. We've got some really great schools. When people bring their families here, that's the first thing they look at. People also look at where they can spend their free time. I think we're seeing a lot of that translating into other areas. Bixby Knolls is going through a renaissance. North Long Beach is going through a renaissance," Colonna says.
"You have a lot of activities that are attracting a cross-section of the population. We have one of the largest park systems in California, maybe in the United States. We have fantastic marinas that are a big draw – and there's an economy that goes with that. You don't have several thousand boats sitting in slips that don't have people coming down and using them and spending their money."
Things like sidewalk dining at local restaurants and clean, safe, accessible "pocket parks" typically don't wind up in a consultant's report on where your company should locate its headquarters. But those things make a difference, he says, adding that Long Beach's business community has created a lot of those "intangibles" that make the region more desirable as a business destination.
"It's a slice of the European life. And it's made Long Beach really cutting edge. Those are assets that come along with people and their ingenuity. This is the business climate at work," Colonna says. "You have the downtown which, with the port activity and the growth of the ports, is going through a renovation. Newer buildings. Condominiums. A Blue Line. Restaurants. People are realizing that we can live, work and have a lot of fun and not go very far."
This is part of the reason it is imperative that the EDC get back to its task of reviewing the city's permitting and development approval process, Colonna says. The ability of the development community to reinvent downtown has paid dividends for the entire city and its economy.
"We were originally charged with the responsibility of taking a look at how to streamline the building permits and the functioning of the overall ability of people to get a quick response from city hall on items that were important to them. Mostly, we were looking at the development side, so that people could get expedited reviews of their plans. Basically, in this industry, time is money," Colonna says.
"The city has really got a lot of development activity going. Developers are coming to city hall by leaps and bounds. You look at how the city has transformed itself, especially the downtown area. It's becoming more of a real centralized downtown metropolis than we're used to seeing. It's just changed a lot, and it's changed in a significant and positive way. Long Beach is still working on getting itself put together to keep up with growing technology and people who are looking for a final place to call home."
Interestingly, Colonna cites the livability issue as one of the city's potential weaknesses in terms of its business climate.
"Our ability to keep up with the demand on our infrastructure, our city streets, our sidewalks. The status of how the neighborhoods look. How do we make our streets pedestrian-friendly? We have got those kinds of issues," Colonna says."And interestingly, people are rolling up their sleeves. A lot of neighborhoods are looking at that now."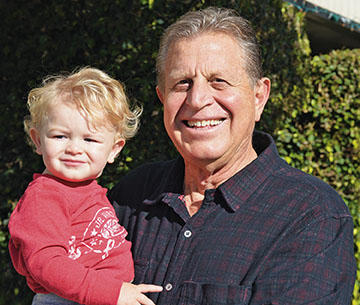 Frank Colonna is pictured with his grandson, Everett. (Photograph by the Business Journal's Larry Duncan)
Obviously, businesses don't succeed simply by creating an environment for their executives. So a successful regional economy addresses the needs of all of its members. That was what made the EDC so well suited to a discussion of the city's minimum wage.
"The city council representatives introduced the minimum wage discussion here in Long Beach. It had been going on for quite some time in Los Angeles. So that was then directed to us," Colonna says. "We needed to embrace the subject matter as to where the request was – where do we see Long Beach? How do we see Long Beach in this debate? What do we think would be something that, considering that a fair wage is now under discussion, what is it going to be? How do we manage if there is any stress or negative impact on how it is implemented and how much is it going to be implemented?
"The most sensitive sector of the economy on this is typically – almost always – the small business sector. Actually, the span is 25-50 employees. Most of the 25 [and below] are more connected to family operations than are the ones [with 25-50 employees] that potentially have connections to other locations, other sites, other contracts."
Colonna is satisfied that the commission's recommendations met the needs of the local labor force as well as the economic needs of Long Beach's unique, diverse business community. And he is also satisfied that the issue was well considered and that the debate was inclusive – and that it was time to refer the issue back to the city council, as the commission's resources were needed elsewhere.
"That was why I was adamant about our commission not continuing to have any more discussion," Colonna says. "We had hundreds of people in front of our commission; lots of publicity, lots of dialogue, lots of activity. Now it's our turn to get back to looking at our recommendations at city hall."