Economic trends in 2016 should mirror those of 2015, with continued slow and steady growth at home while economies abroad grow at a slower pace, according to national and regional economists. A stronger U.S. dollar, concerns about China's economy, low oil prices and continued job gains are the key factors playing into their outlook.
"From an overall perspective, 2016 should look a lot like 2015," Mark Vitner, senior economist and managing director with Wells Fargo, told the Business Journal. "Overall growth is going to be relatively solid." By the end of the year, Vitner said the U.S. should see an increase in gross domestic product of about 2 percent, which is in line with growth in 2015.
"The operative phrase is 'more of the same,'" Robert Kleinhenz, chief economist for the Los Angeles County Economic Development Corporation, said. "We're happy to see steady growth, but the fact of the matter is the overall economy has been following a trajectory that's associated with slower growth than we have seen historically."

A rendering illustrates one of three buildings planned for Pacific Pointe East, the latest addition to Sares-Regis Group's Douglas Park development in East Long Beach. Work on the 24.8-acre Pacific Pointe East has begun at the southeast corner of Conant Street and Lakewood Boulevard, across from Mercedes-Benz USA's facility.  According to Sares-Regis, the buildings' sizes will range from 110,000 to 230,000 square feet, and mirror the headquarters-style design of other buildings within Douglas Park. (Rendering courtesy of Sares-Regis Group)
Somewhat restraining U.S. growth this year is China's slowing economy, as the country contends with its long-term effort to build up a consuming middle class and become less reliant on exports, according to both Vitner and Kleinhenz. Last year, China devalued its currency, and its stock market was highly volatile.
"The Chinese economy is clearly slowing," Adam Kamins, senior economist for Moody's Analytics, told the Business Journal. "Our baseline expectation is that GDP growth in China will slow to a somewhat more sustainable trajectory, but that China will avoid a full-fledged recession," he explained.

Nautilus International Holding Corporation, a firm specializing in maritime transportation and management services, is nearing completion on its new 40,000-square foot headquarters at Douglas Park. In February, the company is moving to Long Beach from its current location in Wilmington, where it has been located since 1923, according to President and CEO James Callahan. Nautilus has four subsidiaries, including: Metro Ports, a stevedoring and marine terminal operator with facilities at the Port of Long Beach; Metro Risk Management, which focuses on risk management and claims administration; and Metro Cruise Services and Metro Shore Services, which both provide services to the cruise industry. (Photograph by the Business Journal's Larry Duncan)
"The developments in China may not have an impact on the real economy here in the United States in any huge way, but the reverberations that occur in the financial markets are very real and they do have an effect on people's financial well-being here in the United States," Kleinhenz said.
"It's no surprise that the troubles we have been hearing and reading about in China are having some impact on our economy," Vitner said. "It is not something that threatens to pull the U.S. economy into recession, but it is significant enough that it is going to prevent U.S. economic [GDP] growth from ramping back up to 3 percent."
The increasing value of the U.S. dollar, coupled with a slowing Chinese economy and its devalued currency, has impacted and will continue to affect the U.S., according to Vitner. Kleinhenz pointed out that resulting impacts to the San Pedro Bay ports, and the overall economy, should be minimal. "Our exports to China make up less than 1 percent of U.S. GDP," he noted.
European countries are also experiencing slower economic growth than the United States, which could further reduce exports and end up hurting U.S. manufacturers this year, Kamins noted.
Metal manufacturers, which have a strong presence in Westside Long Beach and Los Angeles, experienced job losses last year and may continue to do so due to strong global competition, Kleinhenz said. "They do have to face this problem of the stronger dollar, because much of what they make, they sell abroad," he explained. According to the most recent report from the California Employment Development Department, the manufacturing industry was down 7,500 jobs as of November, compared to the same month in 2014.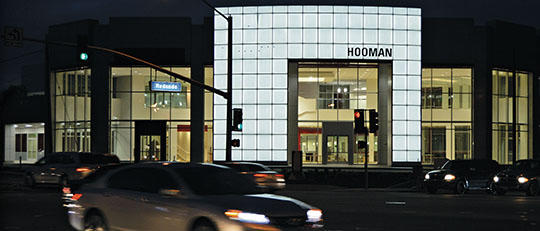 Hooman Toyota of Long Beach is relocating from its former site at the Traffic Circle to 3399 E. Willow St. at Redondo Avenue, which is the former location of Coast Cadillac that moved to 2850 Cherry Ave. in Signal Hill. Construction of the expanded Hooman auto dealership is expected to be completed soon. (Photograph by the Business Journal's Larry Duncan)
As the U.S. dollar continues to grow in strength relative to other currencies due to the Federal Reserve's plans to slowly ramp up interest rates, there may be some other adverse impacts related to China. Kamins noted that Chinese visitors are major players in key U.S. hospitality and tourism markets. "That could also hurt things like international tourism, where visitors from China could dry up," he said.
Despite a slowing Chinese economy, Vitner pointed out that Chinese investors are still buying up California real estate and driving up prices, which has been good for sellers, but not for buyers. "It's making it even tougher for Californians to buy a home," he said. Although with "virtually every economy in the world slowing," this trend might lose some footing. "Canada has slowed, and Canada is a big . . . source of foreign homebuyers. That may become a little bit of a bigger drag as the year wears on," he said.
Another key factor playing into this year's economic forecast is the low price of oil, which decreased from $45 per barrel this time last year to about $29 per barrel as of January 15. While this has an adverse impact on jobs within the oil production industry, Kamins, Kleinhenz and Vitner agreed that positive economic impacts for consumers outweigh the negative effects.
"The data around consumers spending their gasoline savings hasn't really materialized in the way we would have expected at this point," Kamins observed. "We think people are being a little bit more aggressive about saving. . . . Part of it might just be lasting scars from the recession." He and Vitner both project that low gasoline prices should start translating to increased spending this year. "The money that folks save on gasoline will help fuel spending in other areas," Vitner said.
The strength of the U.S. dollar in comparison to other currencies is also likely to boost consumer spending because a stronger dollar makes imported goods cheaper for Americans.
Healthy economic fundamentals such as job gains and income growth are also expected to contribute to stronger consumer spending this year. "The good thing is that in 2016 we will see more wage and income gains for typical households, that will . . . sustain continued increases in consumer spending, which is about two-thirds of the economy," Kleinhenz said.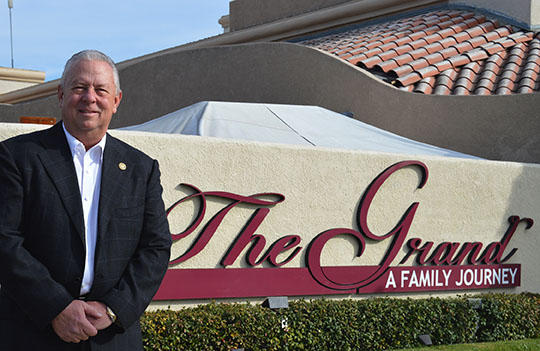 Pre-event bookings at The Grand Long Beach have increased considerably going into 2016 compared with the start of 2015, according to CEO Jim Choura (pictured). The events venue at 4101 E. Willow St. focuses on private social gatherings, weddings, and business and nonprofit events, and provides a full range of event services such as catering, audio and visual, and rentals. "With the pressure of wage and food cost increases, The Grand leadership team has artfully looked at all menus with the intent to push fresh local produce, high quality protein selections and 100 percent house-made appetizers," Dan D'Sa, director for Grand Food & Beverage, wrote in an e-mail to the Business Journal. The outlook for the year is strong, he added. (Photographs by the Business Journal's Larry Duncan)
Last year, the nation saw more job growth in high-paying occupations, according to Vitner. "We're seeing very broad-based gains. Virtually every industry is expanding hours worked," he said.
Looking forward, the technology industry may start to drive more job gains in Southern California. "More and more high tech firms are being priced out of San Francisco and San Jose, so they are looking for cheaper locations," Kamins observed. "That has really benefited Southern California quite a bit, and we expect that tech is going to continue to be a major growth driver," he said.
"The same cast of characters that we have seen drive the local economy over the last few years will continue to be the biggest contributors to job gains," Kleinhenz said. Regionally, the health care and construction industries ought to create the highest number of jobs this year, he said. Local health care firms, such as Molina Healthcare, have been steadily expanding staff and operations since the advent of the Affordable Care Act to accommodate a growing insured population.

Construction is underway at a Bixby Knolls shopping center at San Antonio Drive and Long Beach Boulevard, where a Pet Food Express will soon be moving in. The Trader Joe's currently located at the corner of Carson Street and Atlantic Avenue will also relocate to the center once construction is completed. (Photograph by the Business Journal's Larry Duncan)
In Long Beach, construction jobs are being created by a multitude of multi-family housing projects, plus projects at the Port of Long Beach, such as the massive Middle Harbor redevelopment and Gerald Desmond Bridge replacement projects. The goods movement industry, which includes transportation and warehousing sectors and is closely linked to activity at the San Pedro Bay ports, should also continue to add jobs locally this year, Kleinhenz said.
The regional aerospace and aviation industry has remained within a consistent range of employment for the past few years, hovering between 38,000 to 40,000 employed persons, Kleinhenz said. Current job figures in aerospace are at the low end of that range. "Aerospace is holding its own," he said.
Most industries in L.A. County should add jobs this year, perhaps with the exception of real estate and finance, according to Kleinhenz. "We expect a strong real estate market, but there is some displacement of people in real estate because one can do so much online now," he explained.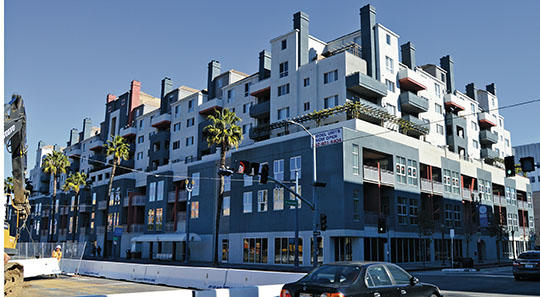 The conversion of a former multiplex movie theater into 69 loft-style apartments on Pacific Avenue between Broadway and 3rd Street is expected to be completed in the second quarter of this year. The units were built below existing apartments. The building is now renting. (Photograph by the Business Journal's Larry Duncan)
The financial industry has been more pressured by China's economy than other U.S. sectors, which puts its jobs outlook somewhat into question. The stock market has seen volatility for the past six months, which economists and analysts link to concerns about China and the price of oil. On January 15, the Dow closed down 391 points. If volatility in the stock market and "disappointing" earnings and bonuses reports from the banking industry continue in coming months, "I would expect there are going to be some job cuts throughout a lot of the financial industry," Kamins said.
In general, the outlook for employment in California is positive. "We are expecting California to add somewhere between 325,000 to 350,000 jobs this year," Vitner said.
But Vitner's jobs prediction came with a caveat. "The one factor that is a bit of concern to me is the minimum wage," he said, noting there are many proposals to raise the minimum wage throughout California. The Long Beach City Council is set to vote on a proposal tonight, January 19, to incrementally raise the minimum wage to $13 by 2019.
"From an economist's standpoint, some of my concerns about the minimum wage are that, if you raise it too high, then it makes it tougher for companies to offer jobs to employees that do not necessarily have skills," Vitner said. "If you raise the minimum wage and you have got someone who may not have finished high school or may have had a brush with the law, and they are trying to get back into the legitimate economy, there are going to be fewer employers who are going to want to take a chance on them the higher the minimum wage goes."
To alleviate this issue, Vitner suggested creating special wages in certain instances, such as a 90-day lower wage to train new staff, a lower wage for seasonal workers or even a lower wage for teenagers. "Without that, I think what we risk by raising the minimum wage is destroying some of the dynamism in the labor market," he said.
Overall, the outlook for the U.S., state and regional economies is one of stable growth for 2016. Kleinhenz concluded, "I don't see a huge change in course for the U.S. economy in 2016, no matter what happens around the globe, which I think is an important observation given what's been happening since the start of the year with the financial markets responding to what's been going on in China."