News of China's faltering economic growth may have upset the stock market at the start of 2016, but it hasn't distressed the top executives at the ports of Long Beach and Los Angeles, who both predict stable, single-digit cargo growth this year despite trouble in Asia.
While Gene Seroka, executive director at the Port of Los Angeles (POLA), didn't pin down an exact figure for growth, his counterpart at the Port of Long Beach (POLB), Jon Slangerup, projected Long Beach would see 4 to 5 percent growth in containerized cargo traffic this year. Non-containerized cargo traffic for bulk products like coal should increase slightly or remain flat, Slangerup said. The executives were interviewed by the Business Journal at their respective offices on January 8.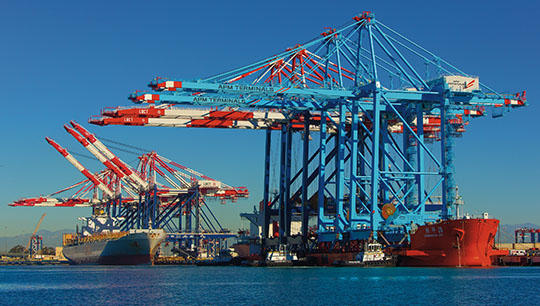 Some of the world's largest cranes arrive at the Port of Long Beach for installation at Long Beach Container Terminal, where the port is in the midst of a massive redevelopment project to accommodate ships able to carry 18,000 TEUs of cargo. (Photograph courtesy of the Port of Long Beach)
The impact of a slowing Chinese economy – the country last year devalued its currency and continues to have difficulties shoring up a slowly growing middle class – is a two-sided coin when it comes to trade at the San Pedro Bay ports. The U.S. dollar continues to increase in value against foreign currencies due to a strengthening economy and the Federal Reserve's decision late last year to finally raise interest rates. These factors mean it's more expensive for China to buy American products, which could result in decreased exported cargo traffic. But it also means it's cheaper for Americans to buy Chinese goods, which translates to imported traffic growth.
"We watch China very closely. Sixty percent of U.S. imports today come from China," Seroka said. "Even here in Southern California, we're seeing about five imports for every single container that's exported. . . . Some of that has to do with the balance of trade. Another part is the currency exchange rate and the weakening economies in Asia."
China's move to devalue its currency effectively created a sale on all Chinese-made goods for U.S. buyers, Slangerup pointed out. "That's why you saw very robust growth overall in North America and for our port as well," he said. Cargo volumes through POLB increased by 5.4 percent compared to 2014, topping more than seven million twenty-foot-equivalent units (TEUs) of containerized cargo for the third time in the port's history.
The Port of Los Angeles experienced a 2.1 percent decline in cargo traffic from 2014 to 2015. About 8.1 million TEUs moved through the port last year. 2014 was POLA's third best year for cargo traffic, so although the port was able to rebound from congestion and labor issues in 2015, it wasn't enough to surpass 2014 cargo figures, according to spokesperson Phillip Sanfield.
A positive economic outlook nationwide plays into Slangerup's and Seroka's projections for 2016. "The jobs numbers look great in general," Seroka said, citing a recent report from U.S. Secretary of Labor Tom Perez that there have now been 70 straight months of job gains. "All of the [economic] pluses that we see here in the U.S. are helping drive that inbound container cargo for distribution and folks buying on the retail level."
Any risk to U.S. financial markets due to economic issues in China should be offset by positive factors at home, such as a stronger dollar, job gains and stable consumer spending, Slangerup said.
Latin America: An Emerging Market
Both Slangerup and Seroka are looking to Latin America as a future growth opportunity for their ports for two principal reasons. First, the opening of the new, third lock at the Panama Canal this year will allow 14,000-TEU ships, a now near-standard but historically huge vessel size, to pass through. Second, manufacturing activity has begun shifting from Asia to Central and South America, where labor is cheaper than in Asian countries.
Many have speculated that the expansion of the Panama Canal could cause large vessels from Asia to route through to Gulf or East Coast ports, resulting in some business loss for West Coast ports. "What the real question that we're tracking is, what impact, if any, will the Panama Canal have on our business," Slangerup said. "And our view, and I think Gene shares the same view, is that we're talking maybe a 1 to 2 percent impact, if any. My guess is probably nothing, because the other thing we're tracking . . . is the shift in manufacturing patterns and trade impacts.
"What I mean by that is we look at manufacturing shifting from China and Northern Asia to Southeast Asia, and from Southeast Asia to Latin America, on an increasing basis," Slangerup continued. "Mexico has a robust emerging manufacturing sector, and they are currently at probably 25 to 50 percent less costly than China today for certain manufactured goods. . . . The same thing is happening in parts of Latin America, both on the east side and west side of South America," he explained. "When you look at Brazil, for example, what we saw in the last 12 months was a shift of iPhone manufacturing from China to Brazil. Well, that changes trade patterns."
Seroka also noted that trade patterns are changing, and perhaps to the benefit of POLA and POLB. "In our line of sight directly right now is Latin America," he said. "To see Southern California trading with the east coast of South America, specifically Brazil, is an area of focus that we will continue to pursue."
Getting Ahead Of The Competition
While the 14,000-TEU ships now able to pass through the Panama Canal were once considered "mega ships," they are now dwarfed by the massive 18,000-TEU vessels that are regularly calling at European ports and are just beginning to come to the San Pedro Bay. In December, the Port of Los Angeles became the first North American port to receive a vessel of this size when CMA CGM's Benjamin Franklin docked at its APM terminal.
Preparing for a future when vessels of this size and larger are a regularity is key to ensuring the ports maintain a competitive edge, and Seroka and Slangerup are confident they've got it handled.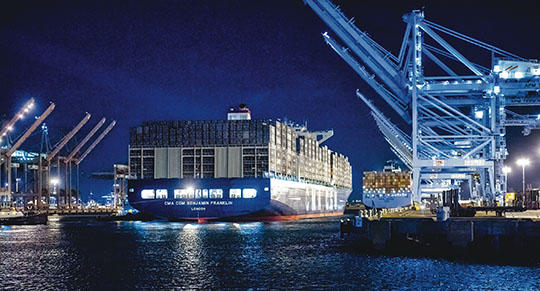 Able to carry 18,000 twenty-foot equivalent units of containerized cargo, the CMA CGM Benjamin Franklin became the largest ship to ever call a North American port when it visited the Port of Los Angeles in late December 2015. The ship is expected to return to the San Pedro Bay in February, when it will call the Port of Long Beach. (Photograph courtesy of the Port of Los Angeles)
"Today we have handled on a regular basis the 13,000- to 14,000-TEU variety of ship," Seroka said. "There are really only two ports in the United States today that are managing those types of ships and those are Long Beach and Los Angeles. We have just proven we can handle the next generation," he continued, referring to the Benjamin Franklin.
POLA began planning for the arrival of the massive ship, which is expected to visit POLB in February, before it began loading in Asia, Seroka said. Knowing how it would be unloaded in Los Angeles, port staff provided advice on how to stow cargo aboard the ship to ensure a smooth unloading process.
"We knew where every container was located on that ship," Seroka said. "It allowed us to prepare with the railroads to have the right assets in place, as well as crewing. The major trucking companies sat down with us to understand the breakdown of how many containers would be moved in our suburban delivery [area], as well as those that would be going out to the inland empire," he recalled.
This type of foresight isn't typical, but proved to be critical in ensuring a smooth flow of goods – the ship was sent back to sea 13 hours ahead of schedule. "That's part of the work that we're doing back in Washington right now, is to see if there is a way on a government-to-government basis that we can work to learn information a little bit earlier in the supply chain." Both ports have also been working for months with supply chain stakeholders through a discussion agreement approved by the Federal Maritime Commission to improve the flow of information through the supply chain.
Both Slangerup and Seroka said their ports have the infrastructure in place, and more improvements coming down the line, to handle mega ships. Last year, the POLB completed work on the first phase of the Middle Harbor Redevelopment Project, a massive capital improvement plan to combine two aging terminals for use by Long Beach Container Terminal. The first phase of the project features massive cranes, deeper water, and zero emission, automated equipment to handle 18,000-TEU vessels. The first phase is still undergoing testing, and is expected to become operational in April, Slangerup said. The second phase of the Middle Harbor project will accommodate vessels carrying 24,000 TEUs.
The POLB's other massive capital improvement project, replacing the Gerald Desmond Bridge, is well underway, with a new bridge expecting to take shape by 2017, and the old bridge knocked down the following year, Slangerup said. The new bridge design will allow taller vessels to pass beneath it.
All terminals at the POLB have plans to, or are in the process of, installing larger cranes, Slangerup said. The POLA has capital improvement projects planned and underway at its TraPac, Yusen, Everport and Yang Ming terminals. "We're spending about $1 million a day in capital improvements. Over the next 10 years, we have got a line of sight over $2.6 billion in general improvements and modernization for the port," Seroka said.
Beyond terminal work, Slangerup is looking to develop more on-dock rail, which enables containers to be transferred directly from ships to trains, thereby reducing truck trips and harmful air emissions. "I personally believe that on-dock rail is the most important strategic thing we can do as a port. And for two reasons: for velocity improvement and for environmental sustainability," he said.
When Slangerup took charge of the port in August 2014, 23 percent of cargo was moved via on-dock rail, and that number has since increased to 28 percent. His short-term goal is to increase on-dock rail use to 35 percent within two years. "The goal I pushed on the organization by the end of the decade is to have up to 50 percent capacity," he said. "I know it's a tall order, but I don't care. It's so important. We need to pressure the organization to focus on that, because that is our ticket to ride in terms of both velocity and environmental gains."
For the POLA, information technology has become a focus for improving velocity through the port into the rest of the supply chain. It has been testing a program by Cargomatic, a Venice-based company, which allows truckers to find containers for pickup, and cargo owners to find truckers. Think of it as the Uber of trucking. Another firm, Quick 180, has created a program to match up exporters who need an empty container with nearby importers who need to move out their unloaded container. Advent Intermodal Solutions, yet another tech firm, has developed technology to assist with trucking routes and appointment systems at terminals.
This year, Slangerup is keen on improving truck turn times at terminals. "We are working very aggressively to find solutions to increase the number of turn times that those truckers can have [per] day," Slangerup said. "I am not going to be happy until it's three to four turns a day." He added that, on average, it is taking truckers about an hour to enter and exit terminals. "It needs to be, in my view, 30 minutes."
Solutions for this issue are being discussed in meetings with supply chain stakeholders and POLA, he noted. "What matters to us right now is that the truckers are hurting," Slangerup said. "We need them, and we need them to want to come to the port. The only way they are going to come to the port is if they can make a living."
Looking To The Future
Moving forward this year, the ports plan to work together to revise their Clean Air Action Plan. As both executives pointed out, each port is exceeding benchmarks set in the plan, originally approved in 2004, and will likely surpass goals for 2023 well in advance. "We're taking on the most aggressive trajectory for improving air quality that anybody anywhere is," Slangerup said.
The Port of Long Beach is also developing a plan called "Energy Island," the brainchild of Slangerup, that would eventually transform it into a zero-emission port generating all of its own energy, and then some.
Also on the distant horizon in 2019 is the port's new home in Downtown Long Beach as part of the city's new civic center, Slangerup noted. The port will pay cash for its new building beside city hall. "There will never be any confusion in the future about where we belong or who we are. The port is the city, and the city owns the port," he said.