Just over one year after opening The Pie Bar at 450 Pine Ave., Laurie Gray has recorded more than $1 million in sales, according to Adam Carrillo, economic development manager for the Downtown Long Beach Alliance (DLBA). This is one of many businesses downtown that Carrillo identified as a success story.
However, business owners in other areas of the city, while they remain optimistic, are not faring as well.
"We have to be in constant overdrive and never sit back and just let things happen. We have to be in overdrive to promote and engage the community," Blair Cohn, executive director of Bixby Knolls Business Improvement Association, said. "We also have been doing outreach beyond our little circle here, into the eastside and into Lakewood to draw more folks."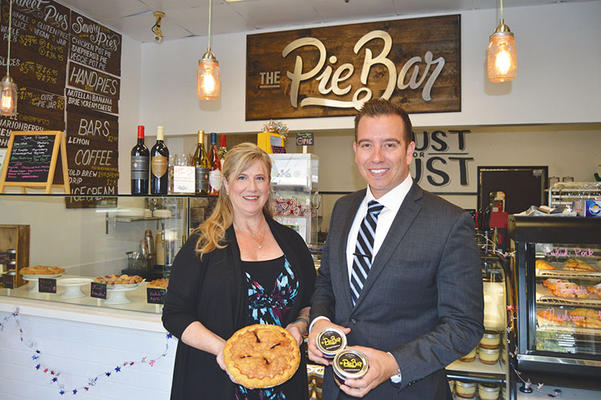 Laurie Gray, owner of The Pie Bar at 450 Pine Ave. in Downtown Long Beach, reported $1 million in sales less than one month after her store's one-year anniversary. Pictured with Gray is Adam Carrillo, economic development manager for the Downtown Long Beach Alliance, who said 90% of ground floor retail is occupied in the downtown area. (Photograph by the Business Journal's Larry Duncan)
Cohn said he recently took a trip to Chicago and parts of Michigan, where he took some time to visit business districts. He said he was told that business was tough, with many retailers treading water and no real boom. Cohn said the situation isn't dissimilar in Bixby Knolls but that the business association has continued its work with businesses to help promote a connection with the residents of the community.
Events such as First Fridays, small business Saturdays, business breakfasts and numerous club meetings are all meant to engage the community with the businesses, Cohn explained. He said he and his association are helping to foster the community fabric, as well as encourage and help businesses with marketing, promotion, social media and whatever other assistance might be needed.
SteelCraft has been a foot-traffic driver for other businesses in the Bixby Knolls area, with more of a regional draw, according to Cohn. He noted that when the food and drink collective closes for the night, patrons often venture into the other restaurants in the area for more food and drink.
"We have to do the constant song and dance to make sure our neighborhood is connected to our businesses," Cohn said. "We just have to work a little bit harder. Our two major corridors, Atlantic Avenue and Long Beach Boulevard, are traveled by tens of thousands every day, and our job is to give them reasons to pull over and make use of what we have."
The 4th Street corridor, including Retro Row, is experiencing a similar need to promote itself, according to Chris Giaco, who became president of the Fourth Street Business Association as of June 1. He is the owner of inretrospect, a store that features vintage furniture, art, housewares, clothing and more. Giaco said the area has experienced a downward trend for retail for the last couple of years.
However, he said there is cautious optimism among business owners that there are signs that things are beginning to at least flatten out, even if there is no huge upswing.
"I think it's fair to say that we're finally really and truly starting to see some of the effects of Internet shopping on our type of brick-and-mortar stores," Giaco said. "I think for a while we thought that we might be immune to that because of the types of shops, especially those being on Retro Row being unique, vintage, one-of-a-kind shops. We're finally seeing a slight decrease in foot traffic in general on the street."
Giaco explained that many of the 4th Street business owners are a little old school and want to maintain the unique vision that led them to opening up shop on the street in the first place. Regardless of what is done to boost sales, Giaco said owners do not want to sacrifice what has made the street special for years. He said they will change with the times as much as is needed but will also stay true to their quirky roots.
Much like Bixby Knolls, Giaco explained that 4th Street businesses created the Fourth Fridays on Fourth event in order to draw visitors to the area. He said attendance has exceeded expectations for the first few months, and the most recent event featured buskers, store pop-ups and extended hours. He said the Pour on Four fall event has also been a success in promoting establishments along the street for beer and wine tasting.
If the businesses can make it through the slow summer months and into the fall for Pour on Four and the holiday season, Giaco said they are on the right track.
"It's almost like a self-fulfilling prophecy. If you're going to be pessimistic, it's hard to operate like that," Giaco said. "So even when things aren't the best they could be, I think our street is good about that. Nobody is closing up shop and leaving. Everybody just realizes that we have to work a little bit harder and creatively to get to where we want to go."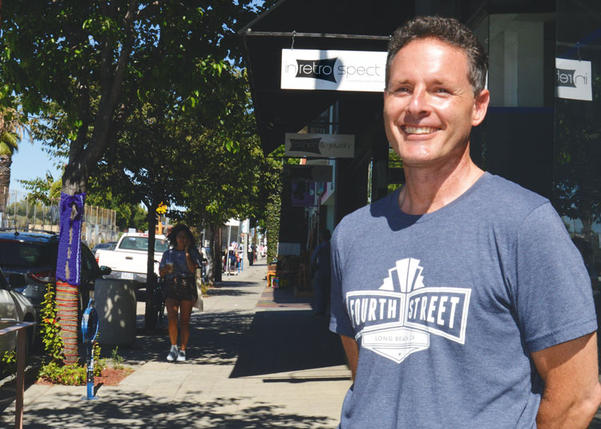 Chris Giaco, owner of inretrospect on 4th Street's Retro Row, became president of the Fourth Street Business Association on June 1. He said businesses in the area are having a tough year but that monthly events such as Fourth Fridays on Fourth are boosting foot traffic. (Photograph by the Business Journal's Larry Duncan)
Belmont Shore businesses are off to a slow start, according to Dede Rossi, executive director of the Belmont Shore Business Association. She said that the face-lift that is coming to the area in the form of new medians, lights, streets and parking lots will hopefully bring a renewed vibe to the area and increase business.
Rossi noted some businesses are having a harder time than others, citing Herman's Shoe Fashions, a family-owned business that is closing its doors after 52 years of operation.
"Retail is down so far this year from last year. One shop said this is the worst year in a long time, and others on the street have said they are down," Rossi said. "Shops are also working on their online [presence] which hopefully will increase their sales."
Despite these business districts' struggles to promote sales and keep foot traffic up, Jack Kleinhenz, chief economist for National Retail Federation, said retail sales overall are expected to increase between 3.7% and 4.2% this year.
Kleinhenz attributes job growth with renewed consumer spending, which is leading to the increase in retail sales nationwide. He noted that April saw a 3.6% year-over-year growth in income, which is also a factor in increased retail activity. There is still a question of why consumers aren't spending more on retail goods, according to Kleinhenz, who said that much of increased spending is for services.
Additional factors for retail trends include a deceleration of inflation and the fact that retailers have not had pricing power for years. Kleinhenz said these two factors mean that consumers are getting more for every dollar they spend.
According to the National Federation of Independent Businesses, small business owners are optimistic for the future, despite slow economic growth of 2%. Kleinhenz said that in order for small businesses to be successful, they must differentiate themselves from large corporate organizations. To do this, he said they need to offer unique products (typically artisanal), convenient access, or service and relationships for customers that large brands are lacking. These attributes allow them to stand out from big-box stores.
Downtown Long Beach businesses are experiencing sales more similar to those described by Kleinhenz nationally. Adam Carrillo said there is huge momentum that is continuing to build, with more than 90% of ground floor retail occupied in the area.
Many of the new businesses coming into the downtown area north of Ocean Boulevard are small businesses that are expanding and building on an already existing online following, according to Carrillo. He noted The Pie Bar, Romeo Chocolates, 6th and Detroit, and Snake Oil Provisions as examples of brands that transitioned from online and small vendor sales to having their own retail shops in the downtown area.
These stores offer products and services unavailable anywhere else, which makes them a destination for those not from the area, according to Hazel Quimpo, communications manager for the DLBA. Carrillo noted that these stores and restaurants are very targeted and can utilize the scarcity of the brand to create an experience for customers.
"Anything north of Ocean Boulevard in the downtown really caters to an entrepreneur or a smaller regional brand. Those are the brands that are just doing amazing in our downtown," Carrillo said. "South of Ocean Boulevard, that's where the national brands go. Looking at numbers and working with them through the site selection process, really that's where they need to go if they want to be successful."
The $65 million investment in The Pike has reestablished the area as pedestrian friendly and a driver of connectivity between the waterfront and the entertainment district, according to Carrillo. He said these sorts of investments are wins for the entire downtown – tourists, shoppers, residents and businesses.
Carrillo said the DLBA is continuing to look for new opportunities for small businesses and that the numerous development projects will bring additional business to the area.
"I think the industry is certainly going through some transitions. I think that in some ways we've been over-stored. But you can't count retailers out," Kleinhenz said. "They're resizing and they're modifying their businesses. And they're adjusting to meet consumer demand in this environment. The industry is expected to continue to be a major contributor to the overall economy."