Technology companies with headquarters in Long Beach are reporting revenue growth so far this year, with plans to expand or invest in the city in varying degrees.
A couple of years ago, Mayor Robert Garcia made headlines for proclaiming that he wanted Long Beach to become the "Silicon Valley of the South." While that term perhaps has yet to stick, the city is seeing some pretty big names associated with technology making investments here.
Virgin Orbit
Virgin Orbit, part of the Virgin family of companies, formed as its own corporate entity this year after previously operating under Virgin Galactic. The company is headquartered in Douglas Park, adjacent to the Long Beach Airport.
Virgin Orbit makes satellite launchers for what it calls the "smallsat revolution." According to the firm's website, satellites are being made increasingly smaller and more affordable, enabling more private firms to invest in them. But getting satellites into orbit can be costly – an issue Virgin Orbit intends to tackle with the technology it is developing at Douglas Park.
Its LauncherOne satellite launcher is designed to affix to a 747-400 dubbed Cosmic Girl, which will launch satellites from the air, according to a company statement. Launching from the air rather than the ground offers more flexibility and affordability, Virgin Orbit claims.
Laserfiche
Chris Wacker, CEO of the international documents and digital data management software provider Laserfiche, believes Long Beach is well-positioned for technology companies. That's why his firm is headquartered here.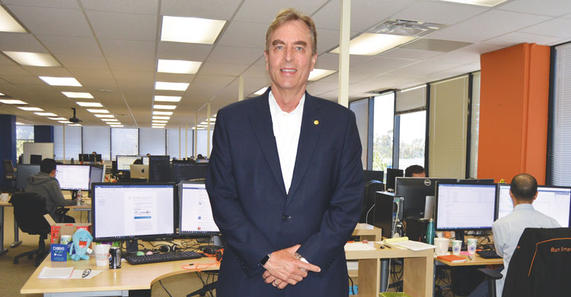 Laserfiche, an international documents and digital data management software provider, is set to expand its headquarters in Long Beach with at least one new building, according to CEO Chris Wacker, pictured in the company's engineering department. (Photograph by the Business Journal's Larry Duncan)
"We came to Long Beach from Torrance. It was the value of the real estate here and then also its geographic location," Wacker said. Laserfiche has offices in Hong Kong, London, Shanghai, Mexico, Toronto and Washington, D.C.
"It's centrally located," Wacker said of Long Beach. Being located between Los Angeles and Orange County allows the 30-year-old firm to draw from many local universities to the north and south, he noted. "It's also very attractive. It has the longest beach of any city around here. It has got great entertainment centers, [like] The Pike and downtown area," he added.
About 250 of Laserfiche's 350 companywide employees are based in Long Beach. The company is growing and has six recruiters dedicated to finding additional employees.
Finding talented engineers is the company's greatest challenge, according to Wacker. In addition to its recruiters, the company participates in career fairs both here and on the East Coast, and also attempts to attract young talent through its internship program, he explained.
Laserfiche's sales of its products, which are used by businesses and government agencies for document digitization and processes/data management, are up 20% this year, Wacker said. "I attribute that to the quality of our products and our market reaction to them. We continue to grow year over year. And it continues to snowball," he said.
Two years ago, the company launched a cloud-based version of its software. It now has more than 100 accounts. "We are building it up to have the same functionality as the on premise [product]. And we are about three-quarters of the way there," he said.
"We're growing by leaps and bounds. We are just about grown out of this building, which is 60,000 [square] feet," Wacker said of the company's Bixby Knolls office. "So we bought the property on the southeast corner of 35th Street and Long Beach Boulevard. There is a little shed there that will soon be torn down, and then we plan to expand over to there. We are also looking at other real estate nearby and around the area."
DENSO
In Westside Long Beach, DENSO Products & Services Americas Inc. is also faring well, according to David Williams, director of automotive original equipment supplier sales and strategic planning and marketing. "We are trending about 3% in terms of revenue versus the same time period last year," he said, adding that revenues could reach a 5% growth overall by year's end.
DENSO Products & Services Americas Inc. is part of DENSO Corporation, a Japan-based supplier of automotive technology, systems and parts. Its annual revenues equate to $40.2 billion. The Long Beach facility, which includes two buildings with offices and warehousing and manufacturing space, serves customers such as Toyota Motor Sales, American Honda Motor Co., Mercedes-Benz USA and others.
"We're seeing that the market for repair parts seems to be going very well," Williams said. "And so far, the summers have been a little bit warmer, so we are seeing more demand for vehicle air conditioning components."
This year, DENSO debuted some new technological concepts at the annual Consumer Electronics Show in Las Vegas. "We did show some new technology concepts . . . some new applications for our QR code scanning, which went very well," he said.
DENSO is credited with inventing the QR code, a matrix code sometimes referred to as the next generation bar code, which is found on a variety of products. With applications, smartphones are able to scan the code to obtain detailed information about whatever it is imprinted upon.
At the trade show, DENSO also debuted a new concept called Delvis, "which is an application that would be able to link vehicles with mobile devices like smartphones or tablets to be able to give consumers new vehicle access," Williams explained.
"We want to show our technology to other major corporations, and we are in some active discussions right now with both large and small companies about how do we potentially work with them to bring those products to market," Williams noted.
DENSO employs about 450 people in Long Beach and will likely add around 10 positions this year, Williams said.
The only potential wrench in DENSO's outlook for the year would be if the U.S. government instituted costly tariffs or border fees, as the Trump administration has previously expressed interest in implementing.
"The foreign policies right now are a little uncertain, and if there is a border tax . . . or an import tariff that is restrictive, that could represent a hardship for us that ultimately we may have to pass on to our end customers with an overall impact of increased pricing," Williams said. "There are some estimates that this border or import tax and tariff could be extremely high. I mean, well north of 30%, even up to 40%. So if that is in fact the case, that will be very restrictive to trade."
Still, Williams said he remains optimistic about the rest of 2017, and he noted that DENSO is committed to the Southern California region.
Epson
Epson America Inc. is also headquartered in Long Beach and may grow its presence here. As reported by the Business Journal in April, Epson's lease at the Kilroy Airport Center, where it is currently located, expires in 2019. The firm is exploring the option of building a new headquarters nearby, capable of expanding its workforce from 450 to 600 people. This is according to a Long Beach City Council document approved on April 11 that would grant Urbana Development the exclusive negotiating rights to a city property that Epson may choose to purchase.
Epson America President/CEO Keith Kratzberg told the Business Journal via e-mail that his firm is considering multiple options. "Our lease in our current facility is up in 2019. As part of our preparation for that, and in planning for future growth, we are exploring all options for Epson America's headquarters in Long Beach, including refurbishing and staying in our current location, moving to an existing building in Long Beach, or building a new facility in Long Beach," he stated.
Epson is perhaps most widely known for its variety of printers and printing equipment, but it is also a developer of virtual reality eyewear, scanning equipment, laser projection technology and more.
"We recently introduced a series of laser-driven projectors designed for large venues, including staging events, lecture halls, large corporate and educational venues, as well as laser display solutions for the classroom," Kratzberg said.
Other new products include a printer that prints up to 100 pages a minute, a high-speed photo scanner which "enables people to scan photos as fast as one per second and restore them to their original color for saving digitally, reprinting or sharing with family and friends via social media or the cloud," and new additions to its eco-friendly EcoTank line of printers, according to Kratzberg.
"Epson will continue to drive innovation across all of its product lines," Kratzberg said in his e-mail. "We expect to raise the bar in specific markets to bring innovative technology to a broader range of consumer and business in the areas of home theater, augmented reality and robotics."
Performance and growth for Epson America remains strong year to date, as it has for the past few years, according to Kratzberg. "Without getting into specifics, the outlook for the company and the economy in general is positive. We anticipate continued and consistent growth in our business across the Americas," he said.