Long Beach has its own water department and a gas and oil department, while Edison is its primary provider of electricity. Additionally, in a few years, the city is expected to benefit from the integration of renewable energy sources.
Water
Residents should expect a slight price increase beginning November 1. According to Long Beach Water Department General Manager Chris Garner, the water commission recently approved a 4% increase to the water bill and a 2% increase for sewers, a smaller increase than originally expected. The average combined bill will increase 3.4%, which comes to about $1.48 per month.
"The cost for the imported water has certainly increased," Garner said. "Long Beach gets about 60% of its water supply from the groundwater and the other 40% is imported from Northern California and the Colorado River."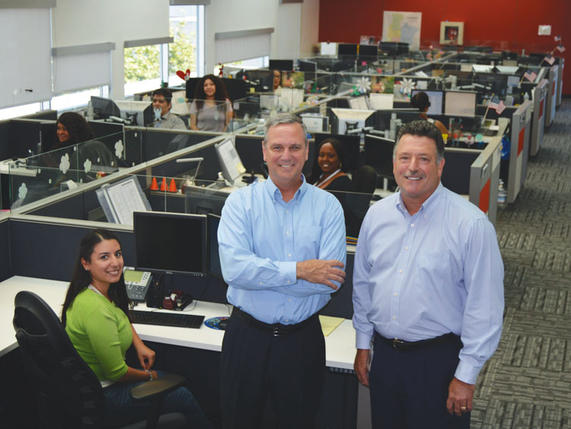 Long Beach Water Department General Manager Chris Garner, left, and Robert Dowell, director of the Long Beach Gas & Oil Department, are shown in the new utilities call center, located at 2400 E. Spring St. Water bills are expected to increase on average by $1.84 a month in November, while gas bills are expected to remain flat. (Photograph by the Business Journal's Larry Duncan)
The city pays the Metropolitan Water District for imported water and the Water Replenishment District for groundwater. Garner said that water conservation has continued in Long Beach, and less usage has caused the two water providers to increase rates, which caused the slight increase for Long Beach customers.
With the state seeing more snow and rainfall so far in 2017, Garner said the boosted water supply has greatly eased the previous drought conditions. However, he noted that it will take several more years of rainfall before underground reservoirs and basins are filled. So for now, the state is trying to store as much water as possible now that snow packs are melting.
"We want Long Beach residents to realize that our rates are very fair and reasonable, especially when you compare our rates to other larger cities in California. Our rates are very, very low," Garner said. "Our commission and the former general manager did a good job of keeping any increases at a reasonable rate, and we are continuing with that goal going forward."
Gas & Oil
Oil in Long Beach has remained flat with very little new activity, according to Robert Dowell, director of Long Beach Gas & Oil Department. Dowell explained that Wilmington crude oil prices are currently around the $40 mark – much stronger than the high $20s and low $30s of last year, but not enough to spur much activity.
"It's pretty flat right now, except for some of the more lucrative areas such as Texas and the Dakotas. California, development wise, is going to stay pretty flat," Dowel said. "We are drilling one well per month. So no opportunity to step things up with current prices, and we don't anticipate seeing anything for the remainder of 2017 and into 2018 to change that."
For the department to see an increase in activity, Dowell said oil prices would need to increase to about $50 per barrel. He noted that the Organization of the Petroleum Exporting Countries output reductions have helped to stabilize prices but that United States domestic production has increased, with twice as many oil rigs in the country today as there were in early 2016.
For natural gas, Dowell said prices have remained low, despite forecasts for an increase during the winter months. He said that according to Henry Hub Natural Gas Futures, the industry baseline for natural gas pricing, gas is selling for above $3 per 1,000 cubic feet.
"We saw a 17% increase in usage for gas in the months of December, January and February, so I think residents of Long Beach Gas and Oil did see higher gas bills," Dowell said. "That was predominantly due to more usage than we've seen in the last two to three years, as we did have a cooler than normal winter."
Dowell said prices should remain low throughout the summer and into the fall and winter months. He said customers should not see price increases but may experience slightly higher bills during the winter months if usage increases occur again.
Electricity
Southern California Edison continues to serve 15 million residents, holding 5 million accounts, in its 50,000-square-mile service area, which covers most of Southern California and parts of Central California on the eastern border, according to a June report.
Between this year and 2020, a proposal has been made for $2 billion in grid modernization improvements, including accelerated circuit upgrades, automation, communication and analytics capabilities. The project is estimated for completion as early as 2025, though it may take longer according to the report.
The company's infrastructure currently consists of 1.4 million power poles, 729,000 transformers, 119,000 miles of distribution and transmission lines, and 3,200 megawatts of owned generation. The company has plans to update all operations to meet the state's 50% renewable energy mandate by 2030.
Alamitos Energy Center
The AES Corporation's new Alamitos Energy Center received regulatory approval in April, and the company estimates beginning preliminary construction in early July, with a groundbreaking scheduled for later in the month, according to Dalia Gomez, community and public affairs manager.
Gomez said the first power block is estimated for completion in the first quarter of 2020 and would begin servicing the area by the second quarter of that year. Should need increase and AES acquire contracts, a second power block would begin construction in 2020; however, no contracts have been received. Demolition of the current facility on Studebaker Road is scheduled to begin in 2021.
One major component of the new facility is its ability to work in tandem with renewable energy sources, such as solar and wind. Gomez explained that the current facility takes anywhere from 10 to 24 hours to start up and reach its full generating capacity. Because of this, if an excess amount of energy is being generated, oftentimes renewable sources will be switched off.
However, the new AES plant will be able to begin generating electricity in as little as 10 minutes, reaching capacity in only a few hours, and can be switched off just as quickly. This means the plant could be shut down to allow renewable sources to continue operating, thereby integrating more renewable energy into usage.
"By 2020, we'll have to use 30% renewable energy in California – 30% of the electricity we use has to come from renewable energy," Gomez explained. "Then by 2030, at least 50% of energy that we use has to come from renewable energy."