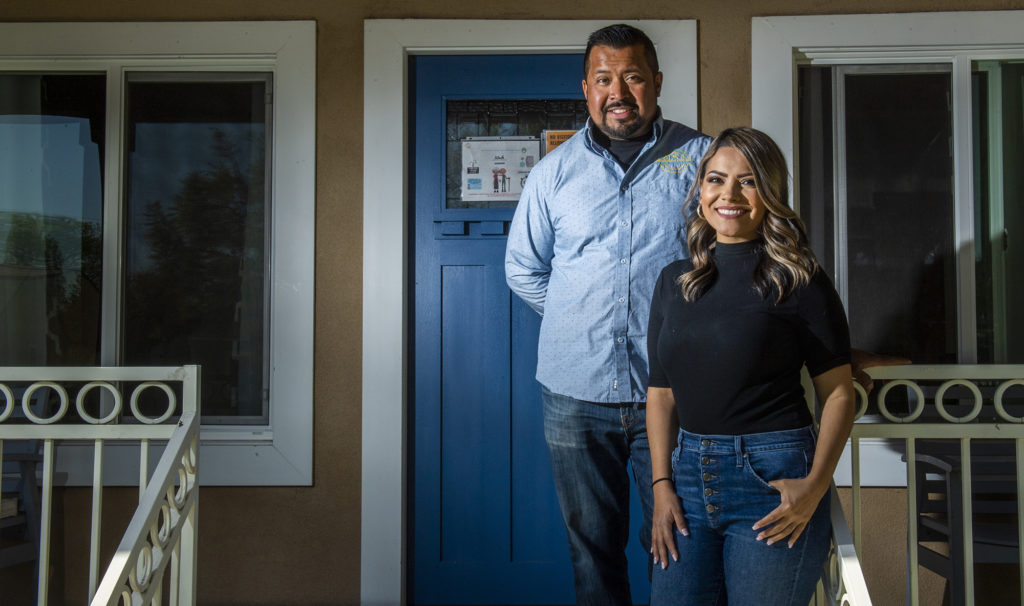 When Jose Umana in 2020 opened his fifth residential care home for seniors, all located in Long Beach, it marked the realization of an ambitious lifetime goal he'd made for himself when he first went into business.
"My grandmother was big on goals," Umana said. "She always said 'If you don't set goals, how do you know if you've made it?'"
Of course, what if you make it in half a dozen years, which is exactly what Umana, all of 41-years-old, did?
"Yeah, guess I'll have to make a new goal," he said with a smile. "My new goal is 10."
And there's every reason to believe that his companies, Premiere Cottages and Brighten Cottages, will achieve that as well.
The senior care industry will be seeing 15% to 20% growth over the foreseeable future, Umana believes. If that sounds overly optimistic, Umana may actually be being conservative, considering that estimates are that by 2030, aging baby boomers, ranging in age from 66 to 84 years, will number 61 million people.
"It's a growing industry and there are more and more facilities, with smaller ones becoming more popular," Umana said. "It's going to be a jump. Boomers are coming through the pipeline, we're going to see a big increase in the need for care."
And a significant amount of people will be looking for care that is more personalized. Umana's homes, limited to six residents, offer focused, personal care with one caregiver for every three residents. The homes are in Long Beach neighborhoods and have been configured to comply with regulations as well give residents a feeling of being home.
Louisa Lawless said she searched all over Long Beach and Los Alamitos for a facility to place her father, Francis, but found herself struggling with the thought of her father in someplace much larger than Umana's, places she says she found "scary."
"I couldn't in good conscience leave him in a place that felt like a hospital," Lawless said. "I began speaking to someone who helps with placements for seniors, and she recommended more of a boarding house. It was about a mile from our house. It felt more warm, like the staff really cared.
"Dad wasn't enthusiastic at first, it took him two weeks. But before long, they were joking and had nicknames for each other; Jose called my dad 'Pops.' Dad was treated with dignity and respect, got to play the piano every day and would even request one of the staff members make their special meatballs. I just don't know if [Dad] would have gotten that kind of treatment at a larger facility."
Umana's homes range in price from $4,500 a month for a shared bedroom to $6,200 for a private bedroom. The interiors are tidy and comfortable, with large swaths of hardwood floors dotted by recliners and feature outdoor spaces suitable for hanging out.
He says the reason he only has homes in Long Beach is that he wants to ensure that he can get to any of his properties relatively quickly. He and his second in command, Elsa Roman, endeavor to visit each of the five properties every day.
"This is not a job where you can come in and coast," Roman said. "You constantly have to think on your feet, because something always comes up."
Roman oversees much of the daily care of residents and says the key to competing with much bigger operations is the ability to "offer everything they do, but do it in a way that feels like home."
They look like home. Though they are converted to adhere to ADA regulations as well as those rules pertaining to senior care, the houses are just that, Long Beach houses. Umana says he looks in what he considers safe, "good neighborhoods," where his clients will feel comfortable and welcomed.
Not that he finds that right away. Whenever he has bought a house in a new neighborhood, he always makes a point to knock on every door and introduce himself and what his company does and asks if his neighbors-to-be have any questions? He knows what's coming.
"I literally go to each neighbor, let them know who we are, and what we do and they'll say, 'Oh, we heard it was going to be a rehab house for drug and alcohol addiction,'" Umana said. "I clarify that, tell them we're the best neighbors they can have: We go to bed early, we don't make noise and we're not going to be partying."
Once in the neighborhood, Roman says it's not unusual for neighbors to reach out with gifts or items they think the residents might like or need.
"We had a neighbor just recently who came by with some magazines they thought the residents would want to read," she said. "When we take [residents] on walks outside, they'll say hi. They get to know them. We'll be out there and they'll invite them to pick fruit off their trees."
Roman's description of seniors being made to feel very much at home brings a smile to Umana's face. He got into the senior care business in 2007, he says, because he was raised for most of his childhood by his grandparents, Jesus and Francisca Gonzales in San Salvador, El Salvador.
It was there that his grandmother instilled in him the importance of setting goals. Of course, no one had to instill in him the desire to chase them, he pretty much had that from the start.
"My grandmother called me a hustler because I was always doing something to make money," he said. "I'd go to people's homes and ask them if they wanted me to take their trash away for a quarter or whatever they wanted to pay me. Or I'd offer to fix leaks in the roof."
Asked what age he was when he did this, you know, 11 or 12, he laughs.
"Ha! I was 8 or 9!"
Umana said he grew up with grandparents as "Mom and Dad." And that the respect and love he had for them informs how he runs his business.
"I want to provide our residents with the kind of care I would have expected for my own grandparents," he said.
"It comes down to the level of care," said Lawless, whose father passed away in early March. "They made him feel like a member of their extended family. They would call and say that he needs a new sweater or a button for his pants.
"The guilt you feel for putting someone in one of these homes is significant, but once I saw the level of care, the guilt dissipated and was replaced by comfort. When I saw how well he was taken care of, I was like, 'OK, we're good.'"