As the music scene in downtown continues to thrive and flourish, permeating every aspect of the culture and vibe of the area, there are still a few missing pieces to the puzzle – more official music venues.
While live music can be found all around downtown on any given night of the week, often it is in a bar or restaurant as ambiance, not the focal point of the evening. Guests can hear a jazz band in the background while they sip their craft cocktails and chat with friends or listen to a pianist tickling the ivories while they dine. But venues where guests pay specifically to see a musical act are still scant in Downtown Long Beach.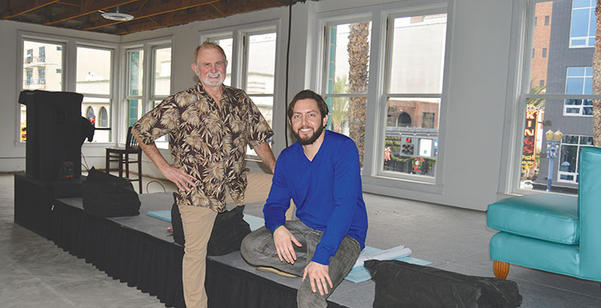 Ron Hodges, left, owner of Shannon's On Pine and Shannon's Bayshore, and his son and general manager, Riley, are nearing the completion of At the Top, a music venue located on the second floor of the Art Deco Rowan-Bradely Building at the corner of Pine Avenue and Broadway.(Photographs by the Business Journal's Larry Duncan)
"We're still thin. As much as I can say we've made huge strides with supporting the local music economy, I feel like there's a tremendously long way to go on a larger scale," Rand Foster, owner of Fingerprints record store and founding partner of the Summer and Music festival, said. "We don't get the national touring acts anywhere near as regularly as a city the size of Long Beach should, and a lot of that [is because] we don't have a lot of world-class venues."
Another challenge for Long Beach in attracting artists is the city's location between Los Angeles and Orange County venues that have already built fanbases and have relationships with national promoters. Many of these venues include a radius clause when they book a band, which prohibits the band from playing within a certain number of miles for a specific amount of time before their show to ensure maximum attendance.
Falling within the radius clause of established music venues is not ideal for Long Beach's music scene, but Foster said that before that issue is addressed, the city needs places for bands to play. He explained that the city should have a Troubadour-sized room (500-person capacity) and a Fonda Theater-sized room (1200-person capacity). Spaces of this size are currently in the works downtown.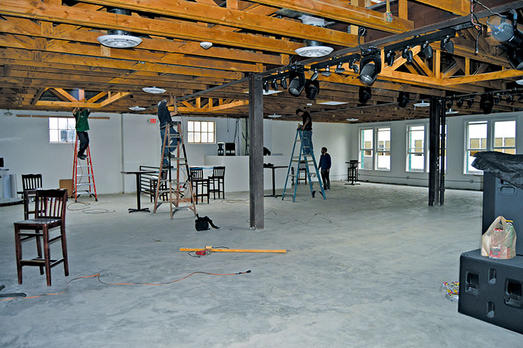 At the Top  will have a 400-person capacity and feature state-of-the-art lighting and sound systems. (Photograph by the Business Journal's Larry Duncan)
Ron and Riley Hodges, owner and general manager, respectively, of Irish pubs Shannon's on Pine downtown and Shannon's Bayshore Saloon in Belmont Shore, are nearing completion of At the Top – a music venue with a capacity of more than 400 people on the second floor of the Art Deco Rowan-Bradley Building on the northwest corner of Pine Avenue and Broadway.
"After we took over the space upstairs, we thought this would be a really cool music venue. Knowing that it used to be Birdland West, which was a successful venue, was also pretty inspiring as well," Riley said. "I'm very passionate about music, being a musician myself. There's a community of people down here that really want to see something happen, and the team we have building is really inspired by the renaissance that's happening on Pine Avenue."
The space is lined with 32 double-hung windows and has skylights, which Riley said bring in beautiful natural light during the daytime and will allow them to hold other events in the space, such as wedding receptions and private birthday parties. However, for live music, Riley said a lot was invested in top-of-the-line, high-quality lighting and sound systems.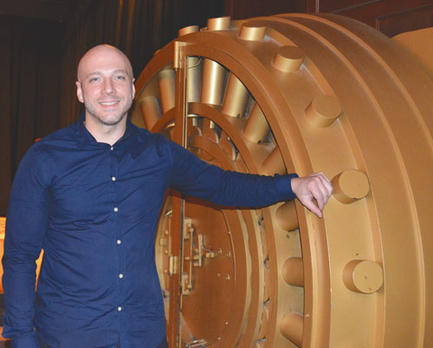 Jeff Osborn is general manager of The Federal Bar, located at 102 Pine Ave. He said the Knitting Factory, which owns the bar and attached venue The Federal Underground, hopes to increase the number of live music performances.  (Photograph by the Business Journal's Larry Duncan)
The venue will have a bar that Riley said will be set apart from what is served downstairs in Shannon's. He said the handcrafted, serpentine bar will have bottled and draft beer as well as higher-end spirits, to be more in line with other restaurants and bars on the street.
The stage – measuring 28 feet wide, 16 feet deep and 16 inches tall – will hopefully host live music events five nights per week, according to Riley. He said he would like to see open mic nights, professional jams and genre-specific nights, such as country, indie and alternative rock and reggae, combined with nights where larger national touring acts will come through town.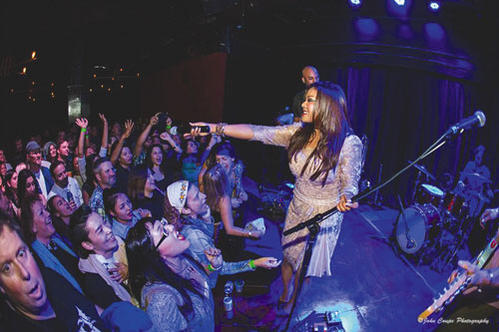 Dengue Fever can be seen playing in the venue that has a capacity of 300 people. (Photos provided by The Federal Bar.)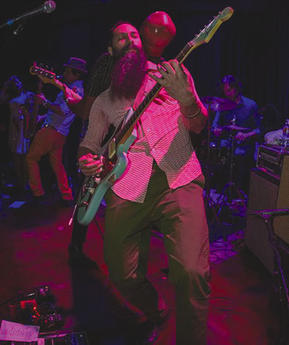 "We've been talking to different contacts at Live Nation and bigger companies that [typically] might not do a smaller venue, but they'll throw musicians your way that are really interested in doing a smaller venue [because] they might be a bigger draw. So we're looking to get some good names in here as well," Riley said.
Riley said he is anticipating a grand opening event in late January, with several soft opening events earlier in the month. He said several acts are already confirmed to play the space, but dates have yet to be finalized.
Downtown's Fonda-sized gap will be filled with the long-anticipated reopening of the former Vault 350 space, or "That-Which-Will-Not-Be-Called-The-Vault," as Michelle Molina, managing partner of Millworks and owner of the building, likes to call it. Once completed, Molina said the venue capacity will be around 1,500.
Since buying the venue in June 2015, which had been vacant since 2008, not much progress has been made on the project. The building has been in a state of mid-construction since work ceased after the previous, short-lived owner abandoned an attempt to reinvent and reopen the space.
"With a venue of that size, we really want an effective bar partner because that's really where most of the revenue comes in. We really just want to make the right decision," Molina said. "We think Long Beach deserves that. So we're going to be patient, and we ask the community to do the same. Just give us time to make the right decision, not just any decision."
Molina said she had entered a couple of joint venture agreements, one with a local operator and one with an out-of-state operator, but passed on both. Currently, she said there are around 10 different groups interested in partnering with Molina on this project, and negotiations are taking place.
Construction will not begin on the space until a bar-savvy partner has been found that can give insight on trends, which will guide the interior design, according to Molina. In the meantime, Molina said a lot of shows are being booked at the Packard on West Anaheim Street, another building owned by Millworks, to foster relationships with different promoters and liquor distributors.
At the Top and the former Vault location will join two established, though underutilized, music venues in the downtown area: The Federal Underground and Harvelle's, which have a capacity of 300 and 250, respectively.
"I don't think that there's any other place like Harvelle's in Long Beach. Our focus is the show," Cevin Clark, owner of the club, said. "Unfortunately, people don't really see the space as just a bar to go to. We make our money at the bar, but we've got to bring entertainment into that space to do it."
Opening in 2011, Clark said he quickly found that Long Beach was not responding to music at his venue. What people did respond to were burlesque and cabaret shows, which is now the primary focus of the club when you peruse its calendar of events.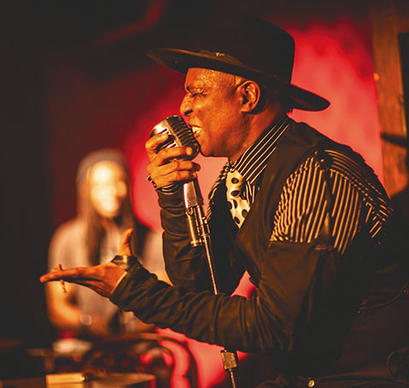 Harvelle'e Long Beach, located at 201 E. Broadway, is open Tuesdays, Fridays and Saturdays, and features live performances, including music, burlesque and cabaret shows. (Photograph courtesy of Harvelle's Long Beach)
One reason for the lack of music, according to Clark, is that local musicians have told him they are intimidated by the professional atmosphere of his club – clean, nice stage, good sound and light systems with quality technicians operating them. He said they feel more comfortable at dives. He explained that this is not what he wanted to happen rather what he learned through his interactions with musicians.
Clark said he has considered teaming up with nonprofit organizations that focus on music that might be willing to rent the space from him and hold music events. He said he would possibly lower the drink costs and suggest donations to the organization by patrons. This is one alternative method to bringing live music to his venue and the downtown area.
But for now, to keep the doors open, Clark said he needs to follow the money, which is currently in burlesque and cabaret, with the occasional music act thrown into the mix.
"I'd love to be exclusively music. I hope to bring more music to Long Beach. If the people want it, I've got a great room for music, and I'd love to be doing music seven nights per week," Clark said. "I love Long Beach. It's real. I just want to fit in and be part of the community that works and that the community embraces."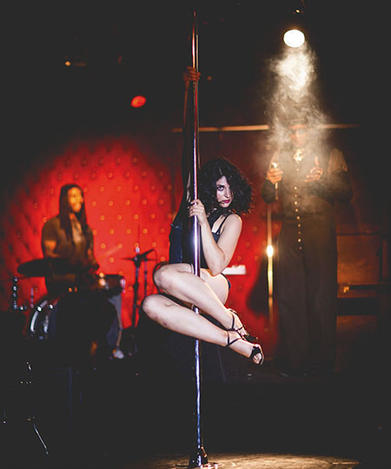 A performance a Harvelle's. (Photograph courtesy of Harvelle's Long Beach)
The Federal Underground has been consistently booking music performances for nearly a year and a half, Jeff Osborn, general manager of The Federal Bar, said. He explained that the shows have been hit-or-miss as far as attendance and sales.
"I feel like Downtown Long Beach, with certain shows, we are still struggling to get people here. But then other times we sell out," Osborn said. "It's a learning experience. We're just trying a lot of things and seeing what works out."
The venue books only three or four shows per month, according to Osborn, but the company would like to see the amount of music increase. The bar and venue are owned by Knitting Factory Entertainment, a company known nationwide for its music venues and shows. Because of the music industry ties, The Federal Underground will continue to strive to build and invest in live music until it finds its niche in Long Beach, Osborn said.
"I think as more places start to open and [Long Beach] becomes a little more recognized for live music, it will start to build," Osborn said. "That's what we're anticipating is going to happen. So we are going to keep doing live music and hopefully build it to something great."