In an international city, it should come as no surprise that Long Beach's wedding venues regularly host ceremonies and parties for families of diverse backgrounds. Some venues in the area so often host weddings for couples from international cultures and religions that they now specialize in these events. The Business Journal spoke with event organizers, managers and wedding professionals from some of these venues to get a glimpse into various unique traditions associated with our area's diverse cultures.
With ample space, ballrooms and an adjacent lagoon, the Hyatt Regency Long Beach has been a popular spot for South Asian weddings – often large both in scale and the number of guests – for more than 25 years, according to Siobhan Rathband, senior catering manager for the hotel. The Hyatt frequently hosts Indian weddings, which primarily involve traditions and ceremonies associated with the Hindu, Sikh and Muslim faiths, she explained.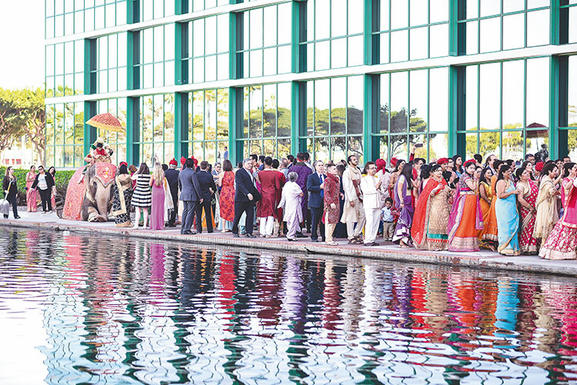 A groom of Indian heritage rides atop an elephant at Rainbow Lagoon for his baraat, a ceremony in which a procession of his family leads him to his bride and her family. (Photograph by Greycard Photography)
"The South Asian community reached out to the hotel initially, asking if we could accommodate weddings that are large-scale," Rathband said. "Back then, 25 years ago, they were much larger scale – a minimum of 500 people," she recalled. "Sometimes up to 700 and 800. Nowadays, they are downscaled quite a bit. They fall within about 300 to 500 now."
The Hyatt's location at Rainbow Lagoon, which features a winding path and bridges over the water, is one of the reasons Indian weddings have become popular at the Hyatt. The lagoon is ideal for a part of Hindu weddings called the baraat – a processional where the groom and his family walk to meet the bride and her family. The groom typically rides in a rickshaw or on the back of a horse or elephant, Rathband said.
"Most of the [South Asian] cultures are very colorful with their dress," Rathband shared. "Depending on which culture you're speaking of, the dress is not white. Typically white is not used because it is usually reflective of when someone passes away."
Indian weddings have a number of ceremonies and celebrations. They traditionally last three to four days, although some couples prefer to opt for a one-day event as is customary in America, according to Rathband.
Both Hindu and Muslim weddings feature pre-wedding ceremonies involving henna – a dye used to temporarily tattoo the skin with intricate designs. According to The Emily Post Institute, the Hindu Mehndi ceremony is held the day prior to the wedding to adorn the bride with henna on her arms, hands, legs and feet. In the Muslim tradition, henna parties for the bride are held with her close female friends and family members days before the wedding.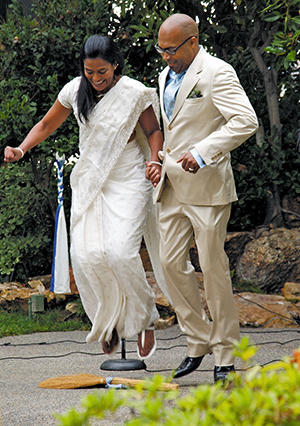 The Earl Burns Miller Japanese Garden on the campus of California State University, Long Beach is also a popular wedding spot for people from Asian cultures, according to Jeanette Schelin, the venue director. "The garden, I feel, is common ground. It is a great place for people from around the world to feel like they belong," she said.
"A lot of the Asian cultures feel right at home at the garden, and we are able to accommodate their traditions," Schelin said. Recently, the garden has hosted many Cambodian weddings, Schelin noted, adding that Long Beach is home to the largest population of Cambodians outside of Cambodia. A recent Cambodian ceremony was "beautiful and symbolic," she said, and involved multiple changes of dress by the bride.
Some African American couples still practice the tradition of jumping the broom at their weddings, an African tradition that became customary in America during the time of slavery as a means to make a marriage official.
Dan D'Sa, director of food and beverage for The Grand Long Beach, said his venue also often hosts Cambodian weddings, which typically involve an entire day of drinking. Oftentimes, every table has its own bottle of liquor, he noted.
Chinese and Japanese weddings are also common in Long Beach and are often held in the Japanese Garden, according to Schelin. "With our Japanese and Chinese couples, we frequently incorporate a tea ceremony," she said. "We accommodate that both pre-ceremony and pre-exchange of vows, or we have actually seen it be incorporated in the exchange of vows."
The garden, The Grand and the Carson Community Center in the City of Carson all often host Jewish weddings, which can differ depending on the denomination – Orthodox, Reform or Conservative. The Grand, which also provides catering services for the Carson Center, is located directly across from the Alpert Jewish Community Center of Long Beach and often partners with the center for weddings, D'Sa said. "We work with outside catering vendors who are specific to the Jewish community and what their needs are," he said.
One of the most memorable weddings Regina Ramirez, general manager of the Carson Community Center, has seen at the center was for an Orthodox Jewish couple, she recalled. "They had the wedding on our patio at sunset, and they had the chuppah out," she said, referring to the four-posted canopy beneath which Jewish couples traditionally are married. As is custom, the groom stomped on a glass to mark the end of the ceremony. "It was a beautiful ceremony and the reception was very festive," she said.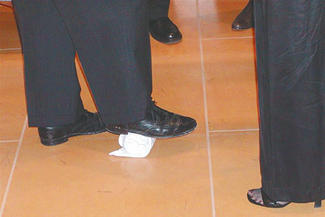 In Jewish weddings, the groom customarily ends the wedding ceremony by stomping on a glass.
At the reception, a partition divided the male and female guests – another Orthodox tradition – Ramirez said. The bride and groom are each lifted on chairs by guests in celebration, a sight Ramirez said she remembers vividly. "Seeing the bride and groom lifted up on chairs, dancing around – that's stunning," she reflected.
The Carson Community Center also frequently hosts Samoan weddings because of the city's large Samoan community, according to Ramirez. A key component of Samoan wedding ceremonies is the presentation of finely woven mats between the bride's and groom's families, she said. "The fine mats in the Samoan community are very sacred and they are very meaningful," she explained. According to the National Park Service, these mats are known as 'ie tōga and are exchanged at special occasions such as weddings and funerals.
In some African American ceremonies, couples "jump the broom" – the bride and groom hold hands and jump over a broom to symbolize their union – according to Ramirez and Schelin. "My understanding is that it goes to the experience of African Americans during the slave period when they were so limited in what they were able to do, and so the household object of the broom worked its way into the tradition," Schelin said. Academic texts indicate this tradition originated in Ghana and was brought to the U.S. by slaves from that region.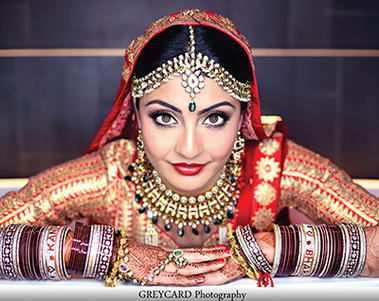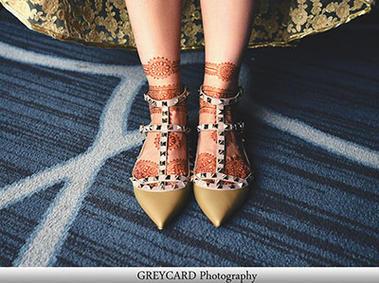 Some of the unique traditions associated with specific cultures are spreading beyond those cultures, Schelin observed. "In the very diverse community we have, people become intrigued by things they see at their friends' weddings, and they start to adapt them for their own purposes," she said.
Both Muslim and Hindu wedding traditions involve ceremonies to adorn a bride's feet, legs, arms and hands with henna, a dye that creates a temporary tattoo. (Photograph by Greycard Photography)
"Right now, if you look in bridal magazines, you see these structures that are draped in fabric and flowers are very popular. And while it might have started out as a traditional chuppah or what Indian ceremonies call the mandap, now you'll find folks who are not from those traditional cultures who also want that piece of architecture," she explained.
D'Sa said that at The Grand he and his staff have taken note of some popular and successful traditions in cultural weddings and now sometimes recommend them to couples outside of those traditions. "What we do is just share information on what has happened with other cultural weddings and what was successful and where there may have been some stumbles," he said.