Although a 2016 survey by the service referral website Thumbtack found most Californians opt for midsized weddings with 50 to 100 guests, intimate weddings are appealing for many couples, not only because of the cost savings they represent but also for the opportunity to share their special day with people they are close to. In Long Beach, there are a number of venues suited for small weddings, from a waterside boutique hotel to historic sites and even the Aquarium of the Pacific.
Some of these venues typically host large weddings, like the Aquarium. This waterfront attraction often hosts weddings of more than 100 people in its Great Hall, which features a floor to ceiling tank of sea life and life-size replicas of whales hanging from the ceiling. But the venue also has smaller spaces suited to intimate weddings, according to Erica Noriega, special events manager at the Aquarium.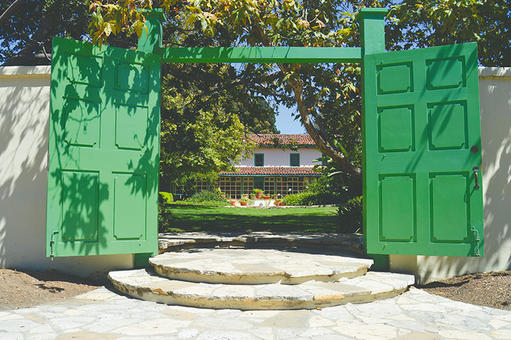 The green gates of the Rancho Los Cerritos Historic Site lead in to the venue's inner courtyard, which can accommodate both a wedding ceremony and reception for small parties. (Photograph by the Business Journal's Larry Duncan)
"We have our rooftop veranda that opened in April of last year. We have done weddings for about 100 up there, but usually they are a lot smaller," Noriega said, estimating that typical weddings there average 25 to 65 people. The rooftop veranda overlooks Rainbow Harbor and the Queen Mary, making it a scenic location for a wedding, she said.
Unlike other spaces with the Aquarium, the veranda is available for weddings during normal operating hours because it is closed off from the rest of the attraction, Noriega pointed out. "It's nice because we can do daytime events up there and close it to the public," she said. "So it gives us a chance for those people who want to do an 11 a.m. wedding or a 2 p.m. wedding."
While Noriega doesn't recommend the Great Hall for intimate wedding parties because if "you have less than 100 people, it sort of feels like nobody came to your party," there are other spots in the Aquarium for couples who want an "under the sea" vibe for their small affairs. The reef exhibit in the upstairs Tropical Pacific Gallery is one such spot, which can seat as many as 80 people. "It has got the beautiful 350,000 gallon tank as your backdrop, so people feel like they are really in the Aquarium," Noriega said.
For parties of up to 30 people, dinner receptions can be held in the same gallery's tropical tunnel, allowing guests to be surrounded by water and aquatic life. "People feel like they're underwater," Noriega said of the space. Couples who choose to marry at the Aquarium are often drawn to it because of their own lifestyles – for example, if they are divers – or because they want to hold their wedding somewhere out of the box, she noted.
Long Beach's other major attraction, the Queen Mary, is another local venue that often hosts large weddings. But according to Kacie Rattigan, Queen Mary wedding planner, couples are often surprised that the ship has numerous spots for intimate ceremonies and receptions.
"I think a lot of guests and tourists would be surprised at how many spaces we have where we can accommodate a smaller group," Rattigan said. "In my opinion, the most beautiful is the wheelhouse, where we can accommodate just a few guests. It's pretty much standing room only." The wheelhouse is where captains and crew steered the historic vessel in its oceangoing days. The restored room, which features brass railings and details, holds up to 20 people.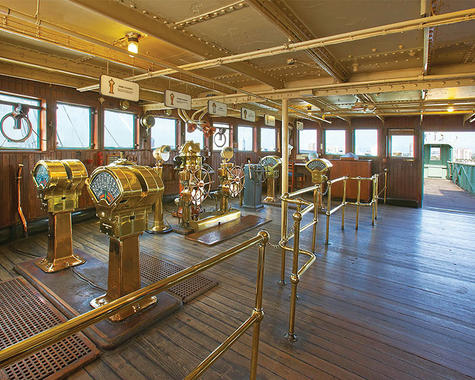 The restored wheelhouse on the Queen Mary provides a unique backdrop for an intimate wedding, with standing room for 20 people or fewer. (Photograph provided by the Queen Mary)
Another indoor spot for intimate weddings is the Queen Mary's chapel, which is decked out in Art Deco style with dark woods and artwork, Rattigan said. The chapel is the ship's most traditional wedding space, with rows of seating and an altar. "It is very intimate and very private," she noted, explaining that the chapel is not open to the public.
The Queen Mary's various outdoor spaces and decks are its most popular spots for weddings for the views they offer, according to Rattigan. The most intimate of these is the well deck, which is located on the bow of the ship. The space accommodates up to 50 guests and has views of the Long Beach skyline.
Some guests who hold small weddings on the Queen Mary still choose to marry in areas able to accommodate larger parties, Rattigan noted. The gazebo on the stern of the ship is one such place, she said.
No matter where a couple wants to get married onboard the ship, Rattigan and the ship's staff are happy to accommodate, she said. "If you just want something small and you just want to do maybe a small dinner afterward, we can accommodate the space where you can have an intimate ceremony, but then have an upscale beautiful dinner overlooking the water at Sir Winston's," she said. The Queen Mary's wedding vendors are willing to cater to smaller wedding groups, she added.
Located near the Queen Mary at Queensway Bay is the Hotel Maya, a DoubleTree by Hilton hotel, that also offers a number of options for couples planning intimate weddings. One of the most popular of these is the hotel's Jardin De Palmeras – that's Spanish for "palm garden" – an outdoor space with "a waterfall and lush, tropical foliage," as well as fire pits and tiki torches, Lisa Duncan, director of catering for the Hotel Maya, said.
"The thing about the Jardin space is most of our couples don't really bring in any additional decor because it's so green, lush and tropical already," Duncan explained. "It is also right on the water. So you get this fantastic water view and you still have this really nice, intimate setting," she added.
Couples who have smaller weddings in the Jardin typically choose to have both the ceremony and reception in the space, Duncan said. For these affairs, the garden is able to accommodate up to about 60 people.
Another spot at the hotel for small weddings is the Esplanade – an outdoor patio with views of the Long Beach skyline that is covered by a 42-foot diameter umbrella. "You're right on the water looking back on to the city. It's a beautiful spot," Duncan said. "Again, we have done ceremonies and receptions in that space underneath the umbrella."
Duncan noted that the Hotel Maya is increasingly hosting more intimate weddings and that they "seem to be a trend."
For those looking for historic charm, the Rancho Los Cerritos Historic Site located near Bixby Knolls also has a space suited for intimate weddings. "There aren't a lot of historic sites where you can get married," Alison Bruesehoff, the rancho's executive director, said. The historic adobe home, built in 1844, serves as the backdrop for weddings, which are held outside in the inner courtyard or the backyard.
For intimate weddings, the courtyard – which features an Asian pond with water lilies – is a good spot for the ceremony, according to Bruesehoff. "A lot of people use the inner courtyard for the wedding ceremony, and then they will move to the backyard for the reception," she said. If it's a particularly small wedding, both the ceremony and reception may be held in the courtyard, she noted.
"You're at the adobe, and you walk in through the big main green gates. And it is this really picturesque, small lawn hedged with all kinds of different flower beds," Bruesehoff said of the courtyard. "Then you are looking at the sun porch of the adobe and the water lily pond. And it is surrounded by the high walls of the adobe itself."
On the bluffs just past Downtown Long Beach, the Long Beach Museum of Art offers another historic setting – its Elizabeth Millbank Anderson House was built in 1911 – with waterfront views. Although the museum is able to accommodate large weddings thanks to its two buildings, lawn and patio, Director Ron Nelson said it is often host to intimate affairs.
"We have large and small weddings," Nelson said. "One of the things that's unique about this particular place – and people say it over and over – is that even though there could be a thousand people here, there is still an individual sense of space and grandeur," Nelson said. "It has that inspiration to it. And when you're here by yourself, it has that same feeling," he continued, explaining that smaller weddings do not take away from the museum's feeling of grandeur.
Smaller wedding groups, particularly in the winter, are often held in the Anderson House, Nelson said. We have done weddings there for 30 people. It's possible to do a cocktail outside or a service outside, and then come in and eat," he said.
The smallest wedding the museum has hosted recently was for just 12 people. "Something I will say of our staff, if you want to book a wedding for Saturday night in the middle of the summer – a prime wedding night – and it's only going to be 12 people, it's your night. It's your 12 people," Nelson said. "You're going to get the same attention to detail."