Working in a children's art studio, Victoria Ojerio-Kosuda was struck by the quality of the education provided for kids as young as five. And she knew her parents never could have afforded to send her to such a studio.
What struck her hardest was knowing that there were children with talent, like her, whose families could not afford that studio.
"They were teaching really advanced techniques in drawing and painting that I didn't learn until I was in college. It was this really high-quality education that I wished I could have learned at that age," says Ojerio-Kosuda. "It started to gnaw at me. My parents could never have sent me to a studio like that when I was a child. There were children who would never have this chance."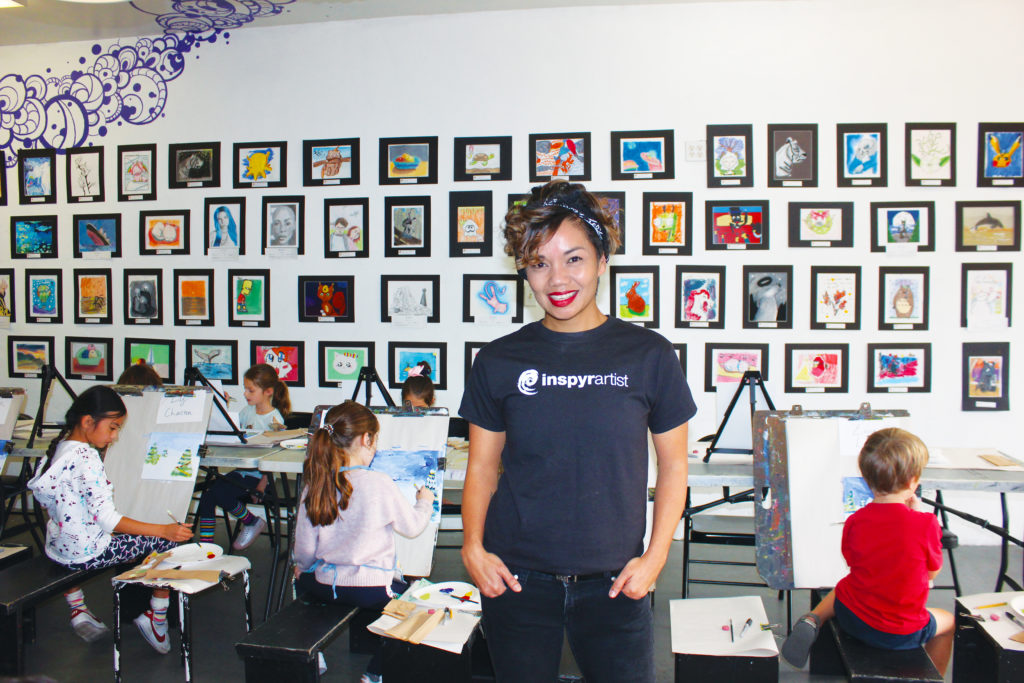 Those realizations fueled a passion to bring art education to youth who otherwise would be left out. That passion drove Ojerio-Kosuda to homelessness – twice – before she could put Inspyr Arts Studio in Long Beach on solid footing. In doing so, she's become an employer and an example of the city's success in helping dreams grow into sustainable small businesses.
Today, Inspyr Arts runs art programs for ages five to 18 in a Broadway studio, brings mobile programs to schools and nonprofits, and operates summer art camps. It exists due to the help of the Long Beach Economic Development Department's revolving loans, an education through the Goldman Sachs 10,000 Small Businesses program and a belief in the Inspyr Arts idea.
Inspyr Arts began in 2003, an offshoot of Ojerio-Kosuda's experience teaching in an art studio. Determined to bring arts to those of lesser means, she packed up boxes of art supplies and dragged them to a nearby Boys & Girls Club. After volunteering for years, she converted the operation into a business – and wound up unable to afford rent, instead living in her truck.
Ojerio-Kosuda took a step back, taught in the public schools and at nonprofits to learn how those organizations operated. In 2008, she opened a studio. "I [thought] that $10,000 would be enough. I wound up homeless again," she says. "But this time, I had an SUV!"
She turned to the Goldman Sachs program at Long Beach City College, where she got an education, as well as encouragement from other small business owners.
"It's pretty much blown my mind. You're connected with these brilliant business professors who help you to dissect your business and push you to grow. And you're in contact with other business owners who are in your same situation," she says.
It was at a seminar there that she learned about predatory financing. She'd secured a loan to help Inspyr Arts and was ready to sign the documents. At the seminar, the presenter warned against that type of loan in general, then warned against that type of loan from the exact company that Ojerio-Kosuda was about to borrow money from.
"I was sitting in the classroom saying, 'Oh no,'" Ojerio-Kosuda says.
It was here that she learned about the city's revolving loan program and secured a $50,000, nine-year loan at 6.75%. In part, helping businesses avoid predatory lending practices is one of the goals of the loan pool, says Seyed Jalali, economic development officer.
"There are some very convenient ways for businesses to get cash, but they do not realize how expensive the money is. The money is fast, but the cost is very high, and they fall into a spiral that is very difficult to get out of," Jalali says.
"This is a way the city supports the entrepreneurial ecosystem – how to make affordable capital available to the community. We are not a bank. We are a safety net for businesses that are not yet bankable."
Today, InspyrArts employs 10 full- and part-time instructors, leases a 1,500-square-foot space and is expanding into online instruction. And Ojerio-Kosuda says her supporters at the city and the Goldman Sachs program have given her the pieces she needed to make Inspyr Arts a success.
"I can't thank them enough. They've showed me how to do this, and they still are," she says.