In 1980, Molina Healthcare started with one Long Beach medical clinic dedicated to providing Medicaid patients access to primary care. If he were alive today, the emergency room doctor who founded the company – Dr. C. David Molina – would be "astounded" to see how the company has grown, his son and the company's CEO, J. Mario Molina, M.D., told the Business Journal in his Downtown Long Beach office.
"My father never expected the company to get very big," Molina reflected. But it has. The company now operates nearly 30 clinics; offers Medicaid, Medicare and health exchange plans in 12 states and Puerto Rico; and manages health care information systems for state governments. Its annual revenue in 2015 was about $13.2 billion. In Long Beach alone, Molina Healthcare employs 8,000 contracted, part-time and full-time workers. And, according to Molina, the health care firm based in Long Beach is still growing.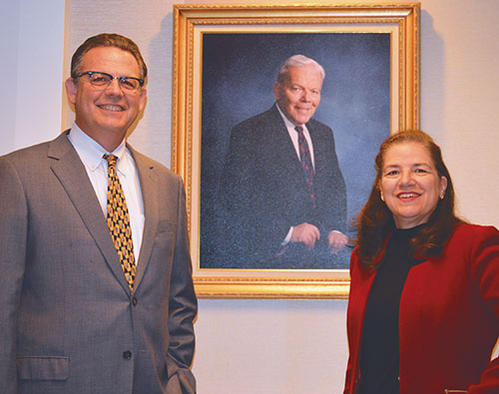 Dr. J. Mario Molina, CEO of Molina Healthcare, and his sister, Dr. Martha Molina Bernadett, chief innovation officer, are pictured with a portrait of their father and founder of the company, Dr. C. David Molina. (Photograph by the Business Journal's Larry Duncan)
"Originally, this was a family business, and he was just trying to take care of people who were having [health care] access issues," Molina said of his father. As an emergency room doctor, the senior Molina often treated Medicaid patients who were unable to receive primary care because they couldn't find a physician who would take their government insurance coverage. He opened the first Molina Medical Center clinic in Long Beach's harbor area in 1980 to help these patients.
"I remember when my dad bought the first clinic building," Molina said. "We walked through it and it was a mess. [There were] leaves on the floor. I walked down the hallway, looked up and I could see blue sky. And I thought, 'Boy, my dad has really lost his mind.'"
All five of David Molina's children – whom he and his wife, Mary, raised in Long Beach near the state university – worked in the clinic at some point. "I worked in the clinic the first summer before I went off to medical school," Molina said. "Janet and Josephine did a lot of the billing. . . . John has worked in the organization since high school," he said. John Molina is now CFO of the company, but Janet and Josephine are no longer with the firm.
Also a medical doctor, sibling Martha Molina Bernadett's first job coming out of residency was opening a new medical clinic for the company in Placerville, near Sacramento, according to Molina. "There was only one clinic up there that was seeing Medi-Cal patients and they had closed," he recalled. "The county called us and asked us if we could open up an office, so we did. We sent her." Bernadett is now chief innovation officer for Molina Healthcare and is the founder of The Molina Foundation, a nonprofit aimed at reducing disparities in educational and health care access.
Until 1994, Molina Healthcare was operating as a medical group. "We contracted with the state to take care of Medi-Cal patients," Molina said, referring to California's Medicaid program. "Then the state said that they were no longer going to contract with medical groups – you had to be a licensed health plan," he recalled. "That was what caused us to make the transition from being purely a medical group to being a health plan – an insurance company, essentially." In 1994, Molina Healthcare became licensed as an HMO health plan provider.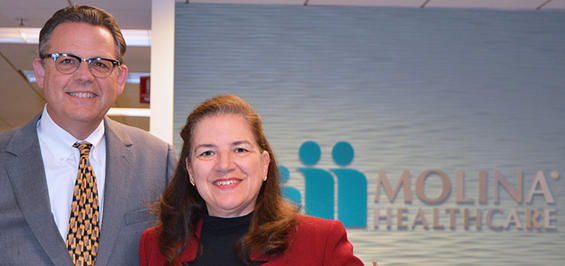 Dr. J. Mario Molina and his sister, Dr. Martha Molina Bernadett, have been with Molina Healthcare since their father opened the firm's first clinic in 1980. Mario is now CEO, and Martha is chief innovation officer. She also founded the nonprofit The Molina Foundation, which is dedicated to reducing educational and health care access disparities among children. (Photograph by the Business Journal's Larry Duncan)
David Molina's vision to establish medical clinics from Southern California to Sacramento soon grew beyond these boundaries. Just before his death in 1996, the decision was made to expand the company into Utah. "What we learned is the problems that people have accessing health care, especially if they are low income or uninsured, are pretty much the same regardless of what state you're in," Molina said. In 1997, Molina Healthcare expanded its health plan into Utah and, later in the year, expanded into Michigan as well. In 2000, the company expanded into Washington.
Molina Healthcare now operates clinics in Florida, New Mexico, Virginia and Washington, in addition to California where its clinical presence is the largest with 19 locations. The company offers health plans in California, Florida, Illinois, Michigan, Ohio, New Mexico, South Carolina, Texas, Utah, Washington, Wisconsin and Puerto Rico.
In 2003, the company went public on the New York Stock Exchange. In his office in downtown's Molina Towers, Molina pointed to a frame on his desk. "In fact, this is the first share of stock we traded on the New York Stock Exchange the day we opened," he said.
"We went public because we needed money to grow," Molina explained. "As a health plan, you have a lot of cash that comes through your company. The state pays you, you turn around and pay the providers. But you don't have a lot of assets. So we would go to the banks and say, 'We want to borrow some money – we want to do an expansion.' And they would say 'Well, you have nothing to secure the loan.' So for us to get access to capital, the best thing for us to do was go public."
Going public has helped fuel the company's growth and has provided the funding to acquire other health care firms in several states. Earlier this year, Molina Healthcare acquired Pathways, a behavioral health and substance abuse treatment provider with operations in 23 states. "We've grown from 500,000 members when we went public to 4.2 million members today. None of that would have been possible without being able to access capital through the public markets," Molina said.
As part of the merger of insurers Aetna and Humana, Molina Healthcare is in the running to acquire about 290,000 of Aetna's members, Molina noted.
About 10 years ago, Molina Healthcare expanded to provide plans for Medicare patients. "What we were really interested in were patients who were on both Medicare and Medi-Cal. They're called dual eligibles," Molina said. "We were taking care of some of these people, and we were responsible for their Medicaid benefits but not their Medicare benefits. . . . We thought we really should get a Medicare contract so we could manage the full scope of benefits."
Molina Healthcare isn't just in the business of insurance and clinical care – in 2010, it became something of a tech firm as well. "Very early on, my father recognized that using computers and the ability to manipulate data was going to be very important in health care," Molina said. "He was one of the first doctors to start using computers here in Long Beach."
When the company got into the health plan business, it was necessary to keep track of a large amount of data electronically. "We were doing this for our health plans, and then we realized that state governments needed the same services and were using very similar systems," Molina recalled. "Every state has to have an information system for their Medicaid program."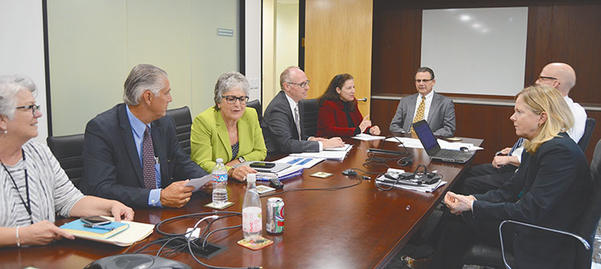 Executives of Molina Healthcare are shown at a meeting in the company's Molina Towers in Downtown Long Beach. Pictured, from left, are: Ann Koontz, senior vice president; Rick Hopfer, chief information officer; Lisa Rubino, senior vice president; Bob Gordon, senior vice president and senior advisor; Dr. Martha Molina Bernadett, chief innovation officer; Dr. J. Mario Molina, CEO; Joe White, chief accounting officer; and Karen Warren, vice president. (Photograph by the Business Journal's Larry Duncan)
In 2010, Molina Healthcare purchased a Medicaid information management company called Unisys. The firm managed Medicaid information systems for state governments – contracts that Molina took over through the acquisition.
Molina Healthcare's mission to provide health care coverage to low income individuals and those on government health plans set the company up to benefit from the implementation of the Affordable Care Act (ACA), according to Molina. Thanks to the ACA, Molina Healthcare has contracts with California and the federal government to provide care for dual eligibles, he said.
Some states have chosen to expand Medicaid coverage to new pools of individuals, which has also been beneficial for the company's growth. Additionally, Molina Healthcare takes part in ACA-established health care exchanges in nine states.
Last year alone, Molina Healthcare added 1.2 million members, and the company has already added about 700,000 new members so far this year – growth Molina attributes to the ACA. "The Affordable Care Act has given access to health care for a lot of people who didn't have it before, especially in states like California where you have seen expansion of Medicaid and you've seen the marketplace really flourish," he said. "We clearly wouldn't be as big as we are now if it hadn't been for the Affordable Care Act."
While the ACA has enabled the company to expand its coverage and its real estate footprint with new and acquired offices and clinics, Molina said this growth presents a challenge. "How do you manage the rapid growth?" he asked. "The revenue numbers have been huge. We've gone from [having revenue] a couple of years ago [of], I think, $9.6 billion, and this year we're going to do around $16 or $17 billion in revenue," he said. "It has been staggering." The firm now has 20,000 employees, with the largest concentration of employees in Long Beach.
Eventually, Molina said he expects the "hyper growth" that has characterized the first few years following the ACA's implementation to plateau. "But there are still lots of growth opportunities in Medicaid," he said. One such opportunity is in long-term care. "Medicaid is the largest payer of long-term care services in the country, and most of that is unmanaged. So there is an opportunity there as states begin to contract out with companies like Molina to take care of those services."
Over the past few years, Molina has continued to expand within Long Beach, where it is headquartered. "We have recently taken space in the World Trade Center because we just ran out of room here [in Molina Towers]," he said. Other recently acquired office space includes two buildings at Pine Avenue and 6th Street and an office on Hughes Way.
Molina Healthcare is active in the Long Beach community in a number of ways beyond its business practices. Its internship program employs many California State University, Long Beach students – more than 50 in all since the program was started, according to a spokesperson. The company holds an annual free health-screening event and also gives out microgrants to local organizations that assist community members in need. The company runs a free public shuttle from North Long Beach to the Wrigley neighborhood to provide underserved areas with access to basic needs like groceries, pharmacies, laundromats and more.
The Molina family, which has had a presence in Long Beach since the early 1950s, continues to be active in the local community. Three of the Molina siblings – John, Janet and Josephine – still live here. John serves as chair of the board for the Aquarium of the Pacific, a position his older brother once held. The Molina Foundation distributes books to low-income children through various community organizations, Molina said.
"All of my siblings were born and raised here," Molina reflected. "All of us went to school here, and we're just very proud to be a part of the community."