In an attempt to restore the Queen Mary to her former glory, Urban Commons will invest $15 million into the ship beginning later this year, before embarking on an estimated $250 million land development.
Taylor Woods and Howard Wu founded real estate investment firm Urban Commons, the new 66-year master leaseholder of the Queen Mary and 65 acres of surrounding property, in 2008. Woods, a graduate of Brigham Young University, started MoneyLine Lending Services, an outsourced mortgage fulfillment company, after graduating.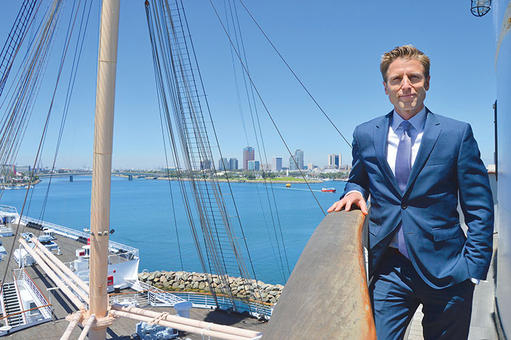 On Saturday, August 13, Taylor Woods, pictured aboard the Queen Mary, and Urban Commons co-founder Howard Wu, celebrated the company's 66-year master lease with a Changing of the Guard event in the ship's Grand Salon. Along with ship renovations, the company is preparing for a massive $250 million land development project on its surrounding property. (Photograph by the Business Journal's Larry Duncan)
After growing the company for 10 years, MoneyLine was sold to a division of GE Capital, at which point Woods looked for opportunities in real estate investment. It was during this time that Woods met Wu, a UCLA graduate, and the pair began making big moves.
"When the market recession came, Howard and I decided that we wanted to grow much faster and make some very strategic acquisitions in prime locations," Woods said. "We began acquiring property in iconic locations and destination locations, which included apartments, condominiums, land, hotels, retail, commercial – a variety of property types."
The company does not have any affiliations with other businesses, instead relying on its own capital and sometimes a small group of private individuals. Woods said the company continues to build its portfolio by acquiring distressed and opportunistic properties in which they can invest and create new value.
When the partners at Urban Commons first learned about the leasing opportunity for the Queen Mary in early 2014, they thought it was a "nice opportunity" to acquire an already-performing hotel and entertainment destination that had room to improve in terms of its condition and quality of guest experiences.
"When we started to get to know the property and as we started to understand what was here, we realized with the 45 acres on land and the 20 acres on water, not only would we be acquiring an existing performing property but we would be acquiring an opportunity to create a destination development that could include attractions and events and entertainment and adventure," Woods said. "That's when we really got excited."
In mid-2014, Urban Commons entered a purchase and sale agreement with former leaseholder Garrison Investment Group, a New York-based property management company. Woods described all communication with the city since their acquisition began as being consistent with Urban Commons' vision to create an even more iconic destination.
"We love Southern California, and we like what is going on in Long Beach particularly," Woods said. "It feels youthful. It feels like there is a commitment by the city and by the community to expand and see new development and to see new opportunities created. That gets us very excited – working with people that are as motivated as we are to see that come to fruition."
The first step Urban Commons is taking in creating new opportunities is investing $15 million into the ship itself. Renovations will leave no part of the ship untouched, though some parts will receive more attention than others.
"Number one, we want the guest's arrival experience to be extraordinary – so that when you board the ship, you get a bit of the sense and the feeling that you might have had if you were boarding the ship 80 years ago," Woods said.
To accomplish this, Woods said the company will renovate the entrance, including the addition of a porte cochere (a covered entrance where guests can exit their vehicles), which will lead guests into a newly renovated lobby that will harken back to when the ship was built.
As for the 346 first-class staterooms and nine suites – the largest focus of the renovations – Woods said he would like to see them become more comfortable, contemporary and functionally improved. With beautiful furniture and bathroom fixtures, the company hopes to attain a more spa-like feel for guests, while maintaining the Art Deco design.
Woods said Urban Commons is working closely with historian John Thomas who is an expert on identifying which components of the ship are historic in nature and should remain in their exact condition.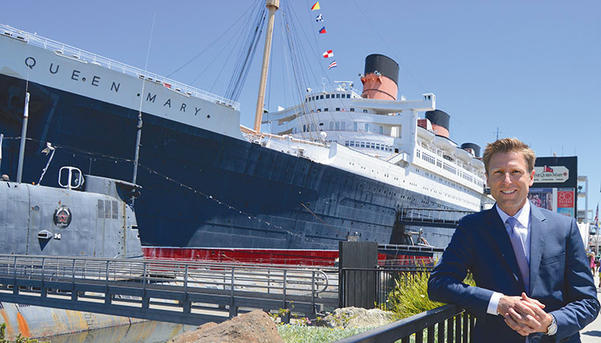 Taylor Woods, pictured in front of the iconic Queen Mary, and his partner at Urban Commons, Howard Wu, became the master leaseholders of the ship, including 65 acres of surrounding land and water, earlier this year. Recently, the company announced $15 million in renovations to the ship, scheduled for completion in late 2017. (Photograph by the Business Journal's Larry Duncan)
"We will preserve all of the original woodwork," Woods said. "We'll either preserve it or restore it and treat that as fundamental to the preservation and historic nature of the ship. The wood came from dozens of types of trees, the carvings were done by hand, and it's spectacular and beautiful and has appeal of its own."
The entire ship will also have carpet replaced with a similar design and style. The Urban Commons team is collaborating with Brintons, a British manufacturer that designed some of the original carpet for the Queen Mary, to recreate patterns reminiscent of the era when the ship was built.
"On both ends of the ship, what we hope to create are trendy, hip, sort of fun gathering places for people so that there is an appeal for people from the immediate community, and of course travelers from varying distances around the world – to feel like they are going to have a satisfying experience and be part of something that is cool and energetic," Woods said.
Woods described evenings at the ship as being filled with live shows, music and comedy in the Observation Bar, as well as in the aft of the ship, which he said would have more of a club atmosphere. The company hopes these types of attractions will appeal to Long Beach residents, particularly Millennials, bringing them to the ship more often.
Another way Urban Commons plans to market to younger generations is by utilizing the latest in modern technology. Woods said this could mean using smart devices to unlock rooms and control the amenities inside them, including more sophisticated televisions for media playback, and even providing charging stations for mobile devices throughout the ship.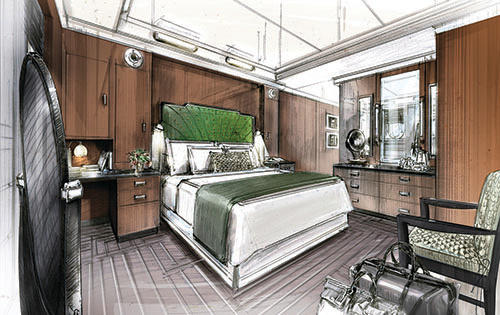 A rendering depicts upgrades to a deluxe stateroom.
"People today are traveling with multiple devices," Woods said. "They're familiar with connectivity. They're accustomed to using those devices for their entertainment and communication and social interaction. And we want to integrate those into the ship so they feel like part of a community and they also feel like they have more control."
When talking about why Urban Commons is targeting Millennials, Woods said they feel the ship is too beautiful an icon to be enjoyed only by history teachers and retirees. He said the company wants to give young people a reason to come to the ship and experience something they may have been missing out on, even though it is so close to the youthful downtown.
"Young people should have opportunities so they don't miss out on such a treasured icon," Woods said. "If we can create an environment for them to want and desire to be here on a very regular basis, . . . then we feel successful. You can't reproduce this, you can't rebuild this, and you can't go into any other building and get the same sensation as you do here."
The new ship operators also hope to grow the vessel as a meeting and event space with renovations to all restaurants and bars, as well as to the 80,000 square feet of functional meeting and exhibit space in 14 Art Deco salons. Woods said he thinks these spaces are already so unique that they make any event more memorable than any other place in the city. However, he acknowledges that they have been left unchanged for quite some time and hopes the subtle renovations will increase the location's popularity for events such as weddings, parties, conventions and corporate retreats.
As for the shops onboard the ship – which are some of the most recently renovated facilities – and the new 4-D theater that opened last year, Woods said the company will simply renovate on an as-needed basis. This makes these projects a lower priority, but Woods said the company would like to see more pop, color and energy in these locations as well.
The exterior of the ship will not be forgotten during this period of renovation, though Woods jokes that the exterior is in a constant state of maintenance. He acknowledged several spots on the outer hull of the ship where rust removal and a fresh coat of paint are badly needed and said the company will start there, but he points out that the vessel is continuously painted. "We want the ship to sparkle and look like new when people arrive," he added.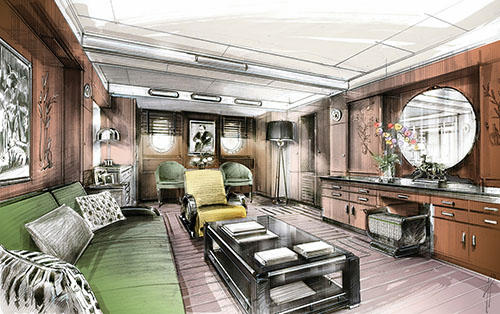 A rendering depicts the renovated Churchill Suite.
Urban Commons said ship renovation completion is scheduled for late 2017, at which time the company will turn all its focus on the development of the 65 acres surrounding the ship. In September 2015, Mayor Robert Garcia appointed 12 people to the Queen Mary Land Development Task Force and charged them to make development recommendations for this property to the city.
"We're working very closely with the task force, and we will work with the city to approve a master plan for the development," Woods said. "What we believe is the most likely outcome is that we will see a marina, we'll see an amphitheater and we'll see new outlets for dining and entertainment."
According to Woods, such outlets and venues are ideally suited for Urban Commons' property on and near the water and will draw interest from the community because it will be totally open to public access. Woods described walkways, green space and bike paths, combined with shops, fine dining and live entertainment, as reasons why people would come to the iconic destination for the day and stay well into the evening.
Since the company has 20 acres of property on the water north of the ship, Woods said that is where they are envisioning the marina, including a boardwalk and perhaps a restaurant, to get people close to the water.
Urban Commons also has a vision, much like that of the task force, of a Hollywood Bowl-like amphitheater by the sea that could welcome national and international music acts and other large scale performances that currently do not have venue options in the city. This is the aspect of development Woods said he is most excited about.
"I think having a venue that is beautiful and spectacular and can bring world-class musicians and other entertainment this close to so many people between Los Angeles and Orange County in Southern California is really exciting," Woods said. "Everybody loves a good show and good entertainment, and we want to be on the forefront of people's minds when they think about where they can go and what shows are coming through the area."
Another conversation Urban Commons is having regarding its forthcoming development is with Carnival Cruise Lines. The Florida-based company, which was founded in 1972, has been operating out of Long Beach since 2003 and hopes to expand by replacing one of its three ships with a larger vessel. This would require expanding its terminal.
"Carnival is a great tenant. We love having Carnival here and their passengers," Woods said. "Carnival has expressed interest in expanding their facility and taking additional space to bring more frequent ships and larger ships, which we're very open to and working very closely with Carnival to assess their requirements and determine what the best facility would be for them, inclusive of our master plan."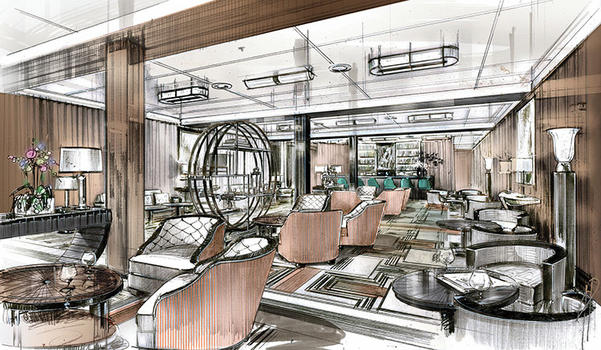 A rendering illustrates the future Cognac Lounge.
As Urban Commons creates its master plan for development, Woods said they will make sure Carnival has the facilities it wants, in the location it wants, with all the amenities it needs for a successful expansion.
Despite the scale of renovations and development around the ship, residents can expect changes to the area to occur fairly rapidly. Since the team at Urban Commons began creating renderings, planning and conducting studies early on, Woods believes the company will be able to get an early jump on development.
"I think we envision spending the next one to two years through planning and then another two years or so through development," Woods said. "We're looking at a three- to four-year development timeline, maybe three to five years to be more conservative. I'm probably being optimistic, but that's what we would hope."
Outside of renovations and development, Woods said the company is excited to take over the various events that happen on and around the ship.
"We love the events and tours, and we feel like that is one of the strongest ways we can invite the public in and give people an experience they cannot have anywhere else," Woods said. "We will continue all of the events, but we believe that additional events are important."
Aside from continuing popular events such as Dark Harbor, which runs from the end of September through Halloween, and CHILL, which typically runs from the end of November to the beginning of January, Woods said Urban Commons would like to see events that take place in spring and summer when people want to be outside.
He continued by saying these events could take place in the space adjacent to the ship or on the ship itself and might include different forms of entertainment including two- or three-day music festivals. Last year was the 13th and final Ink-N-Iron, an annual music festival and tattoo expo, held at the Queen Mary after promoters decided to uproot the festival and relocate it to Nashville.
"We will continue to enhance our offering, and we will continue to make capital investments in some of the facilities that we believe are needed to be able to host more events more frequently," Woods said.
Another area of improvement to the Queen Mary business model that Woods hopes for is in its marketing strategies.
"We feel like the marketing has been mediocre at best, and as part of our focus on improved marketing, we are going to refresh the logo and branding," Woods said. "We feel that our branding for the Queen Mary and the adjacent property should go hand-in-hand, should be very consistent and should be quickly recognizable by tourists and by locals so that the entire development becomes new and exciting and energetic and fun."
Woods added that the company has already begun work on rebranding and hopes for a release in the near future. Also, once ship renovations to public and meeting spaces are complete, Woods said the company would have a strong focus on marketing outside of the community to try to attract more conventions, corporate retreats and events.
The ship – including the hotel, tours, restaurants and bars – will remain open for business throughout the renovation and development processes, and Woods and Urban Commons encourage visitors to enjoy the existing attractions.
For more information about the Queen Mary, visit: www.queenmary.com.
*All renderings provided by the Queen Mary