What years ago was a vacant landscape left behind by the dwindling presence of the local aviation and aerospace industry has since been revived into a bustling mixed-use business community, Douglas Park, home to globally recognized firms like Mercedes-Benz USA and Virgin Galactic. With significant acreage left for development, developer Sares-Regis Group has big plans for the park, with a new hotel, expansive retail, and more headquarters-type office and industrial buildings already in the works.
In early March, Sares-Regis plans to break ground on a new extension of Douglas Park, Pacific Pointe East, at the southeast corner of Conant Street and Lakewood Boulevard, across the street from Mercedes. The land is currently an unused parking lot. "It will be comprised of three new industrial, flex-tech buildings totaling 494,000 square feet which were designed to appeal to a broad range of users, such as corporate headquarters, technology and light manufacturing uses," Patrick Russell, Sares-Regis's senior vice president, commercial development, told the Business Journal.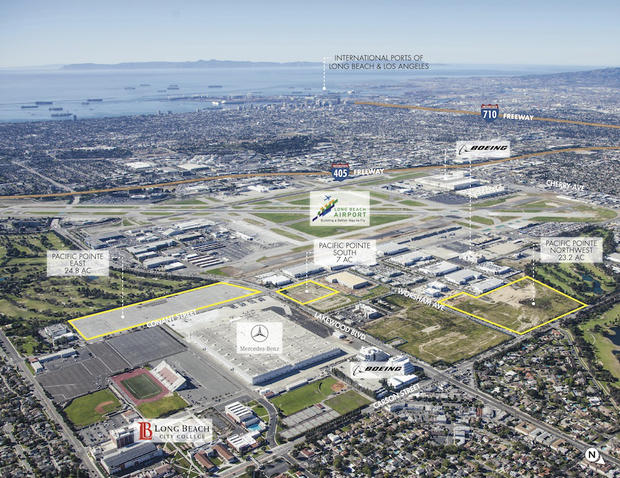 (Photograph of Douglas Park provided by Sares-Regis Group)
Pacific Pointe East is being built on speculation without pre-assigned tenants, like other previous preplanned projects at Douglas Park. "A portion of each building will include well-appointed office space and a mezzanine. The office layout is designed to allow for expansion depending on specific user needs," Russell said. The buildings will also feature up to 34 feet of clearance for storage and manufacturing space, he noted.
Just as Sares-Regis has done along Lakewood Boulevard, the company plans to make extensive street and landscaping improvements to the project frontage, Russell said. The project should be complete and ready for tenants by the end of 2016, he estimated.
"In addition to Pacific Pointe East, there are several projects that we expect to begin construction on this year," Russell said. "Some of these projects are by other developers who have purchased land from us."
Perhaps the largest of these is a 241-room, five-story Hampton Inn and Homewood Suites to be built at 3855 Lakewood Blvd. on the south side of Cover Street, across from the existing Courtyard Long Beach Airport hotel. According to a city staff report, the development encompasses 3.94 acres. Plans include a 1,200-square-foot fitness center, an outdoor pool, a spa area, a gaming and barbecue area, a 900-square-foot meeting room, a 700-square-foot boardroom and a space for lounging and dining. The Long Beach Planning Commission approved the plans in December.
United Pacific Moving  Headquarters To Douglas Park
United Pacific, an independent owner, operator and supplier of gas stations and convenience stores in the Western United States, announced on February 9 that it had purchased land at Douglas Park to build its new headquarters. The firm is currently based in Gardena. It is not affiliated with another company named United Pacific Industries that is headquartered at Douglas Park, which is a supplier of commercial truck and classic car parts.
According to Russell, United Pacific's headquarters are slated to be built on the west side of the new hotel at the southeast corner of the intersection of Cover Street and Worsham Avenue.
"We completed a major acquisition last June, essentially doubling the size of our company, tripling it in some respects," Joe Juliano, CEO of United Pacific, told the Business Journal. "So we are just flat out of space in Gardena." The firm, formerly known as United Oil, acquired 251 gas stations and convenience stores from Pacific Convenience & Fuels in June, expanding its reach to five states including California, Colorado, Nevada, Oregon and Washington.
After expanding, United Pacific conducted a thorough review of available properties in the Greater Long Beach area, but did not initially find anything to meet its needs. "Then we discovered Douglas Park, and the opportunity to build new or from the ground up was exciting to me," Juliano said.
"In terms of just logistics, I wanted to have the company headquarters near a major freeway," Juliano continued. "I wanted it to be near a large commercial airport, but didn't want to go as far south as Orange County." He noted that the location is central to most of his employees' residences.
"When I actually visited Douglas Park for the first time, I was excited about all the amenities that were there and were being planned for construction," Juliano said. "There was already a hotel and fast casual restaurants that would all be within walking distance of the location."
The 40,000-square-foot corporate office is being built on 2.65 acres. Plans feature warehouse space for facilities maintenance equipment, offices for administration and support services for the company's gas station stores, training space and conference rooms, Juliano said. The lobby has been designed as a fully operating gas station convenience store for training employees and experimenting with new products and technology, he noted. Whittier-based Oltmans Construction Co. is slated to build the headquarters, which is designed by Newport Beach's DRA Architects.
"We're working with the city right now to get our plans approved and start the permitting process," Juliano said. "We're hoping to get started in mid-June with grading." The company aims to have construction completed by the second quarter of 2017.
In The Works: Pacific Pointe Northwest
Sares-Regis expects to start work this year on new office-industrial buildings on undeveloped land at the northwest corner of Douglas Park off Carson Street, according to Russell. "A couple smaller industrial flex-type buildings are planned for the southerly portion of that quadrant, but the majority of the site is currently unplanned," Russell said. "It could accommodate a corporate campus or a combination of build-to-suit buildings tailored to specific user needs. We're still in the process of formulating our strategy for those parcels." The future development has been dubbed Pacific Pointe Northwest.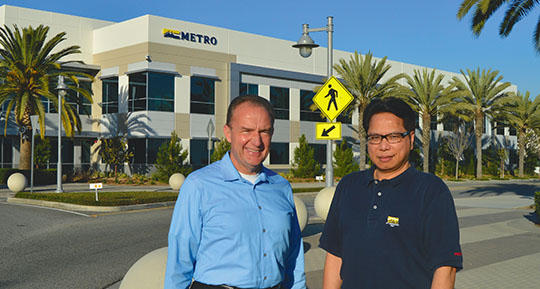 Nautilus International Holding Corp. is moving into its new 40,000-square-foot headquarters at Douglas Park today, February 16. The LEED Gold-certified building is set to house 65 executives and administrative employees, with enough space to double that figure. The company is relocating from Wilmington, where it has been based for almost 90 years. The firm's subsidiaries, which include Metro Ports, Metro Cruise Services, Metro Shore Services and Metro Risk Management, are also to be housed at the new building. Pictured at the new location on Cover Street are Chief Operating Officer Michael Giove, left, and Chief Technology Officer Boyette Fabio. (Photograph by the Business Journal's Larry Duncan)
Northeast Douglas Park: In Escrow
Last year, Burnham USA Equities, Inc. of Newport Beach, a real estate developer, told the Business Journal it was acquiring land at the northeast corner of Douglas Park off Carson Street and Lakewood Boulevard for a retail development. That deal is in escrow, according to Russell.
"They have a great reputation for creativity and high quality retail developments," Russell said of the company. "They have shared some preliminary visions of what they would build at Douglas Park. It's about 250,000 square feet of retail at that northeast corner," he explained. "The vision is a very pedestrian friendly, diversified, highly creative retail experience, based on what I have seen. I think it's going to be a fantastic amenity not only for the workforce there at Douglas Park and the junior college, but the community as well."
Whether Douglas Park eventually expands beyond its existing parameters is up in the air. The main opportunity to do so would be if Sares-Regis acquired land formerly used by The Boeing Company for manufacturing the C-17 Globemaster III, a program which ended last year. "The vision for the C-17 site is still in flux," Russell said. "We expect it will take some time for Boeing and the City of Long Beach to determine its ultimate use or reuse. We certainly have interest in the site; however, it is unclear as to the timing of offering the property for sale."
As Douglas Park continues to grow, Russell had a positive outlook for the site.
"We believe Douglas Park has the potential to attract more high-quality businesses that promote excellent employment opportunities in Long Beach," he said. "Douglas Park's highly desirable location adjacent to the Long Beach Airport as well as the freeway and the port, coupled with the state-of-the-art facilities and amenities that have been created, is a really unique workplace opportunity."