Long Beach-based technology companies are predicting growth and sales to remain steady in 2018 due to increasing consumer spending and an overall strong economy, according to the industry executives interviewed by the Business Journal.
Long Beach is home to the headquarters of multiple major technology firms, including Epson America, Inc., software developer Laserfiche, and DENSO Products and Services Americas, Inc. With consumer spending projected to increase this year, these firms plan to invest in the development of new products.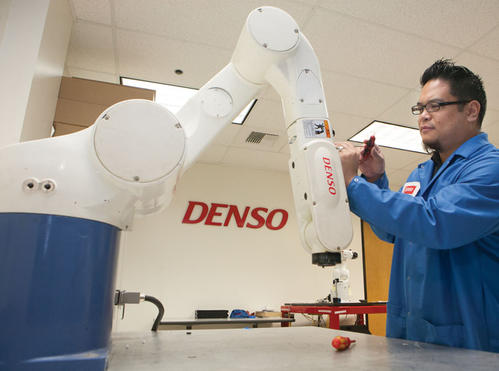 An application engineer at DENSO Products and Services Americas, Inc. headquarters in Long Beach adjusts a robot used to build automotive parts. (Business Journal photograph)
Autonomous technology is one area of growth expected in the technology sector this year.
Epson America, Inc. is continuing to focus on robotics, according to CEO Keith Kratzberg. The firm is the world's top manufacturer of robots commonly used in assembly lines for industries ranging from consumer electronics to medical development.
Joe Mejaly, DENSO's senior vice president, operations, sales, strategic planning and marketing, also commented on advancements in autonomous technology. DENSO is a supplier of automotive technology, systems and components for automakers. Mejaly said the automotive field as a whole is undergoing changes, including the expansion of self-driving vehicles and the increased use of ride-sharing services, Uber and Lyft.
Chris Wacker, CEO of Long Beach-based software company Laserfiche, forecasted a strong year, describing the economy as booming. He cited a low national unemployment rate and low interest rates as indicators for the success of his company in the coming year. Wacker estimated that Laserfiche grew about 15% in 2017 and said he expected to see even more growth next year due to new products and platforms.
Wally Bakare, the Spectrum West Region, SoCal central area vice president, emphasized a focus on consumer products. The firm plans to expand upon its Internet speed offerings, and is even venturing into the realm of wireless service through a partnership with Verizon.
The technology titans of Long Beach expressed satisfaction with their returns on 2017, and plan to build on their successes in the upcoming year.
Editor's note: The following are guest perspectives by industry executives on the outlook for technology in 2018.
Wally Bakare
Spectrum West Region, SoCal Central Area Vice President, Field Operations
At Spectrum, we recognize that broadband access can create life-changing opportunities and brighten the future for people in every community. In 2018, consumers who live and work in Long Beach will have the opportunity to experience faster internet speeds and an exciting new wireless choice. By partnering with and investing in local communities like Long Beach, we aim to expand high-speed broadband, help bridge the digital divide and advance economic opportunity through technology.
Here in Southern California, as well as across the country, Spectrum continues to increase our internet speed offerings. Recently, the company began offering gigabit connections in multiple markets, with more areas launching in 2018. With Spectrum Internet Gig, customers have access to dramatically faster and more powerful internet speeds for streaming video, telecommuting, online gaming, homework, research and more across multiple devices, without sacrificing performance. Gigabit connections, which have been available for years to enterprise customers, will also be available to small- and medium-sized business customers in Long Beach.
Spectrum also offers the industry's fastest starting broadband speed of 100 Mbps, in Long Beach and across 99% of our footprint. We're also committed to helping broaden access to reliable high-speed internet. Spectrum Internet Assist, a low-cost, high-speed broadband service for eligible families and seniors, offers industry-leading 30 Mbps download speeds for just $14.99 per month — and as with all Spectrum Internet packages, with no modem fees or data caps — all backed by our local team of highly trained technicians performing installations, service calls and maintaining our network.
Finally, reflecting growing consumer demand for and the importance of mobility, Spectrum also plans to introduce a wireless service in 2018, leveraging our powerful broadband network and our partnership with Verizon. The company is also conducting 5G technology tests that will help deliver faster speeds and additional products and services in the future, both inside the home and out.
Keith Kratzberg
President and CEO, Epson America
In 2018, Epson America sees increased growth as several of the technology markets we have targeted continue to expand, particularly with our focus on the commercial space.
In the commercial market, we are dedicated to delivering innovative printing solutions for small, medium and enterprise business. The Epson WorkForce Enterprise WF-C20590 multifunction printer – which prints up to 100 pages a minute for the workgroup and enterprise market – will continue to drive efficiencies and savings for our customers in the new year. It offers a new level of business productivity with breakthrough speed and high capacity ink supplies.
Laser projection technology has made great inroads in various markets due to its inherent benefits of long life and virtually no maintenance. Laser projection is ideal for customers that require high brightness in large venue environments including staging events, lecture halls and large corporate venues. In 2018, Epson will continue to expand the usage of laser technology to deliver more experiential and creative environment applications.
Another major area technology area for growth for Epson this year will be robotics. While perhaps not a well-known market focus for us, Epson Robots, is the #1 SCARA robot manufacturer in the world. In 2017, we launched our new T-Series All-in-One robots, which offer a cost-effective and simple-to-integrate and install automation solution ideal for simple dispensing applications in industries ranging from automotive and medical development, to lab automation, consumer electronics, electronic components and industrial. We continue to innovate and deliver lower cost, more precise robotics systems that will increase the adoption of automation.
As we move into 2018, Epson maintains its focus on compact, energy-efficient, high-precision technologies, and are excited about the impact our technology will make on the commercial market. We are committed to driving innovation in the technology sectors that benefit from our expertise, and will positively impact our customers' success.
Joe Mejaly
Senior Vice President, Operations, Sales, Strategic Planning and Marketing
DENSO Products & Services Americas, Inc.
This particular business unit is responsible for DENSO's automotive market for North America and Latin America, so my perspective on technology is a little slanted toward the automotive world. DENSO projects that 2018 will be another strong year for new car sales. We project that sales for 2017 will come in around 17 million units, and we project around the same number of vehicles for North America in 2018 as well. We also see a fairly strong after-market for component sales. Some of our primary customers are AutoZone, O'Reilly Auto Parts, NAPA Auto Parts and Carquest Auto Parts, as well as a series of independent distributors. We see our after-market continuing to be strong through 2018, primarily driven by consumer spending on vacations, usage of vehicles and stabilizing gas prices. We see a pretty good 2018. We're pretty positive and upbeat about it. If you don't feel that way in January, you'll never feel that way, right?
Relative to the automotive field, a lot of activity is going on in terms of electronics and changes to vehicles as we know them today, whether that's electric vehicles, autonomous drive vehicles or the way vehicles are being used, like ride-sharing. We now use Uber and Lyft. There's an evolution taking place in automobiles that we've never seen before. It's happening at a pace that we would expect based on the way technology is advancing on a day-to-day basis. Five years ago, we talked about autonomous driving vehicles and everybody thought that was a pie-in-the sky dream, and today they're on the road. We're in a world right now where technology is king, and you either keep up with the pace or you end up being put on the sidelines.
Chris Wacker
CEO, Laserfiche
We'll have a very good year. It's largely based on the economy, and the economy right now is very good. It's growing very rapidly; I'd say it's booming. I'm very bullish on it, and our participation. I think we're going to outpace the economy a little bit in terms of growth. People like our products. Our products our popular. They will continue to buy them and expand their use within companies.
The unemployment numbers are around 4.1% nationally. Interest rates are low, so that means easy access to capital. People are willing to spend because they're optimistic about the economy. There are no storm clouds on the horizon like the cutoff of essential commodities such as oil, or subprime mortgage crashes or recessions. There are no apparent obstacles to the expansion of the economy. On the other hand, President Trump has made it clear that he wants to roll back many of the government regulations of businesses, which are expensive to comply with. That's another reason why business owners are optimistic. They expect that there will be growth so they are willing to invest in their businesses and hire more people.
In 2017, we grew by about 15%. I expect more growth next year. We are introducing new products and platforms. We're also assisting our customers and businesses as whole in the digital transformation process, that is, going from LOI to digital. When information is digital, you can use it to great advantage. You can analyze it and spot trends and patterns that you can then make decisions based on.