The city's water and gas and oil departments, and well as natural gas power plant AES Alamitos, are implementing new projects in 2018. These initiatives are billed as beneficial for the environment, and are expected to give consumers more control over utility usage.
Fifty percent of construction on the Alamitos Energy Plant on Studebaker Road is slated for completion this year, according to AES Southland Project Director Matt Dugan, who predicts that much of the foundation should be completed in the first quarter. The new facility will be more efficient and environmentally sound, using about half as much fuel to generate the same amount of power as the existing plant.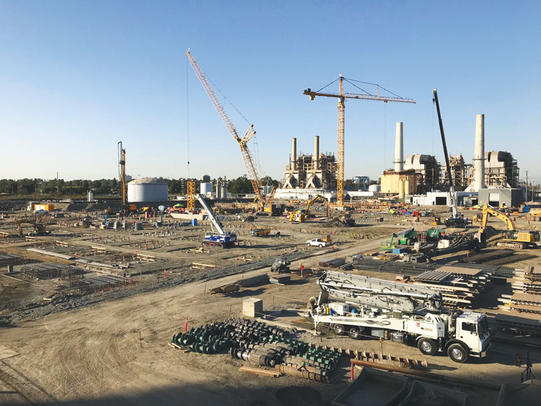 Fifty percent of construction on the Alamitos Energy Plant on Studebaker Road is slated for completion this year, according to AES Southland Project Director Matt Dugan. The new facility will be more efficient and environmentally sound, using about half as much fuel to generate the same amount of power as the existing plant. (AES photograph)
The Long Beach Water Department is also considering a program with a positive environmental impact. Through the use of "smart meters," the department's 90,000 customers may be better able to gauge their water usage. The department's general manager, Chris Garner, said city water consumption is already low, but a program that allows them to determine specific numbers could further reduce excess.
Long Beach residents can expect a 4.2% decrease in water rates and 10% decrease in sewer rates, retroactive to January 1, according to Garner. The reduction is due to the settlement of a lawsuit in which a resident claimed the water department was illegally charging for the use of pipelines. The net fee deduction per month for each customer from the previous year is $0.16 for the water and $0.96 on the sewer side.
Long Beach Gas & Oil is evaluating an initiative known as community choice aggregation (CCA) that would result in more local control over energy use. CCAs allow residents to purchase electricity from local government agencies, rather than an investor-owned entity, according to California Community Choice Association. The CCAs would decide which electricity resources to invest in, and would set the rates for customers. Since 2010, nine have been created in California, according to Dowell.
Natural gas pricing is projected to remain steady in 2018. This winter, Long Beach Gas & Oil predicts natural gas prices in the $2.80/MMBtu (the unit of measurement for natural gas) to $3.40/MMbtu range.
Editor's note: The following are guest perspectives by industry executives on the outlook for utilities in 2018.
Robert Dowell
Director, Long Beach Gas & Oil
The Long Beach Gas & Oil Department (LBGO) anticipates steady natural gas commodity pricing throughout 2018 as supply keeps pace with demand. Two primary factors drive this outlook: weather and production. Total 1Q18 heating degree days (a measure to forecast weather-related gas consumption) are projected near average levels. While natural gas pipeline exports to Mexico are increasing over the current 2 Bcf/d levels and exports of liquefied natural gas are also increasing, any potential associated commodity price increases are offset by a sharp rise in U.S. natural gas production, up 4.8 Bcf/d over the past two months alone as new pipeline capacity came online. The U.S. Energy Information Administration in its December 2017 report forecast U.S. dry natural gas production in 2018 to be 6.1 Bcf/d higher than 2017 production levels. This projected increase is in part related to a recent Federal Energy Regulatory Commission approval, which paved the way for additional ramp-up of new production throughout 2018. With winter still not over, LBGO anticipates natural gas prices in the $2.80/MMBtu to $3.40/MMBtu range. Assuming a normal end of winter coupled with significant production increases over 2018, gas pricing is projected to remain flat.
In other energy news, LBGO is moving forward in evaluating Community Choice Aggregation (CCA) alternatives for Long Beach. CCA's are a new type of retail electricity provider that allows cities or counties to purchase and sell power to electricity customers in their jurisdictions – services traditionally provided by investor-owned utilities such as Southern California Edison. CCAs are local quasi-utilities vested with the ability to make decisions about what kinds of electricity energy resources in which to invest for their customers, and set rates for that electric power. Since 2010, California communities have established nine CCAs and several communities are actively exploring CCA options. While such local choice and rate setting authority sounds intriguing, there are many risks that must be thoroughly evaluated. The City of Long Beach, through LBGO, has recently released a request for proposals to conduct a feasibility study of CCA in Long Beach. This study will provide a complete program analysis of a potential CCA from load, rate and power portfolio analysis through potential regional economic benefits and energy systems investment.
Matt Dugan
AES Southland Project Director
The project team at the Alamitos Energy Center (AEC) did a great job positioning the project for the busy year planned for 2018. With piling – structural supports installed deep in the ground to reinforce foundations of buildings and equipment – substantially complete, the bulk of underground and foundation work will be completed in the first quarter. From this point progress will be more visible as the major equipment is delivered and the building of plant structures goes vertical.
The two combustion turbines and their generators – used to convert natural gas fuel to electricity – will be delivered this month and placed on their foundations so the auxiliary equipment, piping, and cables can be installed. Fifty percent of the construction activities associated with the plant are scheduled to be completed in 2018. Modules for the heat recovery steam generators (HRSG) will start arriving and will be set in place.  Other elements of the HRSG buildout, including the steam drums and the exhaust stacks, will be erected. The largest structure on site, the air-cooled condenser, will be erected.
The new AEC will be cleaner and more responsive to California's energy needs while providing many benefits to the community and the environment. Most noticeably, the new plant will be shorter and sleeker, reducing visual impact and improving its appearance for local neighbors. The project will also create jobs and help boost the local economy. During construction, the project will result in about $130 million in local purchase, 4.7 million hours of construction-related work. Once the project is completed, it will contribute over $8 million annually to the local economy while also generating tax revenue to help pay for local services, like police and fire.
Chris Garner
General Manager, Long Beach Water Department
From a water supply standpoint, California is in better shape today than it has been in quite a while. The year 2017 was an excellent year in terms of rainfall in California, especially after experiencing several years of historic drought. It has been widely noted that Long Beach, as a whole, uses about the same volume of water today as it did in the 1950s, despite a 40% growth in population. This has allowed Long Beach residents to continue to experience very low water/sewer bills in comparison to residents in other California cities.
The Long Beach Water Department operates more than 2,000 miles of water and sewer pipelines under virtually every street in our city. An important aspect of this responsibility is the continual upgrade and replacement of aging pipeline infrastructure. This necessarily involves digging up streets to access the underground pipelines. Therefore, it is critical that we coordinate our long-range pipeline replacement plan with the City's Public Works Department, which is responsible for the city's street maintenance, as well as coordinating with the other utilities in those same streets. This advance planning can both minimize impacts upon our streets and neighborhoods as well as stretch street maintenance dollars much farther. This is especially important with the increased number of street repair projects afforded by the voter's passage of Measure A.
Water quality continues to be a major focus nationally, especially after the crisis experienced in Flint, Michigan. Long Beach residents can be assured that their local drinking water is continually tested in our own state-of-the-art Water Treatment Plant located on Spring and Redondo. In this past year, we collected over 15,000 water samples and performed over 80,000 water quality compliance tests, with all results meeting or exceeding State and Federal water quality standards.
From a technology standpoint, the Long Beach Water Department is in the process of determining the feasibility of installing "smart" meters for its 90,000 water accounts, similar to and in coordination with the smart meter program recently completed by the city's natural gas utility. The business case will consider the initial costs of installing transmitters on all 90,000 water meters against the cost savings of no longer paying an outside contractor for manual meter reading, as well as the benefits to customers of having much more information regarding their individual water usage and related tools to better gauge their use of water and lower their monthly utility bills.